Pestana Village is 100% recommended. I have to start with these words, because I truly mean it. First of all I want to give as many stars as possible to the lovely service on this hotel. They are SO friendly, everyone, starting from the person welcoming you to the breakfast, to the cleaning lady knocking on your door after it, to the receptionist wishing you goodnight after a night out. I just loved the atmosphere in this hotel, I think the best way to describe it is that every return to the hotel felt like coming home.
The two above images are loaned from the Pestana Village website
It is a beautiful hotel, on a beautiful location, on a beautiful island. One week there was not enough, I really did not want to leave. The only thing I missed during my stay was my dog and a little computer nerding from the bed. I even did a little gym workout, obviously useless training, because I also ate like a horse in that breakfast room… but perfect vacation anyway, loved the island.
Internet: I have only one negative thing to say about this hotel, and that is the lack of WiFi in the rooms. I know most of the persons staying there will be completely satisfied with the public area WiFi (3€ for one hour or 28€ for one week if you have your own laptop with you – otherwise they have a computer you can loan). Public area could be the library, bar, lobby or even the pool area. However I'm an online nerd and would have been happy to get back to the hotel room in the evening, fluff up the bed blanket to look like a big white cloud and cuddle up with a chocolate bar… and blog. But no, so instead I took a holiday. I mean a real holiday, from everything. I can do that for one week, but two weeks… that might have been a problem.
Bathroom: Clean. Bath tub (!). No complaints at all, towels changed daily etc. Their hair drier I wanted to steal, the one I have here at home just feels like it has a really outdated turbo in it now…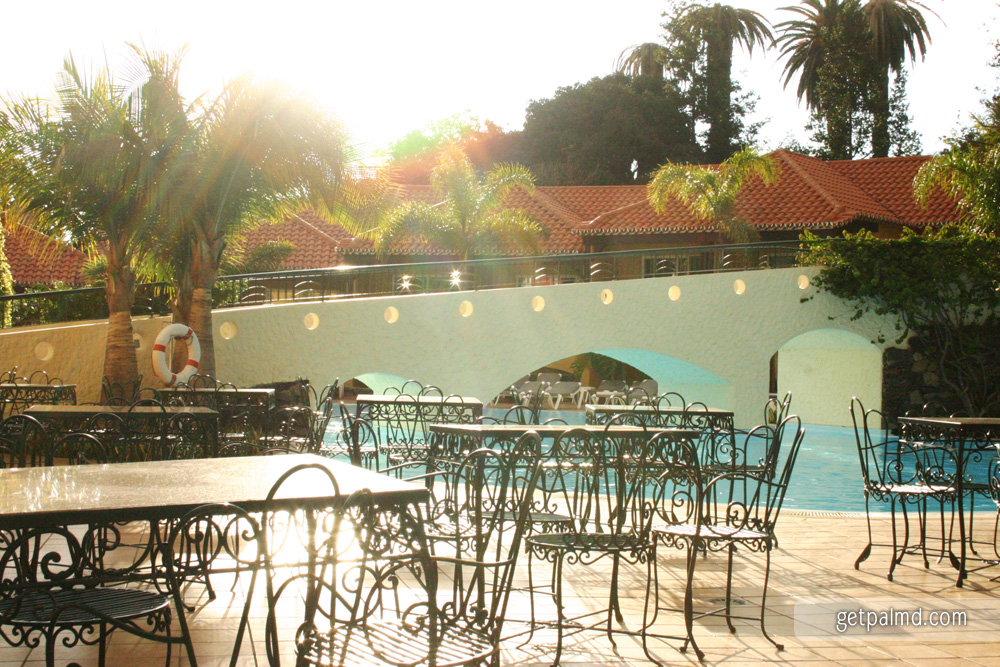 Room: I stayed in a double room with an extra bed. This room was with views over the sea and sunshine on a roomy balcony from the morning to the afternoon. I don't own a TV but if I would, it would look exactly like that black flatscreen in this room, so if you're a TV nerd you won't be disappointed.
Sleep: I'm a sucker for hotel beds and I want it to be silk smooth and it should look like a fluffy cloud. It did.
Breakfast: Stars. Plenty of stars. This was one of the best things at Pestana Village and oh boy did I eat. When I got back home I even thought about some of the things I didn't try simply because there wasn't room for more in my stomach – I need to get back. Freshly baked bread that I usually don't eat, but there I couldn't resist it because it was heavenly. Good coffee, egg, bacon, cocos yoghurt, a delicious selection of fruits, and then a breakfast God standing there making freshly baked pancakes for you. One month there and I would probably not describe my bodytype as slim anymore. But it was really good – there was everything you need/want and more than you could ever eat!
Services: Gym, sauna + turkish bath, jacuzzi, outdoor pools (also one for children), indoor heated pool, restaurants, bars, game room, reading room (library), billiard, massage / wellness center, outdoor chess… full list here.
Location: I liked the location a lot. It was situated in a quiet garden and there were no disturbing noises from the streets or nearby buildings. Outside the gate you have bus stops taking you to the centre of Funchal, shopping or even as far as Porto Moniz (takes around 3 hours there with a local bus). The green line runs pretty much every 15 minutes – bus card recommended, you get them from magazine shops for 0,50€ and can load as many trips as you want on them (cost per trip around 1€ per adult). Walk a few minutes and you have a grocery store, magazine shop, ATM and several nice restaurants. Forum shopping mall is a 5 minute bus ride away (green line) and nearby you can take bus number 8 to Santa Quiteria if you want to go to the Madeira Shopping mall. I was really surprised now when I googled the distance to Funchal centre, because it is around 3 kilometres (3,5 to old town). I can assure you it didn't feel like this much, I walked there and back almost daily, a few times even with high heels. No problem at all. Safe at nights, also for a woman walking alone. Perhaps the small streets in the old town are a little sketchy in the evenings if you walk alone.
+ Lovely service, friendly people
+ Amazing breakfast
+ Good location, feels close to everything and easy to move around
+ Perfect if you want to relax – didn't seem to be a "hundreds of screaming kids" type of hotel
+ Gym, sauna, outdoor and indoor pool, jacuzzi… all free to use of course
– No WiFi in the rooms, in the public areas you need to pay for it