It has been a month and a half since I had the Porsche 718 Boxster S for a test drive for two days from Porsche Finland, and still today I struggle to decide what I really think of the 718. I would like to start by saying that a 718 was actually a car that I thought I might want to take as a leasing car for the company next year. But when I say was, I really think I mean was and not still is. Because after this test drive I must admit I would not want to spend money on one. Not when I have other options.
The Boxster would however never have been my choice since I prefer coupe, so it was the 718 Cayman S that was on my list as an option. But to spend two days in a 718 Boxster S gave me a good idea of what it would be like to spend a few years (or a lifetime, who knows) in a 718 Cayman S, same engine after all. And lets be honest, I can think of several more exciting cars to get that are in the same price class or even less expensive. If you asked me would I rather have a 981 Cayman GTS or an Exige S/SCR, I would not have an immediate answer since I like both a lot. But if you asked me if I would rather have the 718 or an Exige, my answer would definitely be Exige.
The 718 looks very nice however. This car had a special colour, lava orange (cost about €2500 extra), and 20″ Carrera Sport rims (about €1500). I personally have never liked the look of 986 and 987 Boxsters, always thought the Caymans look better, but in the third generation I think both the Boxster and Cayman have a nice design.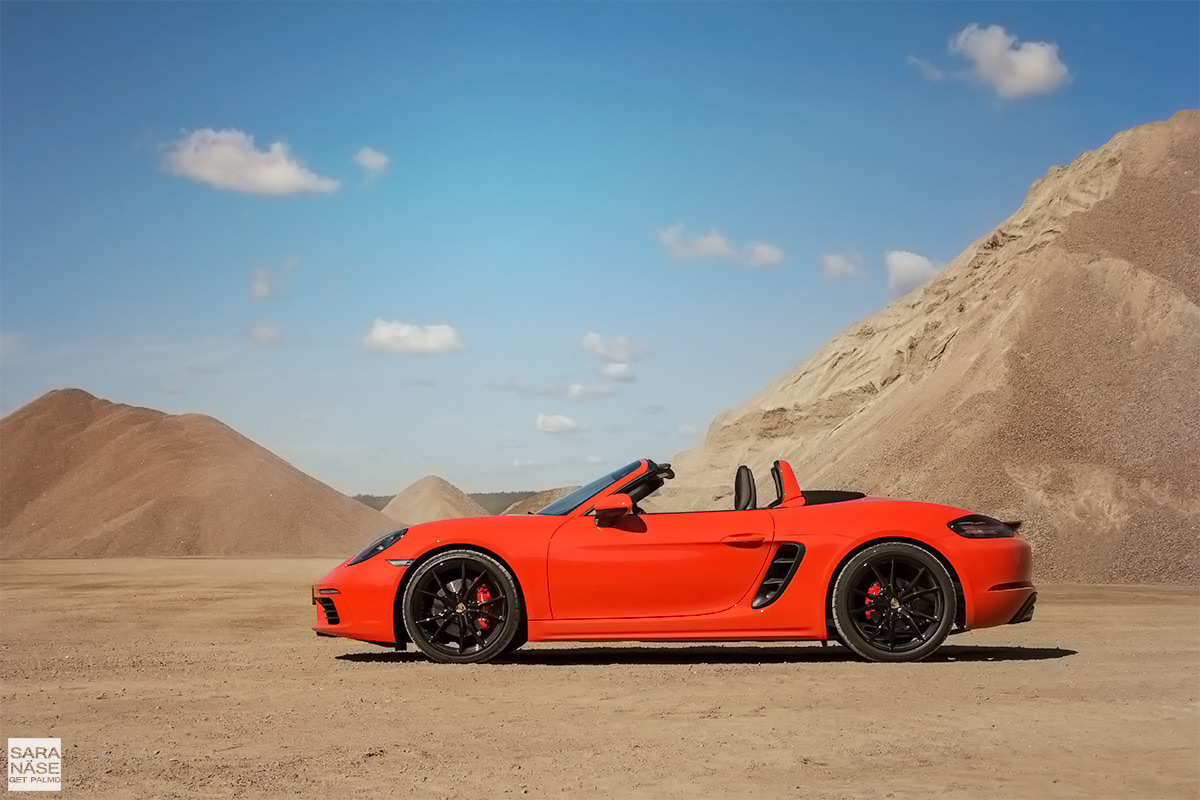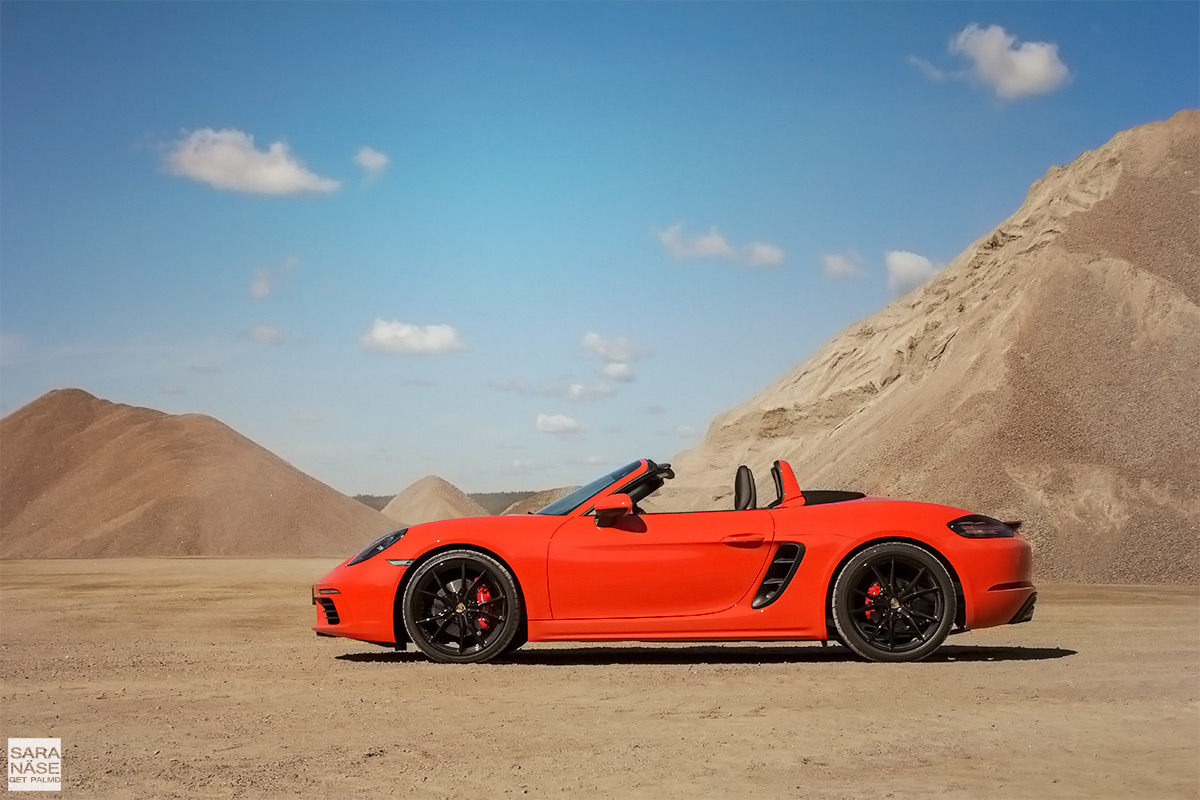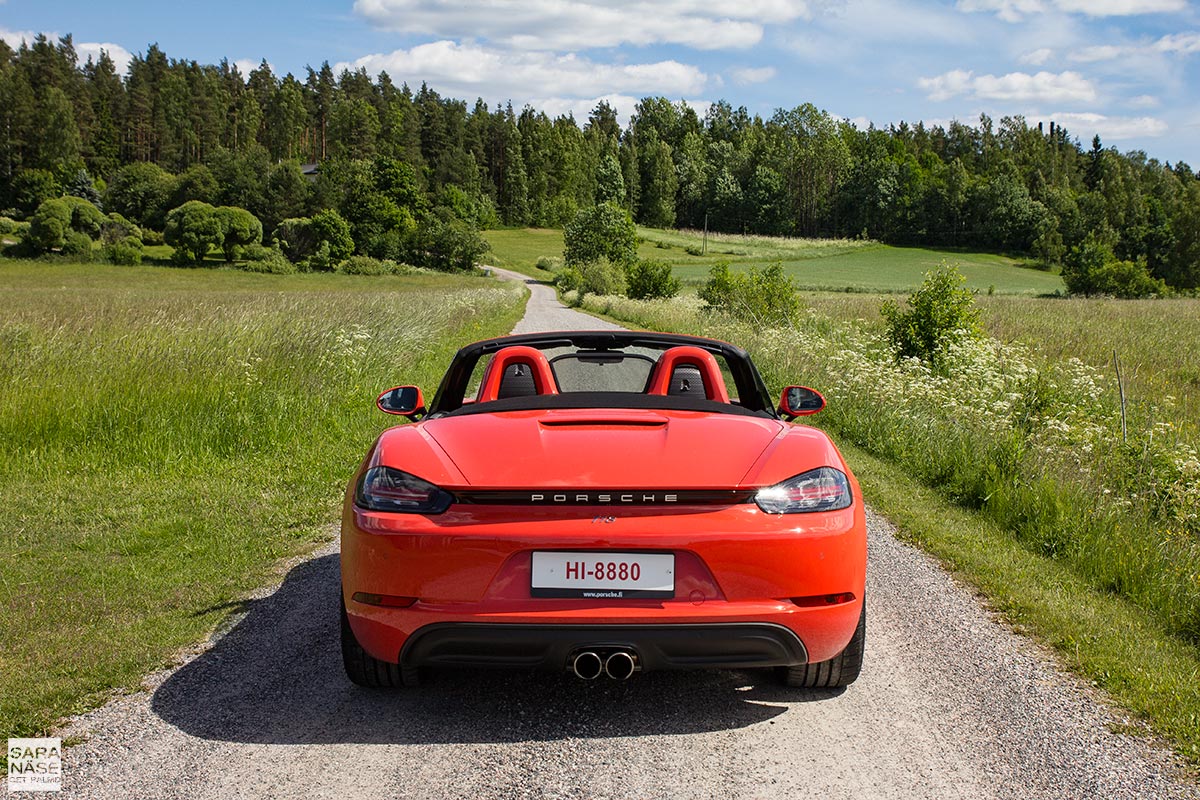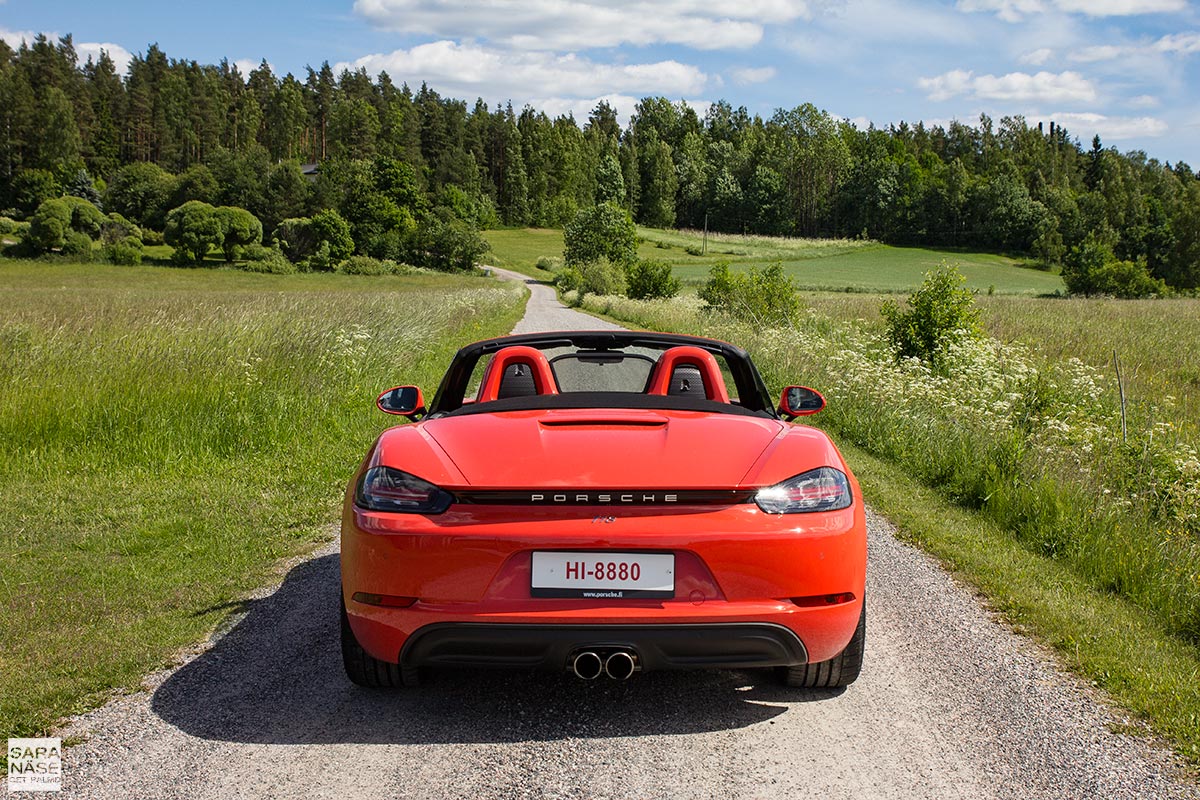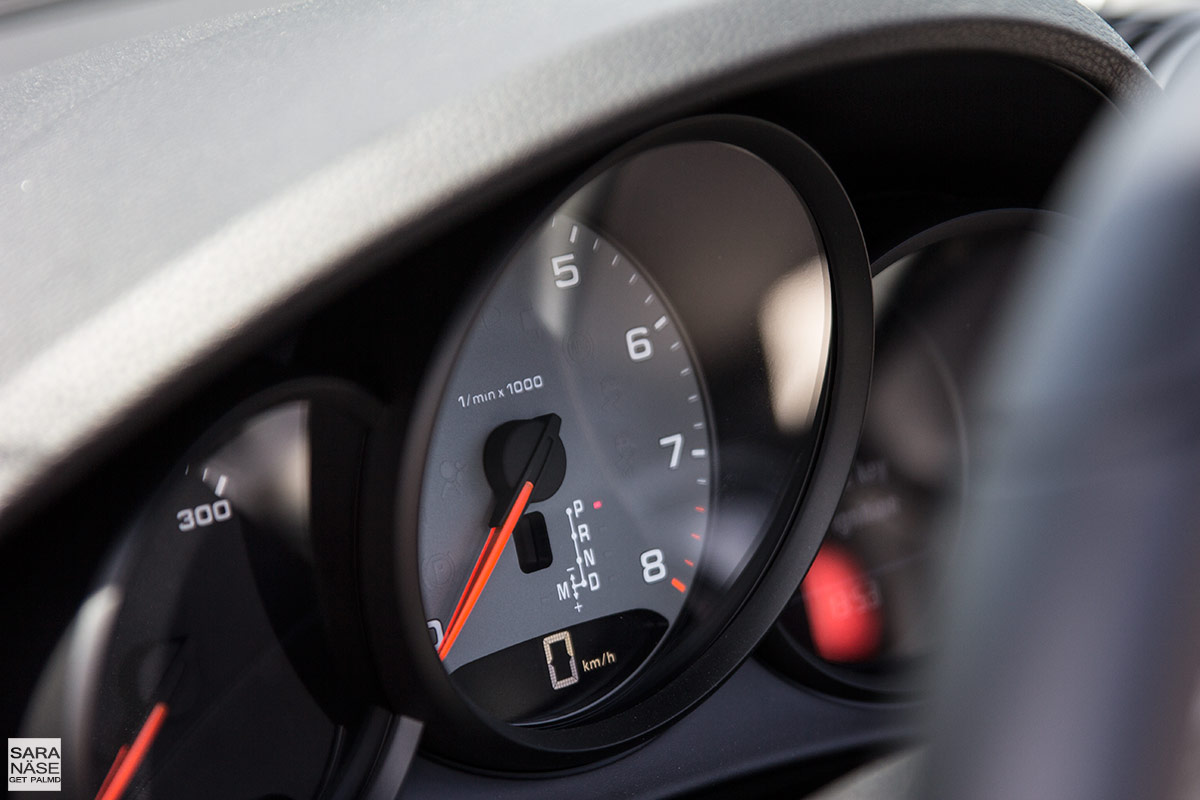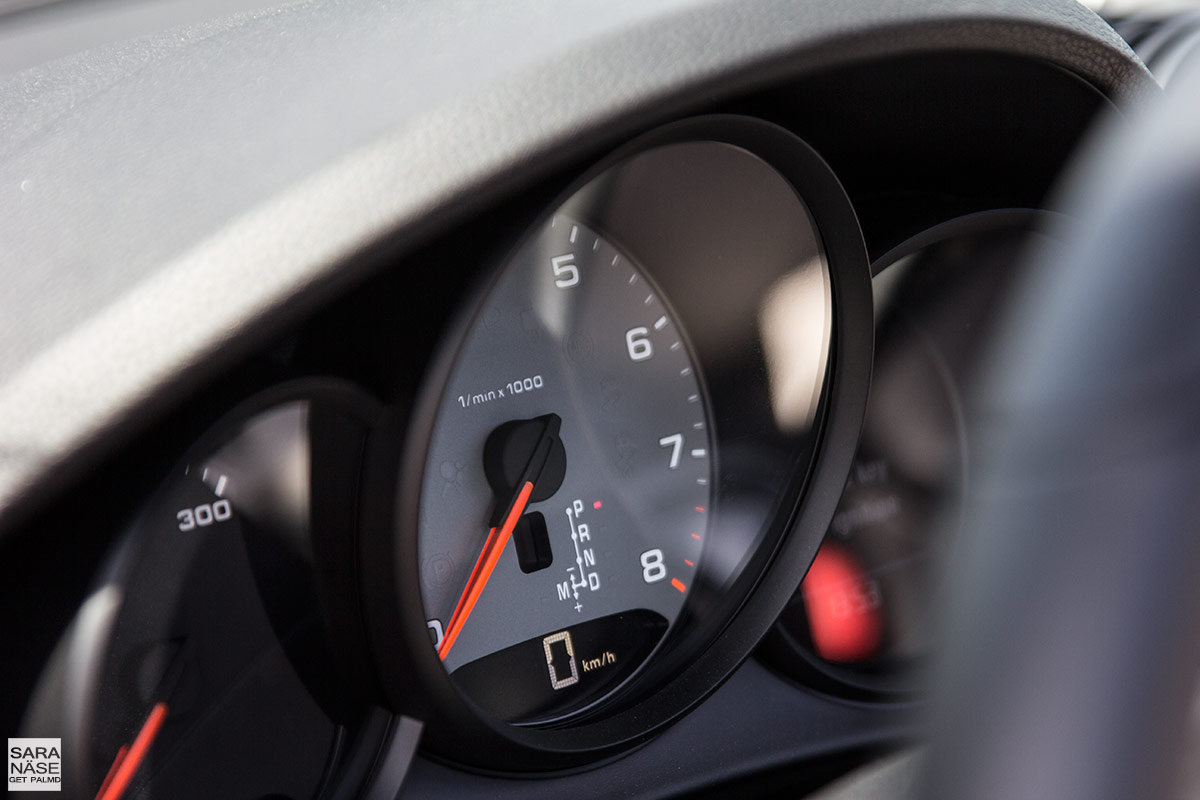 Anyone who has followed this blog knows that I am attached to Porsche as a brand. Always will be, because Porsche has built some of the best cars I have driven. In the case of the 718 Boxster S this post has been in my drafts for weeks. Because Porsche launched a new Boxster with better looks, a smaller engine, more power, more torque, lower emissions, and lower fuel consumption. I would not want to criticize them for that – they have built a good car.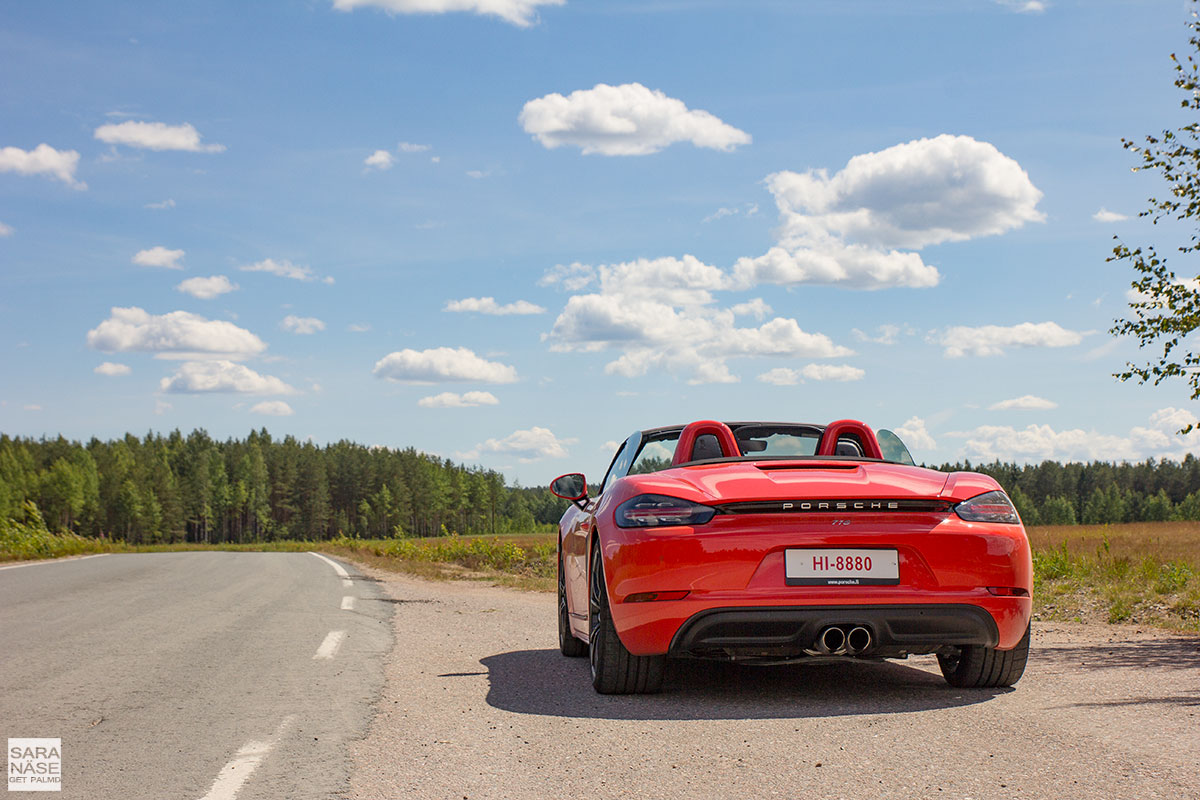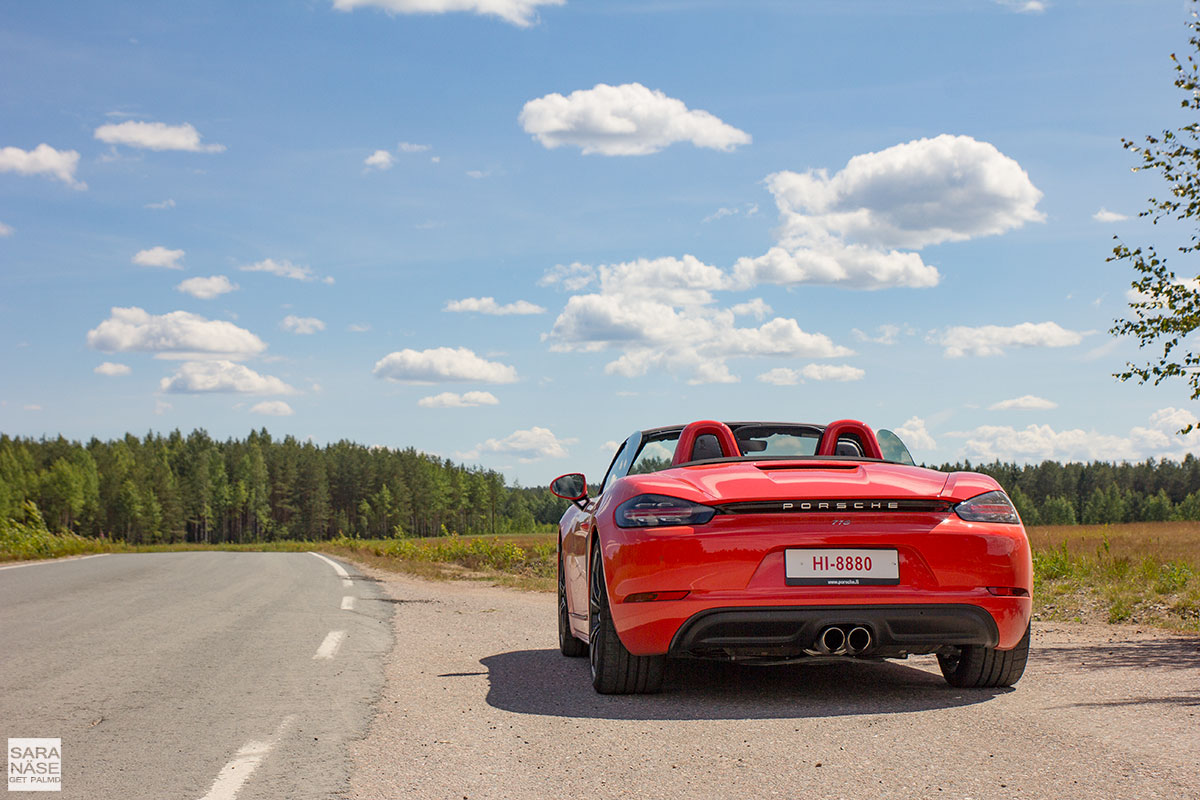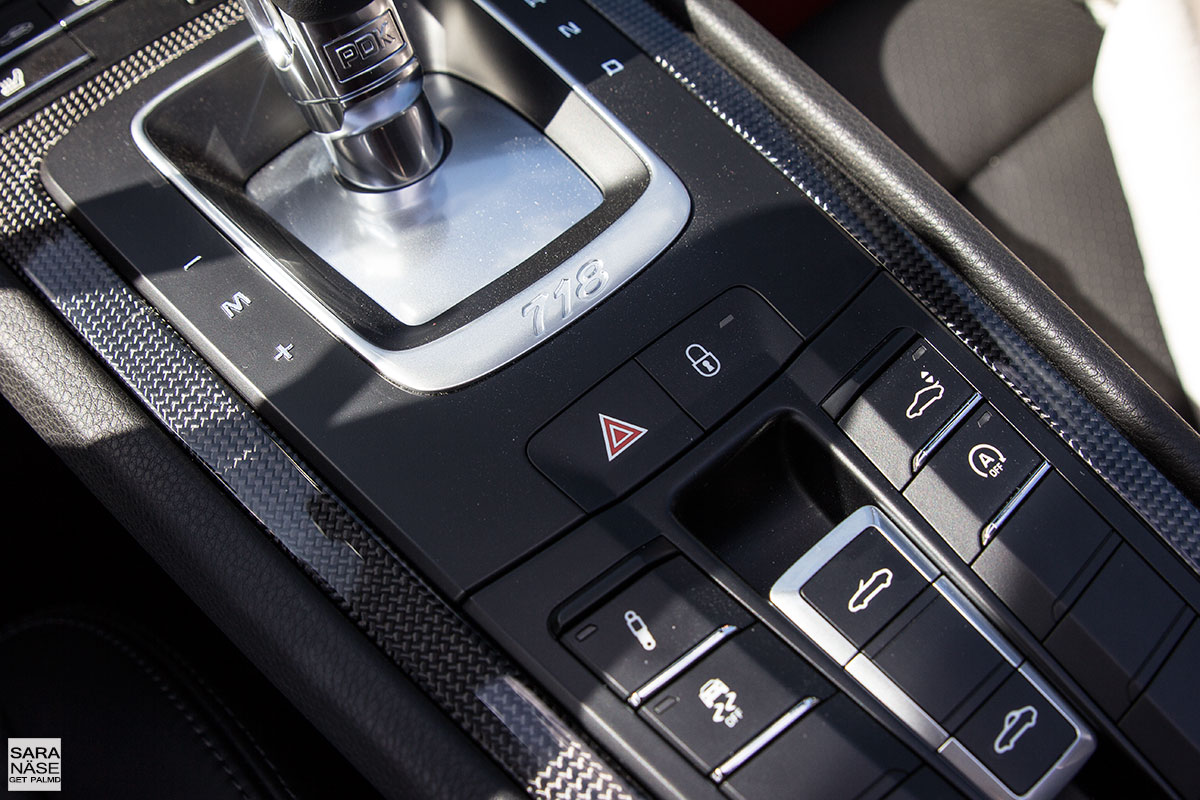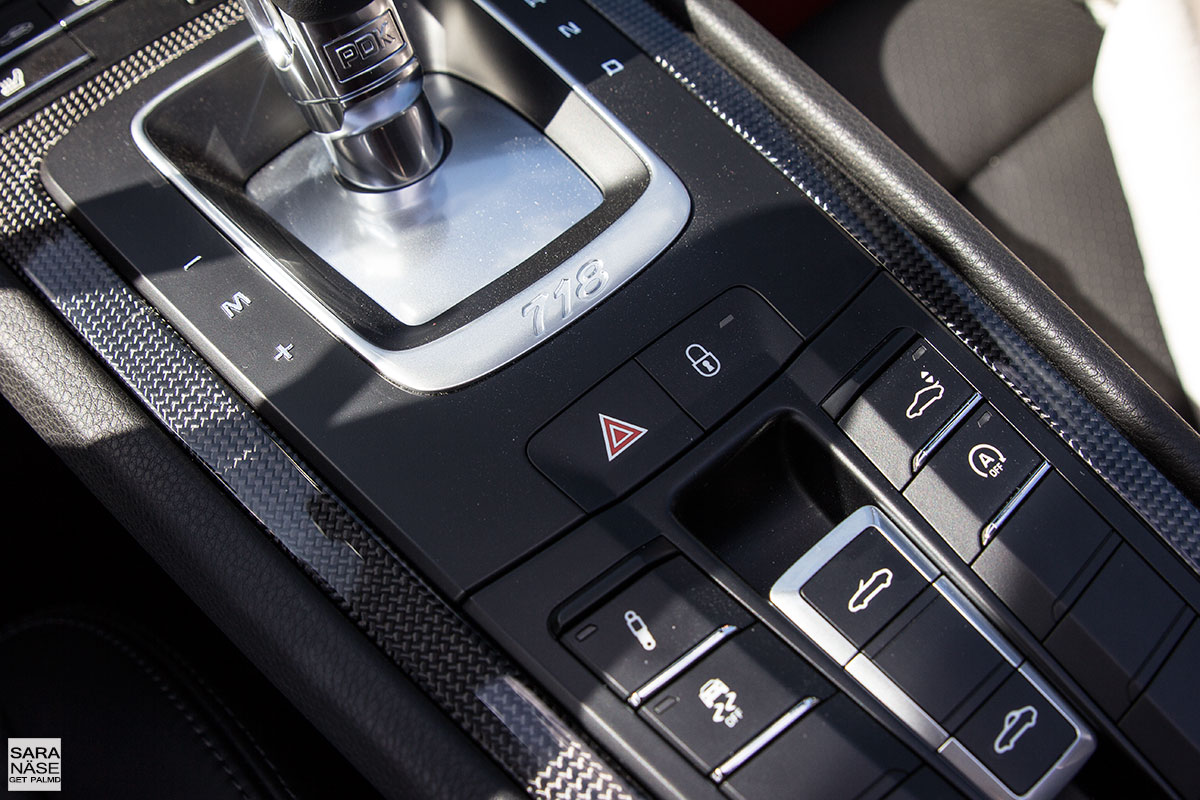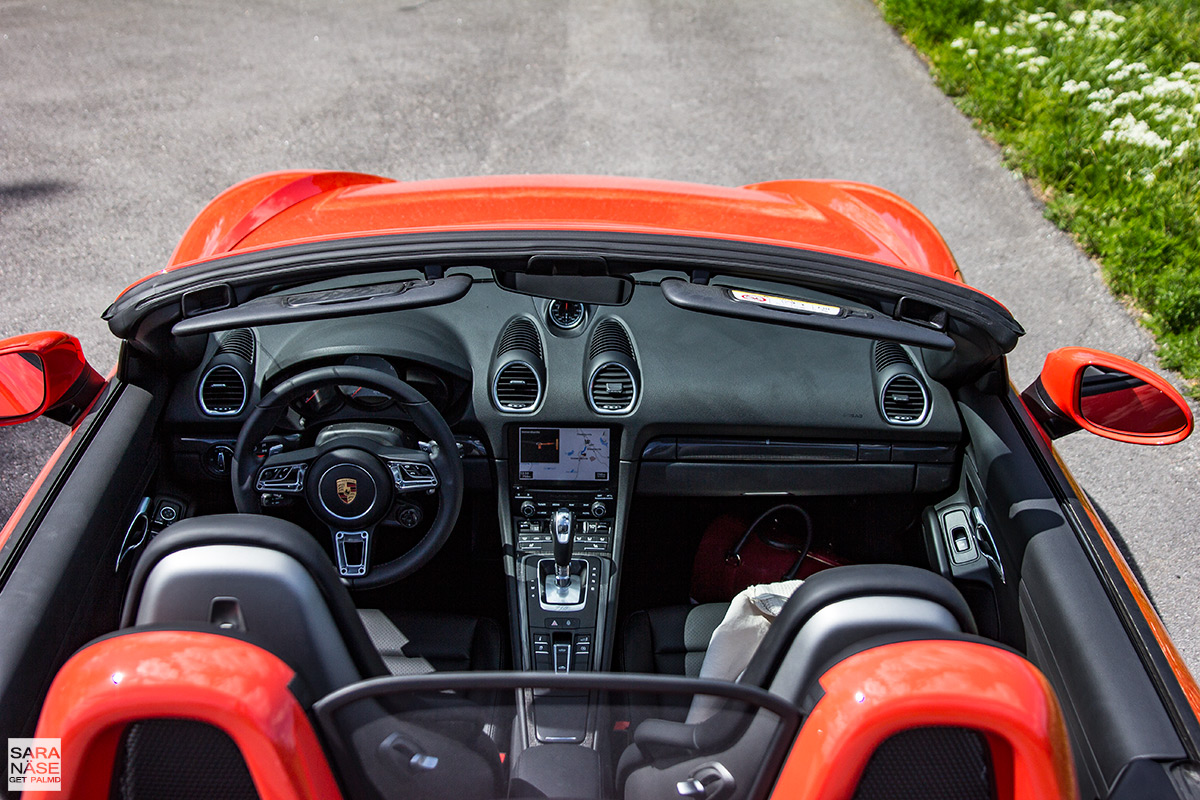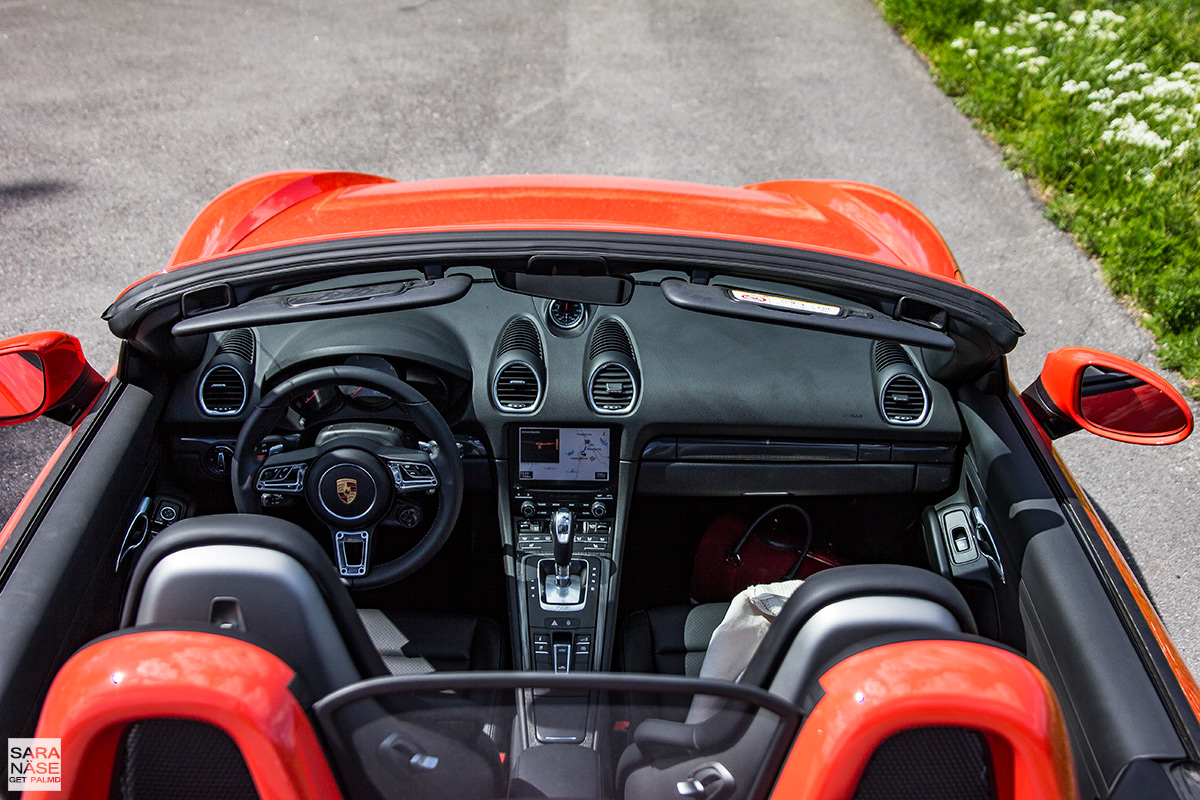 But it lacks a feeling.
I am trying to think what it exactly is that is lacking. It handles like a Porsche should handle, and although I did not drive this one on a mountain pass, I know I would enjoy spending a day or a few on some good roads. It is fast and maximum torque is available already from 1,900 rpm. There is a great balance through corners in the Boxster, so you would expect that the Cayman can only feel better with a fixed roof. I experienced a little wheel spin launching it from standstill (dry road), but the rest of the time it grips to the road perfectly. I said it with the 981 Cayman GTS and I say it with the 718 Boxster S – you do not need that much more power to have really fun on mountain roads. This is enough.
The test drive car was equipped with PDK, and personally I would buy manual, but nevertheless PDK is still one of the greatest automatic gearboxes you can buy in my opinion. In the sports car world (not talking about supercars, sports cars), the shift speeds you get with PDK are hard to beat. This lava orange test drive car had extra equipment for almost 25,000 euros – 030 PASM Sport suspension, 220 Porsche Torque Vectoring, QR5 Sport Chrono Package and much more. The base price for the 718 Boxster S in Finland is 72,660 euros and taxes are about 37,000 euros. So in total this car was worth about 134,000 euros, in Germany the same package would more likely be less than 90,000 euros.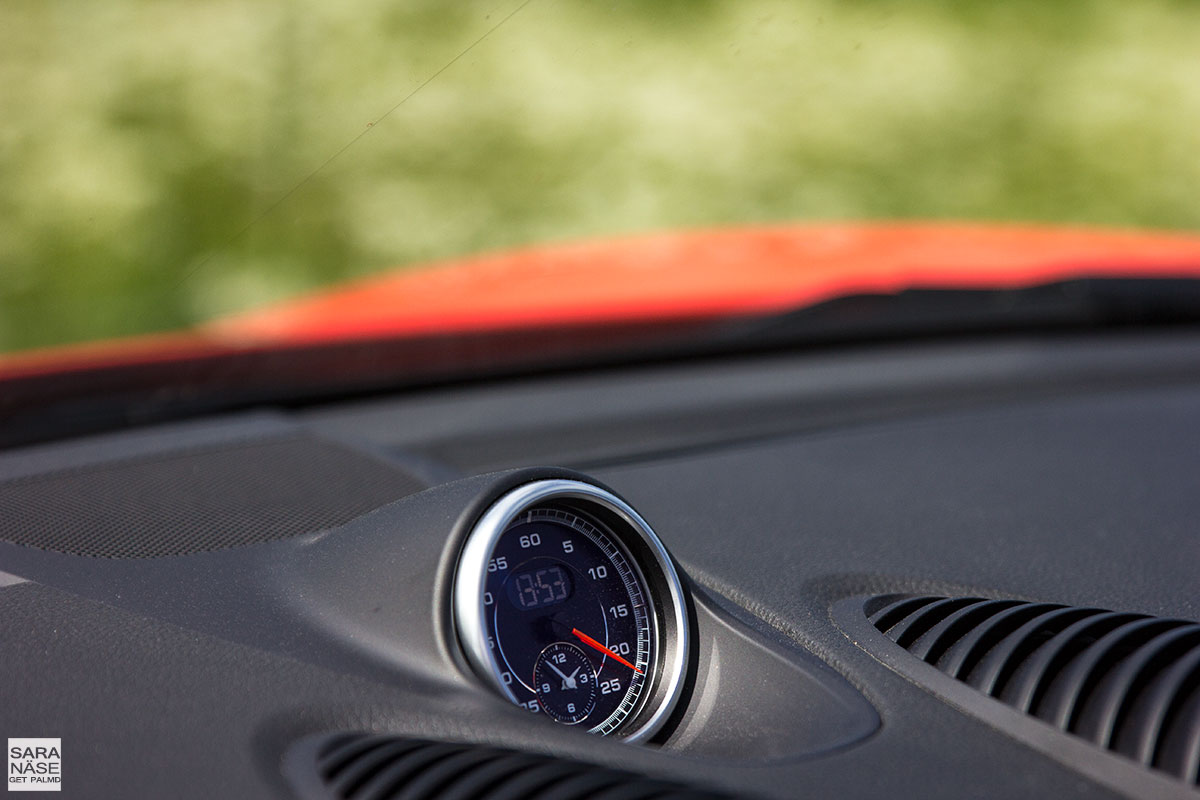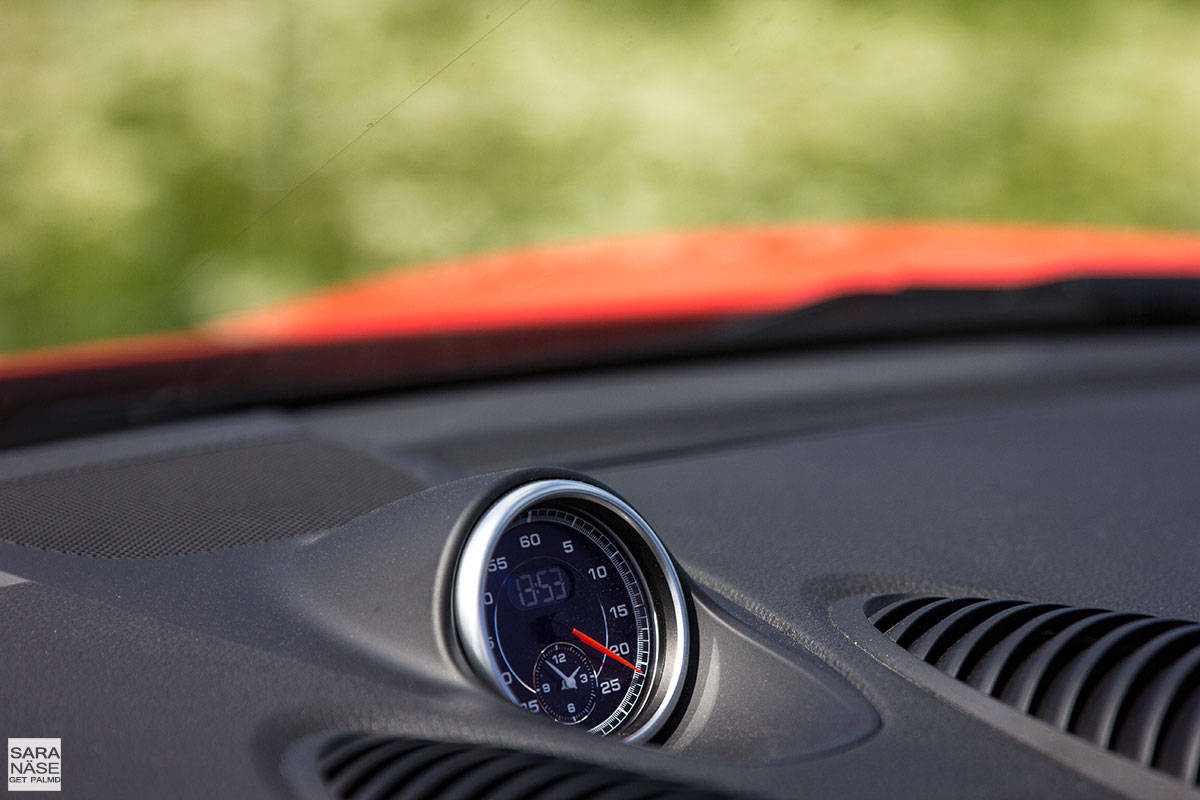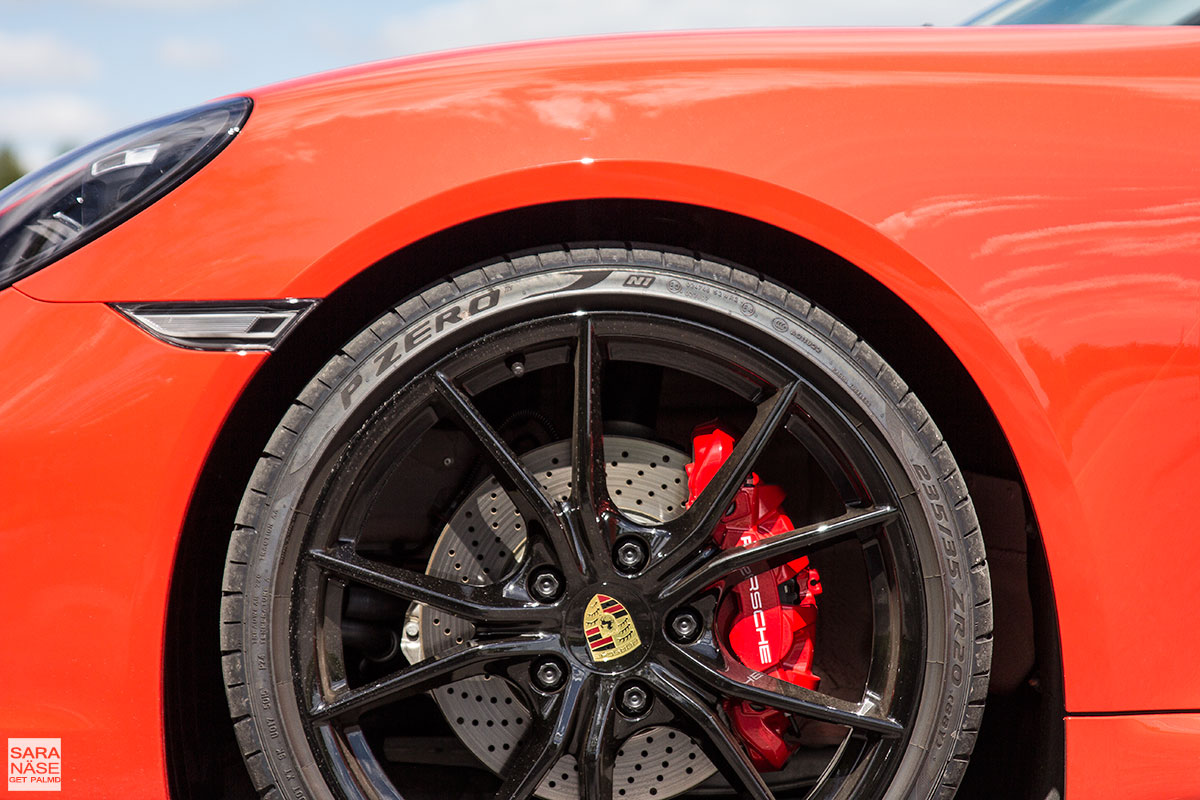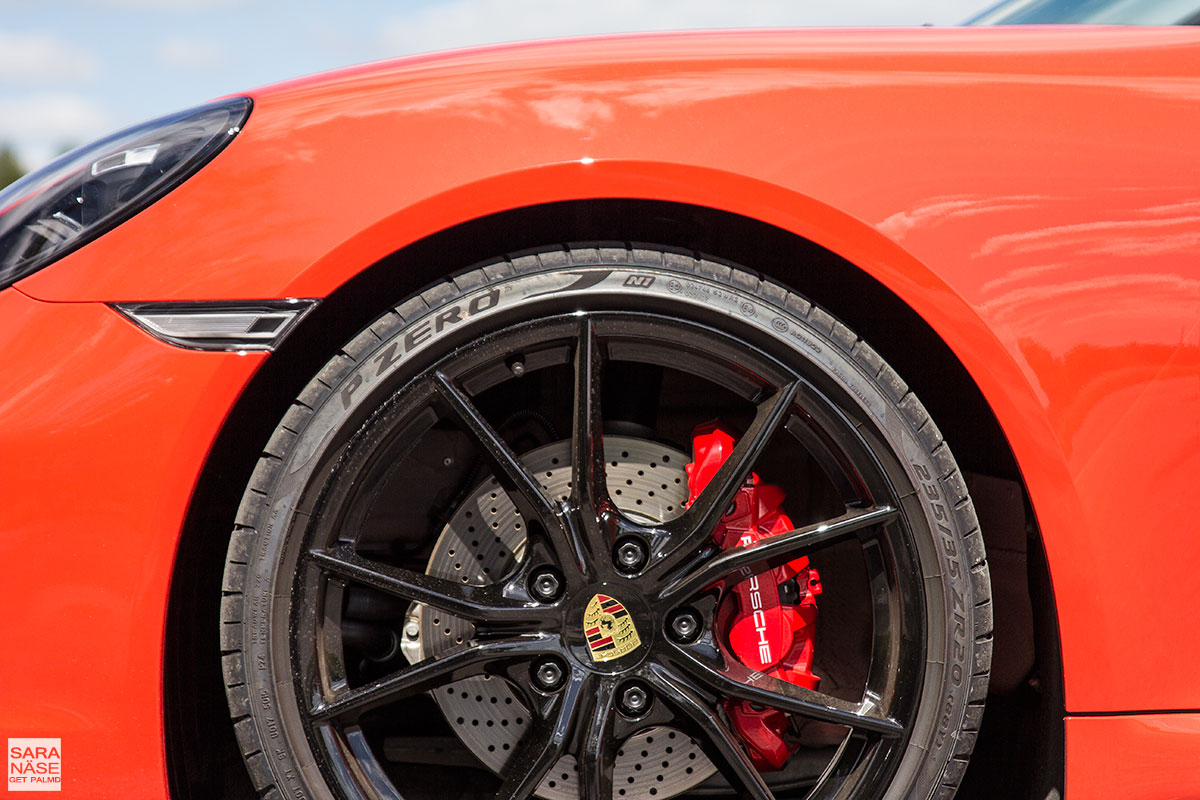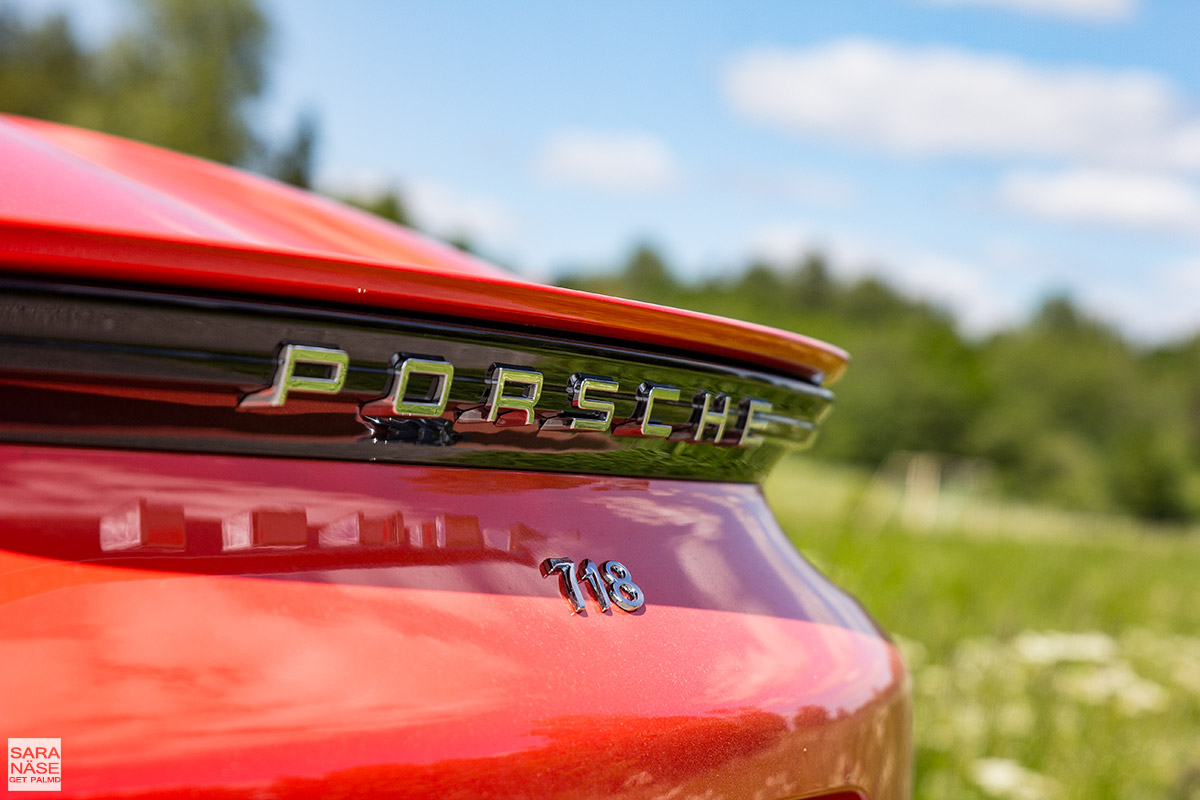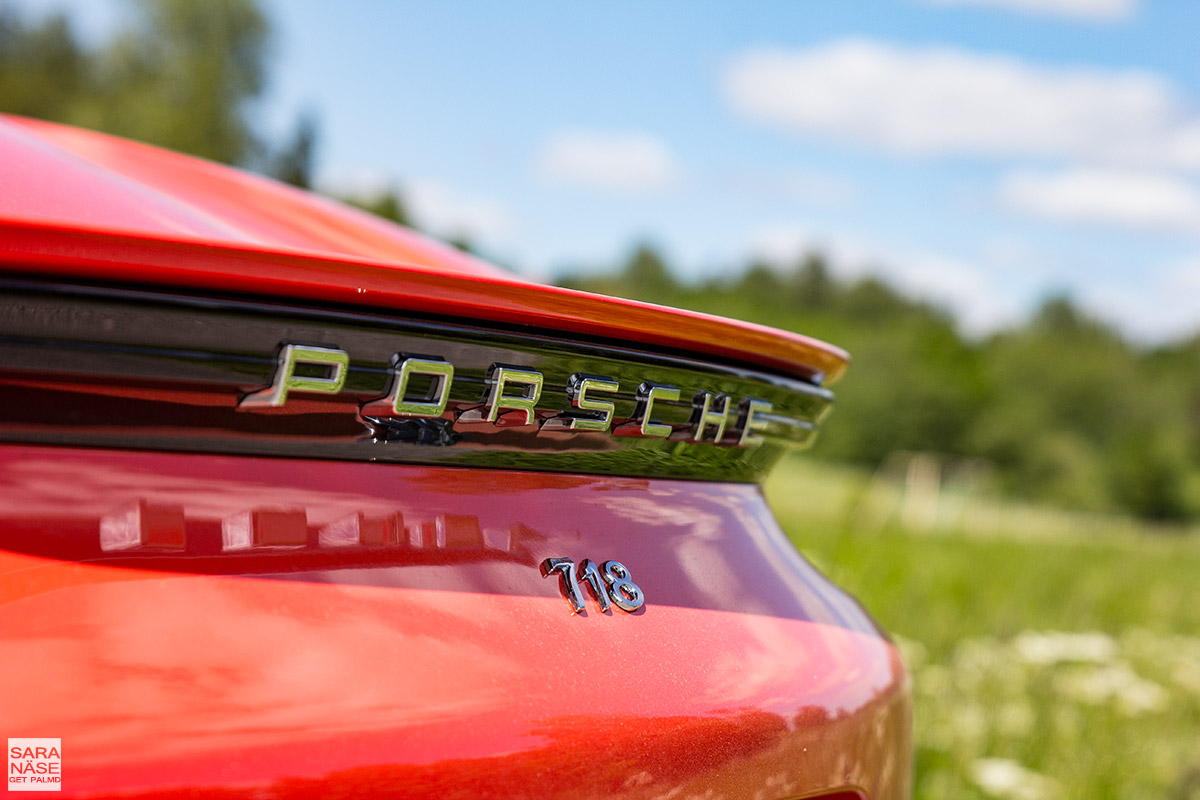 But it does not sound good enough.
I do not want to forget I am in a sports car when I am driving one. If it is not noisy and a little uncomfortable like an Exige, a car that never lets me forget I sit in a sports car, then at least it should be a car that will wow me when I drive fast by producing amazing sounds. But it did not.
Instead what I did was to open Youtube when I got home, and started searching for 981 vs. 718 sound comparison videos. Because as I once wrote in this blog, the 981 Cayman GTS was an incredible car. One of the best I have ever driven in terms of everything – it has the looks, it is a fast sports car, the handling is spot on, and when you let the rev counter needle past 5,000 rpm it starts to sound so good. It loses to the 718 in many things if we go into technical details, but in feeling it wins I think.
However this 718 Boxster S was not equipped with the optional sports exhaust. So it is possible I would have enjoyed it more if it had the sports exhaust. Difficult to say when you have not heard one – it might improve the exhaust sound a little, or it might improve the exhaust sound a lot.
Without it I just can not feel excited about the 718 sound. I defended Porsche's decision to turbocharge their 911:s because the final result is not as bad as many might think. I personally think the new turbocharged Carrera S sounds good and truly enjoyed my time in the 991.2 Carrera S. But in the case of the 718 I feel that either I think they should have kept the old naturally aspirated six-cylinder engines, or they should have tried to fit in the same engine in the 718 that they use for the 991. Turbocharged four-cylinder does not always have to be a bad combination. Just listen to old rally Subaru Imprezas, the Alfa Romeo 4C, and the Mercedes-Benz CLA45 AMG. But it is a disappointing sound when it comes from a Porsche, probably because with Porsche you always have high expectations. And in this case, you can not stop thinking about what they used to sound like.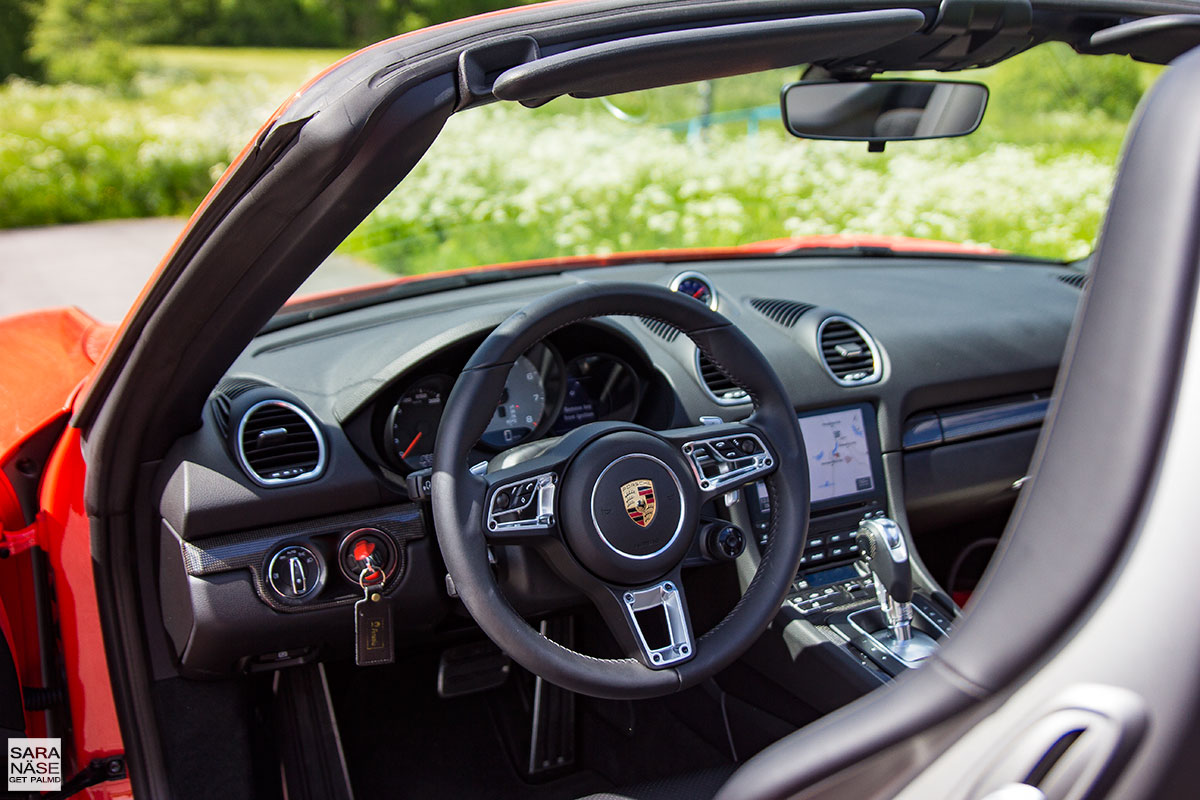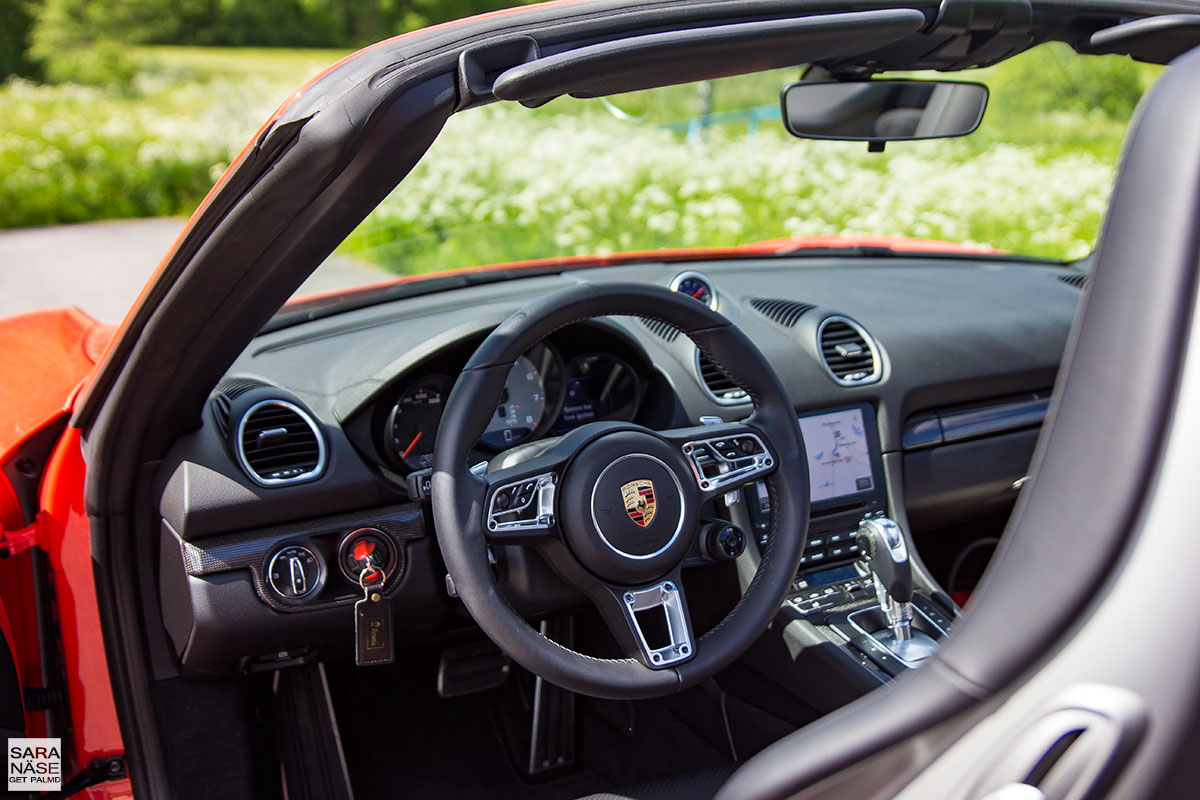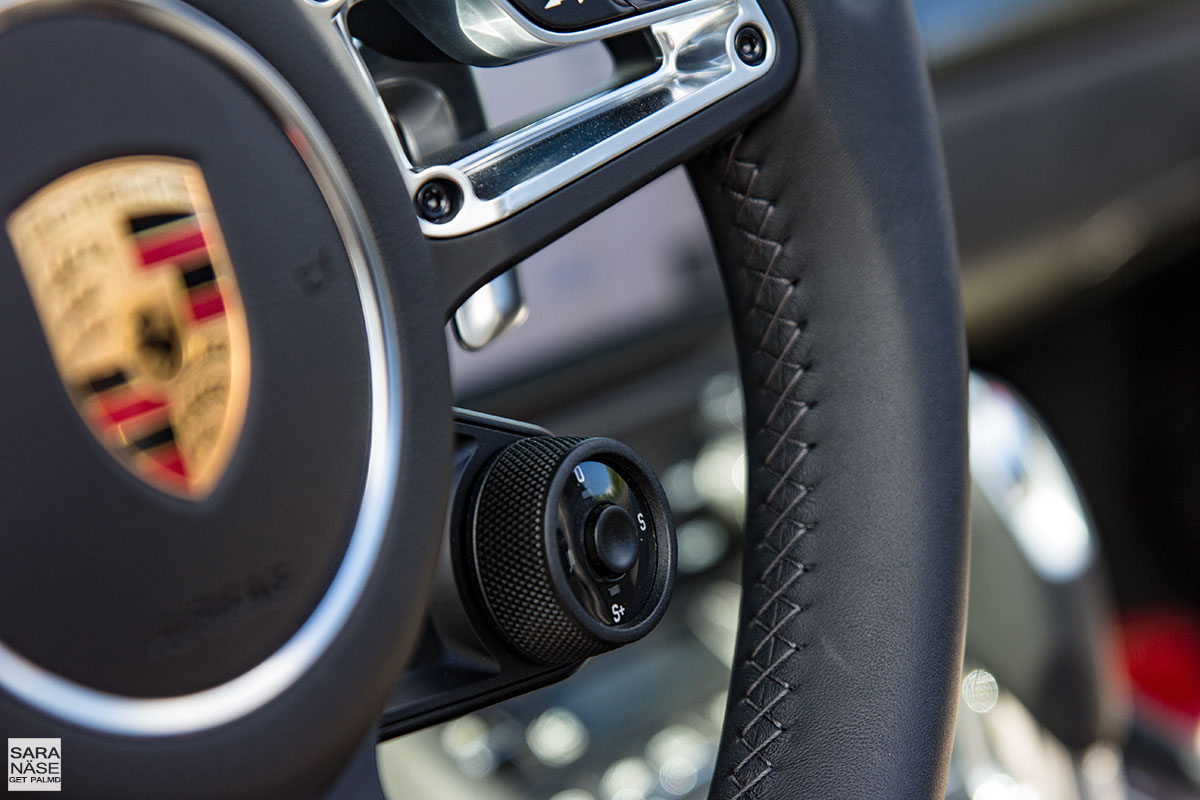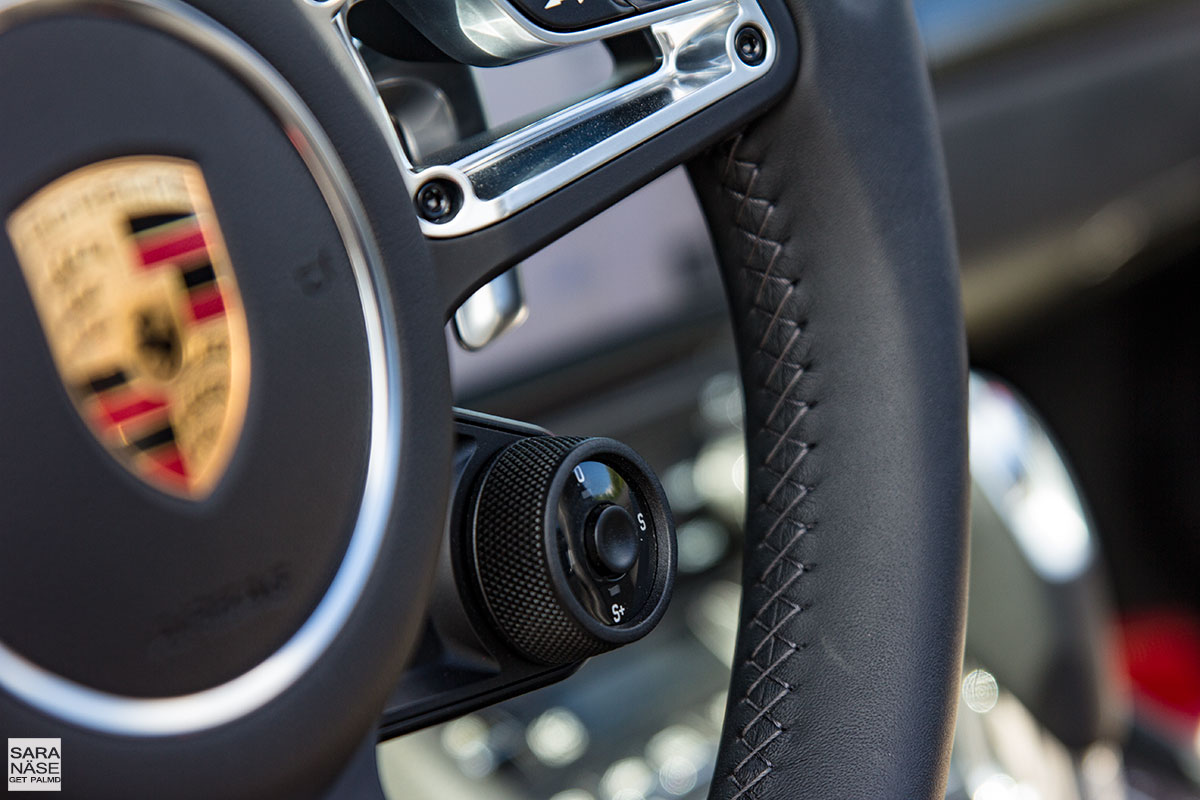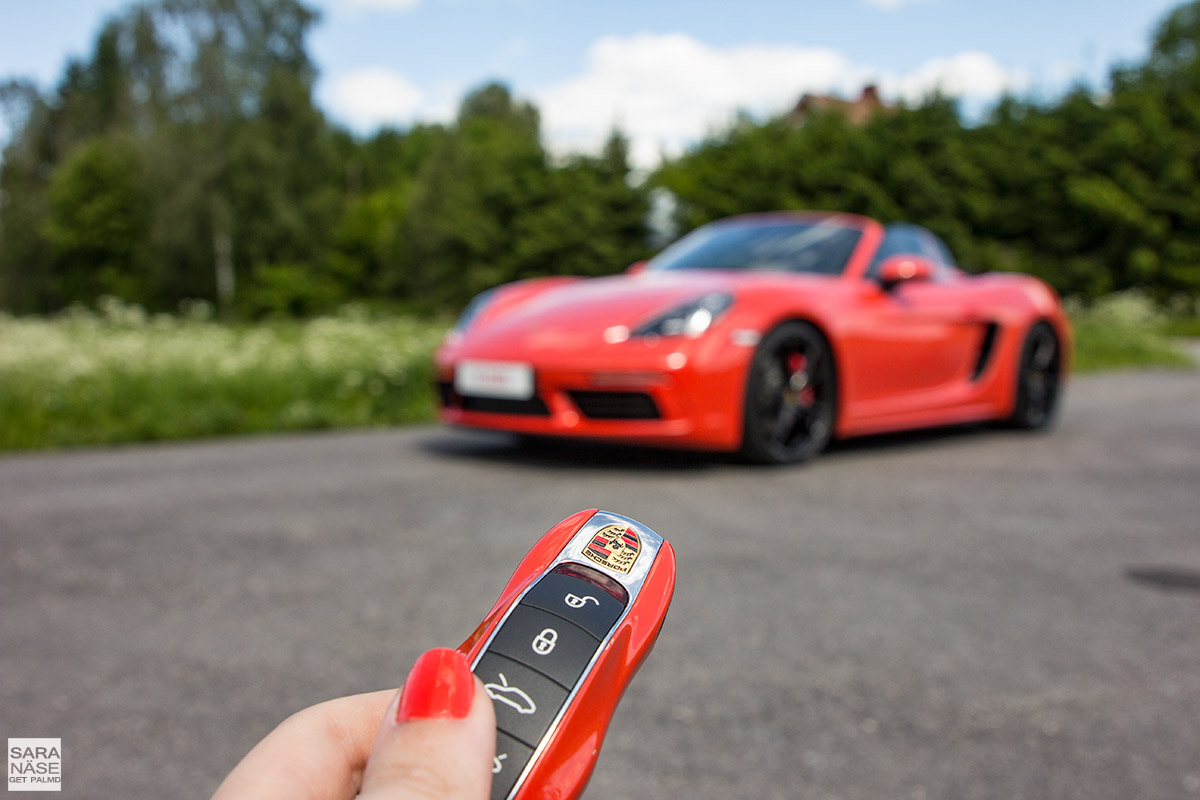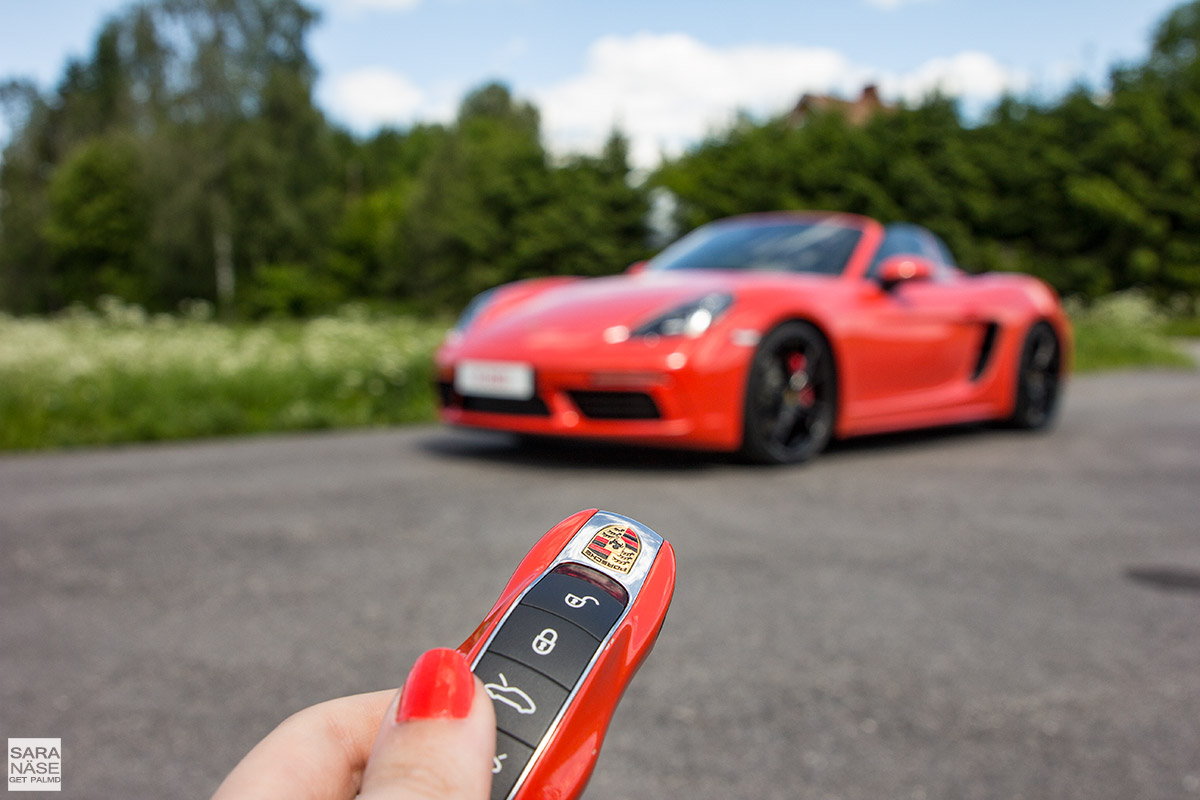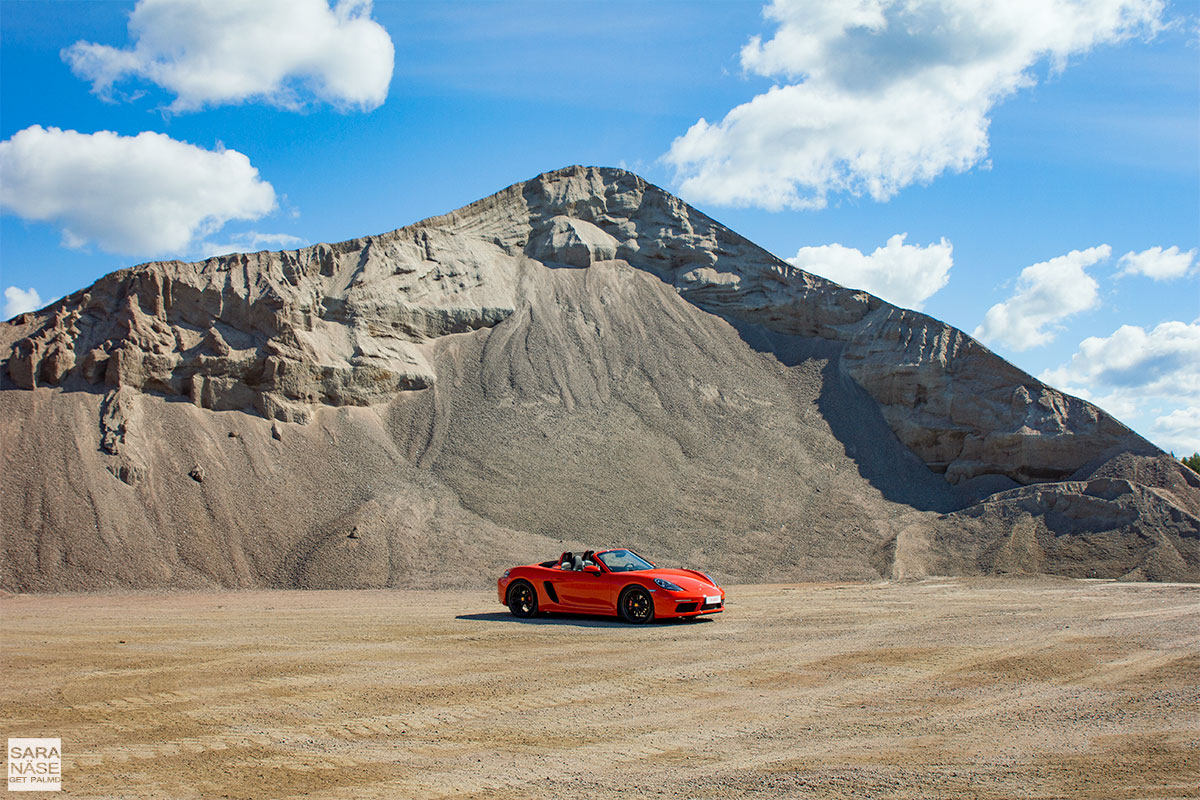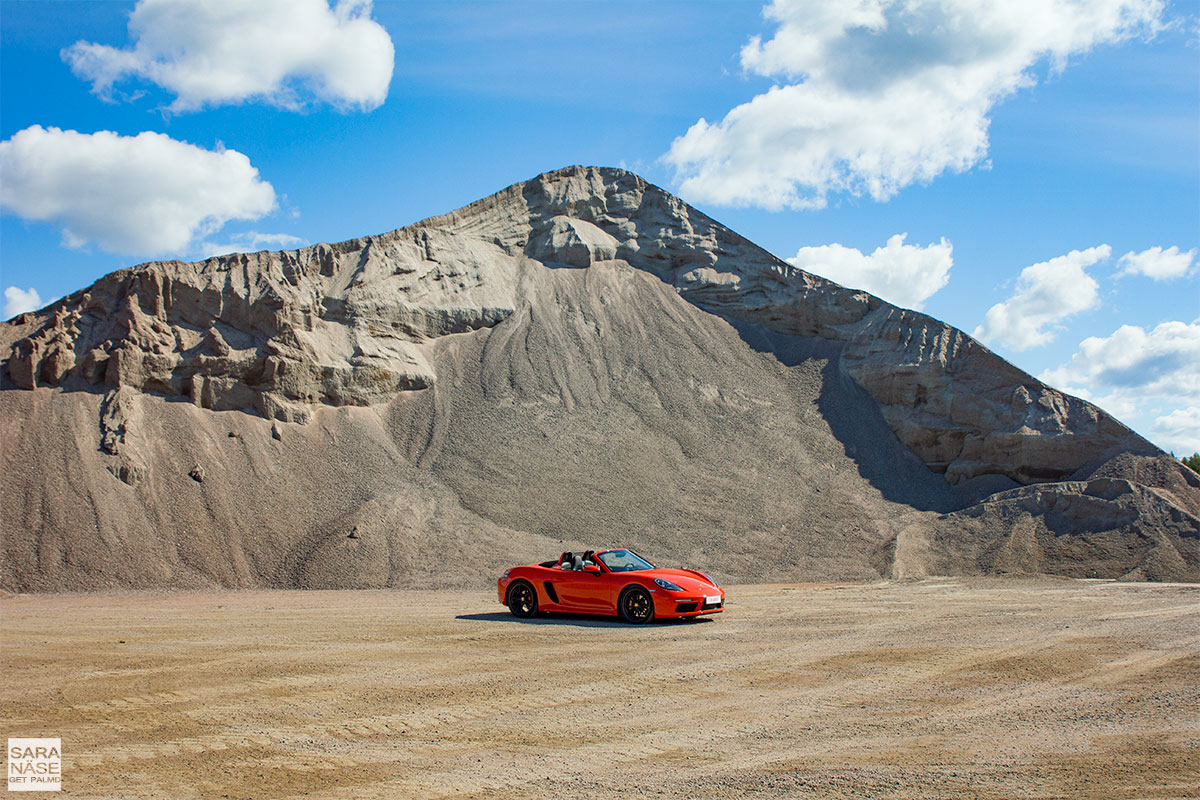 What I now know is that the 718 Boxster S is, not surprisingly because I did not expect anything else from Porsche, a very good driver's car. But if driving a sports car is for you what it is for me – a moment that should always include a mind-blowing engine sound for it to feel really exciting – then you might also find the 718 soundtrack disappointing. There are people who will love the new 718, because in many ways it is an improved version of the 981, but it just lost something important in the change. Many of us will miss the sound of a naturally aspirated six-cylinder engine. Those are the people who perhaps now will understand how great the 981 actually was, and start looking at them on the second hand market. I belong to the second group of people. The chances to find a yellow 981 Cayman GTS with a manual gearbox are small, but to buy a 718 instead is not an option either.
If I am going to spend around 300 days a year in a car, I want to smile wide every time I drive it because it sounds so damn good. I do not think I can have that with a 718.
But I still need to test one with sports exhaust!
[ale_divider style="medium" text="notext"][/ale_divider][ale_alert style="grey"]
Specs for 2016 Porsche 718 Boxster S
Engine: 2.5L turbocharged boxer 4 petrol engine // Maximum output: 350 hp @ 6,500 rpm // Maximum torque: 420 Nm @ 1,900-4,500 rpm // Acceleration 0-100 km/h: PDK 4.4s (4.2s with Sport Chrono) or manual 4.6s // Top speed: 285 km/h // Weight: 1460 kg (EC, PDK) // Drivetrain: Rear-wheel drive // Transmission: 7-speed PDK or 6-speed manual // Seating: 2 // Trunk space: 150L front and 125L rear // Emission standards: CO2 167g/km (PDK) or 184g/km (manual), EURO5 // Fuel tank capacity: 64L // Fuel consumption L/100km: PDK Urban 9.5L – Extra urban 6.0L – Combined 7.3L and manual gearbox Urban 10.7L – Extra urban 6.5L – Combined 8.1L[/ale_alert]