When Dan told me that BMW would deliver a press car for us to enjoy on our long weekend in the UK the first question was, what could it possibly be? I knew Dan was longing to drive the new 8-series so I assumed that it might be the BMW M850i that would arrive, but as BMW had only recently launched the vehicle to the press in Portugal we weren't sure if they would have any cars available this early for people whose surname wasn't Clarkson or Harris.
Then one day came the call from Martin, press fleet coordinator at BMW UK. 'We have a car for you', he said. 'It's an 8-series – but it's a diesel'. I looked at Dan's brave face next to me as he said 'great, we'll have that'. 'I didn't want to be rude and say no, it's still an 8-series', he explained afterwards. Blank face. 'It's a diesel, what can I write about that, and how does it fit in between the Porsches and the Ferraris?' was my immediate – arguably rude – comment. Of course I've driven diesel cars before in my life, but the honest truth is I struggled to even remember where, when, or which cars. Is this what they call a selective memory?
My husband looked at me with that disappointed look on his face – the one you don't say no to – and said 'Sara, I know it's not a Porsche or an M car, but I said to Martin you'd write a little piece on it as well – so now you have to'.
I don't know who was more relieved when the car turned up at Munich Legends – me, or Dan. It wasn't a diesel after all, instead BMW UK sent us the exact car we were hoping to get – the new BMW M850i, the most powerful 8-series in production until the new M8 arrives. Damn you Martin, you scared us!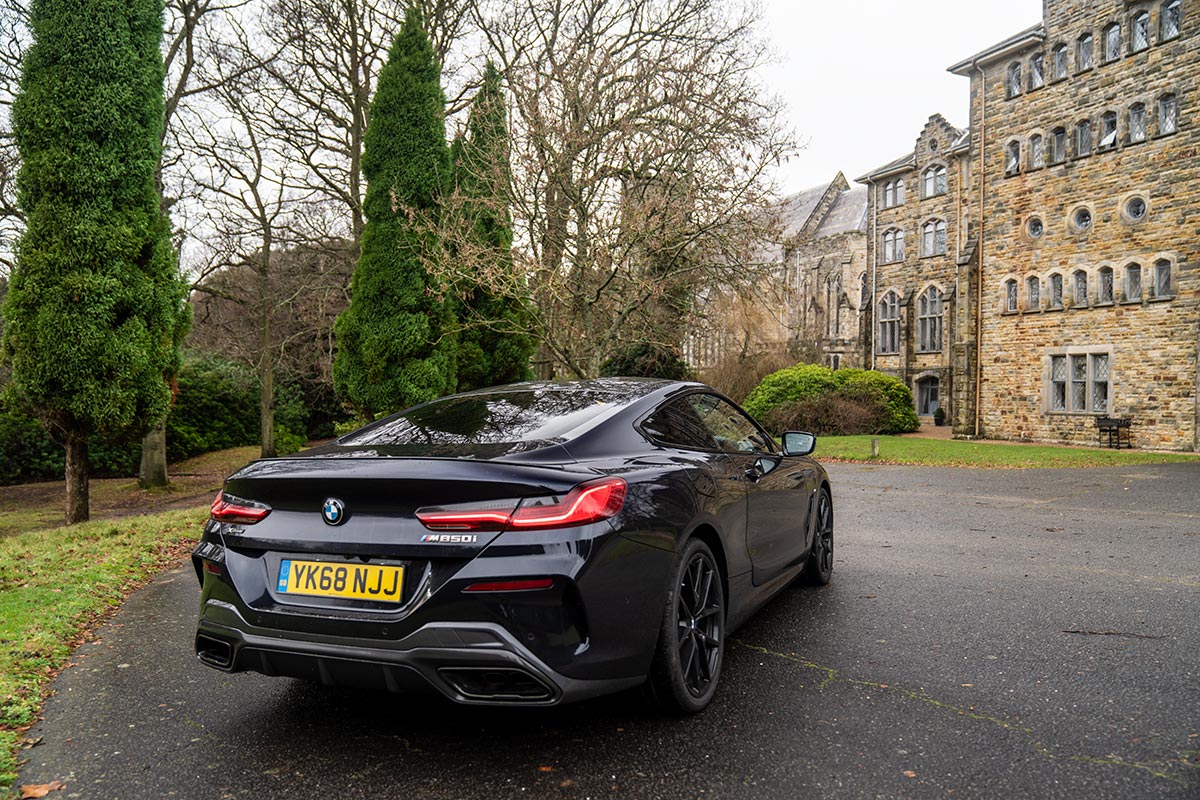 And there it was, a big black beast dominating the front of the showroom. It looked huge, it looked mean, and although black is one of the most difficult colours to photograph – especially in the frequently gloomy British weather – it's most certainly the perfect colour to show off the lines on the car. I know my other half was more impressed than I was, and more keen to drive it first, so off we went. We spent four days getting to know the BMW M850i – flying over new potholes that had appeared on the shocking tarmac of most British backroads, trying hard and most certainly failing to stick to the speed limits on the motorway, doing a quick shop run to the local Tesco to buy milk for our White Russians (can we make the round trip in under 10 minutes?), driving to our accountant and trying to work out how to make the car fit in its allocated small parking space without sticking out over the lines (mission impossible), and last but not least trying to impress the guys at Aston Martin by rocking up in something big, something beautiful, and see how many heads would turn. You know the normal things you'd do as you road test press cars.
The strange thing was that I was surprisingly happy in the passenger seat, with heated seats and armrests, a drink in the cupholder, feeling a bit like I was shuttled around in a limousine. Give us the keys to a GT3 or a 488 and we actually ask each other 'when is it my turn to drive' – constantly. But with the BMW M850i I just felt… a bit unmoved, I suppose. It was fast and smooth in a straight line, but at times a bit frightening in the tight bends. Capable, but you do sometimes wonder if you're going to come out alive on the other side. Or maybe that's just my husband's driving.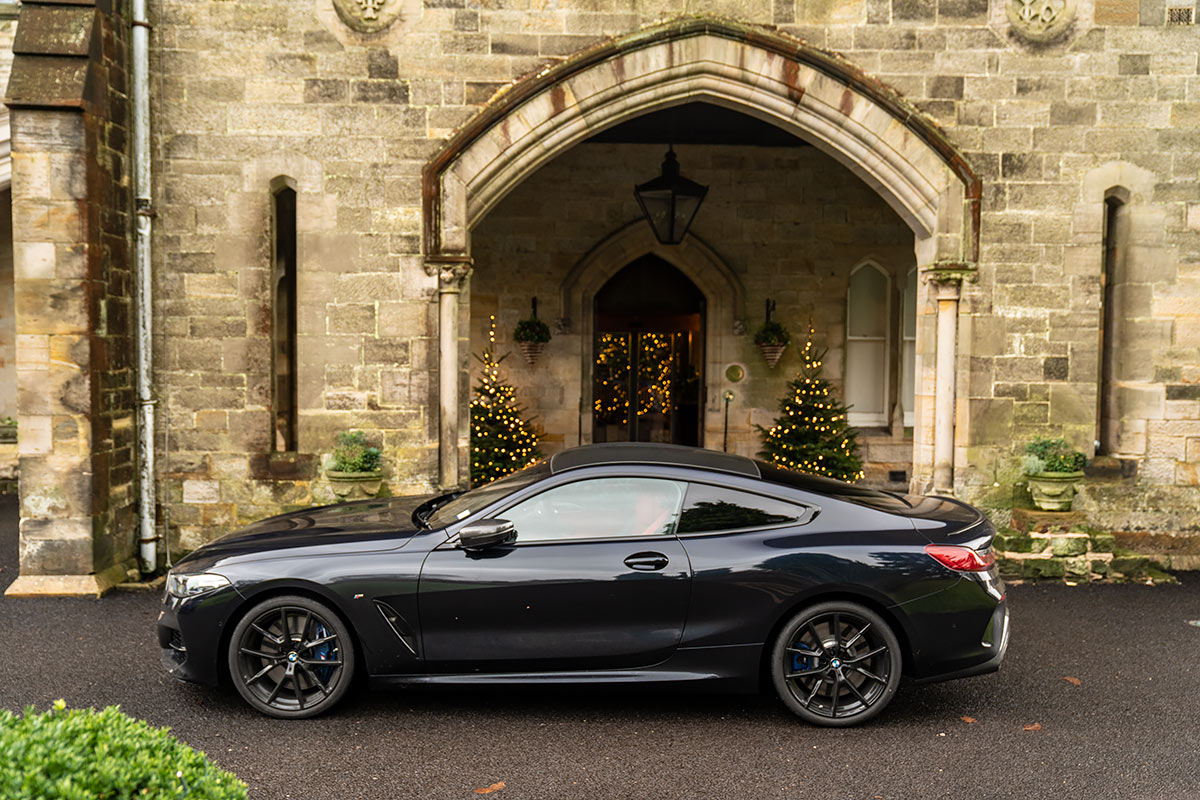 The problem with most press launches is that they give the keys of the car to the journalists and ask them to lap the car around a race track with a smooth surface and perfectly designed curves. And of course you might find roads that simulate race tracks in countries like Germany and Switzerland, where some of the tax money actually is allocated to maintaining the road network – but that is not the case in England as far as I can see. I put my foot down on a bumpy straight stretch of road, and by the time I reached the corner it felt like I could barely feel the road underneath me – it felt like the car was in the air, the digital speedometer rose fast, and suddenly I wasn't sure if I left the braking too late. It might be a huge car on the road, but the stopping power is pretty reliable. Speed can also become an intimidating feeling in a car that weighs about 2000 kg, with 530 horsepower under the hood from a 4.4L TwinPower Turbo V8 engine. I stopped trying to drive it like a sports car, and reminded myself that's not what it's all about with the M850i. It's not a 'pure' M car and the people it's aimed for wouldn't be trying to drive it like a race car – because if they're after that thrill, they'd buy something else.
Instead in the BMW M850i 'overtaking is pure joy', as BMW themselves describe the car on the website. I'd agree with that – 0-100 km/h in 3.7 seconds is an impressive figure for a car this size, and it's all possible thanks to the 750 Nm of torque available already from 1800 rpm. In the winter when it's cold the seats will be heated, the armrests will be heated, the interior lights can be changed according to which ambience you're after, you can choose if you want to cruise around in Eco Pro mode or make your heart beat a little faster in Sport+, and although the rear seats didn't look like the most spacious place for passengers – and the coupe design with electronically controlled seats doesn't allow for a gracious or quick entry or exit – you can get your dog, kid or even shopping there if you run out of space in your 420L boot.
However unless the owners of this car live close to the German Autobahns or America's wide open roads it's unlikely they'll ever push their BMW M850i close to its limits – and even when you do, the overtaking stops at 250 km/h. But if your life consists of long distance driving on motorways, and you want to spend those precious hours on the road in luxury, this car might be something worth considering. If you're into American muscle cars you might want to test drive this European cousin, because the M850i looks a bit like a Mustang, and seems to be designed for the same type of territory – straight lined roads just pulling you towards the horizon.
But then why would you, when you can buy the new BMW M5 for less? It has four doors instead of two, but it drives like an absolute dream, and does everything the BMW M850i does (and more) but much more convincingly – and to me that's way more appealing.