A first impression can be enough to feel butterflies in your stomach. A short drive can be enough to make you want more. A day with a car can be enough to get attached to it. But have the car for a full weekend and you might return the keys in love. Especially if your weekend car was a Ferrari F355 Berlinetta.
My experience with Ferrari is I have driven some of the more recent models. However this was my first experience in a Ferrari from the 90's. It is rare that you get the offer to drive one. Maybe it would work to contact a dealership and ask them if it would be possible to do a story of one, or go there as an interested buyer. You would probably get many no answers, but I think eventually you could find someone who would let you test one. Or maybe you have friends who own one and let you test drive their car. But the likelihood that someone will hand you the keys to a Ferrari F355 Berlinetta for a full weekend to enjoy, without you actually having to buy it, is small.
For that reason the word thankful feels small now. I am thankful, grateful, happy, blessed, speechless to be honest. Because last week's Friday I picked up a black Ferrari F355 Berlinetta. It became by far the best weekend date I have ever had. "Why didn't you bring a friend with you" people asked me, pointing at the empty passenger seat in the car. "I don't want to talk, I just want to listen to that V8" was my answer. All I needed was the car.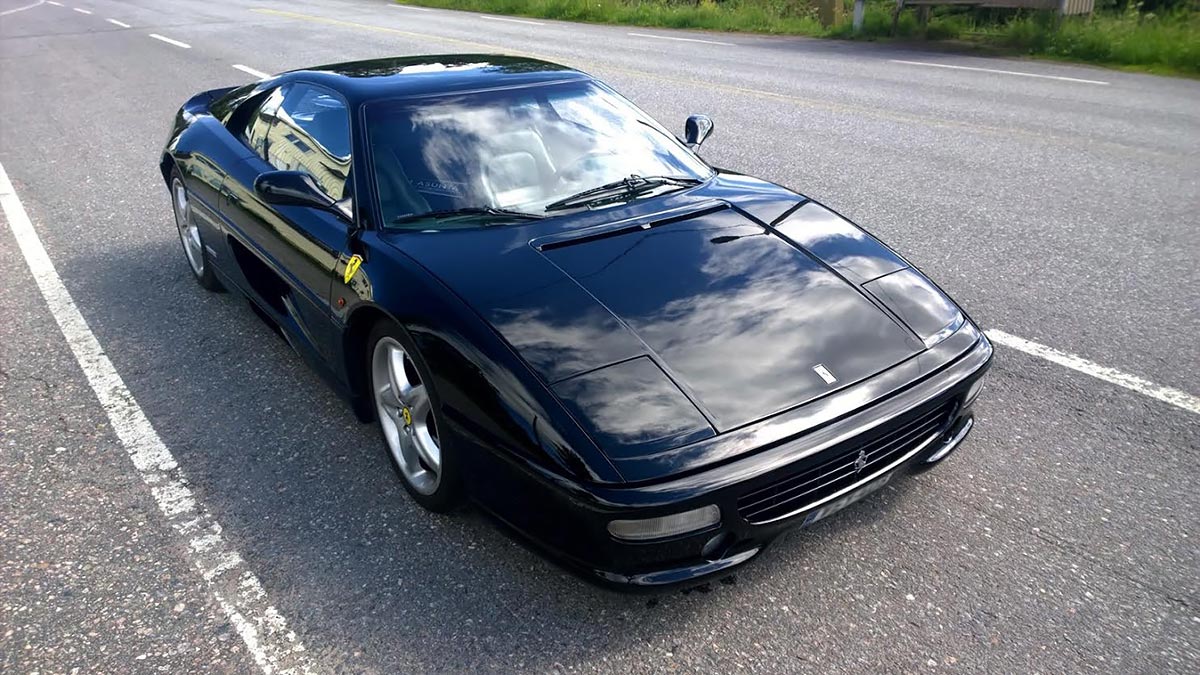 Ferrari F355 Berlinetta 1994-1999
The Ferrari F355 Berlinetta was built from May 1994 to 1999. First it was only offered with a 6-speed manual gearbox, but from 1997 they offered a 6-speed F1 electrohydraulic manual (paddle shifters) as an option. In total 11,273 F355:s have been built, and 4,871 of those were road-going Berlinettas. The F355 is powered by a mid-mounted 3.5L V8 (90° flat crank), developing 380 hp at 8250 rpm and 363 Nm at 6000 rpm. The car can accelerate from 0-100 km/h in 4,7 seconds and reach a top speed of 295 km/h.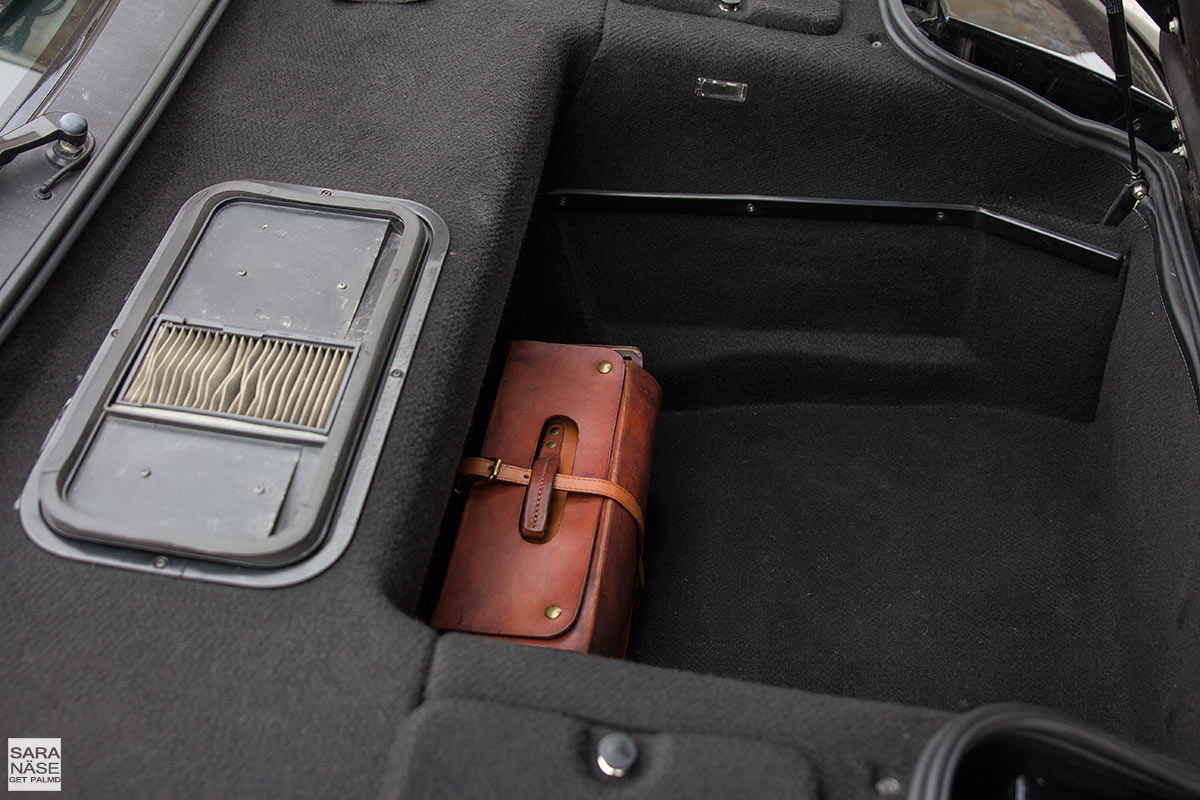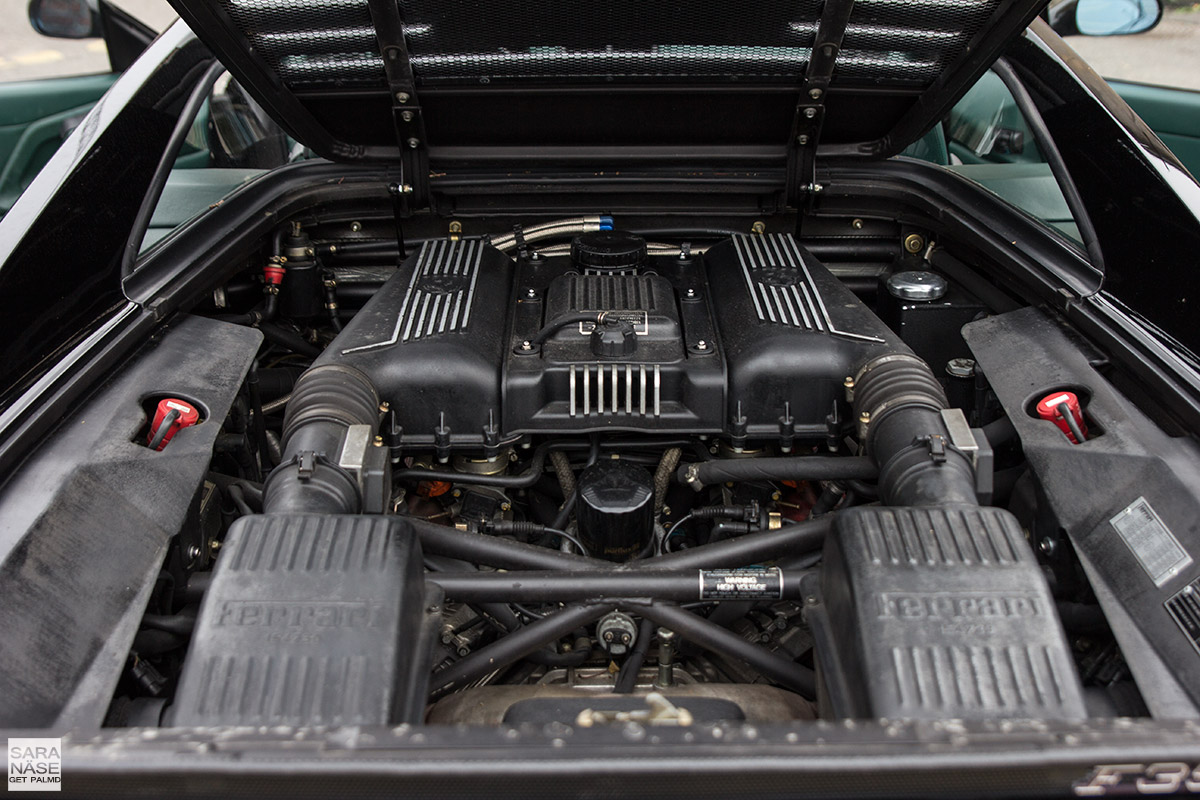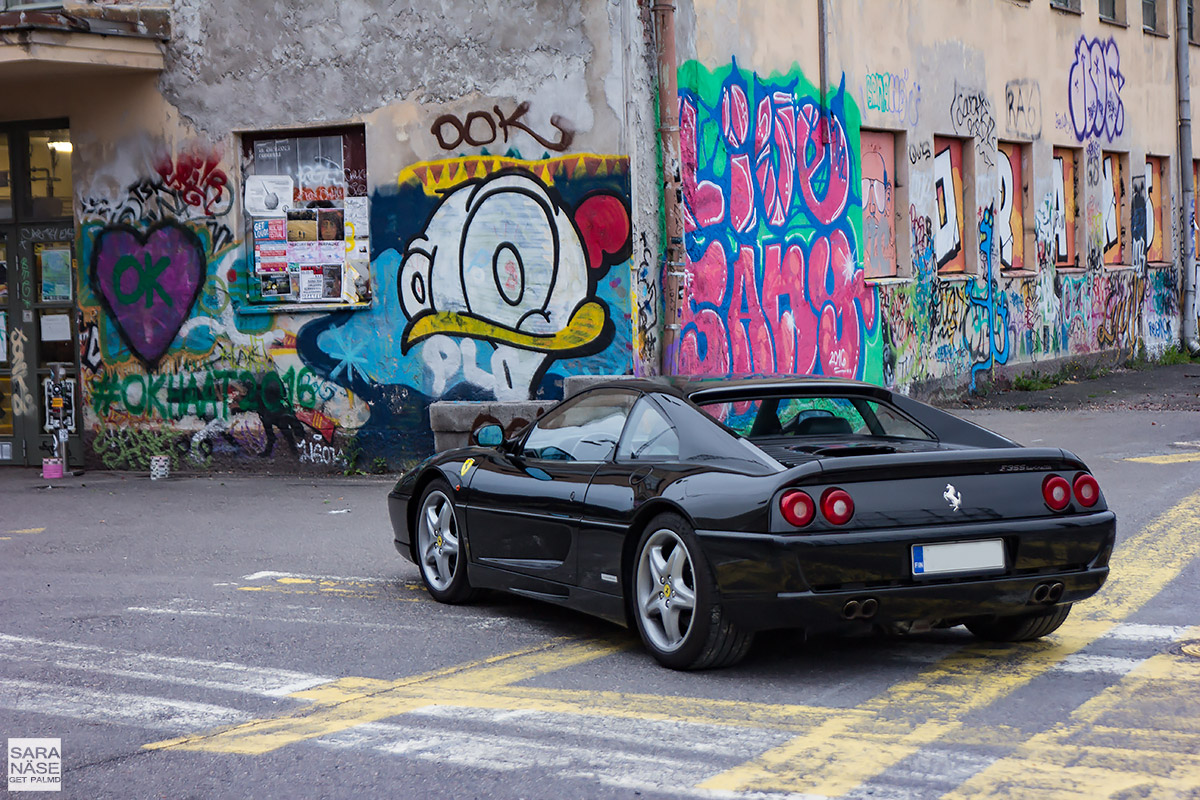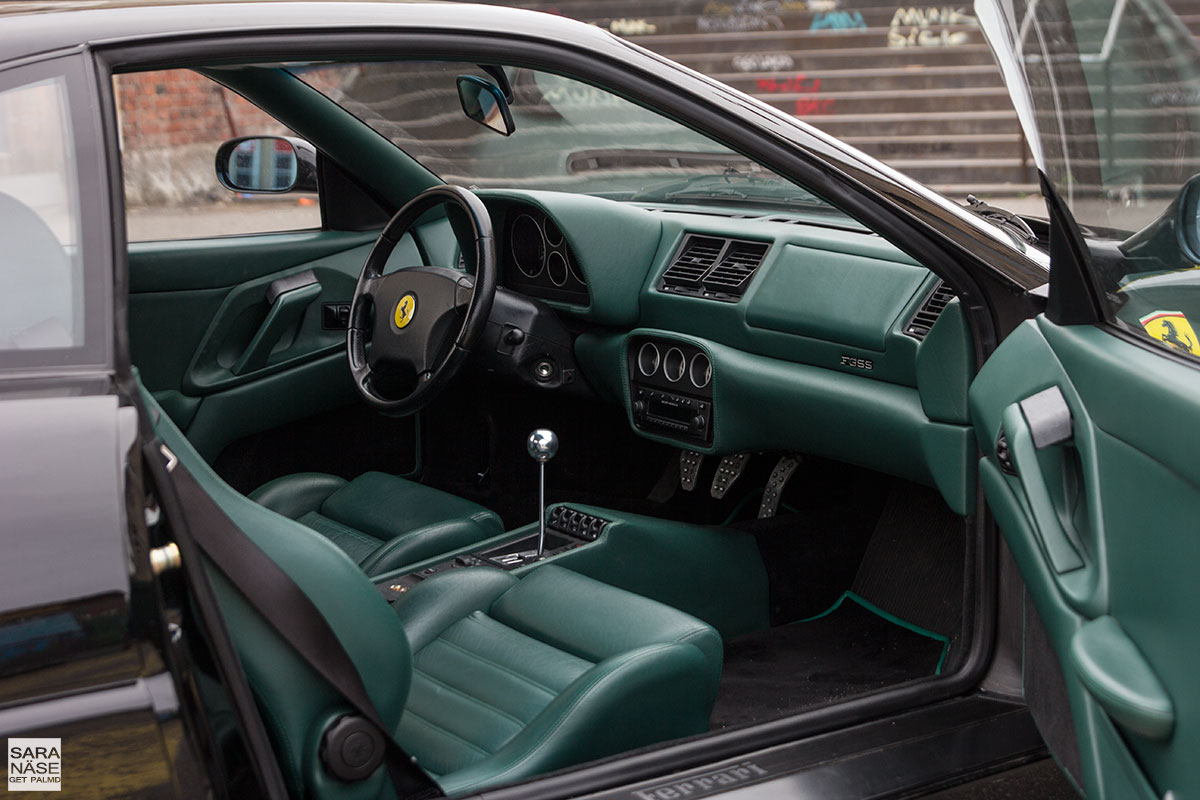 While preparing for the drive, and to get some hints about what car I was about to experience, I read a lot articles online about it. Many of the articles that ranked the highest sadly had a negative tone. They gave the impression the F355 is one of the worst Ferraris you can buy, because of the high maintenance costs. In my eyes it is however one of the most beautiful Ferraris you can buy. And the fact you can still get good ones for under 100K euros (but maybe not for long!) makes it an even more appealing car to dream of.
The drive
A little gutted that the car seemed to have such a bad reputation, I picked up the car with "wonder if it will work all weekend" thoughts running through my head. My task was not only to photograph it. It was also my responsibility to get it in one piece to a Concours d'Elegance event, about 450 km round trip. In total I probably spent nearly 650 km in this car – and it worked without any problems all weekend. On the day of departure I woke up to rain. An Italian supercar (yes, I think this is a true supercar and not "just" a sports car) from the 90's on a rainy day, on some good driving roads with plenty of curves, is perhaps not the ideal first test drive you could think.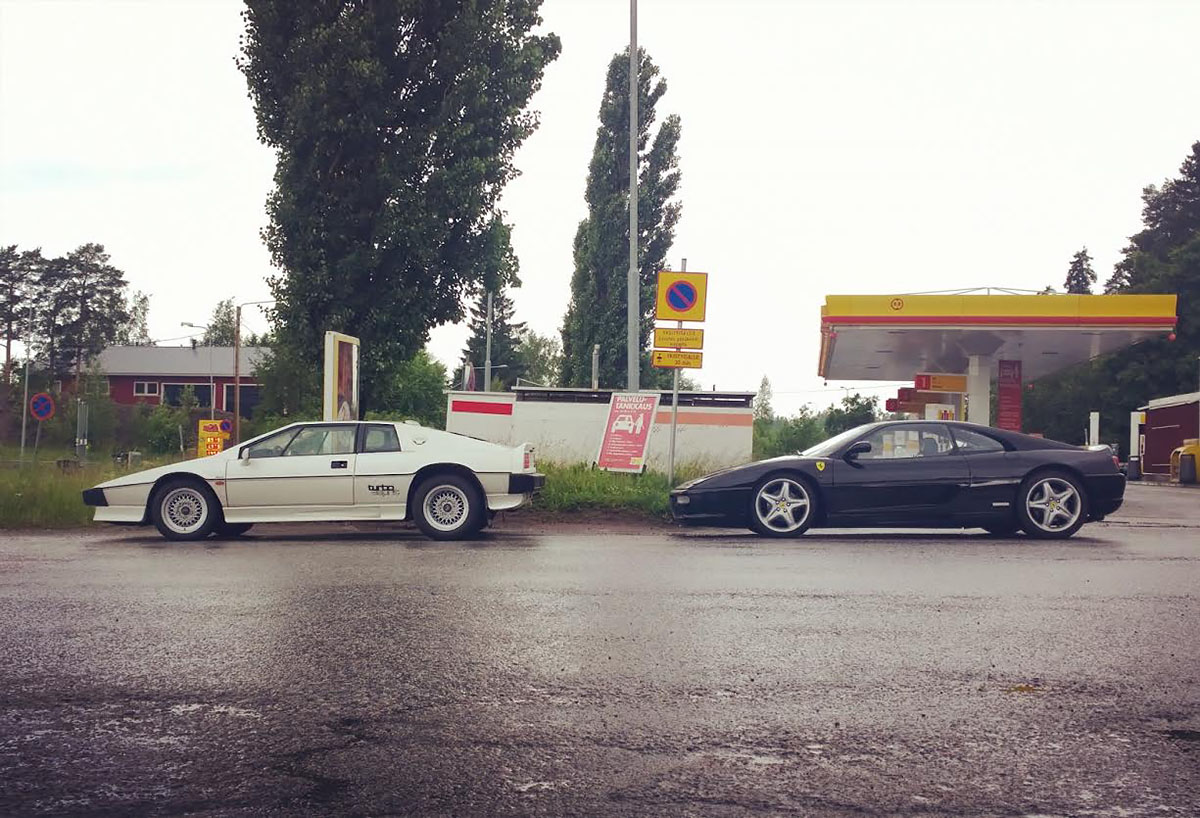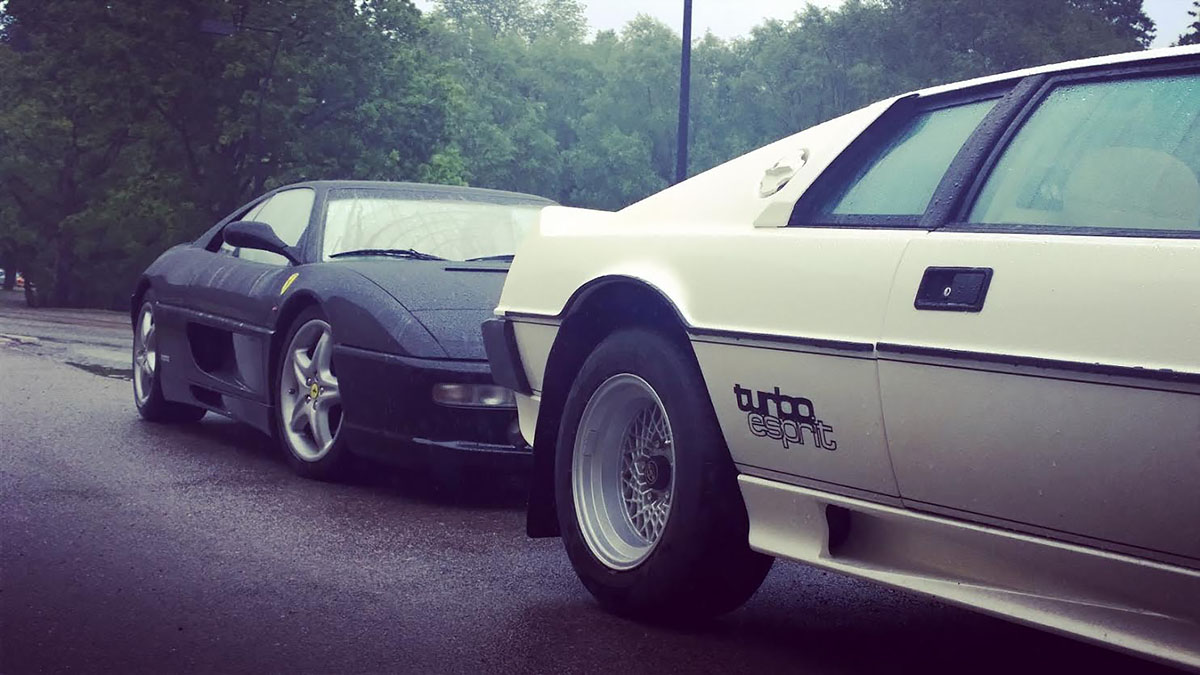 Truth is, it was. Without going into details about speeds reached I want to tell the world how nice the car was to drive. Both on wet roads, as well as dry roads. If I ever had any doubts if this car would work for daily driving in any weather (except snow), those doubts were all gone after that weekend. I understand the hype around modern high performance cars. I work with them, and on this website and my company website I encourage people to drive them. I would not do that if I did not think it is a very special experience to be seated in a new supercar, with all the latest technologies. They are faster, more safe, and often also more comfortable for daily use. But in my personal opinion there is nothing that beats the feeling of driving an older manual transmission high performance car. For me those are the best drives.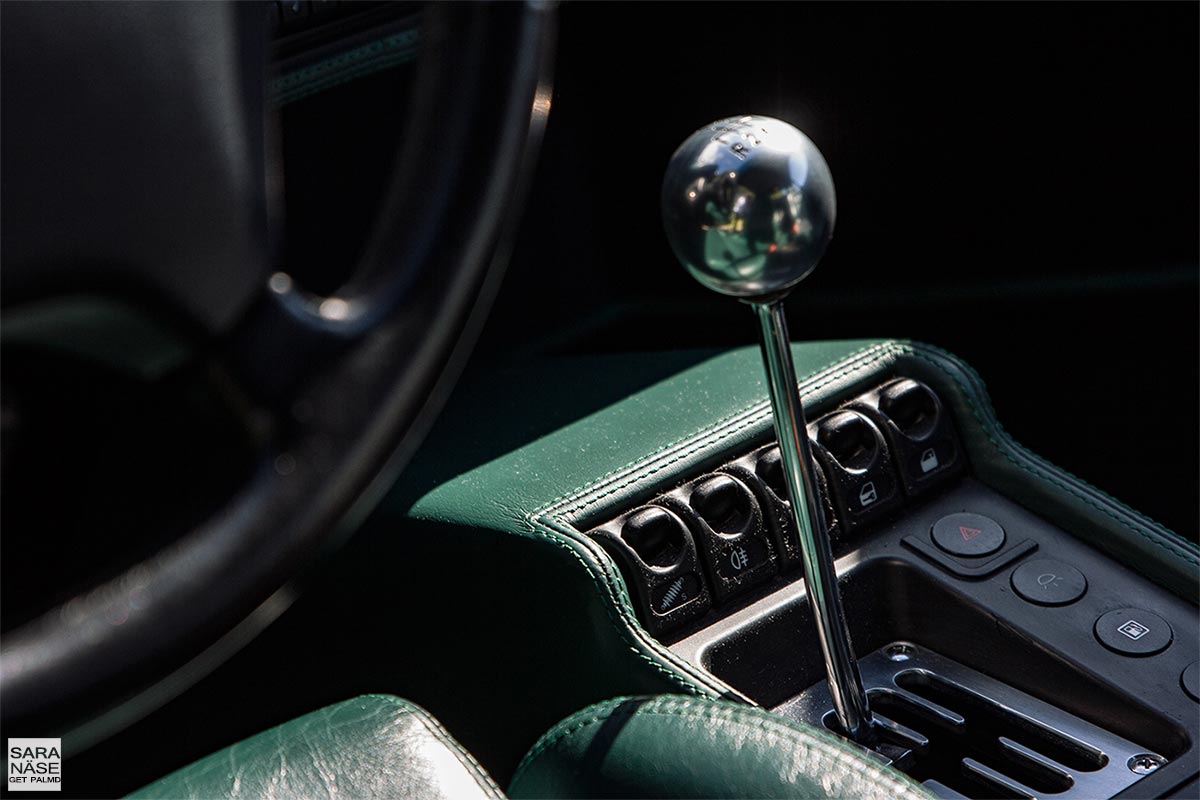 Old manual gearboxes are more challenging and more rewarding, because you really need to do some work for a smooth downshift. There is no computer to help you match the revs to engine speed automatically. That is your job using rev matching or double clutching techniques (and maybe even heel-and-toe). I am not an expert because so many modern manual transmission cars have auto rev-matching these days. For this reason I would actually want to have an older manual car as my daily driver. I do not want to forget, I want to improve my driving skills. Because of the gated shifter in the F355 you will clang the stick into the shift gate, especially if you try to shift fast. And while you of course can try to manoeuvre the stick with a bit more precision inside that gate so it does not clang that loud, and skills most likely improve if you live with it daily, I actually think it adds to the driving experience that you get a "clink-clink" sometimes followed by that last "clang". Somehow suits the car.
Driving the Ferrari F355 berlinetta you will feel the clutch is light, which adds to daily driving comfort. The low seating position is one of the best I have ever experienced in a car. And while you can tell from the handling feel it is an older car with its imperfections, the joy in these cars come from the level of involvement they require. I want to feel like I am in charge of the car. That feeling is easily lost in modern cars if it feels like a train on rails. The grip on wet surface exceeded my expectations, and I found myself pushing it harder and harder through those corners. Simultaneously the air conditioning was defogging the wind screen at maximum speed, so I could see the road in front. Occasionally the thought "wonder if this is such a good idea" was in the back of my head, but each corner I drove with more confidence than the previous.
We make a good team is the feeling you get in this car. You do not have to be an experienced driver to drive it, but with it you will become a better driver.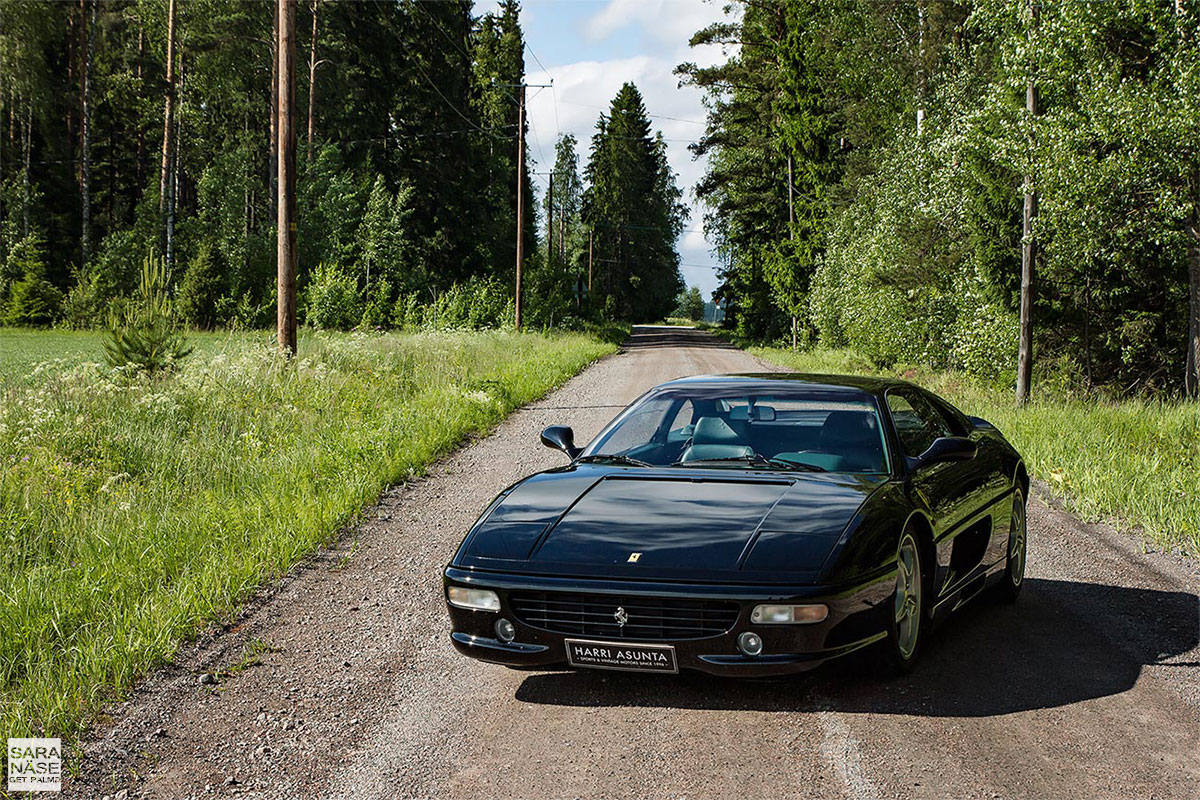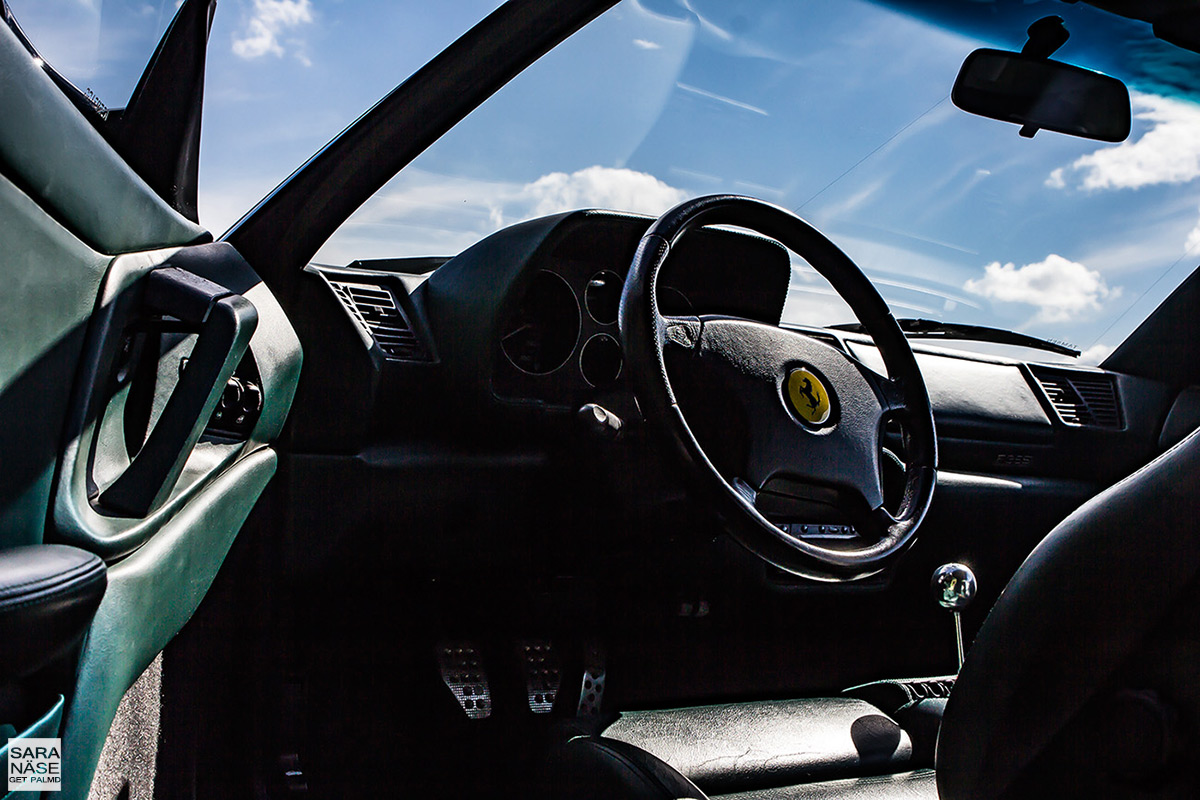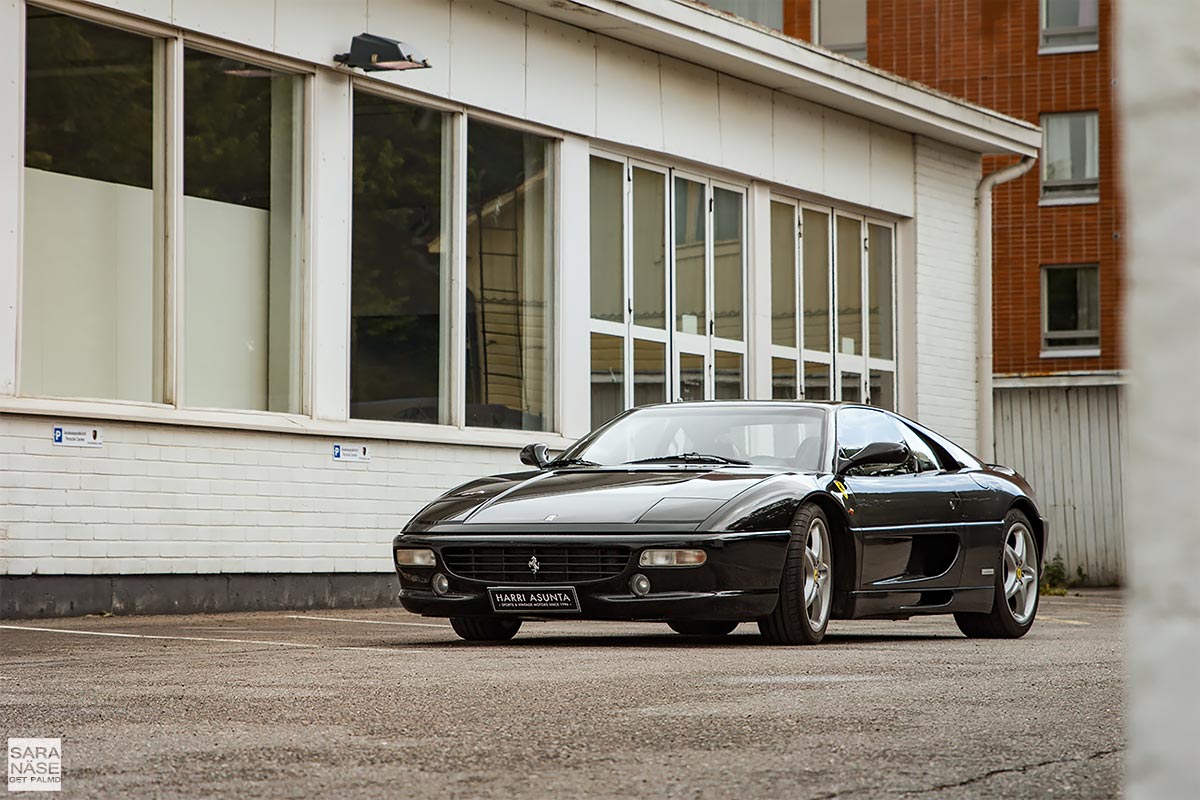 When I downshifted to second gear before a tunnel and accelerated up to redline inside it, I gave the other drivers there a preview of what it once might have been like to listen to an old F1 car in the tunnel during Monaco Grand Prix. This V8 has a mind-blowing sound. To say it sounds like a Formula car is not even exaggerating – it really does! However even if the sound from stock exhaust sends shivers down the spine, I also love the sound from a F355 with Capristo. This video has always been one of my favourites: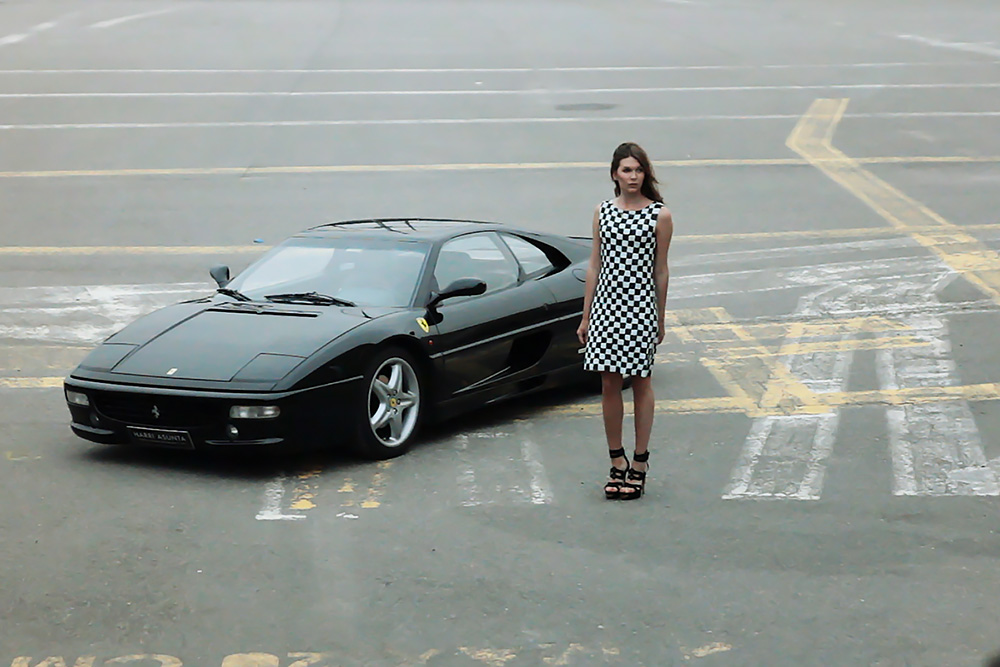 The conclusion
The last day I was cruising through the city and I thought to myself what an extraordinary car this would be to daily drive, to road trip, to do everything with really. I have read a lot of the negative comments about the Ferrari F355 Berlinetta, but now I ignore them. Because I accept it would not be a cheap car to own. I know the mileage would increase fast with my driving, and I would have to service it often. I could not keep one as a garage queen, it is too good for that, YOLO. Like I always say, "why save the fun to someone else?". I know eventually something would break down in an old car. And it is a Ferrari after all (no Honda NSX spare part costs here…), so you would look at the garage bill with horror.
Then you would take it for a drive again and hopefully forget about all bills. Because if you can afford to keep and drive one, I would like to believe this is one of the cars that gives you more than it takes. One day I hope to join the F355 owner's club, and find out for myself. What's life without a little risk?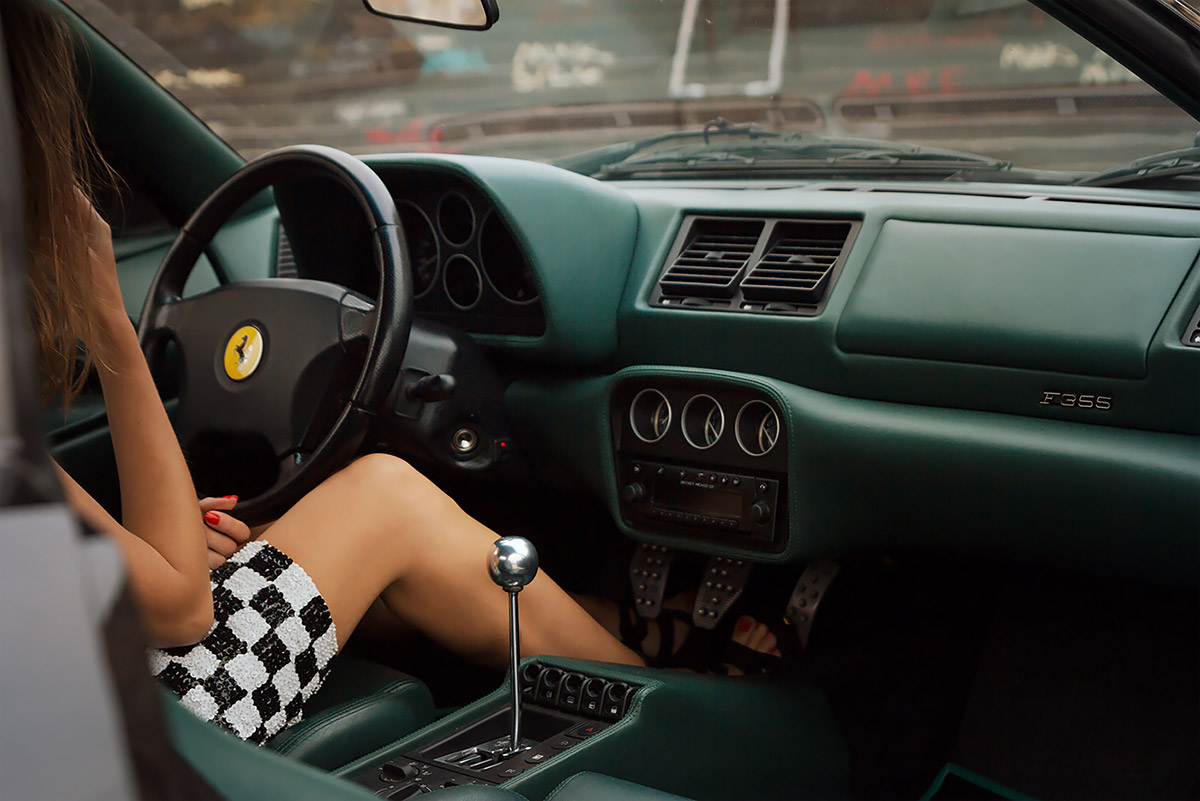 The car driven was a Ferrari F355 Berlinetta from 1995, nero / verde – black with green interior, 6-speed manual gearbox, 88 000 km, fully documented service history. It is for sale in Finland by classic car dealer and specialist Harri Asunta. You can read more about the car on his website.