Every now and then a unicorn enters the Munich Legends showroom, and a lot of the time they come with an Alpina badge. A few years back I was lucky enough to meet the absolutely gorgeous Alpina B7S Turbo Coupe, which was limited to only 30 cars worldwide. At the time of writing there is a fabulous bucket-list limited edition car which is not an Alpina but still extremely desirable (for those who know!) in the showroom as well – the BMW E90 M3 CRT (Carbon Racing Technology, think CSL but for the four door E90 M3) – with less than 70 cars worldwide (all LHD), and apparently only five in the UK. But the one that caught my eye even more this time is the dreamy Alpina E30 B6 3.5 S, which might look like a pretty standard E30 M3 at a distance (especially without the iconic Alpina decals, that aren't on this car because the owner preferred a more subtle look), but under the bonnet sits a 3.5L straight-six M30 instead of the 2.3L 4-cylinder S14 we're used to seeing in the E30 M3s.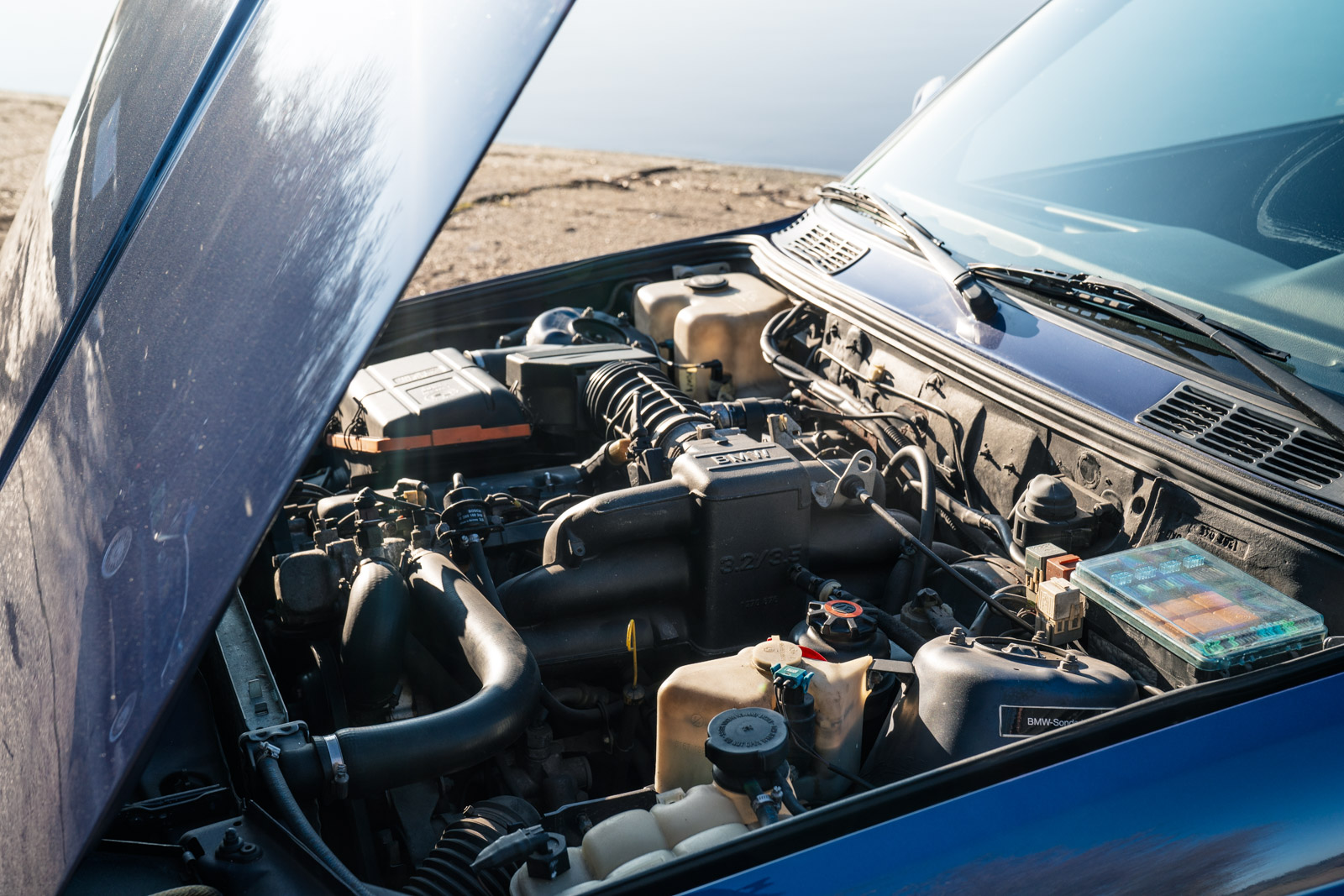 Having been in the custody of its last owner since 1992 –  the owner sadly passed away some years ago – it's certainly a classic that comes with great provenance. The family has understandably struggled with the thought of letting the car go for some years, which you can understand when it's a car that has been in someone's life for so long. However the time has come to part with it, and now number 60 of only 62 B6 3.5 S cars worldwide (and I don't think anyone really knows how many are left?) is available for purchase. If I'd be brave enough to get myself into debt over a car and pay high interest rates I wouldn't hesitate for a second, because it doesn't get much better than a rare classic Alpina in life, and even as an investment it should be pretty safe given the rarity. Anyone with the funds can buy a classic Ferrari, Lamborghini, or Porsche – these cars are easy to find. Even an E30 M3 is – although it is getting more and more difficult to find the good ones that are left. But only very few lucky ones get behind the wheel of something as rare as an Alpina E30 – and to me, that has so much appeal.
I say investment, but don't get me wrong, because you can invest purely in your own happiness too – it's not always about money (if it can be a combination of both even better). You can also keep an investment for life (and for the next generation – if they will be allowed to drive petrol cars…), just knowing that if life one day takes a dramatic turn and you're forced to make difficult decisions you can get out of your asset without losing too much money, and hopefully even gaining some. Having covered already 134,000 kms and nearly all of that in the hands of its last owner the car was used, enjoyed, and the family created memories with it. It wasn't a garage queen, it wasn't left to sit at the back of the garage under a cover for decades only to one day be brought back out in daylight, hoping values would have gone up and they made a great investment back in the days (although with the B6 3.5 S it worked out well anyway as even 100,000+ km cars fetch good money now). Perhaps it didn't even cross the mind of some of the people who bought the limited edition B6 3.5 S that 30+ years later these cars would go up so much in value, and what it could have meant to keep them super low mileage (back in the early days you could buy them for less than 25k as a sales bill from 1992 when the car changed hands in the UK states). I'd like to think that – perhaps unlike today's popular mentality of buying cars and then flipping them quickly trying to make a profit, without really putting any miles on them – most of the owners did put miles on their B6S' because they were so incredibly enjoyable to drive. Everyone is different but personally I would find it heartbreaking to own a car and not drive it – and leave all that pleasure of owning one to a future owner instead.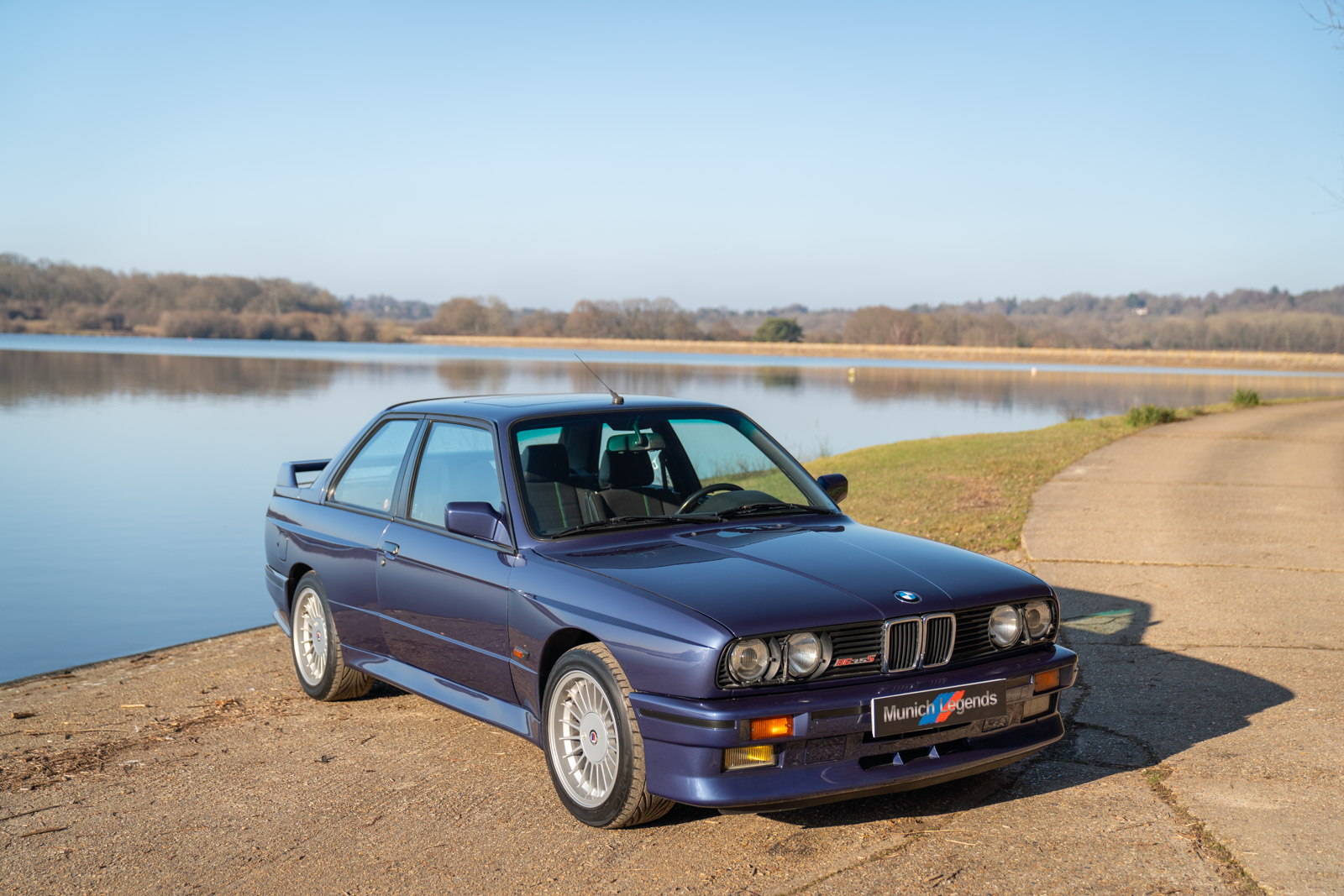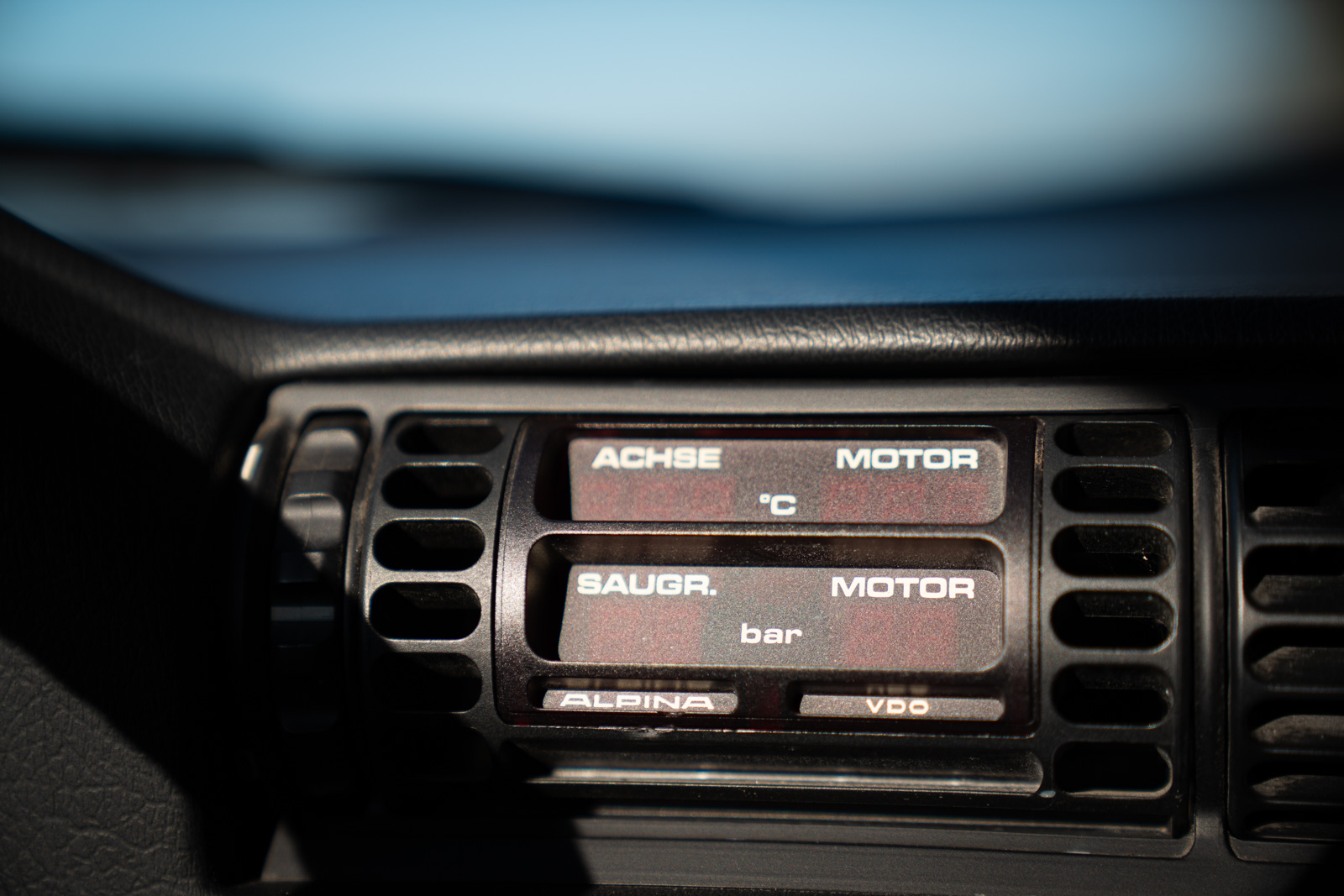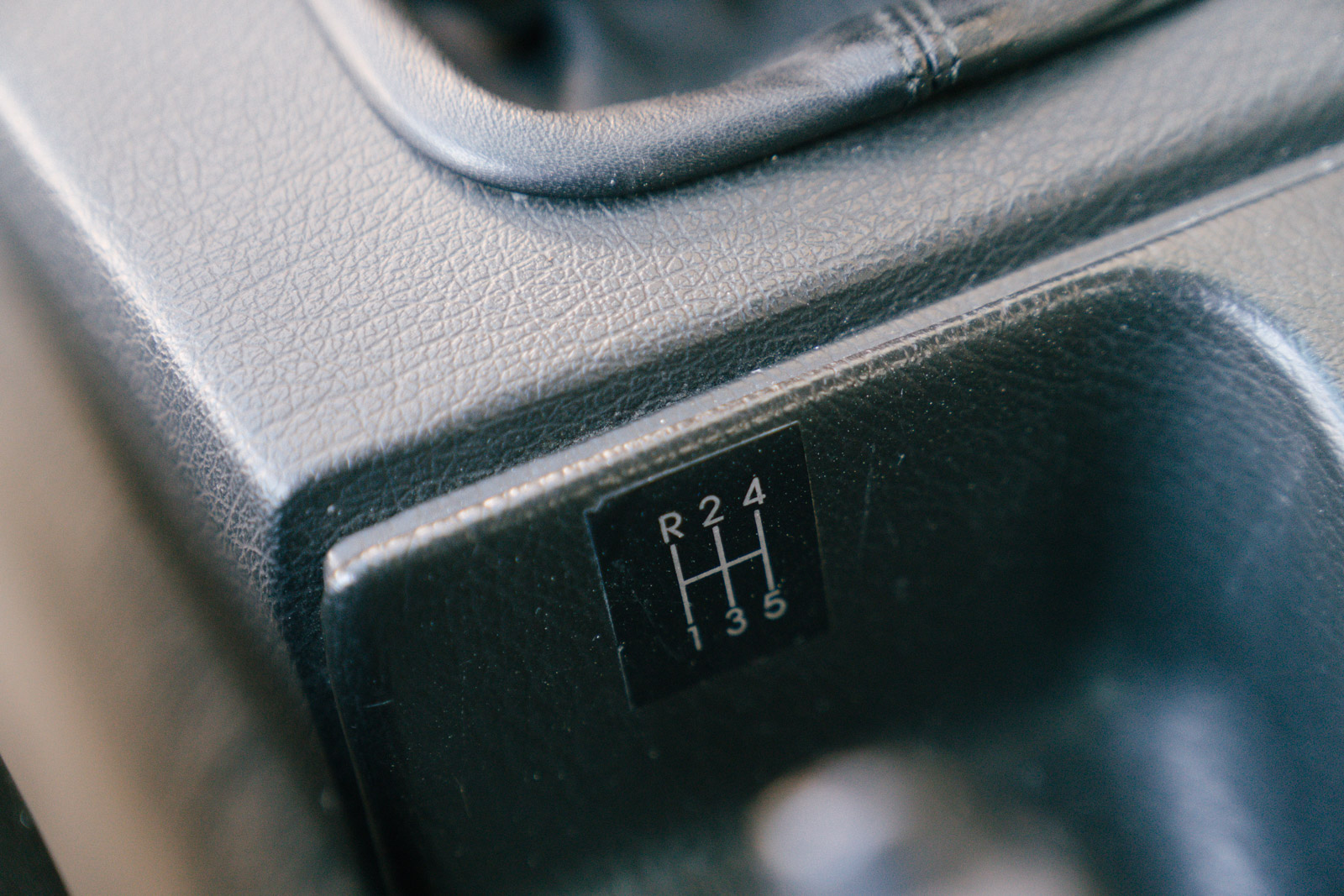 Our E30 M3 is my favourite car on our driveway, and considering there is an E9 3.0 CSL as well this might come as a surprise to some. Whilst I am very fond of the CSL and hopefully it will stay with us forever, it's a different type of driving experience driving an early 70s car. And on a practical level I prefer them just a bit more modern for it to be something more than just a car for the weekends – for me the 80s and the 90s were the pinnacle of car manufacturing and the majority of my dream cars (F355, 1st gen NSX, 964 Turbo, Renault 5 Turbo etc) come from this era. Analog, pure, yet driveable, usable, dare I even say quite practical (for their age). The E30 M3 ticks the boxes for me – with its race engine and dogleg gearbox it's always a special event driving it, however it's a car we can also take to the supermarket, on an airport run, on long road trips across Europe, and so on. The same would apply to the Alpina E30 B6 3.5 S as well – only that the 3.5L 260 hp engine is more powerful than the S14 (also heavier, of course), with more torque (320 Nm at 4,000 rpm – 0-100 km/h in 6.6 seconds and 251 km/h top speed), and it's more forgiving at low revs, and on paper even more powerful than the E30 M3 holy grail, the Sport Evolution (more about the car in the sales ad). With the S14 you have to rev it high most of the time to get anywhere, so you could say that with the B6 3.5 S Alpina took the best of the E30 M3 – its chassis, its Gertrag dogleg gearbox, its looks – and made it a bit more easy to use on a daily basis thanks to that M30. And they did it with such finetuned perfection that most E30 M3 aficionados would get behind the wheel of the B6 3.5 S and think damn, I want this for the weekdays, and I'll keep my M3 for special occasions and weekends and maybe track days (again, given the rarity of the B6S it should maybe be the other way around, but perhaps it illustrates just how easy to live with the B6S feels). Only 13 cars were delivered in the sought after Alpina blue and this is one of them (there were also a few other blues, macao and royal blue).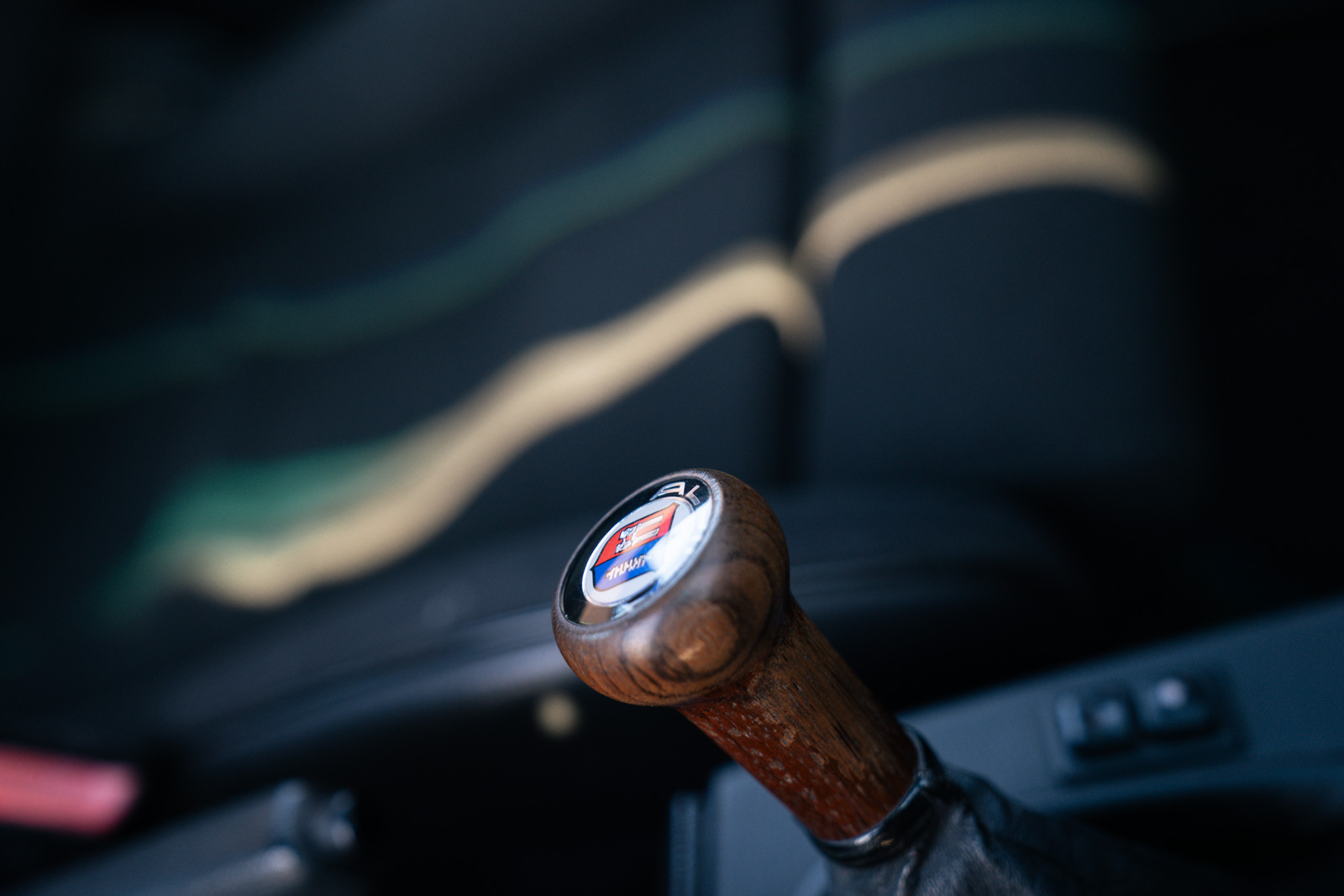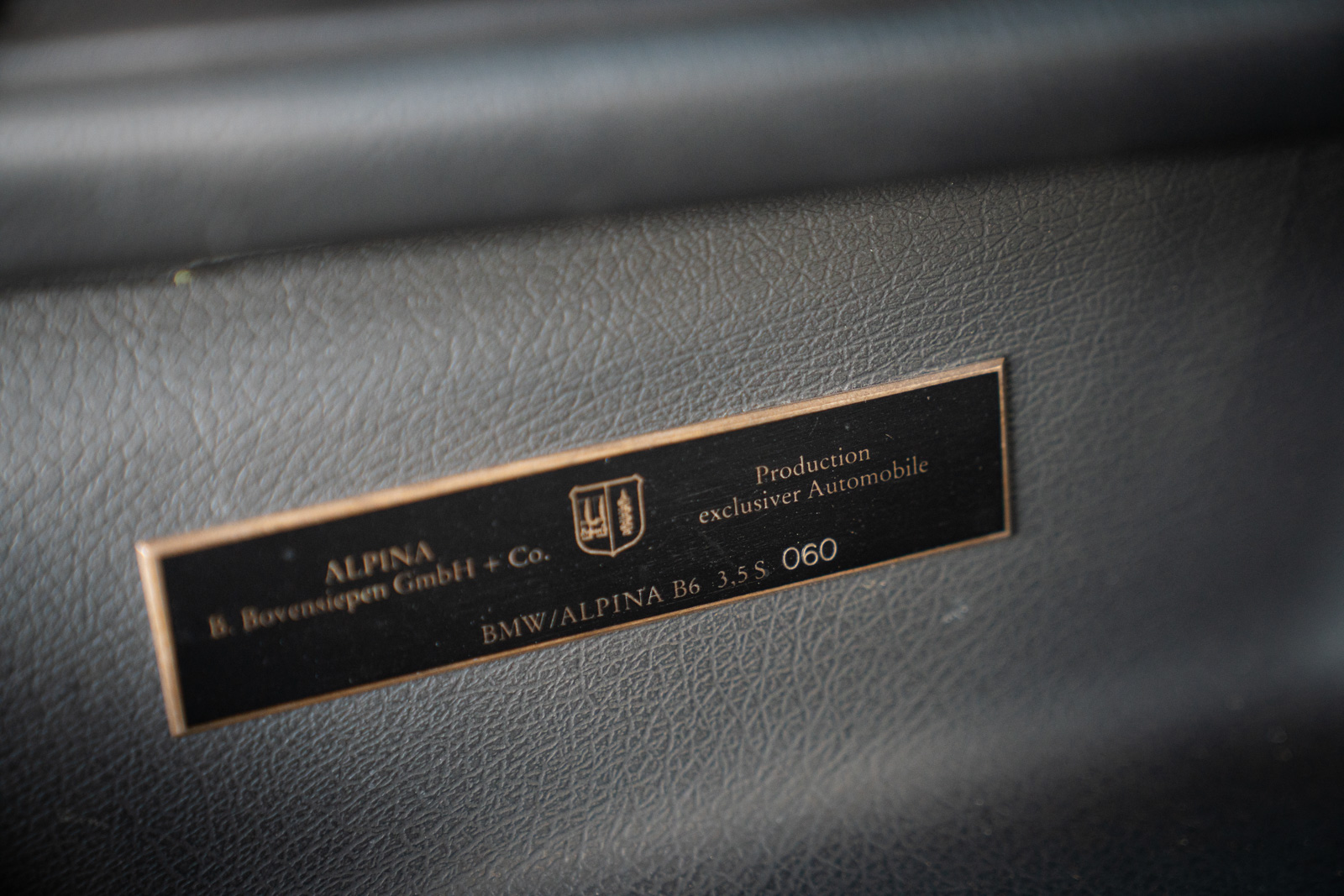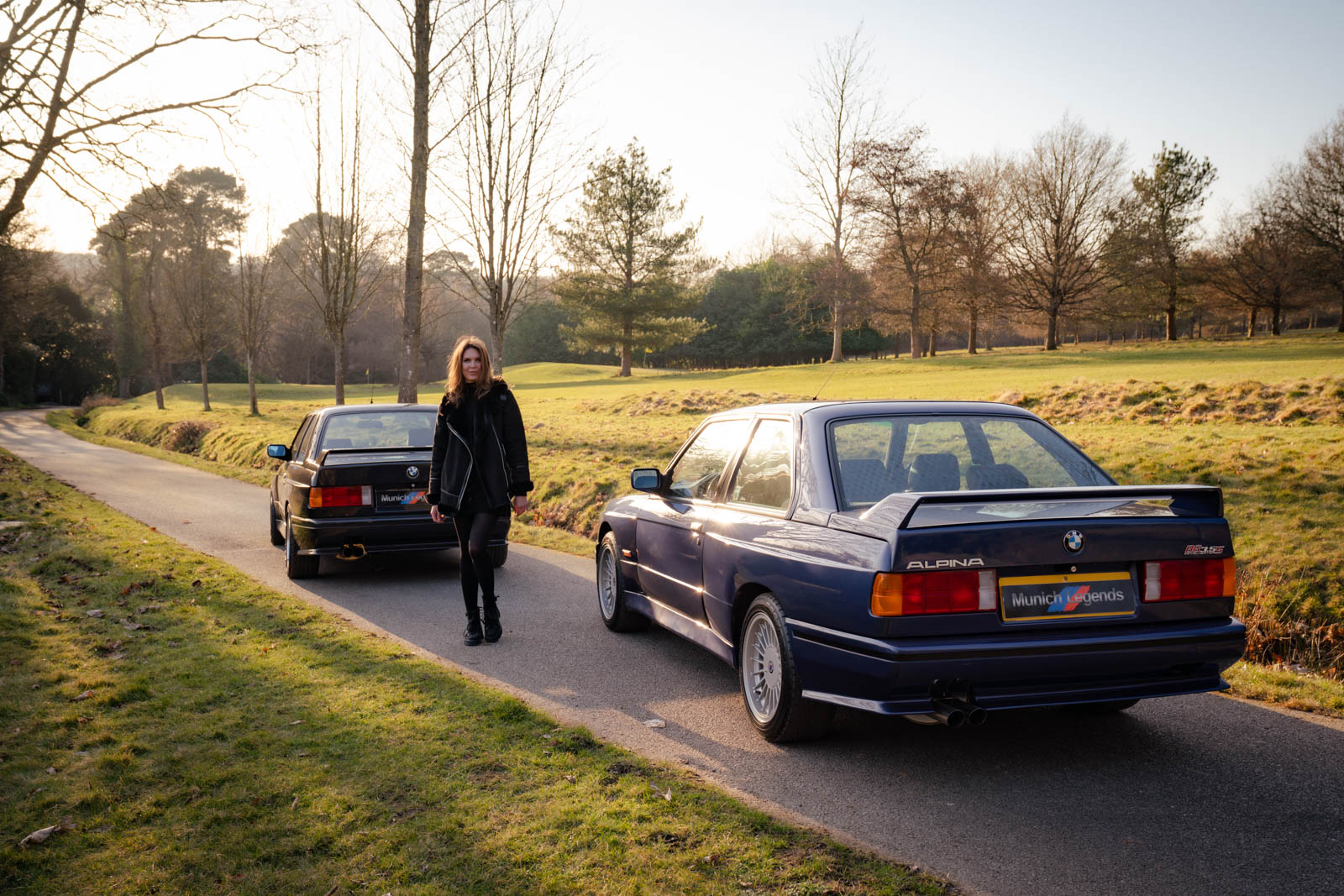 I'm married to a man who owns a BMW garage. I know the sensible thing is to remain calm even when I fall head over heels for a car, because 'we're in the business of selling cars'. I'm reminded quite often that we're not here to hoard cars into our own collection (I wish!), we're trying to make money selling cars on behalf of others and pay the bills. I am pretty good at staying cool even when I really want something (like the CRT), I go on and on about it for a few days and then I give up. Or I was, until I met the Alpina E30 B6 3.5 S… Suddenly all that wisdom and common sense is out of the window and all you can think of is HOW because you're obsessed.
It might sound like a silly thing to say, and I'm sure you mostly hear these words from animal breeders and not people selling cars, but I actually just hope it ends up in the hands of someone who appreciates it for what it is since it's so rare and so brilliant. And someone who drives it and doesn't just tuck it away. Just drive it – you won't regret it, there are many amazing miles left to be had with this car!