Last October we organized a corporate incentive trip from Hôtel de Paris in Saint-Tropez to Saint Paul-de-Vence to Hôtel Hermitage in Monte-Carlo. South of France is really one of my favourite destinations to tour in. First of all I love the car fleet we use there, perhaps you have already seen some of the cars in my previous post "Supercar Test Events in Alpes-Maritimes". But also the more I drive the roads there, the more I fall in love with them.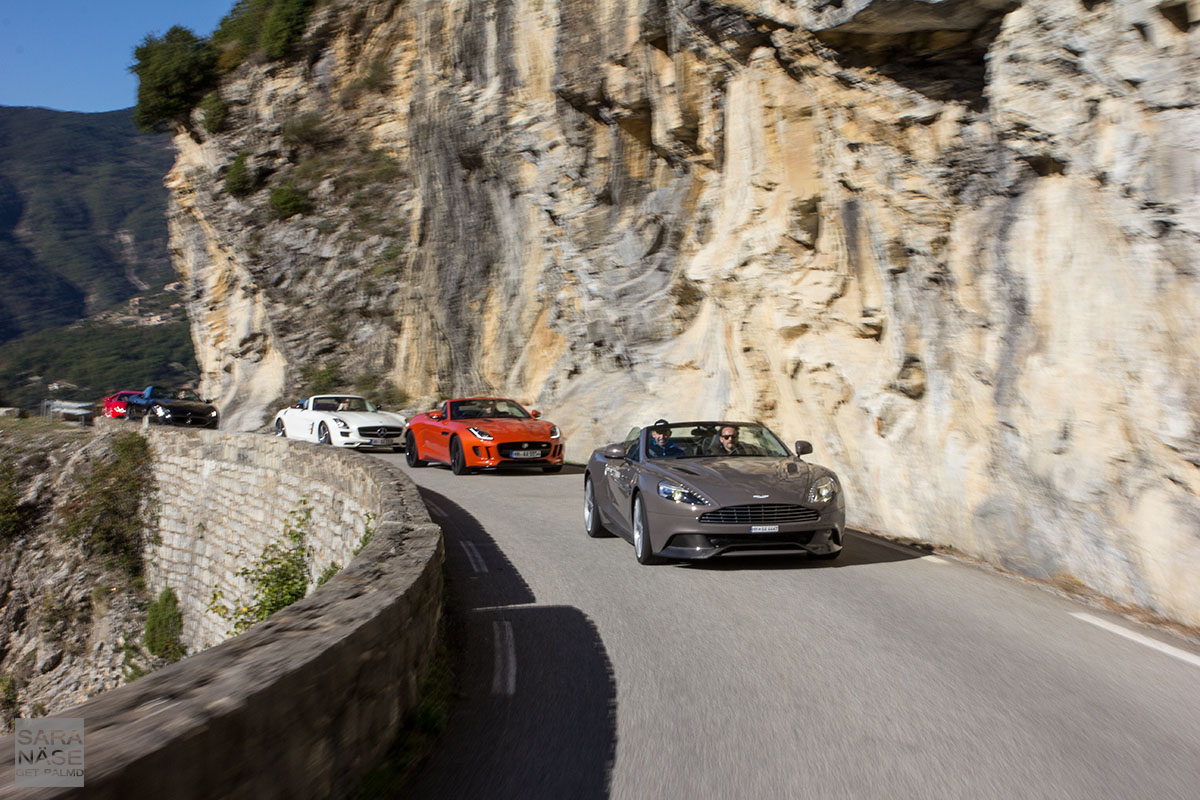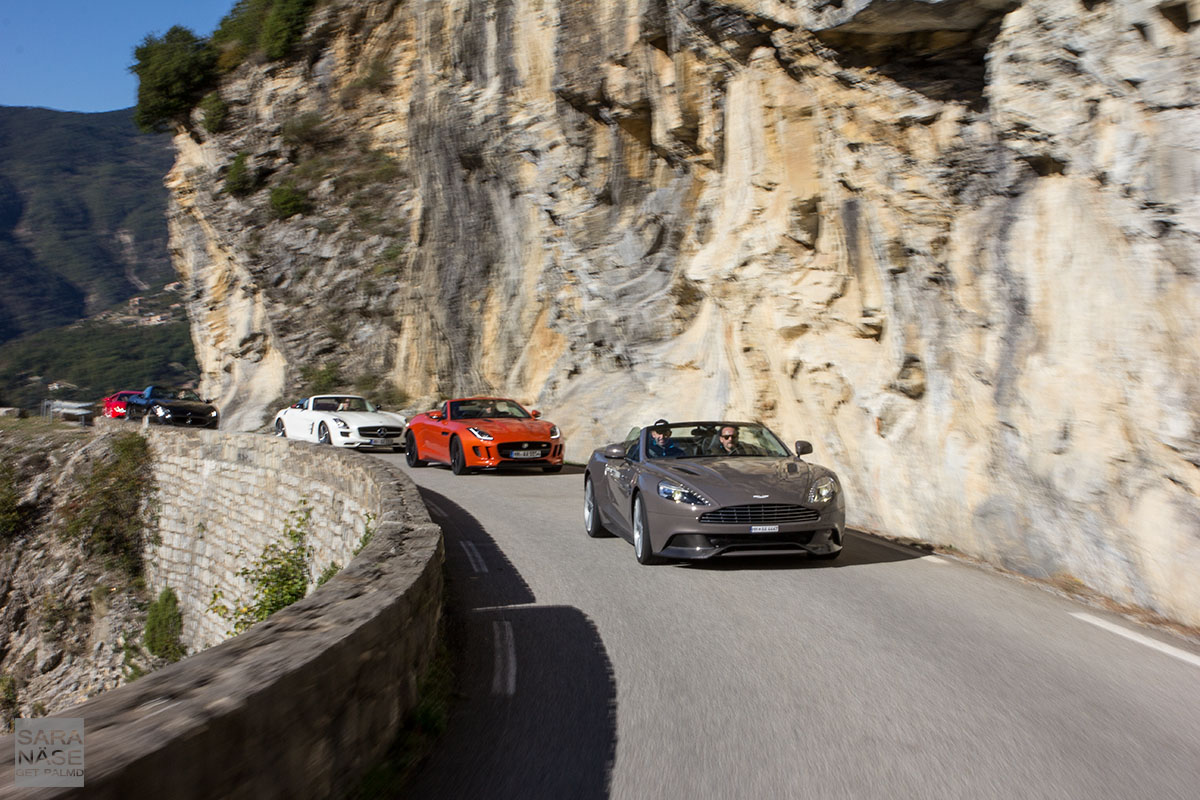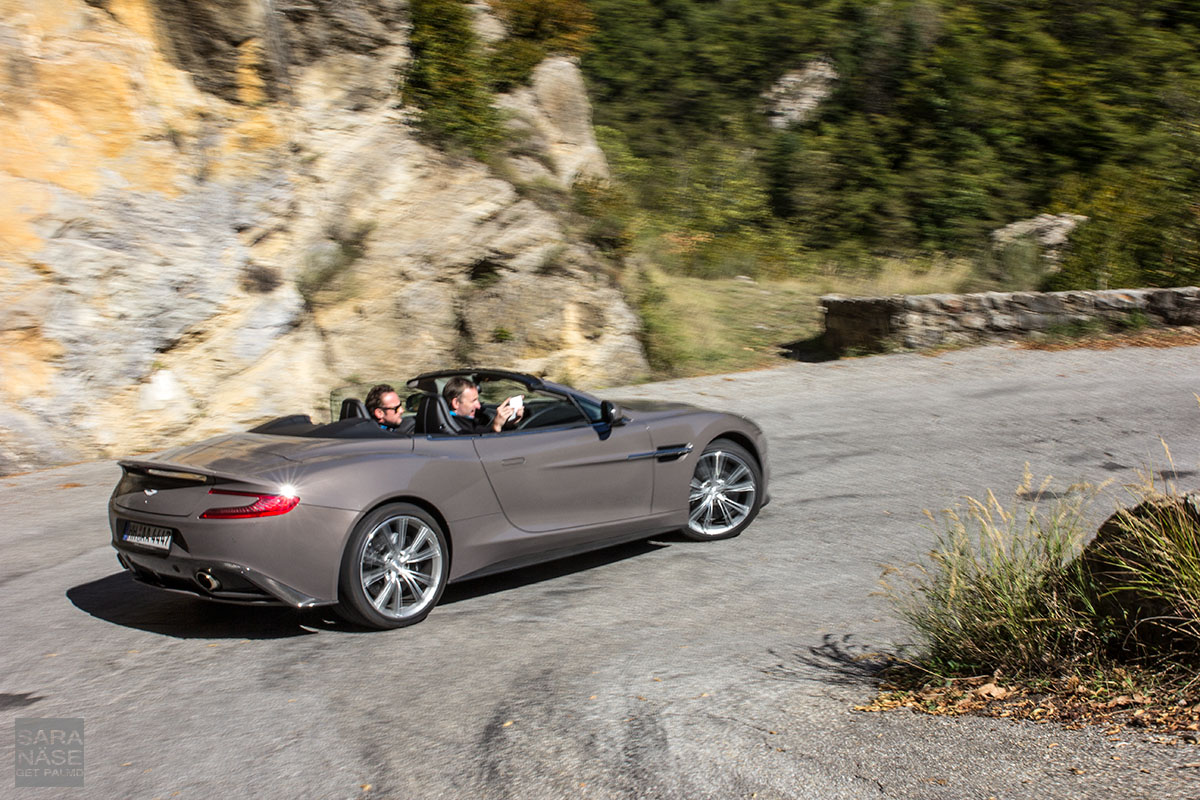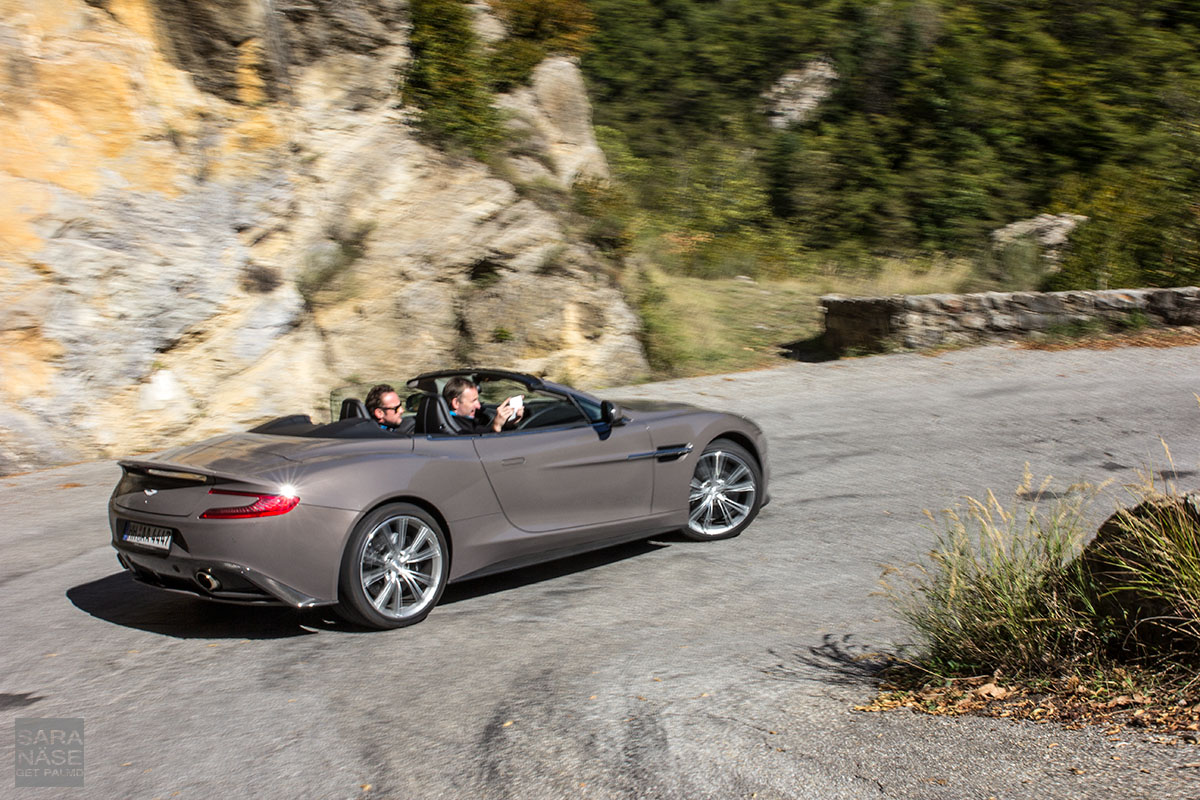 With big convoys we always have a lead and a tail car and this time we had four team cars, two for each group. When it was time to pick up our rides, AMG:s, I chose the lonely GLA45 AMG standing next to three CLA AMG:s. I wanted to try it because it was a new model. In total I drove about 1000 km with the car and got to know it pretty well. The first time I saw it I thought it was an A45 AMG – our rental partner had lowered the car. I honestly do not think that the driving experience is very different from the A45 AMG that I have driven twice. The AMG:s are perfect for these events where handling is so important, because we need to lead or keep up with supercars on tight mountain roads and that is where you really enjoy having a car that is easy to drive, fast enough also on the straights and with a handling so precise that you can drive it with one hand (never recommended, but it happens). My first drive ever on Col de Turini was with the GLA45 AMG and it is a fun compact car to do it in.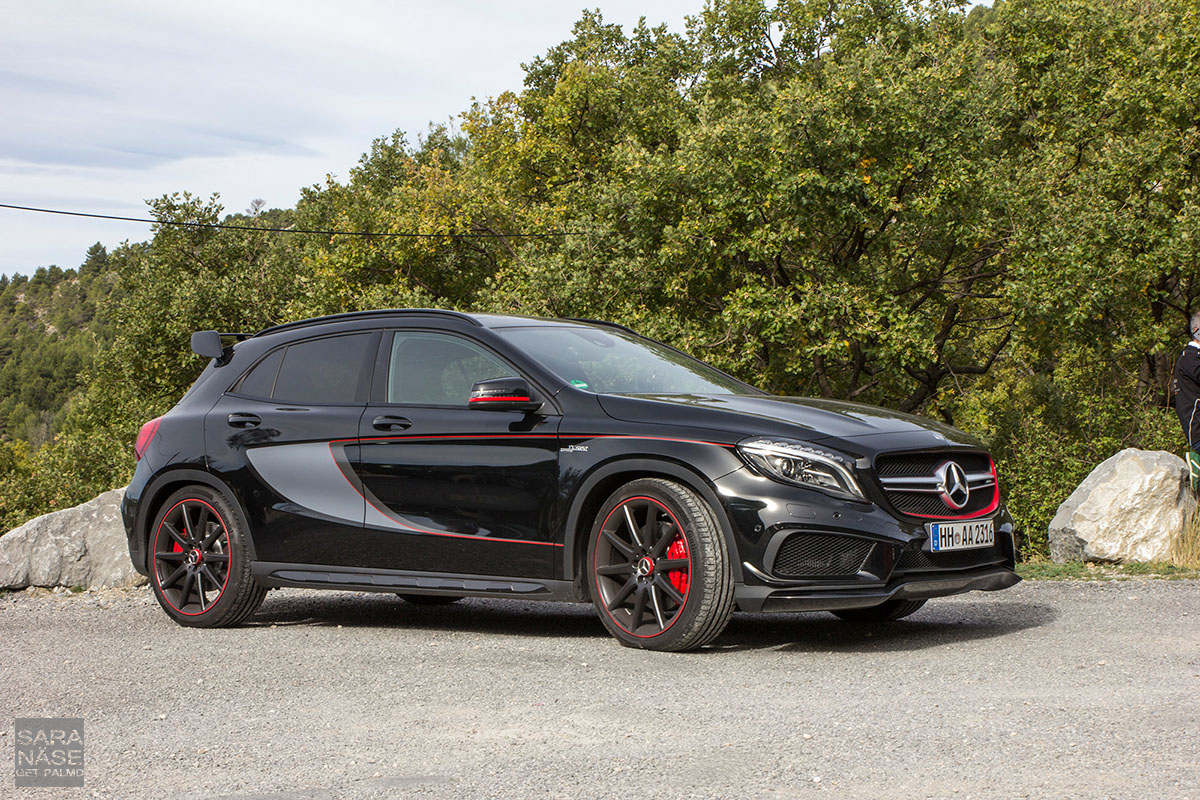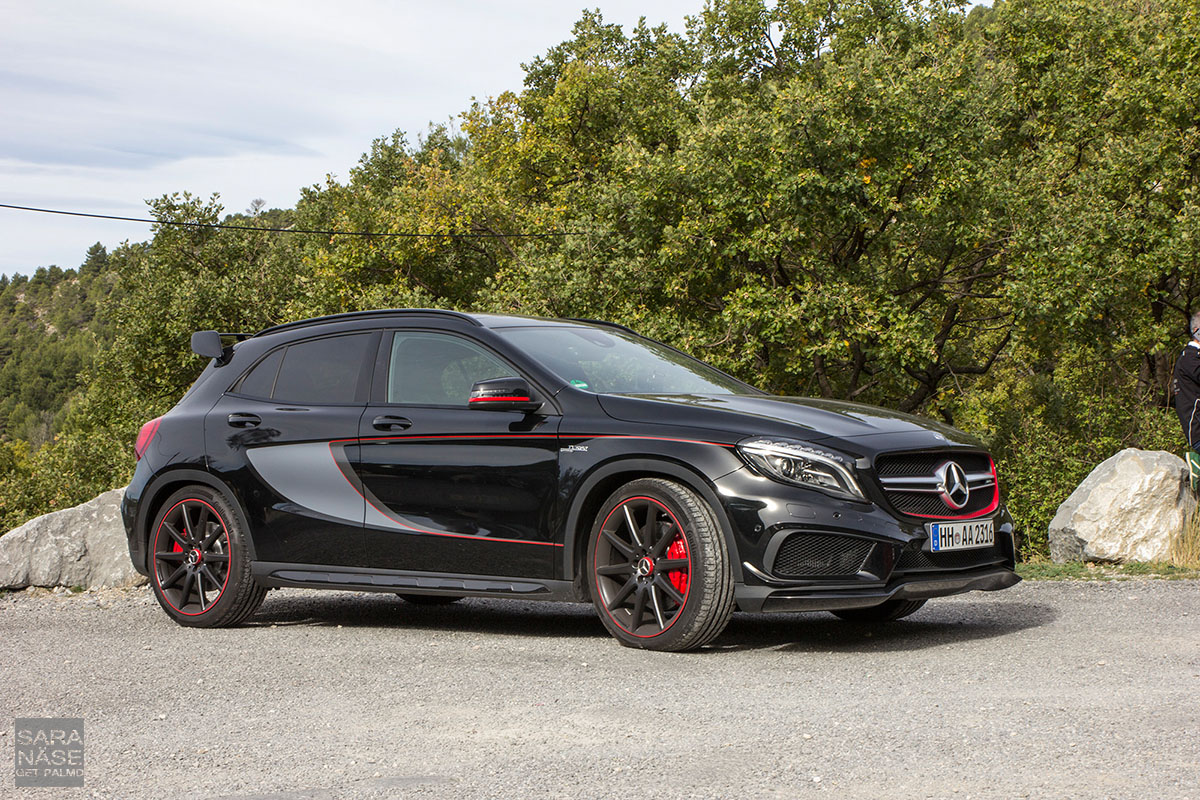 Only thing I do not like is the throttle response at slow speeds. It is a mess in Sport mode, I never use Sport in city driving because the jerking just makes you angry. But it really is not great in Comfort mode either. When you from a stop press the throttle to get the car to move it often likes to start with a jump forward. By now I feel I have driven enough 45:s to accept there really is not an easy technique to avoid that, no matter how I try to take off it most of the time does it with a lurch.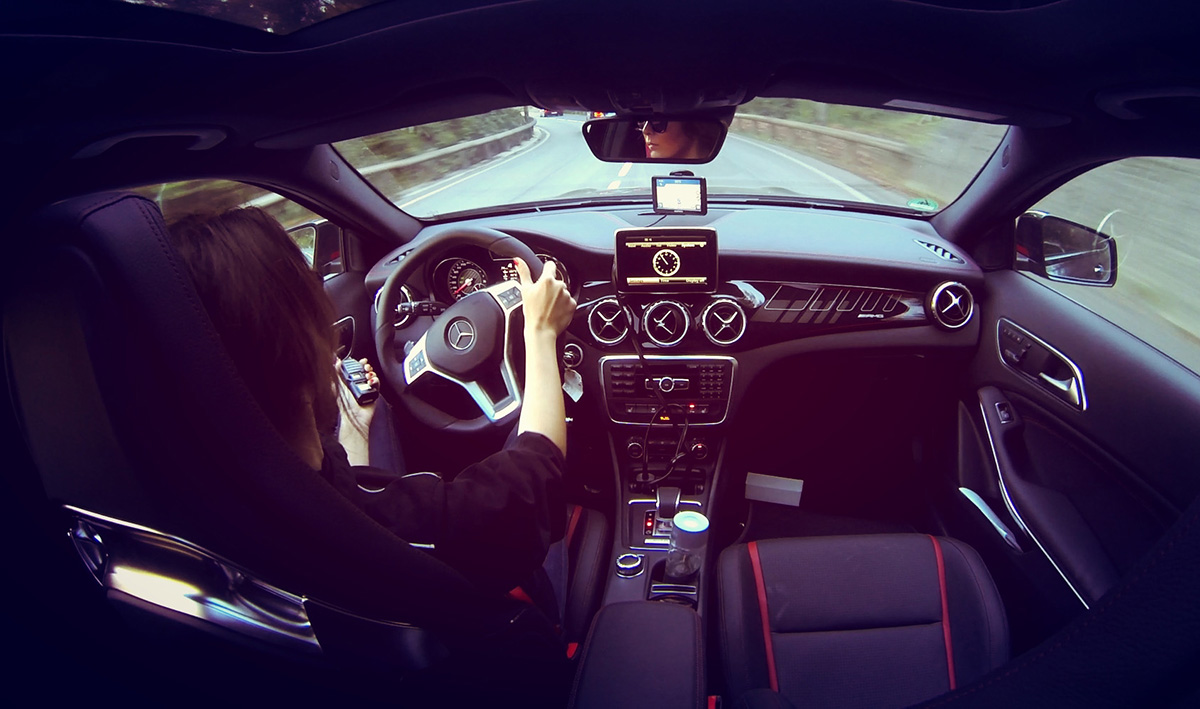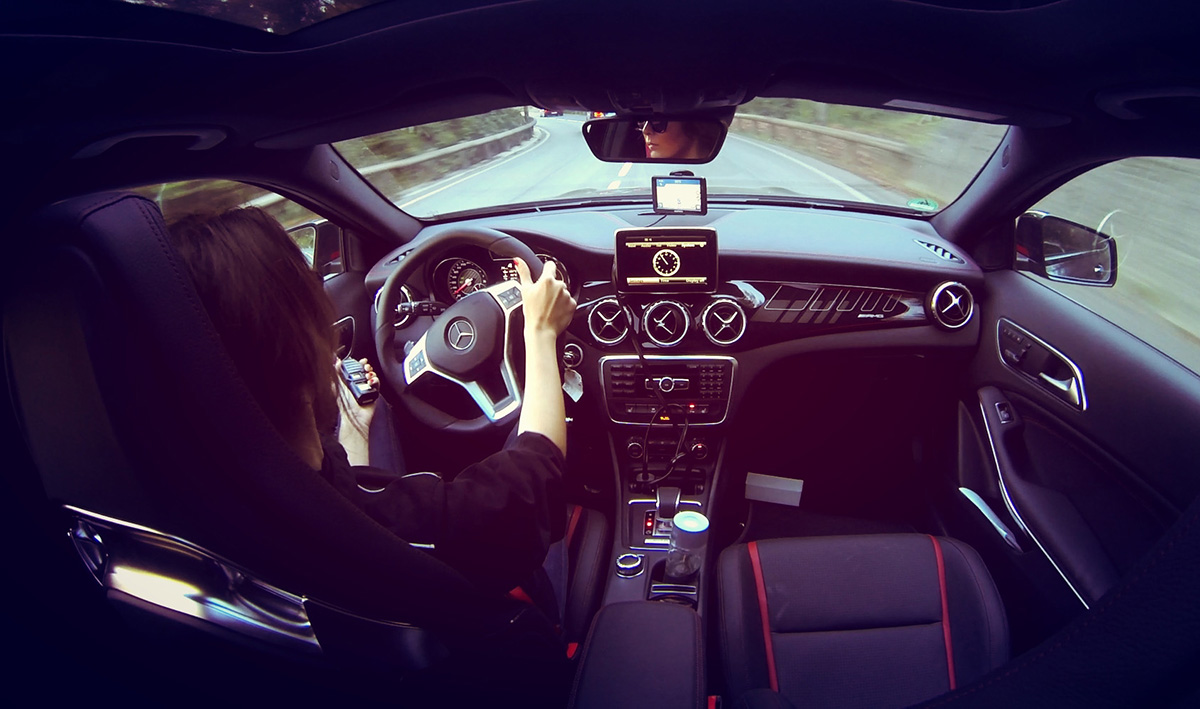 Slightly annoying especially if you are in a tight space where a sudden unexpected movement too far could cause an accident and you would want to know how much rolling to expect with the amount of throttle you give. But the rest of the time I love to drive these cars, nothing else bad to say about them.
This trip was also the one where I got my first after work drive with the Lamborghini Huracan, that you can read about here. For refuel trips I stole the Jaguar F-Type, Maserati GranCabrio, Porsche 911 and my favourite… the Lamborghini Gallardo LP570-4 Spyder Performante. We stood outside Hôtel de Paris in Saint-Tropez with 10+ supercars to refuel for the next day. Next in turn was the Ferrari F12 berlinetta and the Gallardo.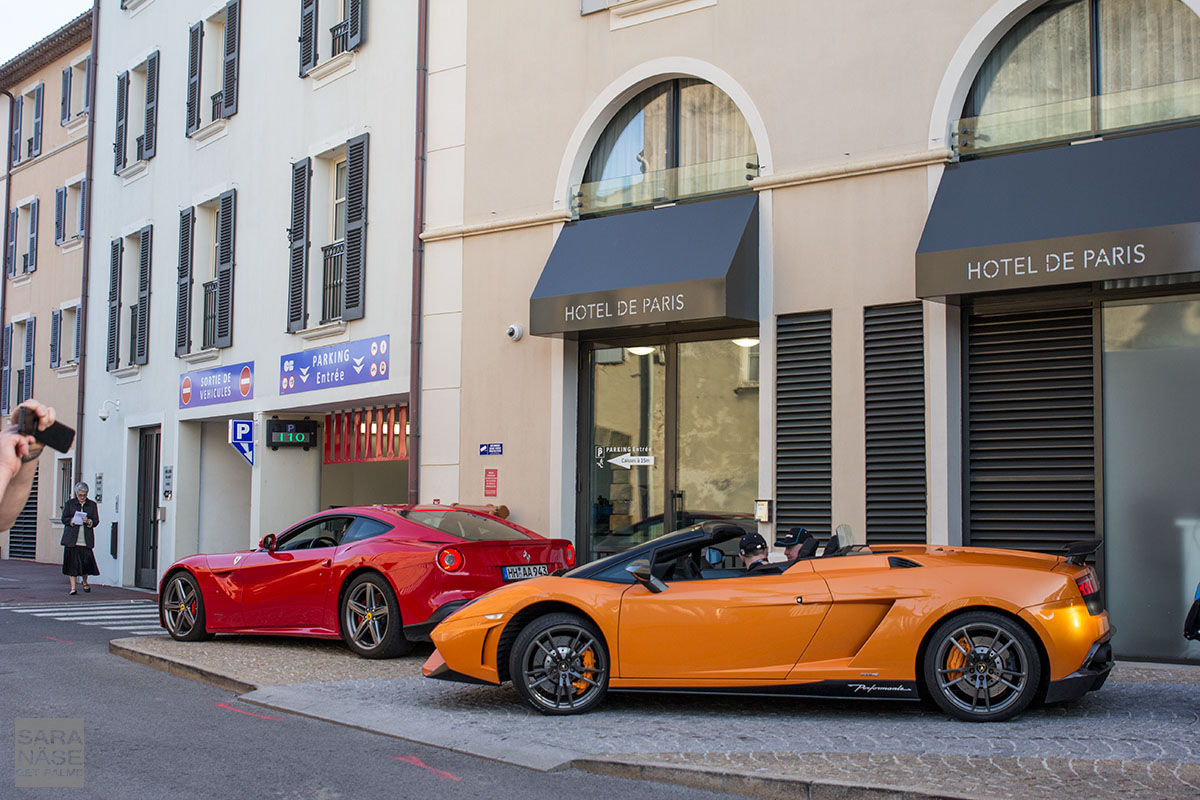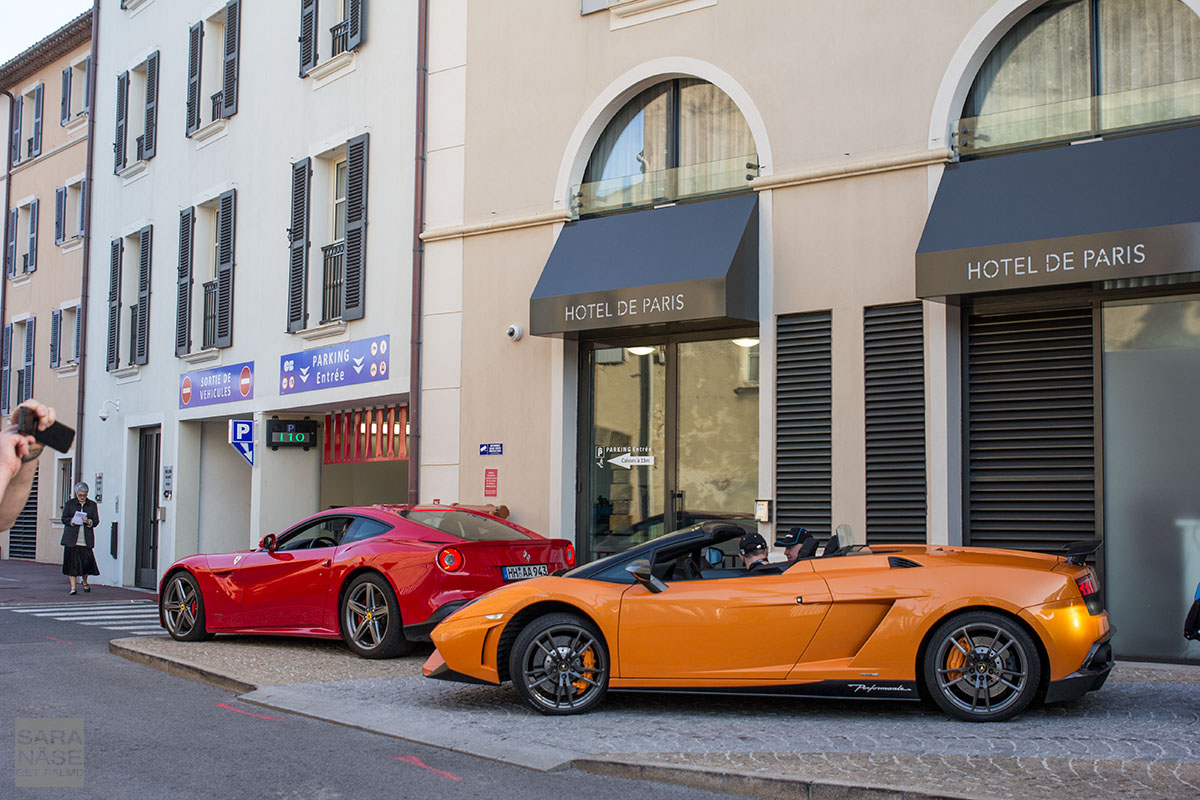 "Which keys do you want?".
That was one of the toughest questions I have ever received. As much as I would love to drive an F12, even a short trip to a fuel station, that sight of the orange Gallardo was just driving me crazy. I wanted to get in it on that carbon fibre sport seats that can not be height adjusted at all but being inside it instantly felt like heaven anyway. That day I did not get many kilometers in the driver's seat of it but I got some more in the passenger seat around Monaco. Now I am determined to drive one more. I could even rent one for a day if that is the only way to do it, but I need to drive one. Hard. And maybe one day I even would want to buy some used special edition Gallardo. I think it still is a cool car. Always will be.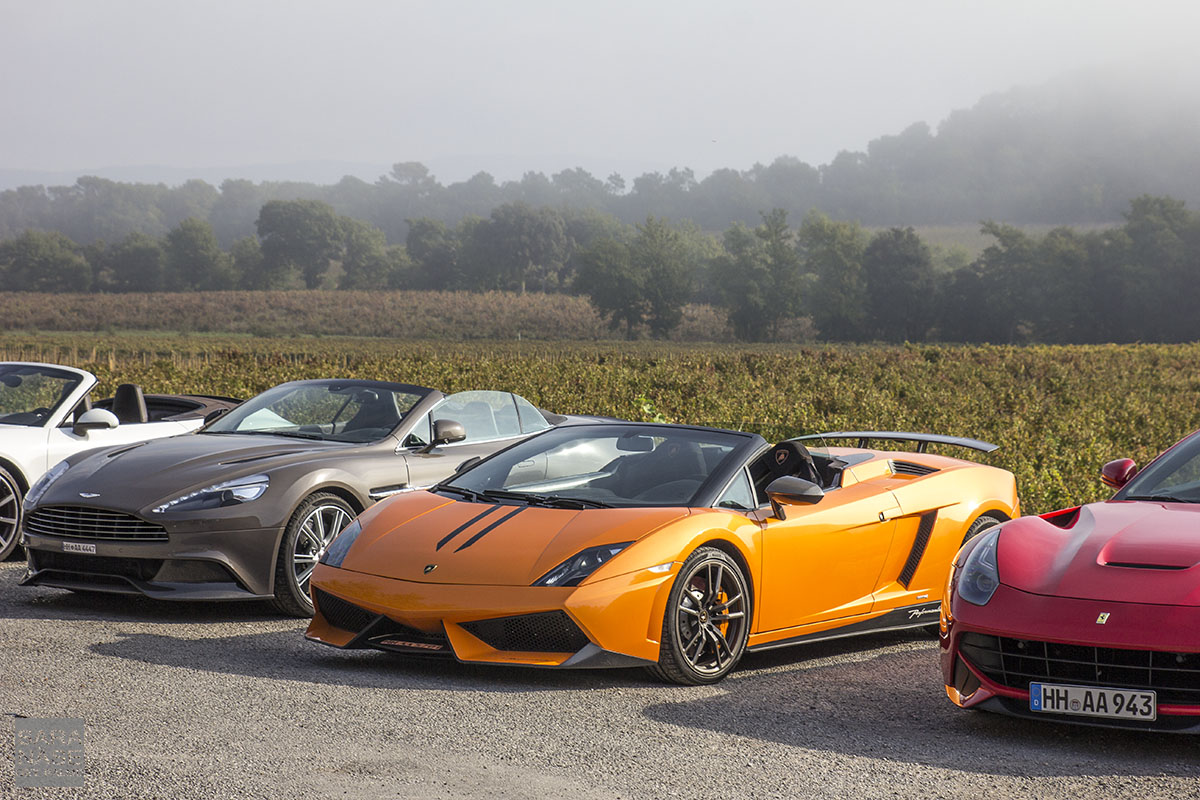 The Huracan is also a wonderful car. So easy to drive – anyone will feel confident driving it – and so beautiful to corner fast. The Gallardo Spyder Performante felt like a car that might want to fight with you a little and give you a much more rough ride. I want that Gallardo e-Gear imperfection in my life, supercar driving should not be made too easy!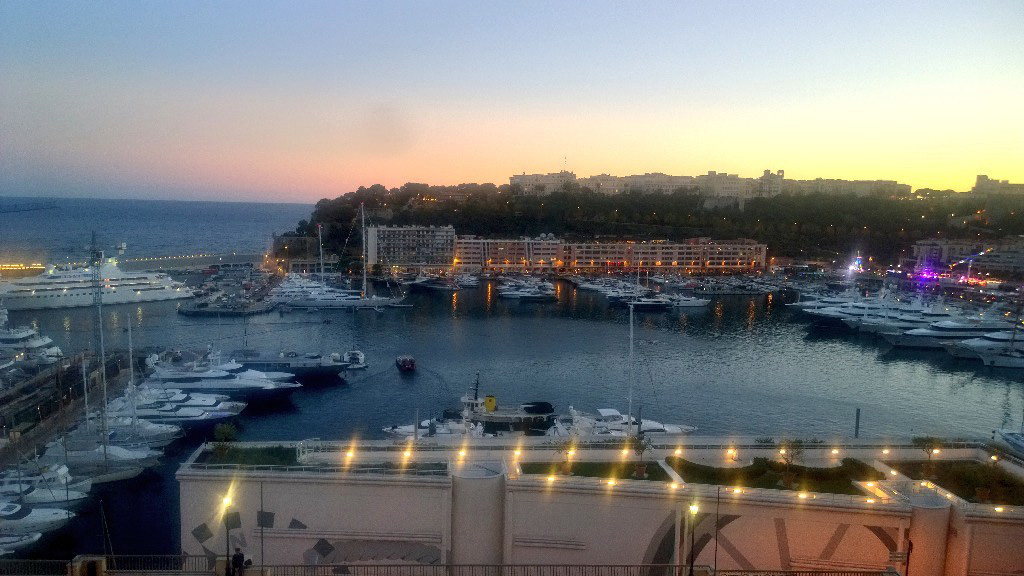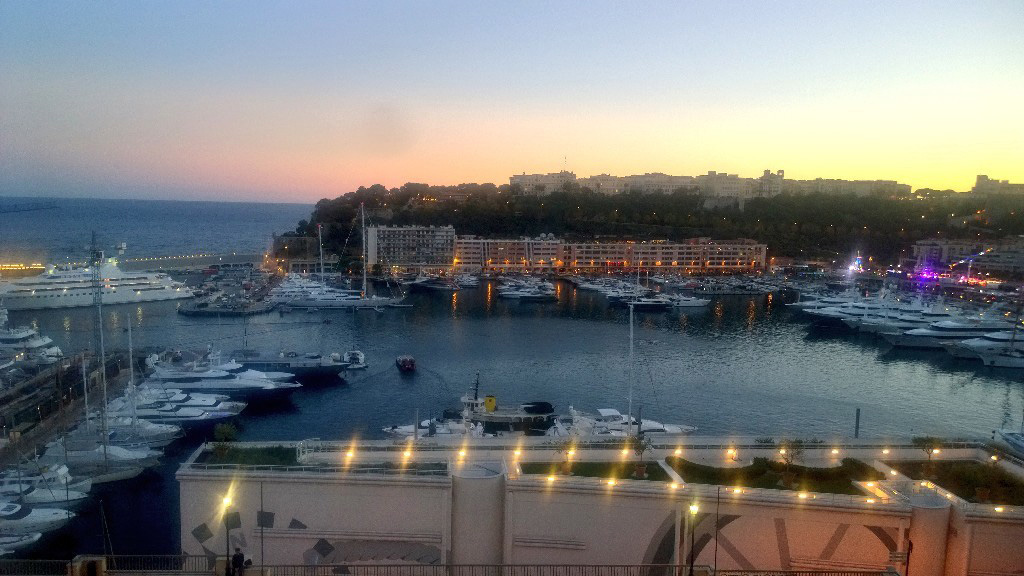 View from Hotel Hermitage in Monte-Carlo, Monaco – amazing hotel, what an atmosphere there!
We had two final nights out in Buddha Bar in Monte-Carlo with two different groups. I met some really lovely people and once again I have to say that one of the things that motivates me most with driving tours are the people. When drivers after the tour say "This is the best thing that has happened to me since I divorced my wife" ;-) you know they had the time of their life!