One day I found myself at the summit of the mountain pass Col du Mont Ventoux in Provence, at the break of the dawn, in the freezing cold wind, with a sapphire blue Porsche 911.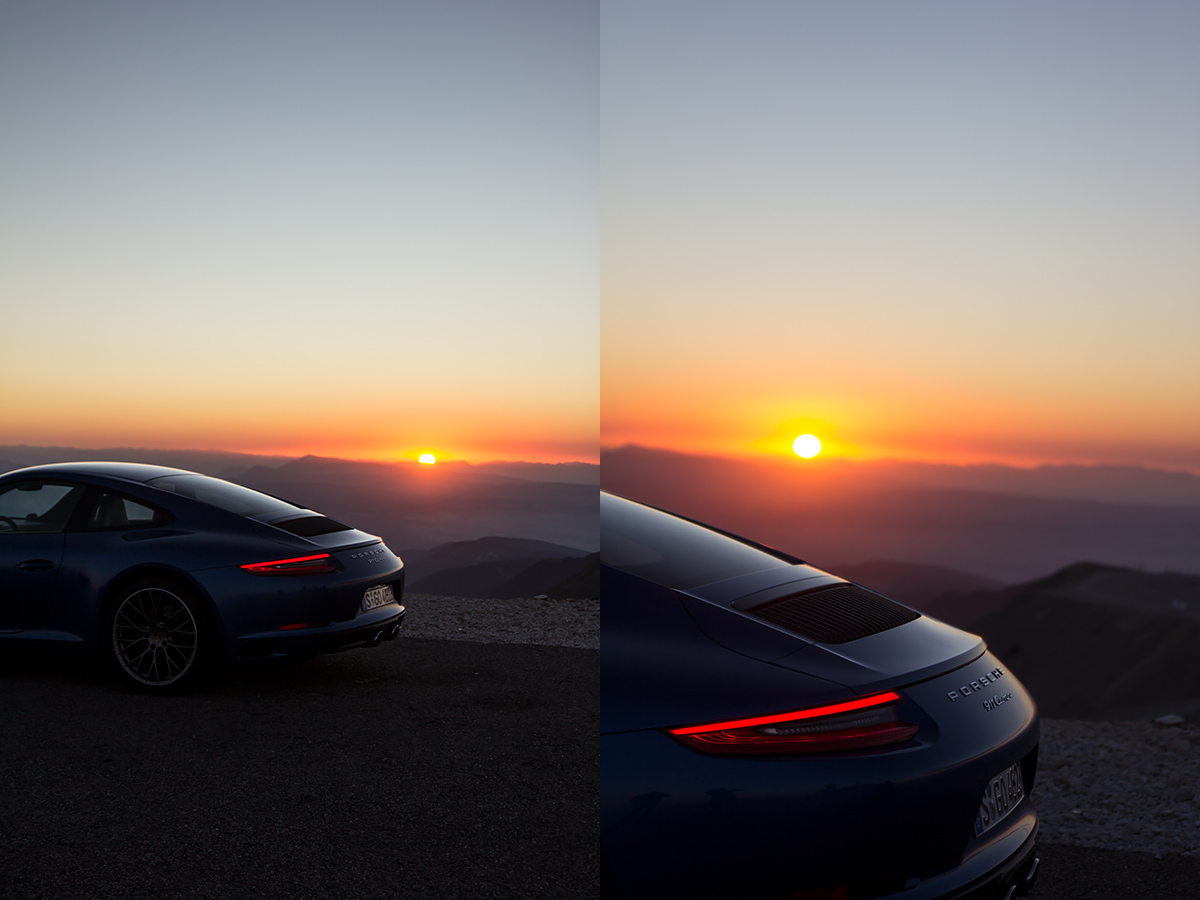 Road trippers like me will most likely agree when I say that the hunt for the perfect light, and the perfect moment, is a never ending journey in life. Despite many beautiful photos I already have in my archive, I can always try to create something even better, and whenever there is an opportunity to try to nail a new shot, I'm up for it. Of course you can't really drive a fantastic road too many times – and it's always a different experience in a new car – and that is why I ended up back at Col du Mont Ventoux for yet another drive.
With the sapphire blue Porsche 991.2 Carrera Coupe that Porsche Germany had kindly lent us for a road trip we were determined to get some beautiful photos, and after an adventure on Col de la Bonette we thought that Col du Mont Ventoux would be conveniently en route to the town of Orange, where we were supposed to go look at a chihuahua puppy and possible new family member the next day. The sun began to set as we followed narrow countryside lanes towards Hôtel des Pins et Restaurant l'Esprit Jardin, a small boutique hotel conveniently located in Bédoin close to Mont Ventoux. Arriving at dark, just in time for a late dinner, we soon set the alarm set for an early start. For those who are looking for a bit more luxury and have more time to unwind I would recommend the five star Hotel Crillon le Brave with fantastic views – it is pricey, but in a gorgeous location.
The next day, just after six in the morning (the sun starts rising about 7:30 AM in mid-October), it was pitch black as we left the hotel parking and began the ascent to what is arguably one of the most stunning driving roads in the South of France. This road in Luberon is popular especially with cyclists – it is after all a Tour de France road – but this time of the day we had Mont Ventoux almost to ourselves, and as we approached an altitude of 1,912m above sea level it was obvious that we would be in for a treat – the sky looked promising with barely any clouds, and the red and orange colours created a magical line against the dark blue sky. I've always said that it is a very moonlike road – the summit is bare limestone, without any vegetation or trees, and the light beige colour almost makes it look like a giant dune.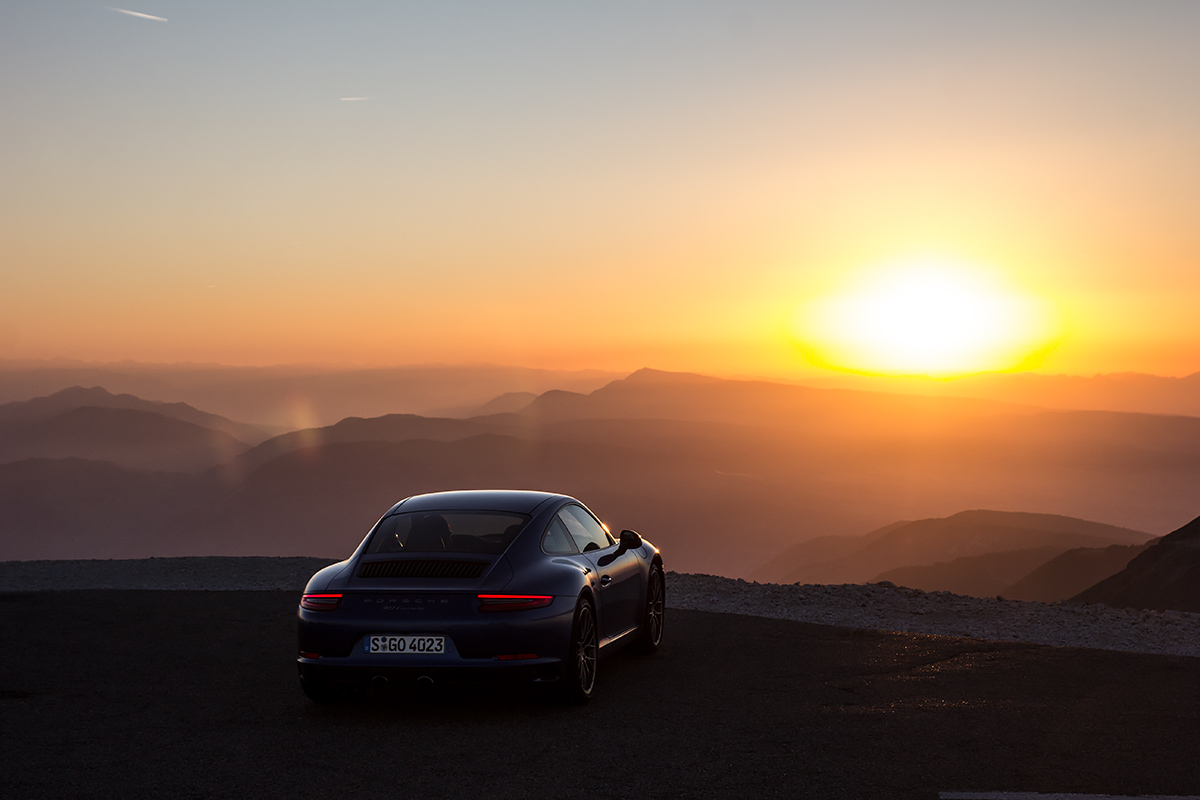 If I woke up with the vision of a serene sunrise at the top of a mountain, and we would stand there in a gentle morning breeze, it was nothing like that in reality. The French word venteux means windy, and Mont Ventoux is known for its extremely high winds – with a mistral blowing sometimes so strong they have to close the pass for traffic. Wrapped up in a puffer jacket it still wasn't quite warm enough – if I would have known the temperature beforehand I would have dressed in layers, Finns are experts at that – and as the sun started rising in the horizon I spent a moment at the perfect photo spot, with the iconic shape of a 911 silhouetted on the skyline, followed by a few minutes enjoying the warmth of the car, and then back out again – one couldn't last very long outside without proper arctic gear.
Then it was time to get the blue boots on – because it would be impossible to look at the backdrop we had, with the mysterious shadows and rock peaks, and a beautiful blue 911, and not want to make the effort to capture a 'signature shot' of me and the car. It was still chilly, but as the sun rose higher the gusts got a little less piercing, and with a view that was quite frankly drop dead gorgeous it was possible to get sucked up in the moment and just get on with it (or more like over and done with as quickly as possible, so we could enjoy the rest of the sunrise inside the car…). Luckily goosebumps aren't visible from a distance. Dan was bursting with pride as he showed me the photos he captured of me, and the photo of me with my back to the camera must be one of my favourite photos ever – such wonderful light, and such a beautiful place.
As we were heading back to the hotel for breakfast we agreed that we would have to return briefly later in the day, and in the early afternoon we were back at the summit one more time, this time to capture a few daylight shots but perhaps more importantly, enjoy this excellent driving road and a fun sports car a few coffees later, with a bit more energy to focus on the driving experience. The standard non-S Porsche 991.2 Carrera Coupe is a base model car, but the 365 hp is enough for spirited driving, and with the Sport Chrono package it accelerates from 0-100 km/h in just 4.2 seconds (with PDK), and can reach a top speed of 293 km/h. It is easy to become greedy for more performance – especially as you're always presented with something that has more power than the last car you drove – and it is equally easy to forget that with the right car you don't always need all that power – the key is to find the right twisty road, and be seated in a car that handles like a dream. The dial on the steering wheel lets you switch into Sport or Sport+ mode easily, and with the optional sports exhaust the sweet symphony of a flat-six comes alive with just a tap of a button. Arguably it is not quite as satisfying as in the naturally aspirated 911s, which I've said before, but those who don't like the sound of the future will find comfort in the GT3 Porsches that still (and hopefully forever) are offered with naturally aspirated engines. Until the all-electric 911s arrive, of course…
The few days spent with this car didn't leave me longing for one – once you have your heart set on a GT3 there is no turning back – however it was a fun choice of car for a small road trip, in a beautiful colour that grew on me. In the evening as we returned home our family of three had grown into a family of four, because there was not a chance we could have left that sweet puppy behind, and it seemed most appropriate that little Tyson's ride to his new home would be in a Porsche 911…