A couple of days ago I flew to Frankfurt over one day, invited by Nissan Switzerland, to test drive the type of cars I do not drive very often… The 2015 Nissan X-Trail and Nissan Juke. If I worked as a full-time paid car journalist, I would definitely drive all kinds of cars. Just because I think it is important in that industry to really get to know vehicles, in general and with different engines, not just sports cars. But now with limited time to drive press cars I prefer to always book cars that interest me or/and cars I might be interested in one day owning myself. Small SUV:s and crossovers unfortunately do not fall into this category – these are not the type of cars I want to drive on a one week road trip to Stelvio. Makes sense.
For people who are not in a constant search for an adrenaline rush like I am, there are good "normal" cars on the market. My SUV choice would still be something with more power and also a four-wheel drive that I could take off-road, British or German. I have never really understood the purpose of having a city SUV or crossover but this is just me. Five days a week I sit in traffic jams in Zürich city with a manual MINI JCW, this maybe does not make any sense to some people either. Personal preference it is called.
Short press events like this are always a challenge because you have a limited time with the car, and you often share it with another driver. On a Land Rover press event I was lucky enough to share the cars with the Editor-in-chief of a Finnish car magazine that was just as keen to get good photos as I was, so he helped me and I helped him (…ended up in the car magazine myself). Now on this Nissan event I shared car with a nice Swiss journalist who did not mind a few photo stops along the way. Long enough to get a few photos of both cars at least. But as a driving experience these are still only first impressions, not proper test drives.
…Not that I honestly feel I am the right person to test drive cars like this because I do not need space I need feeling, and I do not care how much fuel I have to pay for if I smile days after I have driven the car… so I think 370Z and GT-R is more my thing…
[ale_divider style="thin" text="textcenter"] 2015 Nissan X-Trail [/ale_divider]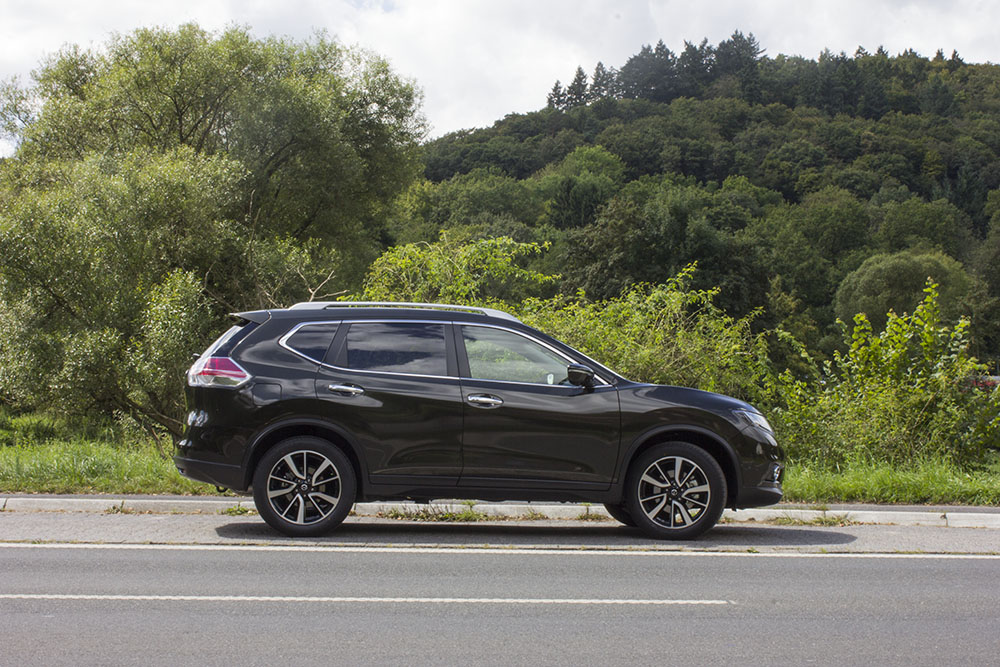 The 2015 Nissan X-Trail TEKNA 1.6 dCi X-Tronic I drove had a 1.6L diesel engine producing 96kW/130hp and 320Nm of torque at 1750 rpm. It is not a lazy engine, but going up on a mountain you might be wishing for a little more power. I was hoping to be able to test the 180 km/h top speed but only got up to 160 km/h in the traffic. On the autobahn it feels stable to drive and in the mountains it felt alright in the corners, although I personally prefer to sit close to the road and not that high up. Anyone who thinks Japanese car manufacturers do cheap car interior should go sit in the new models. It does not have the same kind of premium feel we get from some (more expensive) German and British car manufacturers in their SUV:s, but for a car in this price class it is actually nice. You can buy a 5-seater that also can be transformed into a 7-seater by folding up the two small backseats in the trunk (which has a capacity of 550L / 1982L, not much left if you make it a 7-seater though) and moving the backseats a little forward.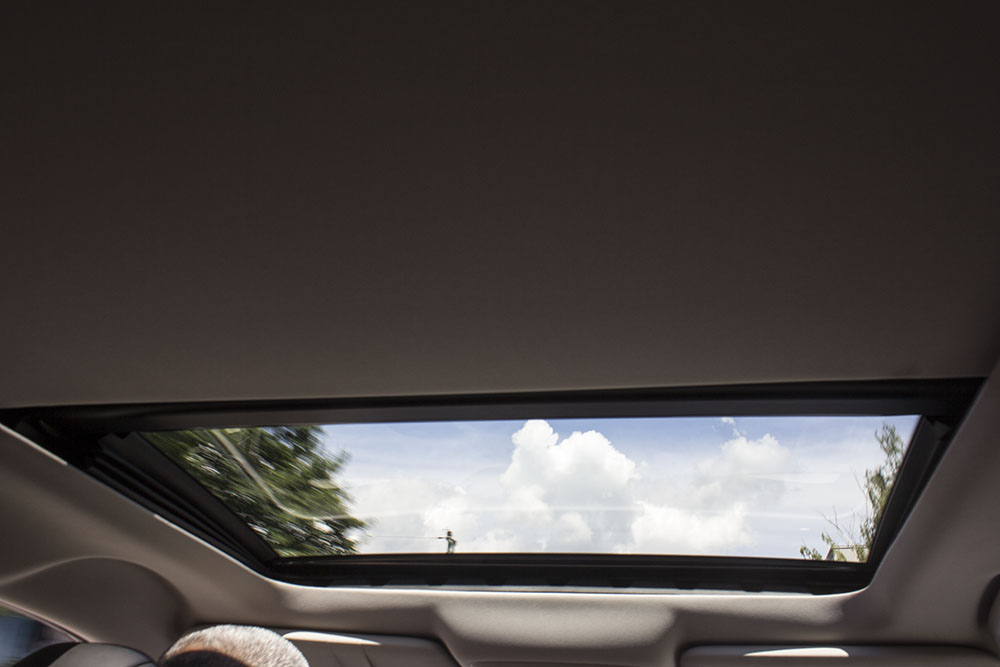 The car comes with a 7″ touch screen and a glass panoramic sunroof (which is fantastic, brings in a lot of light). The interior of the test drive car was quite minimalistic with some carbon fiber-ish finishing touches. It also has the Start&Stop function that can be switched off. Comfortable leather seats and a good driving position (although cornering this car in higher speeds feels like driving a bus because you sit so high… I think the solution is to corner it in lower speeds, I should clearly practice more driving crossovers).
Transmission was the automatic X-Tronic CVT that is only available in front-wheel drive X-Trails, so anyone looking for four-wheel drive would have to be happy going for the 6-speed manual gearbox. A 1.6L petrol engine should also be available from 2015.
The 2015 Nissan X-Trail comes with the "Nissan Safety Shield" technology that includes for example lane departure warning (see short video) and emergency city braking. Combined fuel consumption is 5,1L per 100 km – that is good – and Co2 emissions 135g/km. Good daily car? Honestly if someone just needs a good comfortable car and wants a compact crossover SUV for a nice price, why not. I am surprised by the looks of it as well, the exterior looks quite stylish. Typical Japanese design perhaps, but would anyone want to have a Japanese car that does not look Japanese?
More information and prices:
Switzerland: From Fr. 31 390 // Germany: From €26 790 // UK: From £22,995 // Finland: From €31 981
[ale_divider style="thin" text="textcenter"] 2015 Nissan Juke [/ale_divider]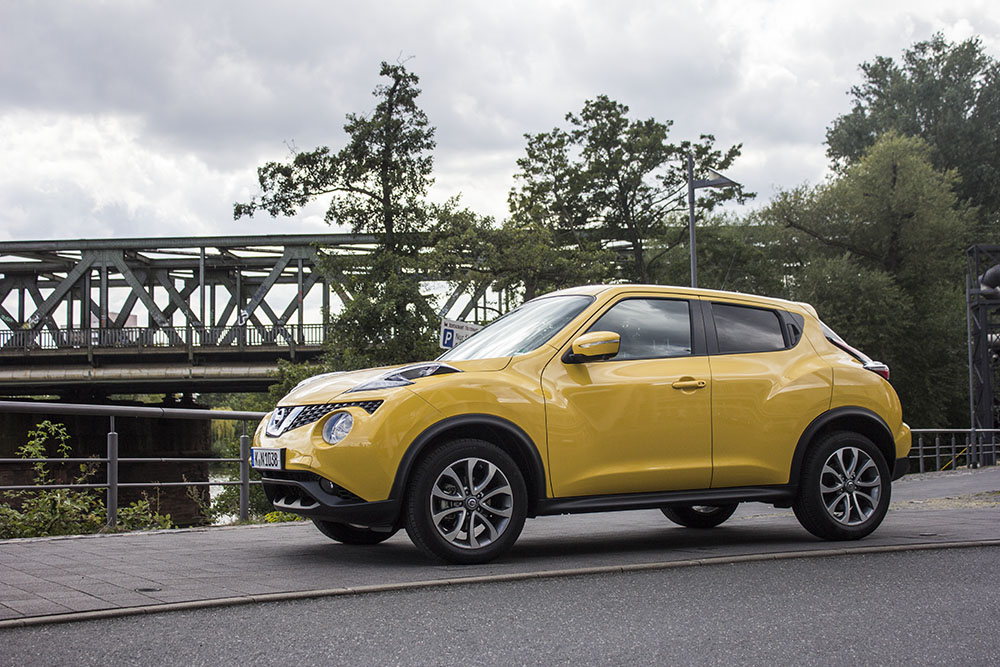 Because of limited time I only took out the 2015 Nissan Juke for a quick photo shoot. I have actually said it is the worst looking car after Renault Twingo, that is a very bad comment… In the new colour "Sunlight Yellow" it looks even more like a cartoon character than before. Add yellow shiny details to the interior and it definitely becomes too much for me and makes the overall impression a little too plastic.
But some people love this look and that you can customize both interior and exterior to your own taste. Fifteen minutes with the car is not enough to get a proper impression of it, but one thing – I did not like the manual gearbox it had. I say this because I am used to the more stiff close ratio manual gearboxes often found in Japanese sports cars – I love them – and the Juke gear change felt floppy. Probably one of the easiest manual gearboxes you can find, but my heart beats a little extra for the manual gearboxes that give you a little resistance when moving between gears. Again, personal preference…
One thing worth mentioning about the new Nissan Juke is that they have increased the boot space with 40% compared to the old model, so now it is 354L. It comes with the same panoramic sunroof as the X-Trail has, three new shades (Sunlight Yellow, Ink Blue and Solid Red), Nissan Safety Shield etc… So it sounds like a much improved version of the old one.
More information and prices:
Switzerland: From Fr. 18 690 // Germany: From €15 450 // UK: From £13,420 // Finland: From €19 740