In the summer of 2013 I had a Mazda MX-5 Roadster over a weekend. The car was not yet one of the facelift models that rolled out from the Mazda factory in 2013. The 2013 updates to the MX-5 included a restyled front, active bonnet safety system for enchanced pedestrian safety, and improved throttle response in manual models.
Under the hood my test drive car had a 1.8L engine producing 126 bhp. A number that does not sound exciting on paper. I had my doubts about this car too in the beginning. But when you drive it you realize a small lightweight car like the MX-5 does actually not need much more than that.
I spent one weekend driving about 800 km with this car. It was impossible to stop driving it! I wanted to try it everywhere – in the city, on cobble stones, in heavy rain on the highway, on some of the best curvy asphalt roads I know, on small gravel roads in the archipelago. You get the point. The car deserved to be tested in different conditions to really get a feeling if it is a practical daily driver or not.
I love the fact that you feel like you are sitting very low in the car, close to the road. In the corners this is much appreciated, makes the car fun to drive. The handling is fantastic. I wish I would have a 1st or 2nd generation Miata to compare with, but the 3rd generation MX-5 is actually the only MX-5 I have driven to this day. What I however can say about this car is that it feels like a proper Japanese sports car. Because it lets you drive it. A similar feeling I got when I drove the Toyota GT86. Both cars are according to many "underpowered", but both cars can deliver a feeling and this is important.
My test drive car had the 5-speed manual gearbox. 6-speed is standard with the 2.0L engine. For the US models also automatic transmission comes as an option. However, for me the joy of driving this car comes to a large extent from the tight shift gate gearbox. Once I got used to it, I absolutely loved it. It is hard to imagine an automatic sport transmission, even with paddle shifters, could beat the manual gearbox when driving this type of car.
50:50 weight distribution and rear wheel drive – needless to say it is a car you can have fun with. If you want a more powerful engine, the MX-5 is also for sale with a 2.0 L engine producing 158 bhp and 188 Nm of torque, coupled to a 6-speed manual transmission (Europe specs, US also has a 170 bhp version). But I have to admit that although the 1.8L engine only gives you a 0-100 km/h acceleration speed of 9,9 seconds and a top speed of 194 km/h, it never felt like the car is lacking power. I rather drive a car that is fun to push to the limits, than a car with too much power but you can realistically not use all of that power on the roads. So you will not be the the fastest couple to enter the highway, and the acceleration will not push you back in the seats. But on twisty small roads and European mountain passes on a sunny summer day, with roof down, it would be quite difficult to feel disappointed with this choice of car.
Yes, there are several cars that makes my heart beat a little faster. But a new equally exciting driver's car, available as a roadster, for less than €30,000? Very hard to find I think.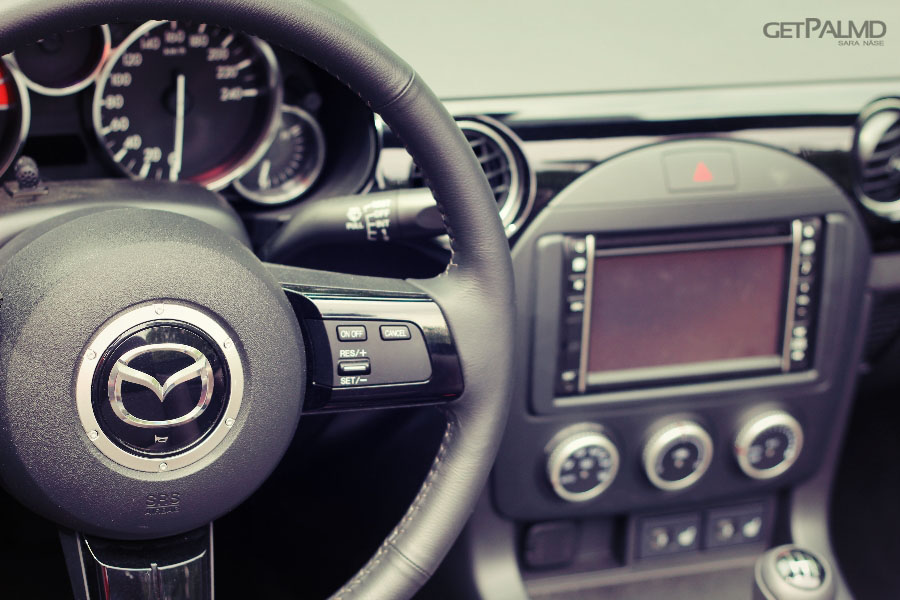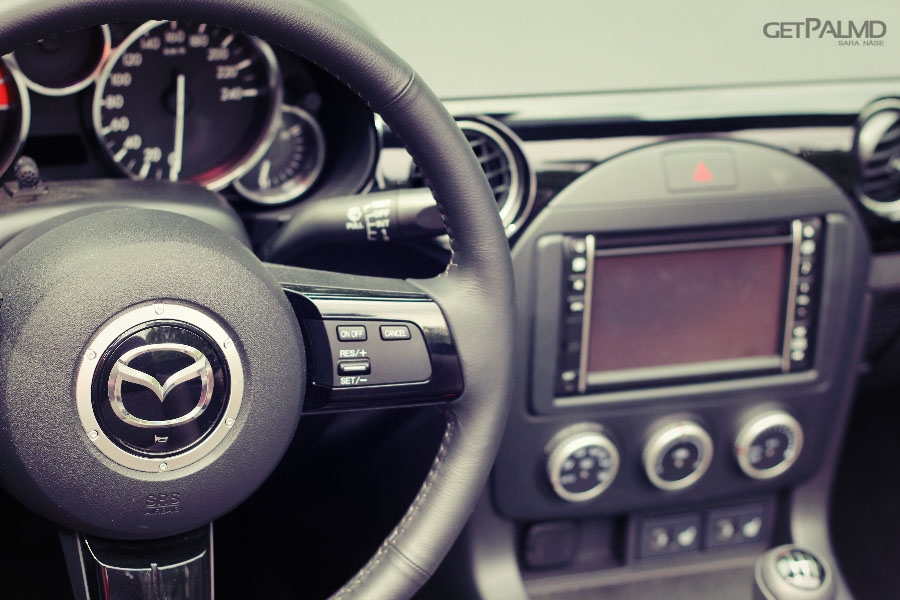 My weekend was not a fuel economy test, because I wanted to enjoy the driving. On paper average fuel consumption is said to be 7.1L per 100 km. My average was about 8.5-8.8L per 100 km, so not that bad. With a bit more effort to do economical driving I am sure that 7.1L is a realistic number to achieve.
If you do not like the manual folding soft top you can instead choose the slightly more expensive model with a (fast) power-retractable hard top. Nothing wrong with the soft top though, it is very easy to use. Only negative I have to say about it was my 165 km highway journey in heavy rain. Not a chance that you would hear the radio, too much noise. But sometimes it is quite nice to listen to the rain too.
And on the sunny days with the roof down, with wind blowing in your hair and you listen to quite sweet tunes from the engine revving close to the redline (because you can, that is the great thing with the MX-5, it really wants you to enjoy it), you forget the rainy days.
One thing I regret a little is that I had the opportunity to do a road trip with one last year and did not do it. The Mazda MX-5 was one of my car options for the Transfagarasan trip, but then I took a BMW Z4 from Munich because car was closer to me. The Miata would have been great fun to try on mountain passes!
Specs for 2013 Mazda MX-5 1.8L 5-speed manual
(Europe)
Engine: 1.8 L MZR I4 gasoline front-engine // Maximum output: 93 kW (126 bhp) / 6500 r/min // Maximum torque: 167 Nm / 4500 r/min // Acceleration 0-100 km/h: 9,9s // Top speed: 194 km/h // Curb weight: 1115-1130 kg // Drivetrain: Rear-wheel drive // Transmission: 5-speed manual // Seating: 2 // Trunk space: 150L // Emission standards: CO2 167g/km and EURO5 // Fuel tank capacity: 50L // Fuel consumption L/100km: City 9,8L – Highway 5,6L – Combined 7,1L
Prices starting at: 32 650 CHF (Switzerland) // €22 790 (Germany) // £18,495 (UK) // €29 990 (Finland) // $23 720 (US, 2.0L)[/ale_alert]