In September I got an invitation to a 14MY Land Rover event 8-9th November. Last Thursday, 7th November, I flew to Zürich where we stayed the first night in the Radisson Blu Hotel at Zürich Airport. The route for day one, Friday, was Zürich – Mulhouse – Vosges Mountains – Strasbourg, and the cars 2014 Land Rover Discovery and Range Rover Hybrid.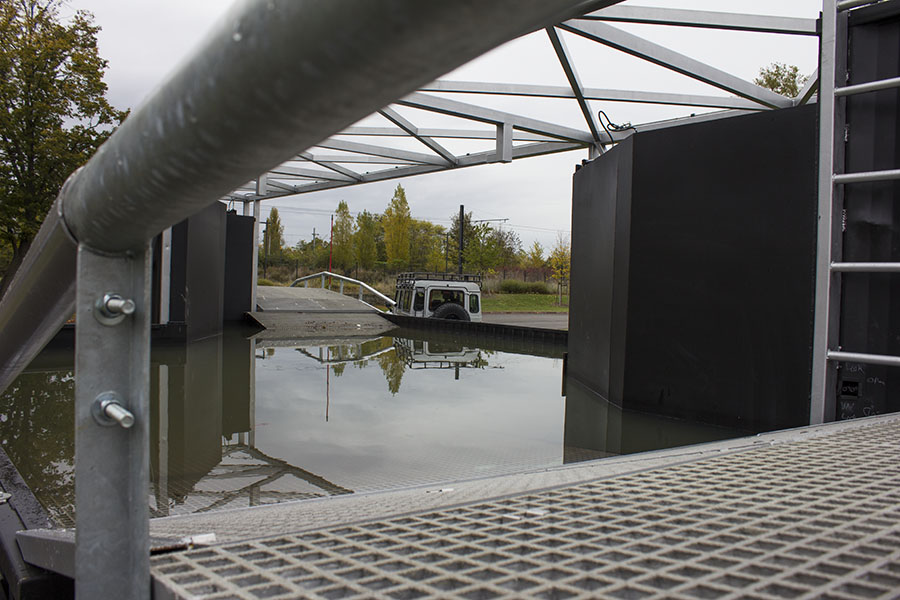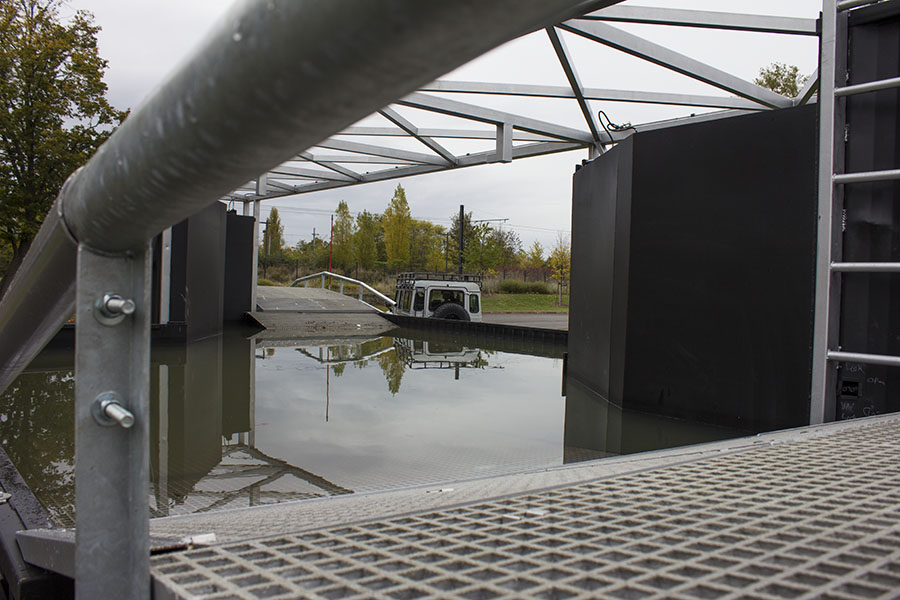 The Land Rover Discovery we also got to test in a water tank, and the Range Rover Hybrid on a very wet off-road section. I have to say that the off-road capabilities of these cars are truly amazing, I was a passenger first when we arrived to the off-road section and hence had the chance to film the start. In the middle there was a driver change and after seeing where we had just been, I honestly had some doubts if I could get the car to go where I wanted in that deep mud. However, it was so easy to drive. Incredible, it did not require anything special, you just drive it like you would drive it normally and it never hesitates. The car takes you over any obstacle and almost swims if you ask it to. How can you not fall in love with a car like that? It is such an incredible feeling to drive a car on bumpy small forest roads and know you do not have to worry, because this car was made for these roads. For example I drove in the forest on a road I would with almost any other car drive only 20-30 km/h on, some cars I would not even take there at all. I doubled, almost tripled, the speed with the Evoque and it flew over the road. That is pure joy. No worries. You just drive.
It probably does not come as a surprise if I now say I want to do a road trip with a Range Rover. Of course to a destination where I can drive it off-road also… I love sports cars, but this was something new and I did not realize how much fun you can have with a car you can go off-road with. Now I know!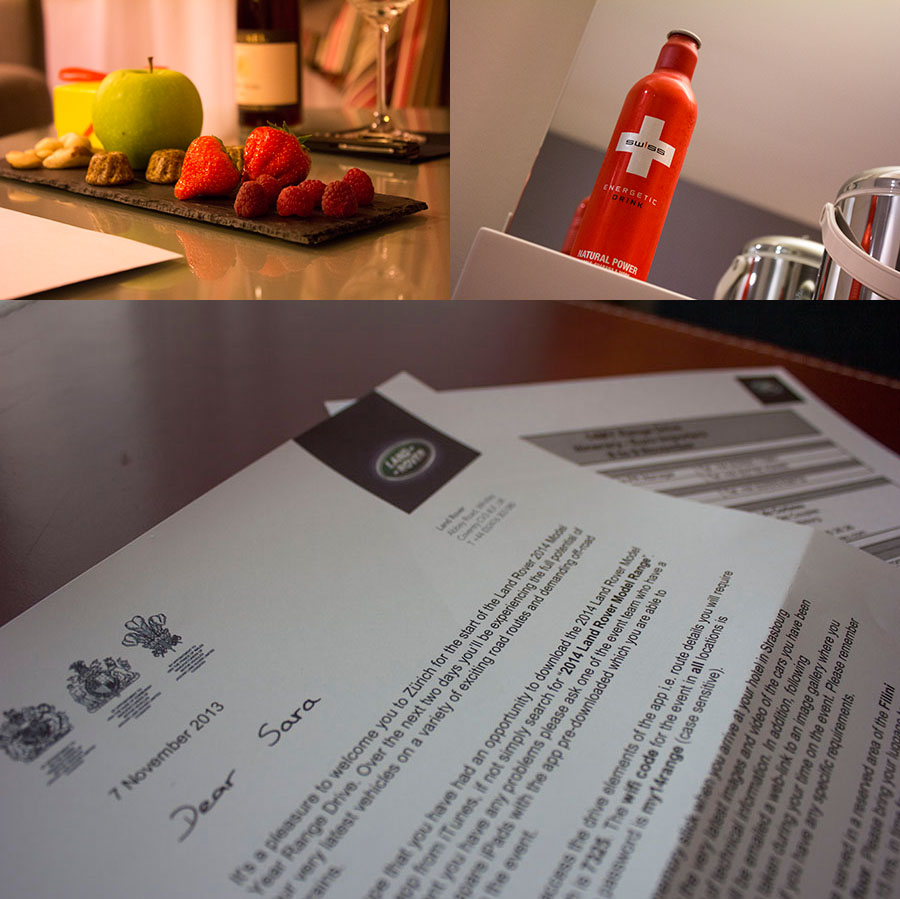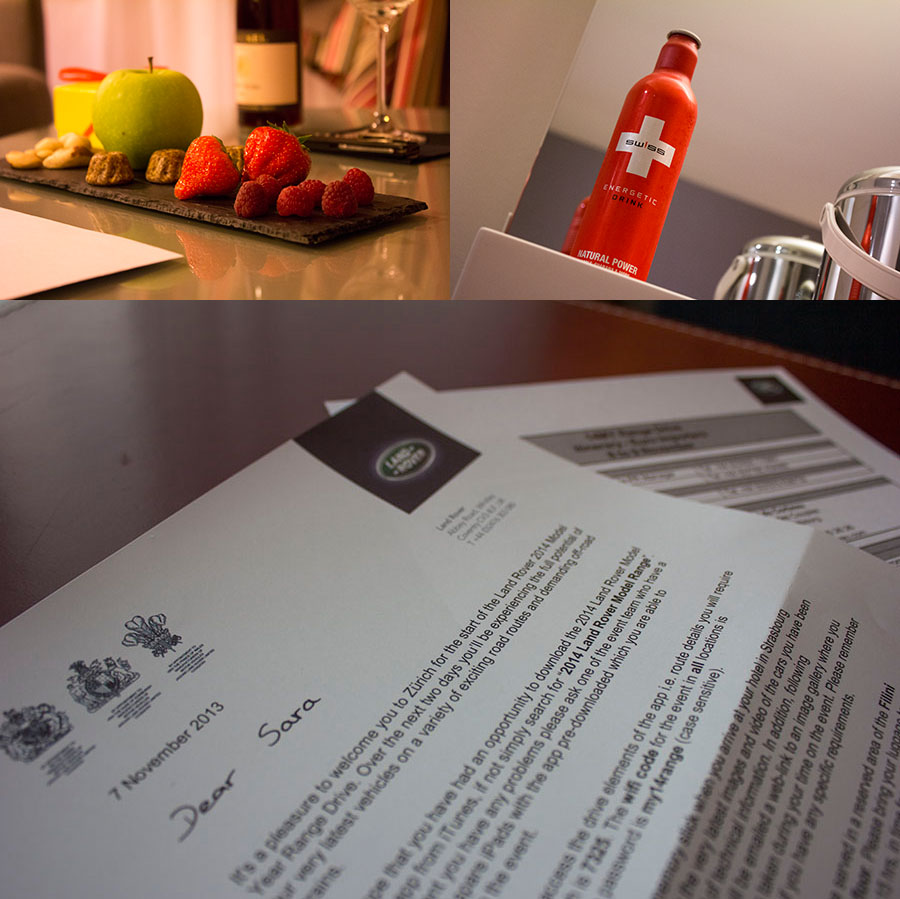 In Strasbourg we stayed in a very nice hotel called Cour du Corbeau. Also have to shout out about the dinner location in Strasbourg, which was Les Haras. It is a newly opened restaurant in Strasbourg with an absolutely stunning location that actually is an old manège (riding academy). So the main restaurant building was the stable and they have made a fantastic job with the interior design there. Food was great too. So if you visit Strasbourg, keep both the hotel and restaurant in mind!
[ale_tabs] [ale_tab title="2014 Land Rover Discovery"]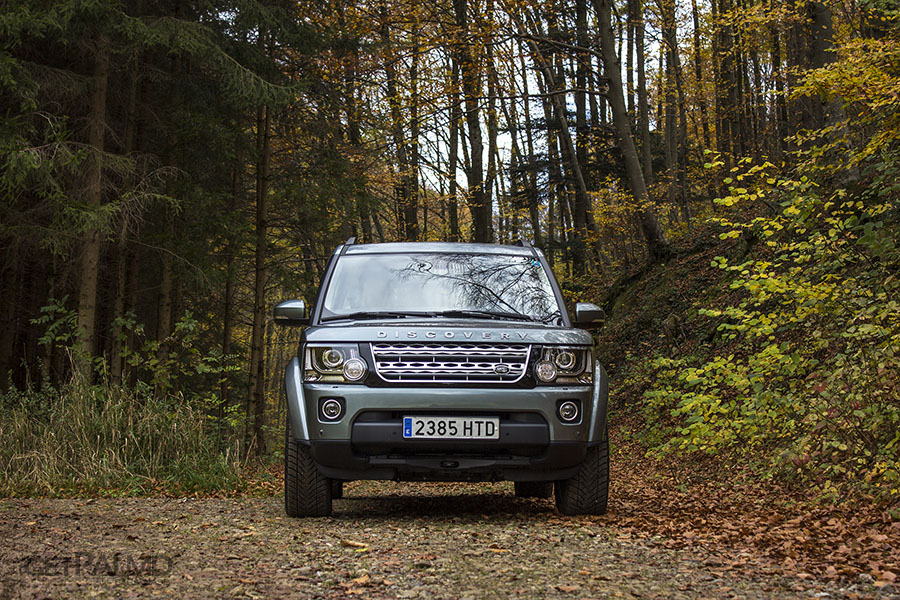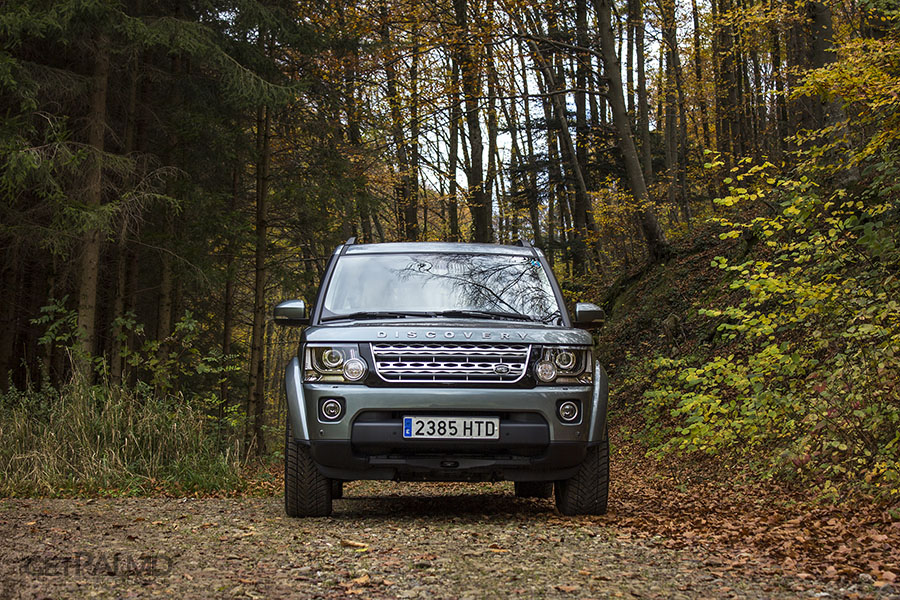 Although I will never be a potential buyer for a Discovery it was an interesting car to test drive. The car actually surprised me, in a good way. It does not feel as exclusive as a Range Rover of course, but the interior is nearly on the same level with leather dashboard, nice seats and actually very customizable interior options. Plenty of colour options to choose from. I expected the car to feel heavy to drive. It is after all a car that weights around 2575 kg. But it was actually very easy – steering did not require any king sized biceps and for the normal daily driving one does, it felt fast enough even on motorways.
Another thing I was worried about were the dimensions, in photos it looks like a huge car. And it is big. But not so big that you actually feel the size, it felt almost like a medium sized car to drive, only higher. So the first impression was surprisingly good. One of the main reasons to purchase this car would be for the passenger (and luggage) space it offers. Personally I think many 7 seater cars look very tacky, so if I would ever need one (…that will however never happen, but if), the Discovery would be quite high on my list. But my reason for choosing the Discovery over the other 7 seater cars on the market would obviously be because of the off-road capabilities. If you can have a car to have very fun with, then why skip the opportunity?
Read about the Discovery 4 on www.landrover.com [/ale_tab] [ale_tab title="2014 Range Rover Hybrid"]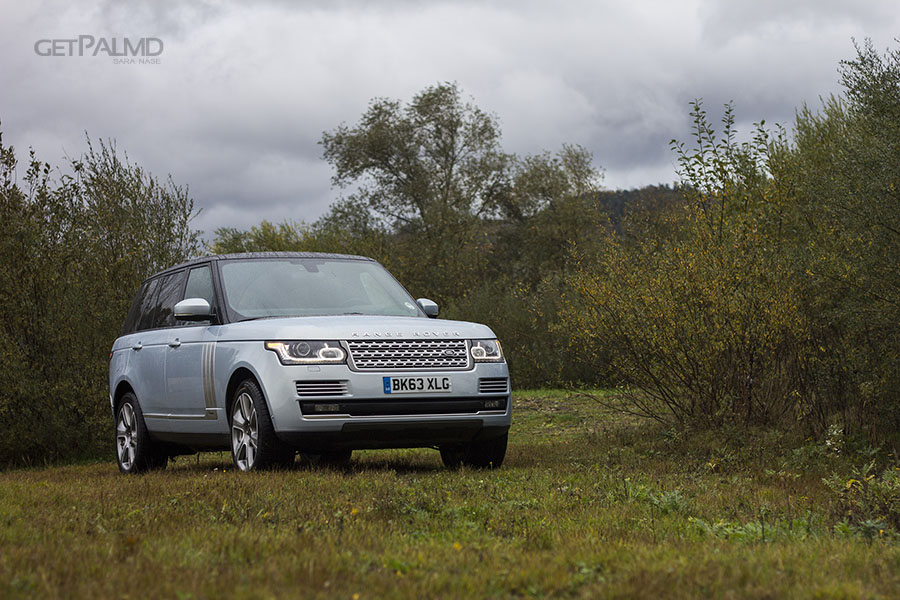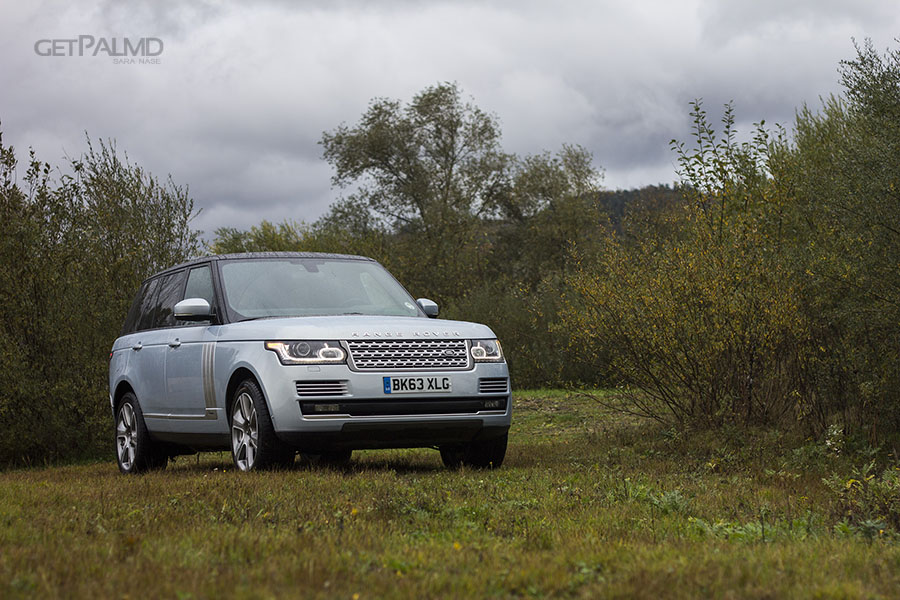 The Hybrid was extremely interesting to try. Silence when you start it. Only with the 35kW electric engine you can roll in a speed up to nearly 50 km/h for about 1,5 kilometres, then the diesel engine starts. That is not much, and if they want to sell more of these, that should be be improved – if you look at other hybrids you see what numbers can be achieved. If it was not for the start up sound you would not even notice the diesel engine starts, it is that smooth even when car is moving. Also the start up sound is something I paid attention to because I listened carefully, but I could imagine if you drive this daily you would eventually stop noticing it.
As a driving experience this car did not feel as thrilling as the Range Rover Sport SDV8 I drove, but for a hybrid it exceeded my expectations. 340 horsepower and 700 Nm of torque, so there is enough power. 0-100 km/h in 6,9 seconds (the car weights about 2400 kg!), for the Sport Hybrid model this number is 6,7 seconds. Top speed 218 km/h (Sport Hybrid 225 km/h) and CO2 emissions 169 g/km.
In the normal Sport there was a little more feeling (this comment comes from a sports car fanatic of course).The Sport we drove had a 4.4L SDV8 engine, while the Range Rover Hybrid has a 3.0L SDV6. Personally I of course think you can pump out some more impressive sounds from the V8, and I am a music lover. The Sport also in my opinion had a sportier steering, although they both felt surprisingly fun and sporty to drive on mountain roads (they do not feel as big as they are). My conclusion is however that being a car in this size class, and with the versatile driving features it has (you can drive with it nearly anywhere), the Range Rover Hybrid is fantastic. I would definitely drive it again, and also try the Sport Hybrid when I have the opportunity.
The Range Rover Hybrid will in the UK cost £98,415 and the Range Rover Sport Hybrid £81,550. In most other countries a Range Rover is a pretty achievable car if you look at the price. Expensive premium SUV, of course, but there is still a good market for this car. In Finland the Range Rover TDV6 basic model costs 143 291,76 € including taxes. An SDV8 model starts from 184 924,00 €. There is a tiny market for Range Rovers in Finland, because they are so expensive there. What could the Range Rover Hybrid price be in Finland? Lets not even think about it…
Read about the Hybrid on www.landrover.com[/ale_tab] [ale_tab title="Exhibition cars"]
At Cité de l'Automobile they had an exhibition of models from past as well as some motor sport cars.