On the second day of the Land Rover road trip we took the new 9-speed Range Rover Evoque from Strasbourg and drove to the Black Forest, where we changed cars and continued with the Range Rover Sport SDV8 (Autobiography) to Zürich. Now I again have to do some food hyping but Gourmet Restaurant Adler in Schwarzwald… Fantastic. "Gourmet Restaurant Adler has been awarded a Michelin star every year since 1966, the first year the famous gourmet guide selected gourmet restaurants in Germany. This makes Gourmet Restaurant Adler not only one of the best Michelin star restaurants in the South of Germany, but also the only gourmet restaurant in Germany which holds the award continuously for 45 years.". I will go back! Maybe with a supercharged V8 Sport next time…
In the end of the video you can see some Hill Descent Control demonstration. I think Wikipedia explains it better than I ever could, "Hill Descent Control (HDC) allows a smooth and controlled hill descent in rough terrain without the driver needing to touch the brake pedal. When on, the vehicle will descend using the ABS brake system to control each wheel's speed. If the vehicle accelerates without driver input, the system will automatically apply the brakes to slow down to the desired vehicle speed. Cruise control buttons can adjust the speed to a comfortable level. Applying pressure to the accelerator or brake pedal will override the HDC system when the driver requires.". Sit back and relax, let the car take you down. It worked!
[ale_divider style="medium" text="textcenter"] 2014 RANGE ROVER EVOQUE 9-SPEED [/ale_divider]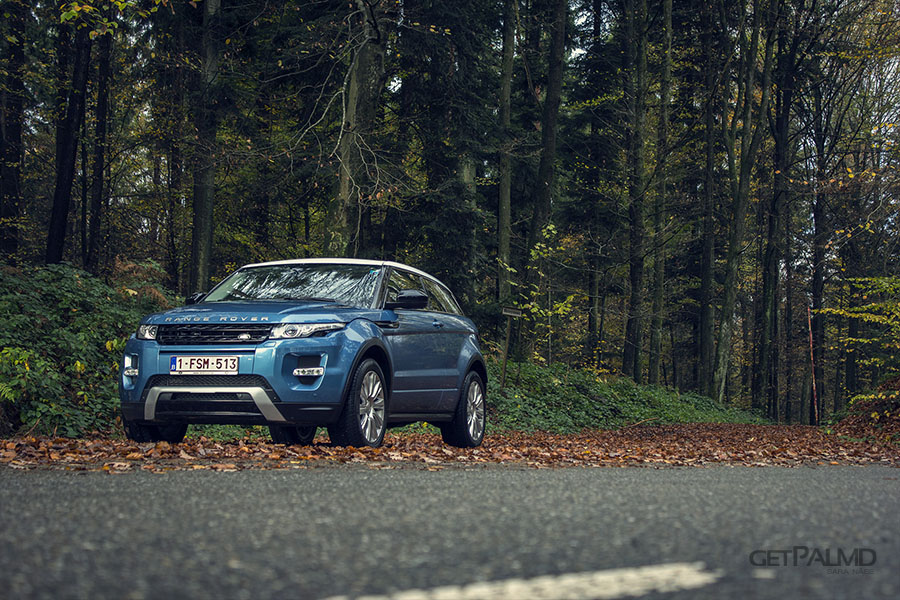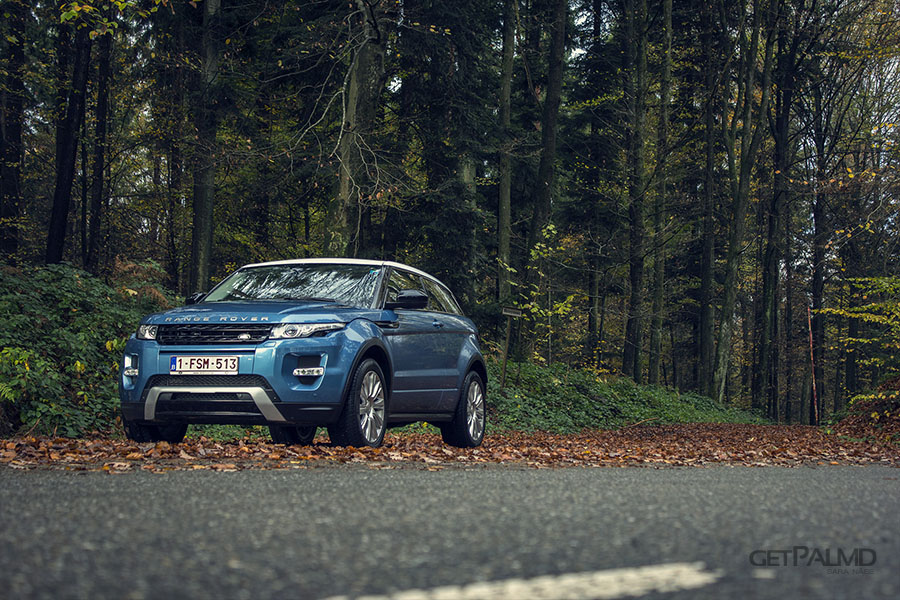 I do not like the design of the coupe Evoque. Several times I tried to open back doors that did not exist so I could put some stuff on the back seats. In a car like this you automatically expect to have easy access to the backseat space and I do actually not understand at all why they want to make 3-door versions of this car? Are there really many buyers who likes that? I would personally choose the 5-door Evoque over the coupe, looks like a proper car. The coupe Evoque is a bit too cityish (that is a word…), while the 5-door Evoque looks more like a real Range Rover – big and masculine!
I did not like the white frames on the panoramic roof either. Nothing wrong with panoramic roofs if someone likes them. But on a blue car that white looks tacky – a black roof would have been more stylish. But that is just a personal opinion. Maybe I just think a Range Rover should look quite simple, no need to go crazy with strange colours and details. Just simple and as dirty as possible?
As a driving experience it was a pretty fun car. The 9-speed automatic transmission did not feel any different from the 8-speed transmission, but this was not a very long test either. A few times it felt like it made some perhaps a bit unnecessary gear changes, but obviously my driving style and how I treat the gas pedal is a thing that will affect how the car answers. Personally I think an 8-speed box felt totally "enough", but on the other hand I am still that girl who thinks a good 6-speed manual is my match made in heaven (honestly I do not care what gearbox the car comes with if it feels good to drive – that is all that matters… so it totally depends on what you are looking for and how important things like fuel economy or emissions are, I just ask for feeling). But the ZF-9HP gearbox is said to improve fuel economy, reduce emissions and enhance performance – so I have to trust their words.
The test car also had the Active Driveline feature. This is as well said to improve fuel efficiency and it basically turns a four-wheel drive car into a front-wheel drive car in speeds over 36 km/h (but only in driving conditions where four-wheel drive is not necessary = "cruising"). The system will reconnect four-wheel drive within 300 milliseconds if the driving speed exceeds 180 km/h, or the driving conditions change to something where four-wheel drive is again needed. Default mode when you start the car is always four-wheel drive.
[ale_divider style="medium" text="textcenter"]2014 Range Rover Sport SDV8 Autobiography[/ale_divider]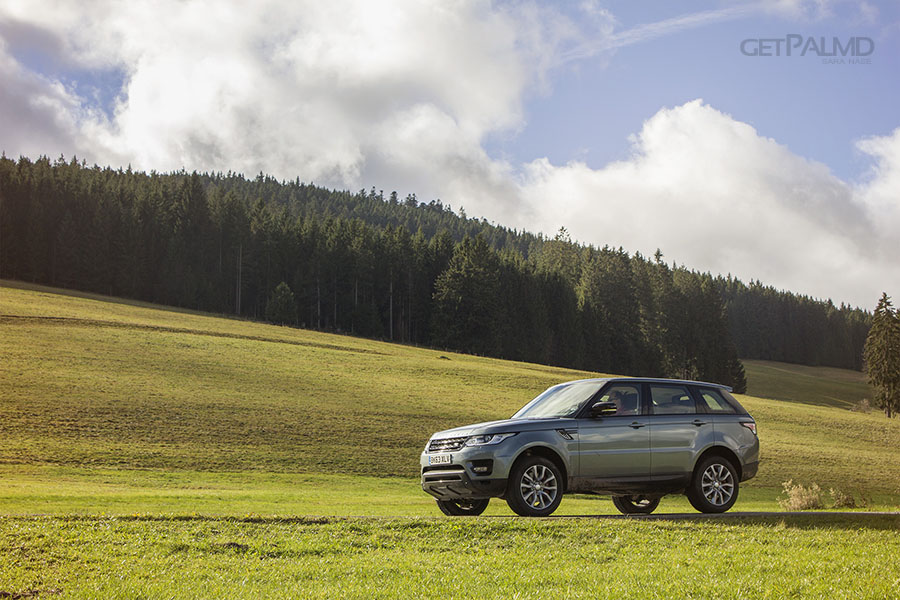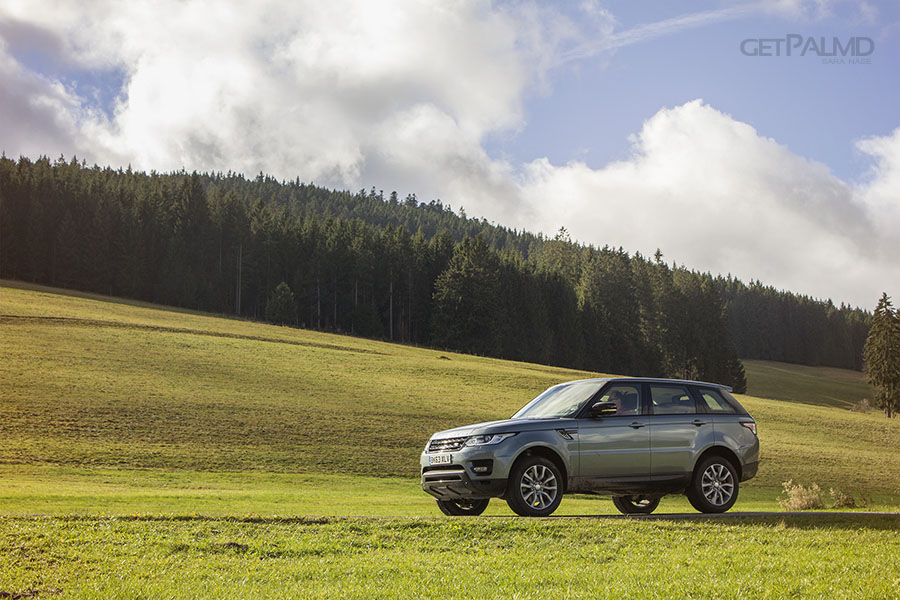 Personally I am not a lover of diesel engines (I would like to say it is because I dislike the diesel engine sounds, but truth is that with many modern cars manufacturers have managed to at least turn down the volume of that annoying sound you associate with diesel engines… but it is still too often there in the background!). This is just a matter of taste of course. It does however mean that if I would have chosen the test car myself, I would have asked for one with a petrol engine (I always do…). From the Range Rover model range I would be extremely interested in the Sport with the supercharged 5.0L V8 petrol engine. 510 horsepower, 625Nm of torque and an incredible 0-100 km/h in just 5,0 seconds. It is a heavy car, remember that, so 5 seconds sounds like a very good number. The 4.4L SDV8 was absolutely not a bad car either – 339 horsepower, 700Nm on torque and 0-100 km/h in 6,9 seconds.
With the 8-speed automatic gearbox (including paddle shifters) the SDV8 felt really good to drive. I drove some curvy roads with three different Range Rover models (this, Evoque and Hybrid), but the Sport brought the widest smile to my face. One of the reasons was of course the better sounds when accelerating, but the car also felt better to handle in the corners. Although none of the three cars felt clumsy to drive, the Sport just raised the bar a little – it felt like a car designed for someone who likes a sporty driving style.
I am pretty sure that with the supercharged V8 petrol engine – and I say this even before I have driven it, but that car has to be good – this is a car I would actually like to own. I am fascinated by the fact that a car can be so diverse. I get the driving joy combined with some sweet engine sounds (very important – the feeling, you know), I get the off-road capabilities that are extremely cool, and last but not least I actually think the Range Rover Sport looks very good. It felt a little like driving the Camaro, although these are two completely different type of cars of course. But what I am trying to say is that when I as a woman sit down in the driver's seat of a big car with a powerful engine and take control of it… You get the point, that is my superwoman moment (ha ha). Women who drive big (and powerful) cars are sexy, fact. Then add a few more two-seater sports cars to the garage and I think that is pretty much everything you need in life?