My first destination in Switzerland was Meiringen, a town in a valley surrounded by mountains – absolutely stunning location. Stayed with 3 guys there – I first booked only one night because Grimsel Pass is very close to Meiringen and that was my grand plan for Switzerland, but because of bad weather I ended up spending two nights there instead. Didn't mind that at all – we had good food (I even participated in the cooking – haaa wife material… but when Patrick instructed me that the potato slices have to be exactly the same thickness to cook nicely in the oven I looked at him like if he was kidding with me – he wasn't…), got to taste some local alcoholic beverages at a local bar (some tea with alcohol, that is… jägertee? Can't remember) and had a little time to explore the area in rainy weather. So if you wanna go snowboarding or skiing to Switzerland this winter and need a place to stay, search for Meiringen on Airbnb and you'll find them!
I posted a photo on Facebook and wrote Arrived to Switzerland yesterday and I got tears in my eyes driving up here in the mountains, the views were spectacular… for many Europeans everyday eye candy, but for someone coming from Finland it's unlike anything you've ever seen (sure we have some mountains in Lapland — but it's not the same thing).. That's what happened, with me and the mountains and the clouds. Tears. But really, Switzerland is an incredibly beautiful country – wow.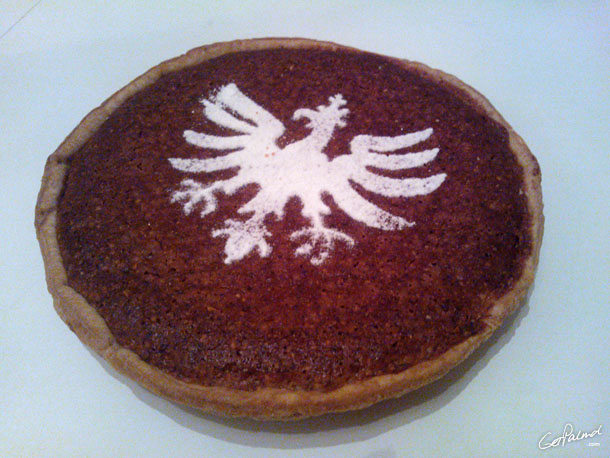 Haslikuchen – yummyy…
However, Meiringen in bad weather might not be super exciting but I walked to have a look at Aareschlucht one day which is a gorge with waterfalls. I got soaking wet but it was beautiful even in rain. Patrick who hosted me works for a film making company and I got a sneak peak of an Aareschlucht marketing video he was working on, sadly not online yet (edit faster ;) ), but have to post a link to it later because it looked amazing in that video (and he also showed me some car videos the company Dedicam has made in past – the matte Mercedes McLaren SLR is some serious eyecandy…)
Of course I too late realized I should have carried the tripod with me – could have gotten some nice waterfall pics. Although the place would be more photogenic in better weather. I give you cloudporn instead.
By the way – if you're in the area do what I wanted to do but wasn't able to because of the, as said, really bad weather. Paragliding over the mountains, arranged by at least Flygschule Haslital / Birdwing. The views… I can only imagine.