I am trying to come up with as many flattering words as possible to describe the fantastic driving route I enjoyed on the second day of the road trip with the Nissan 370Z Nismo. However it almost feels like I am running out of words again and just want to let the photos do the talking instead. That morning I woke up at an altitude of 2473 meters above sea level on top of the mountain pass Col du Grand-Saint-Bernard (SS27). I like to test mountain pass hotels because for me it feels special to also wake up on top of an epic road and not just drive up and then down. Ideally you drive up there, hairpin corner after hairpin corner, and if getting to the top with a big smile is not enough of a reward you get an even better overall experience if you stop there for a night. Perhaps you want to take a walk in the mountains in the evening to see the moonshine over a lake (and if you have never experienced true silence, the mountains is where you find it!), or wake up early for a hike higher than any car will ever take you, to see the first rays of sunshine show up behind the mountains. Every sunrise and sunset looks different on every mountain pass (sunset over Stelvio, sunrise over Stelvio, Transfagarasan by night… list is long).
Luckily several European mountain passes have accommodation right on the best roads to drive. However, not all of the hotels there are always that good. I am young and fairly open-minded – luxurious places are nice but basic places can be nice as well. I most of the time travel alone or with my dog so I do not need to question if my travel companion approves the choice of accommodation. I have stayed in some very very basic places sometimes. Not with the intention to save money though, but often the case is you choose what you think is the perfect location for the mountain road you want to drive. Up on some of those roads in more remote areas there is not much to choose from. Sometimes you are lucky if you find one and then you give it a chance and end up in a bed that feels like it is made out of square hay bales… Been there.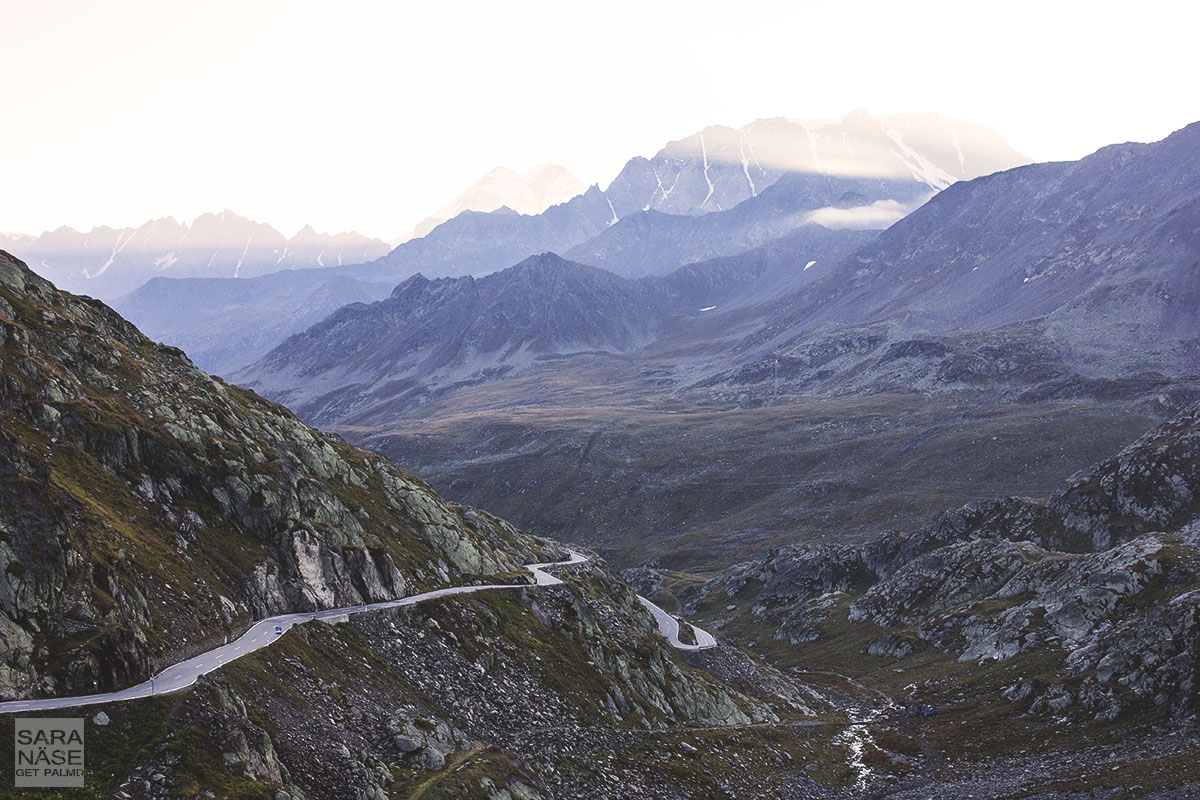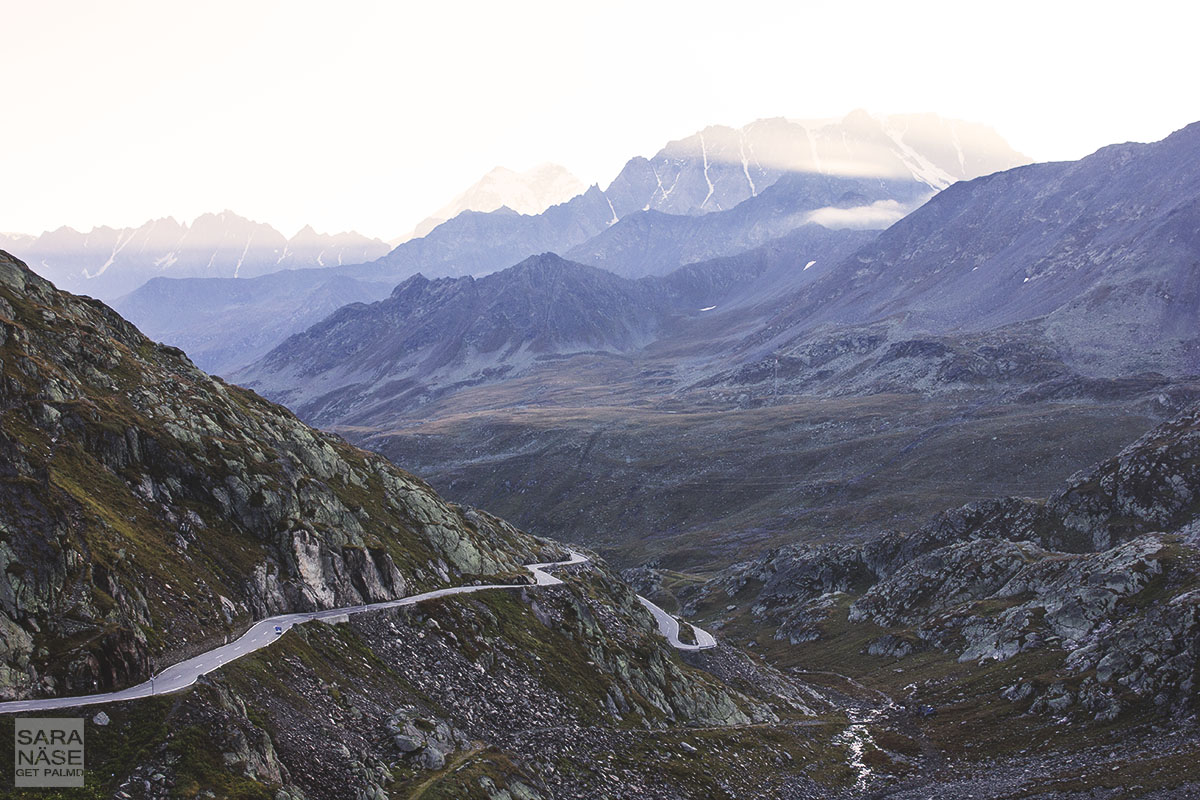 However Auberge de l'Hospice I stayed in on Col du Grand-Saint-Bernard was very nice with modern rooms. I can definitely recommend it to people who want to spend their night on top of Great St Bernard Pass. Your other option would be Hotel Italia on the Italian side of the lake. This hotel I have never been to so I probably want to try that next time. The location is stunning. There is no WiFi, which is actually perfect (for the location), because instead of surfing on world wide web all night I went out in the evening with the car for a small night drive. After that I took my laptop down to their bar (I suffered from a little internet abstinence of course, just had to stroke my computer a liittle), ordered a tea and sat there editing photos. An hour later I was in my bed reading a book (not sure when was the last time that happened… it is relaxing). Not even my prepaid Swiss Orange SIM-card found a signal up there at 2473m (my Finnish SIM-card however did, so to be honest I was not 100% disconnected from the world and I did check my email a few times… bad). I love internet for work purposes but it is really not a big deal to take a break from it every now and then. Even if it just for an evening it is a small break from many stressful things you are surrounded by in your daily life. I should sleep at high altitudes with poor mobile coverage a little more often to let the brain reset!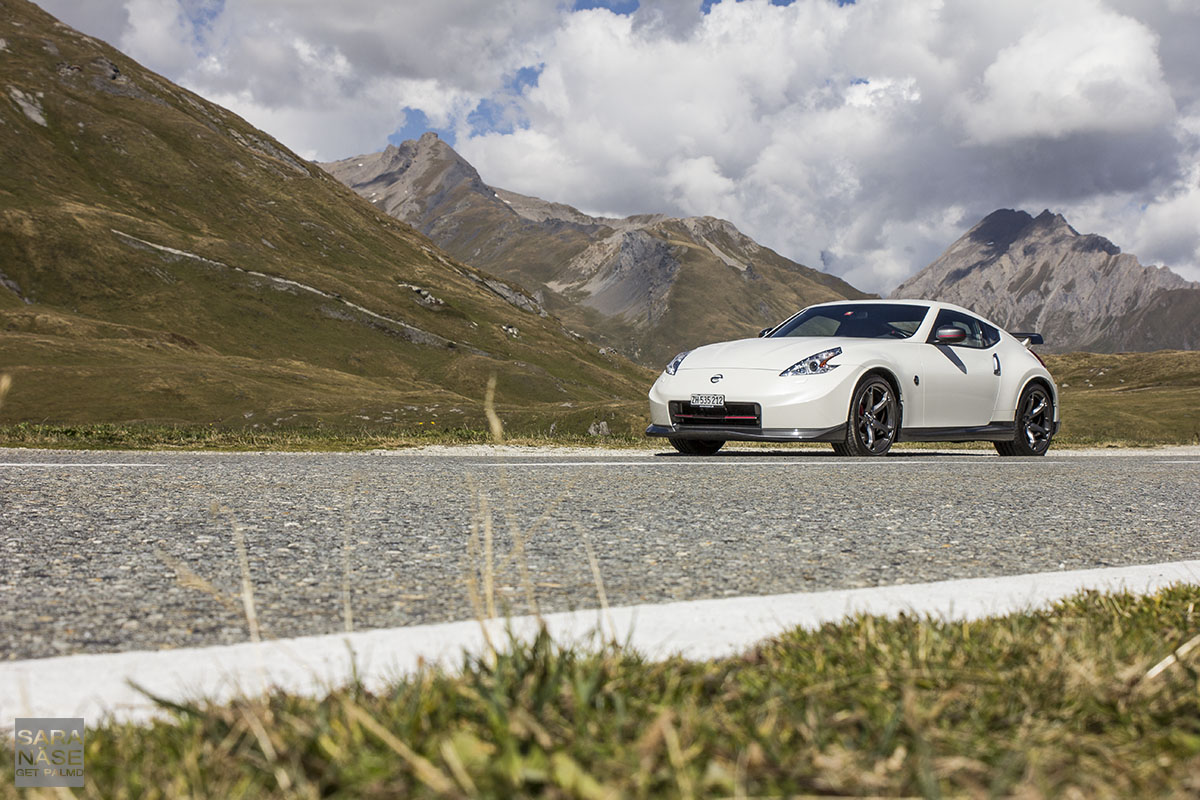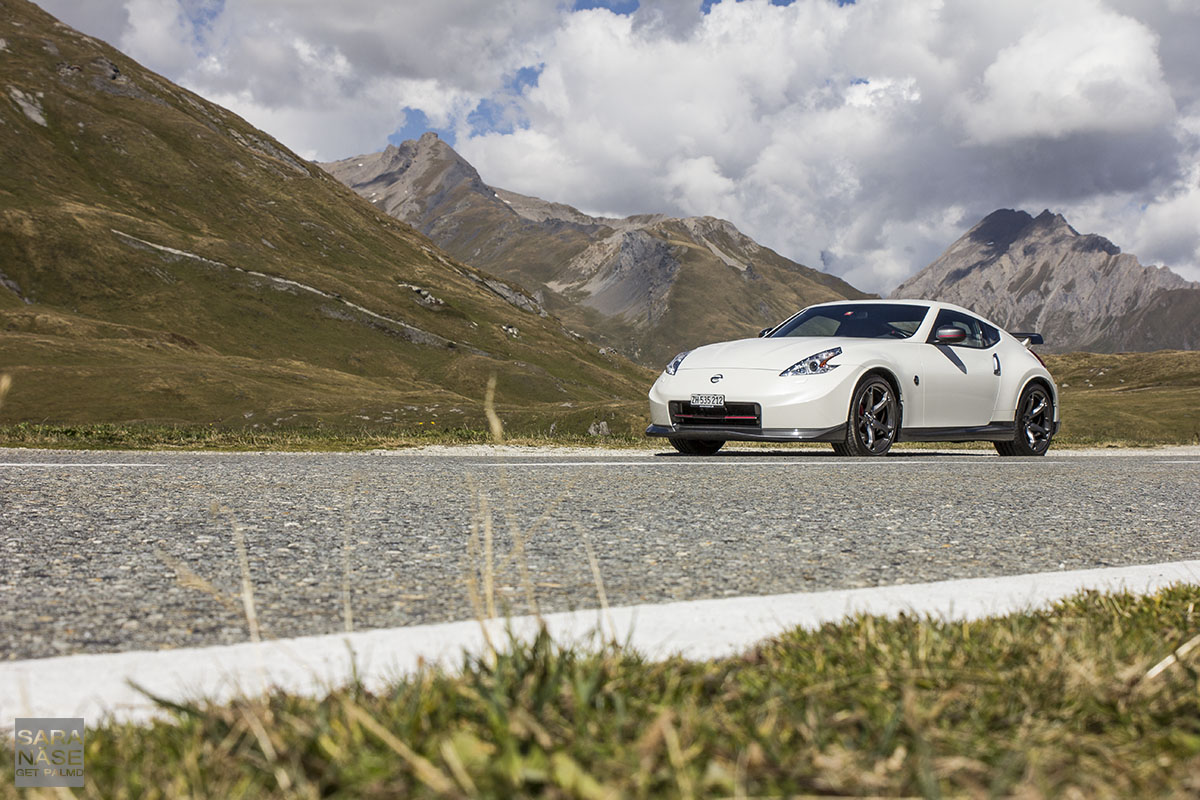 What I did on the morning of day two, after waking up early to see the sunrise of course – my mandatory mountain pass ritual from now on, was to drive down to the bottom of Great St Bernard Pass just so I could drive it up one more time. There were a lot of classic cars on the road that day and on the top I also stopped to say hi to a lime green Lancia Stratos Hawk (even replicas look beautiful!) before I continued the drive down to Aosta. Col du Grand-Saint-Bernard is amazing to drive and it is one of those mountain passes you do not forget, because once you arrive to the top a beautiful view over the lake opens up. If you are up for a hike, there is a hiking path marked in red going up on the mountain behind Auberge de l'Hospice. The view down if you bother to walk up a little is this, so it is worth it:
Col du Grand-Saint-Bernard is a popular road with a lot of traffic though, and this is probably why I personally enjoyed the roads that came after Great St Bernard Pass even more. The roads got less crowded and you felt like you are completely in the middle of nowhere at times. After Great St Bernard Pass I continued to Little St Bernard Pass 2188m (Col du Petit Saint-Bernard), SS26 (put La Thuile as the next destination and you will find the right road). This pass starts in Italy and ends in France. To best summarize a feeling I say this: I drove on the pass, crossed the border to France and started my drive downhill. About five minutes later it suddenly hit me – what a fantastic stretch of road I just drove. So what did I do? I turned around of course, drove back up to the border, and all the way down again… Let the kids play if it makes them happy! I got there at the right moment (some traffic but not as much as Great St Bernard Pass had), with a fun-to-drive car, on a beautiful day. I do not remember this pass for the landscapes – but it also looks nice. Instead I remember it for the moment when I did an 180 degree turn on the road and thought to myself "I want to drive that part again, faster". That is in my opinion the sign of an excellent road!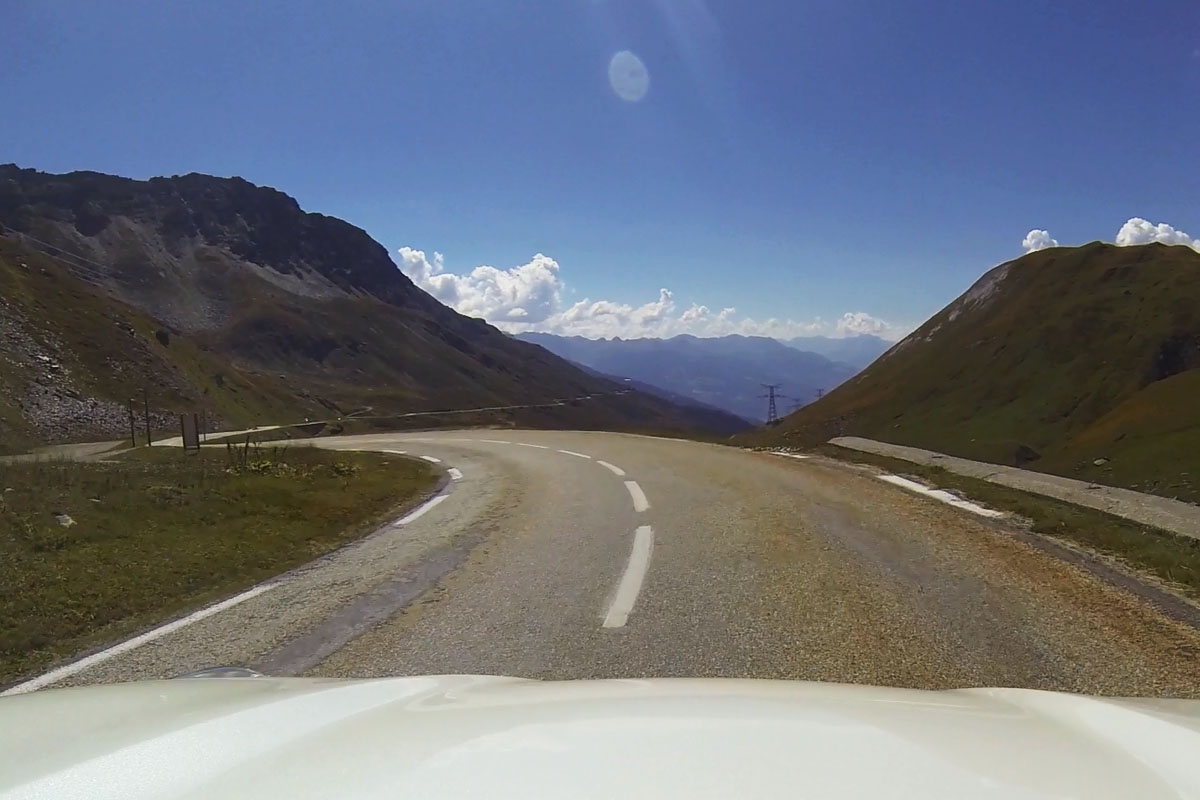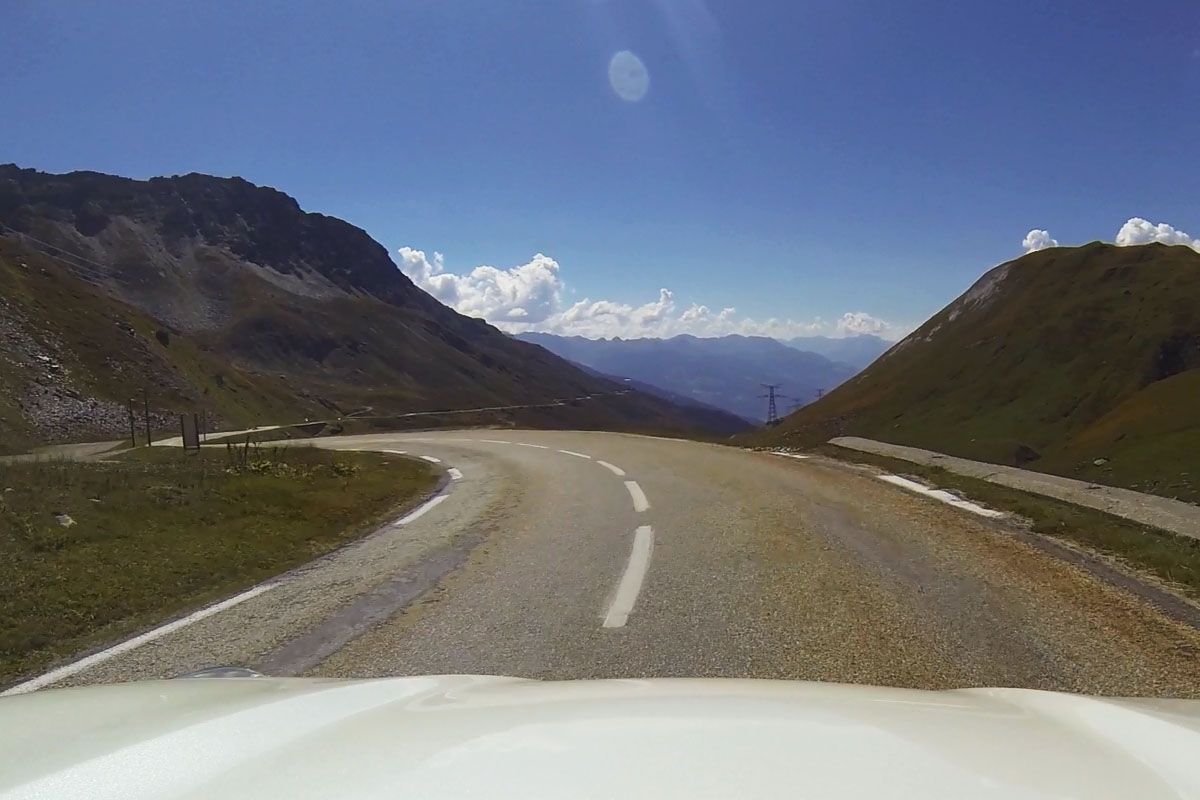 Col de l'Iseran and Mont Cenis photos from day two are coming in the next post!