There is one restaurant in Emilia Romagna that deserves it's own post – Restaurant da Cesari in Bologna. Although I enjoyed really good food for more than two weeks in Italy, I mean seriously extremely good food, this place has a special place in my heart, and stomach. This is where my to-be life long addiction for panna cotta started, on the day I turned 24. I could not have asked for a better birthday dinner – or a better birthday cake. Sorry mum, but I think that the panna cotta possibly was even better than the traditional strawberry birthday cake I have enjoyed on my birthdays almost yearly. You will forgive me for saying this though, if not sooner then at least on the day I take you to taste Da Cesaris panna cotta.
My main course was delicious green ravioli with rabbit and smoked goat cheese, you have no idea how good that was, the feeling when you have emptied your plate is like this can not be it I need more, and price was around 12-14€. For dessert the panna cotta, 5€ if I remember correctly. The panna cotta was so good that when we had a closing dinner party in the Bologna apartment, me and blogger friend Gina went to Da Cesari to get take away panna cotta. It became an obsession, I constantly thought about it and craved it. After Da Cesari I ordered it in two other restaurants, in one of them I actually did not have just one panna cotta – I think I had four in one night, but nothing as good as this one. It is special.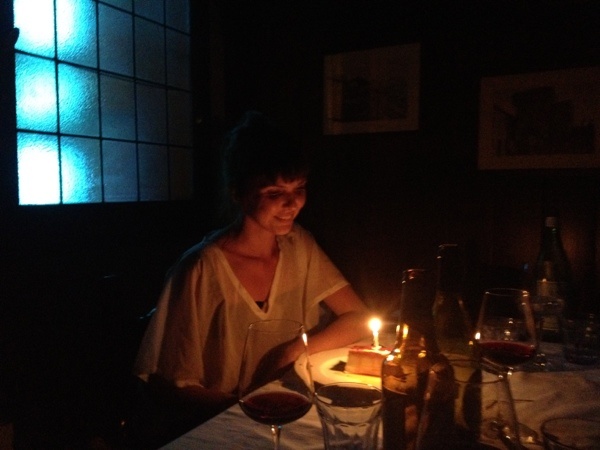 Two above photos by Helene Lohr (@HeleneLohr)
She really managed to capture the beauty of a panna cotta – IT IS SO SOFT!!
If you are in Bologna, please try Da Cesari – hopefully you will enjoy it as much as I did. Located on Via de' Carbonesi, 8. It is currently ranked #40 of 579 restaurants in Bologna on Tripadvisor, and it has been recommended in the Fodor's Bologna guide. Taste the food, and you will understand why.