Museo Casa Enzo Ferrari opened in Modena earlier this year and this must be one of best museum designs I have ever seen. Bright, modern, spectacular building, and there is nothing distracting you – just cars. Astonishing cars, as you can see. Not only Ferraris but you can also find Alfa Romeo, Maserati and this time even a De Tomaso Vallelunga and that car is drop dead gorgeous. They change the cars over time as some belong to private collections and obviously the owners want to use them as well, so they can't stay there forever. That's a good thing, it means I can go back and see something new and not always the same cars!
But absolutely recommended if you visit Modena – and outside there is a shuttle bus that will take you to Maranello and the Official Ferrari Museum as well, so do both while you are there.
I spent only one night in Modena (Hotel La Stella D'Italia on the same street as Museo Casa Enzo Ferrari, modern & nice hotel a few hundred meters from the train station and ten minute walk to Piazza Grande) – thank you so much Blogville team for arranging that for me so I could visit the Ferrari museums – and I really want to go back. I had no idea it's such a lovely place and if you would have a car there you could go to a bunch of great towns nearby – so this is definitely a potential road trip destination.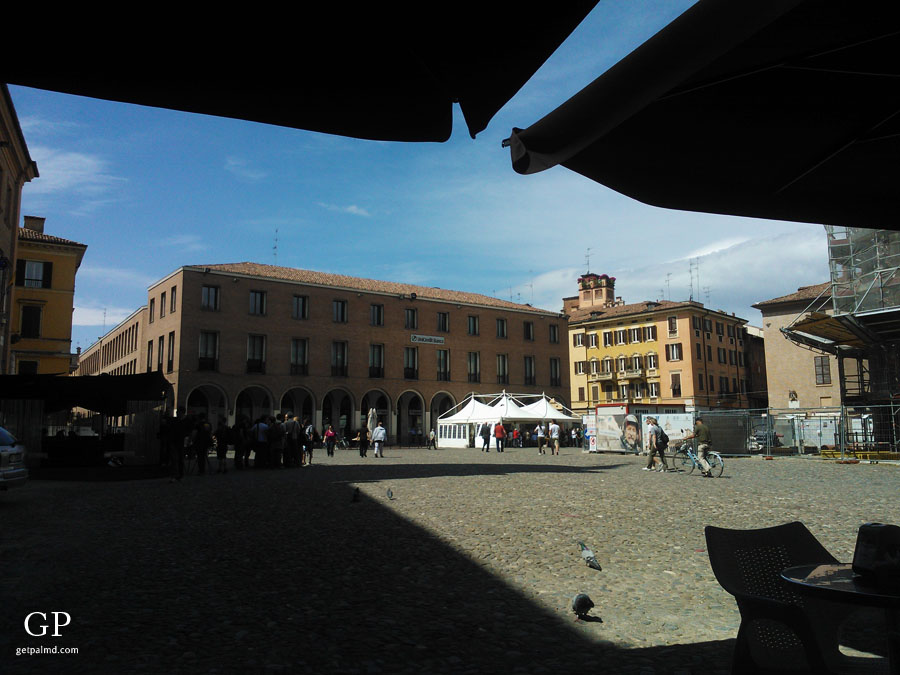 I had a nice guide with me at Museo Casa Enzo Ferrari and before I had to continue to Maranello she gave me a quick tour in Modena and then a lunch buffet in Caffè Concerto – a superb place and I'm so going back – because I was building the The Alps from food on my plate. We had just over half an hour to eat there but I actually managed to do two rounds – first the Alps from a huuuge selection of delicious food and after that a Mount Everest thanks to a crazy dessert table. I'm not joking – you would LOVE that place. Highly recommended.
And almost every Italy post needs at least a small mention about gelato: When I asked a native Modena guy where I can find really good gelato there I ended up in Gelateria Pomposa. That was good. I do however think that you need to have really bad luck to find bad gelato in Italy. Some gelaterias are better than others of course, but not once was I disappointed, anywhere.
The only pics I took of Modena were when we had lunch – just quick snapshots to give you a glimpse of the architecture. Stunning.
Official website: www.museocasaenzoferrari.it/en