A year ago my friend invited me to Sicily. I had been planning to explore Sicily for quite a long time but never got that south on any of my road trips. It sounded like a good idea to take a flight to Palermo and finally experience Targa Florio. I was very interested in the road condition because I had read stories online about how people take sports and supercars to the island to drive the historic Targa Florio route. Almost everyone made it sound like a great drive. A few months after my visit there Evo magazine published the article "Great drives: Targa Florio, Sicily", where their writer states it is the perfect drive for a Ferrari 458. I sent the link to my friend with the words "Where have they been?!". Their description of Targa Florio did not sound like the road I remembered. Porsche earlier this year arranged press drives there for the new 911 GTS, so obviously they also thought the roads are good enough for their cars. Also Ferrari arranged tours there. Of course there are some really enjoyable stretches of road on Targa Florio but what I want to say is that it really is not all pretty.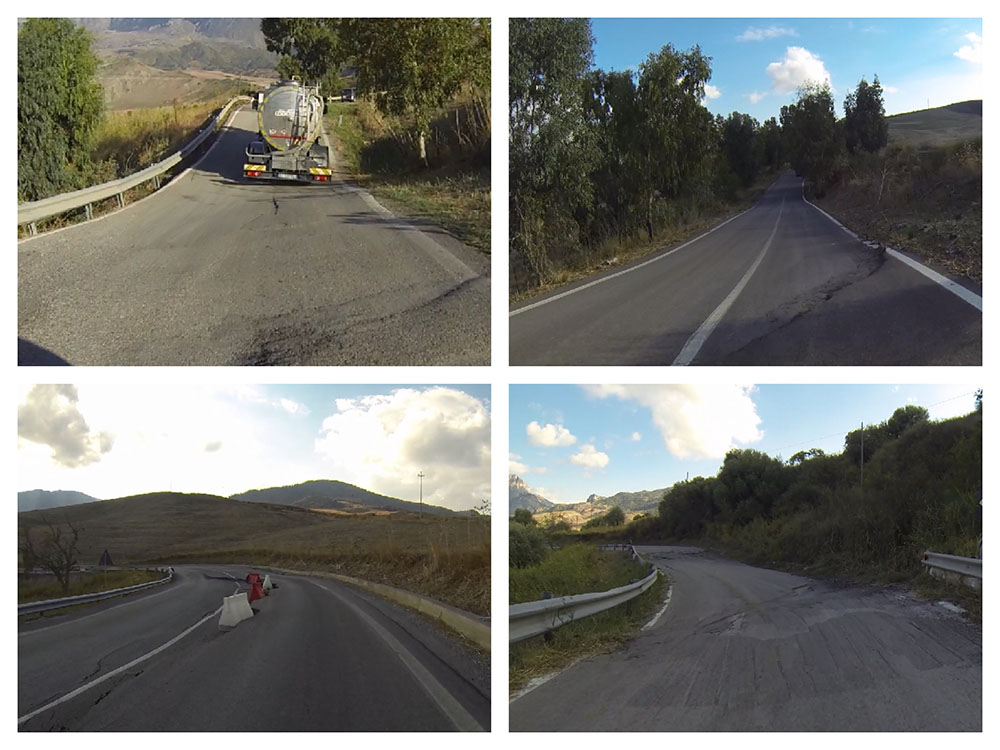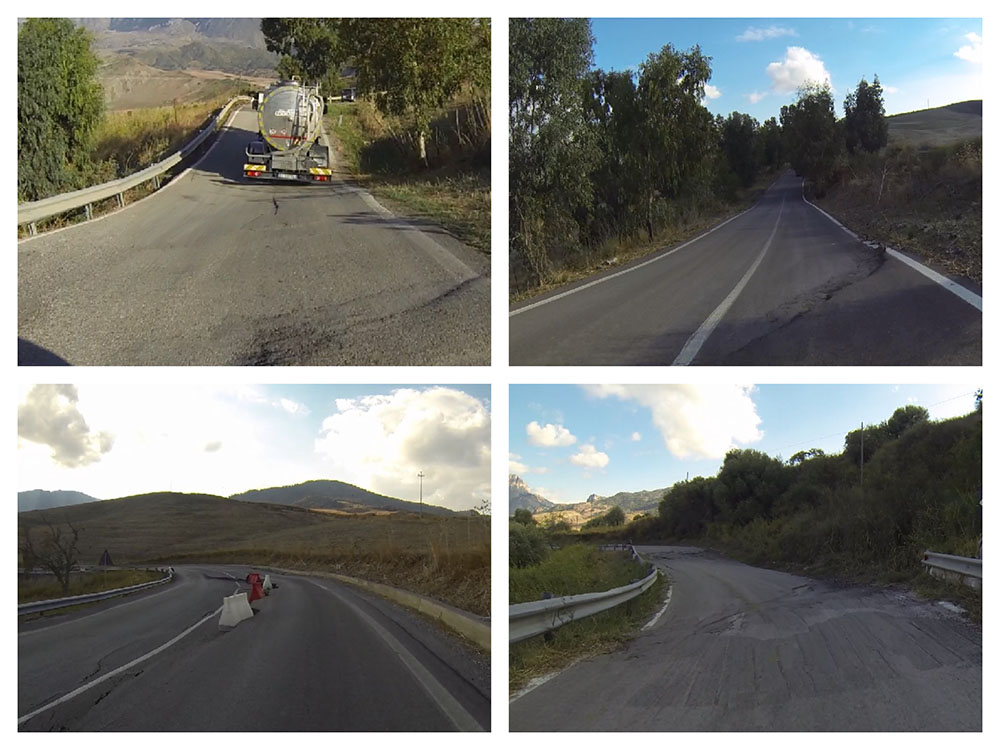 There is a beautiful side to Targa Florio, and then there is a really ugly side to Targa Florio. For that reason I do not want to cut a few GoPro clips into a short video and make it look better or worse than it actually is. Instead I want to show you the whole drive nearly from start to finish. Almost 72 kilometres of GoPro footage creates a long video so I chose to speed up the footage (even more on the road from Campofelice to Cerda, that is a loong straight), but anyway most of the drive is in the video. Possibly with some small navigation mistakes, for example in Cerda we definitely made one wrong turn to the left as shown in the video.
And no, I do not like his use of lanes on public roads and he knows it very well, but nothing I can do about that when I am not driving myself.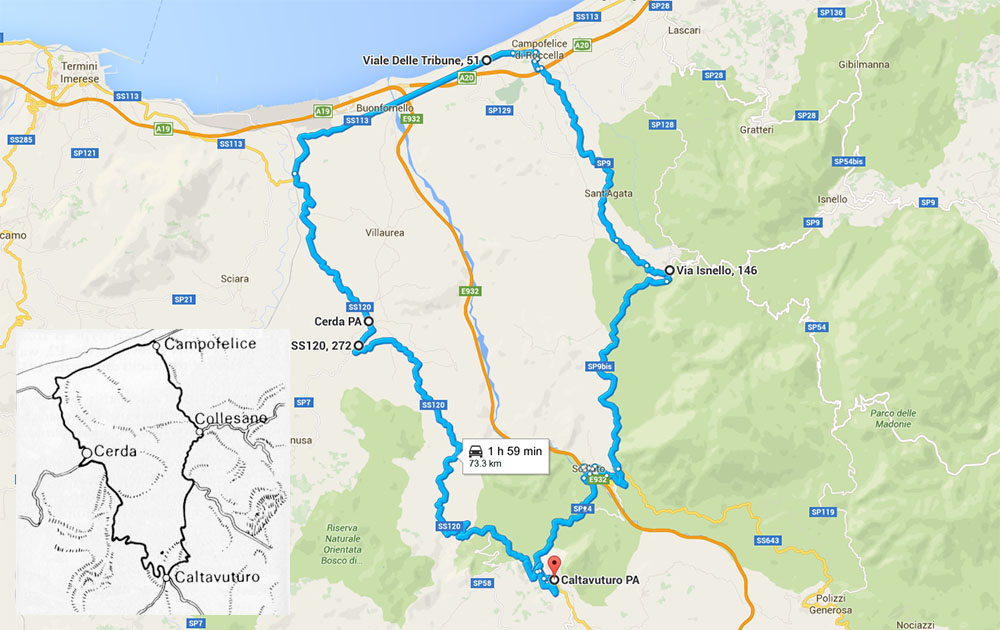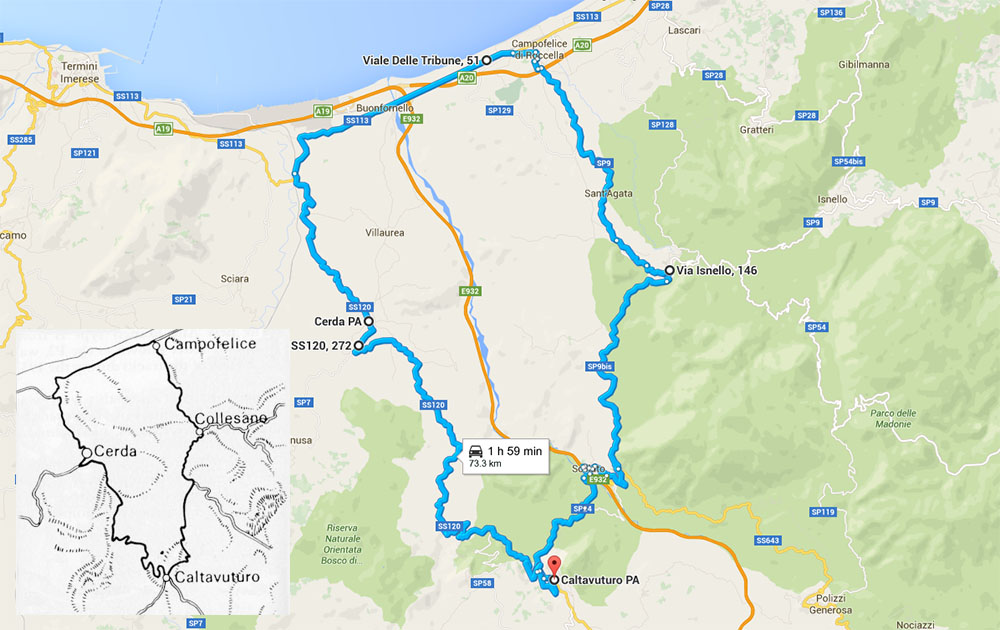 Route was something like this, two short stretches missing in the video because GoPro died – a few kilometres before Cerda, and a few kilometres before Caltavuturo
Might not be exactly the original route but close enough – click here or on the image to view the map on Google Maps
The route driven was the 72 km "Circuito Piccolo delle Madonie" with start in Cerda and from there you drive to Caltavuturo, Collesano, Campofelice and finish where you started in Cerda. Our version was a little different with start and finish in Caltavuturo instead. The 72 km drive is a shortened course variant, used from 1932 to 1936 and 1951 to 1977, from the 148 km course they raced from 1906-1911 and also in 1931. Between Caltavuturo and Collesano the 148 km course variant also passed through the towns of Castellana and Castelbuono and I really think this could actually be a better drive because the roads close to Castelbuono look pretty nice on Google Maps. Of course there is no way to avoid the bad sections of the route but I have a feeling you also get more of the good stuff if you drive the full 148 km. The car was a Fiat 500C which might not sound that exciting, but after a full lap in the co-driver's seat I am glad the driver was not driving anything more expensive. The car made it back to Caltavuturo in one piece, but I would not be surprised if we left behind a few screws on the road…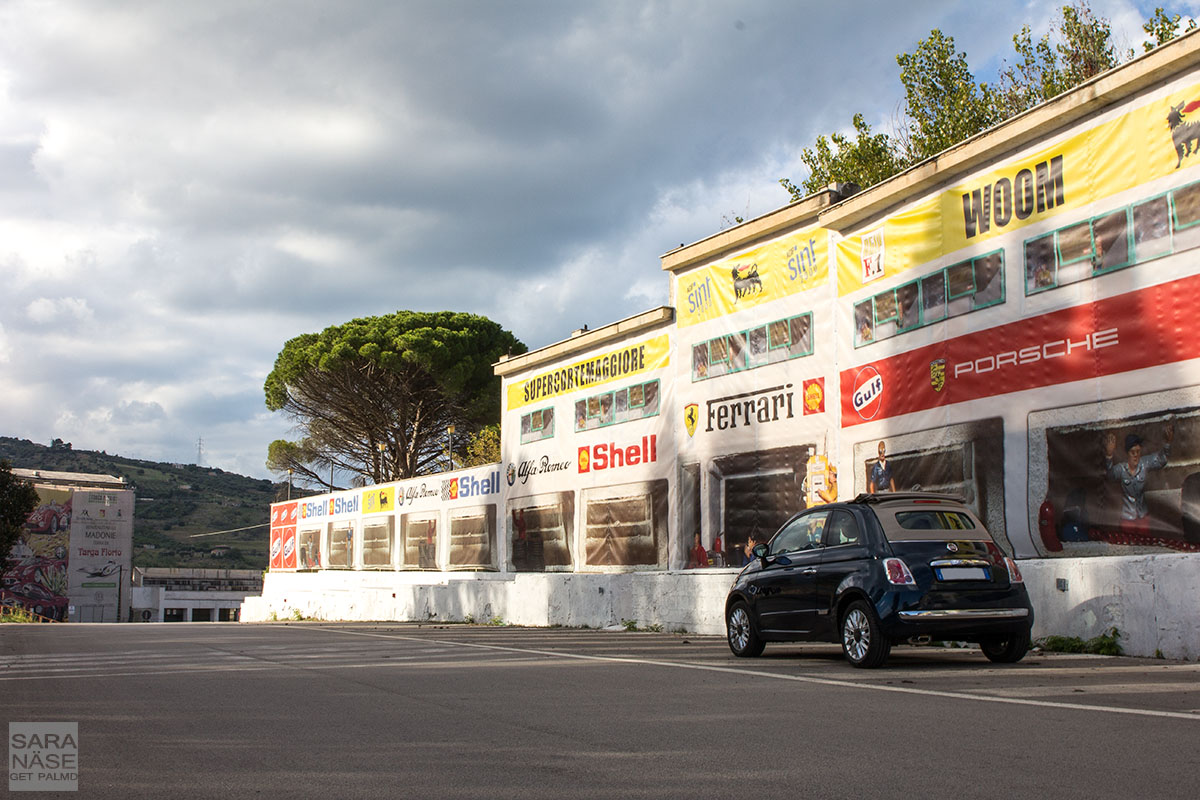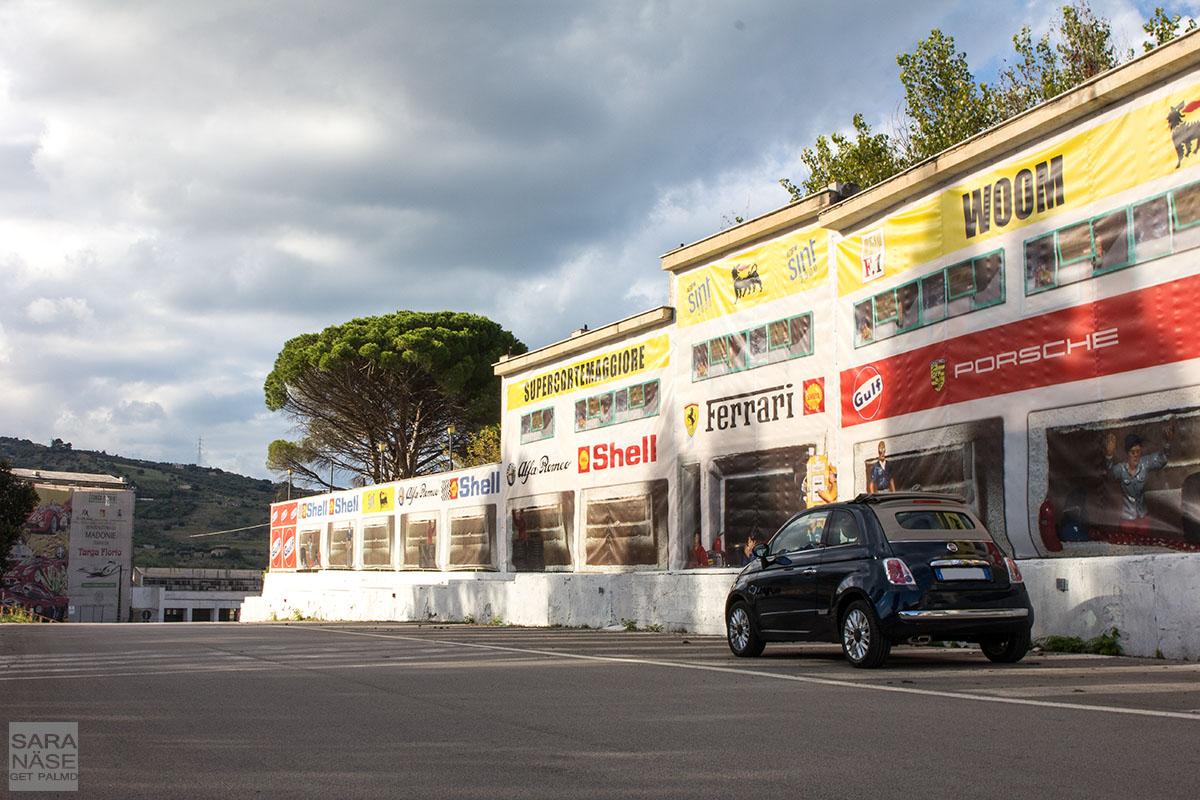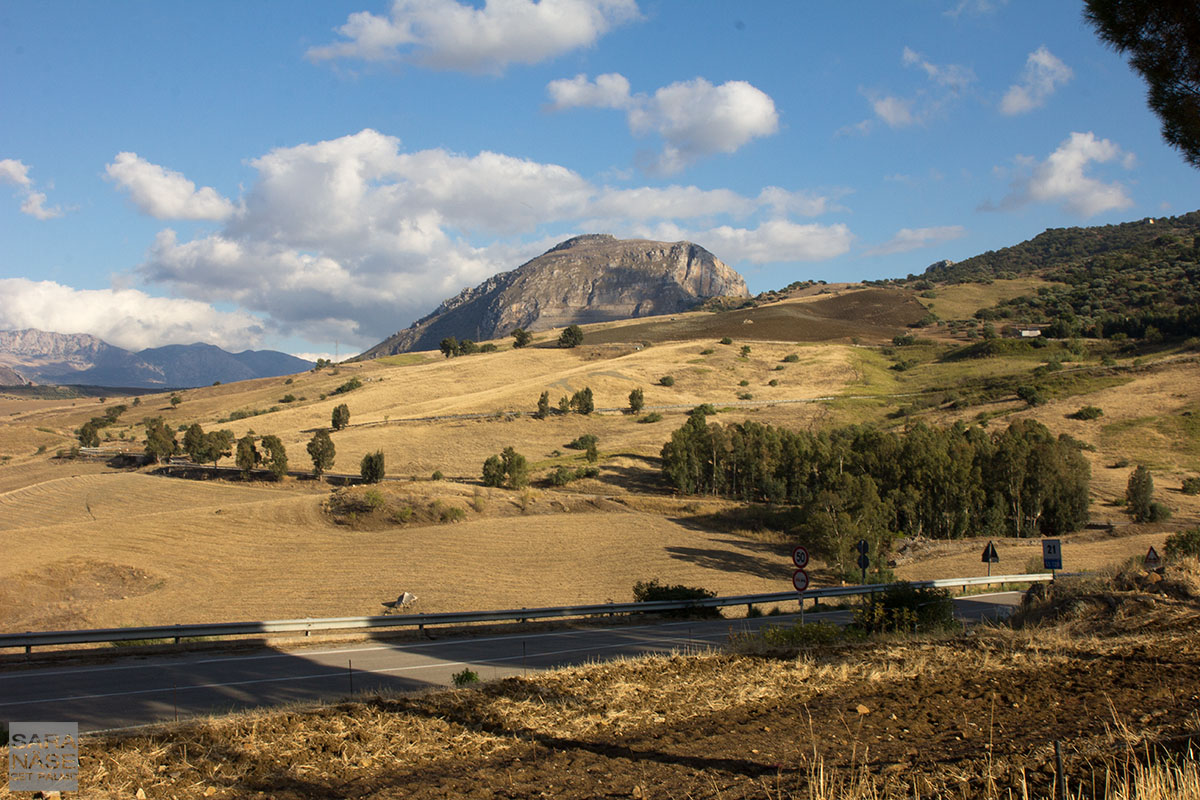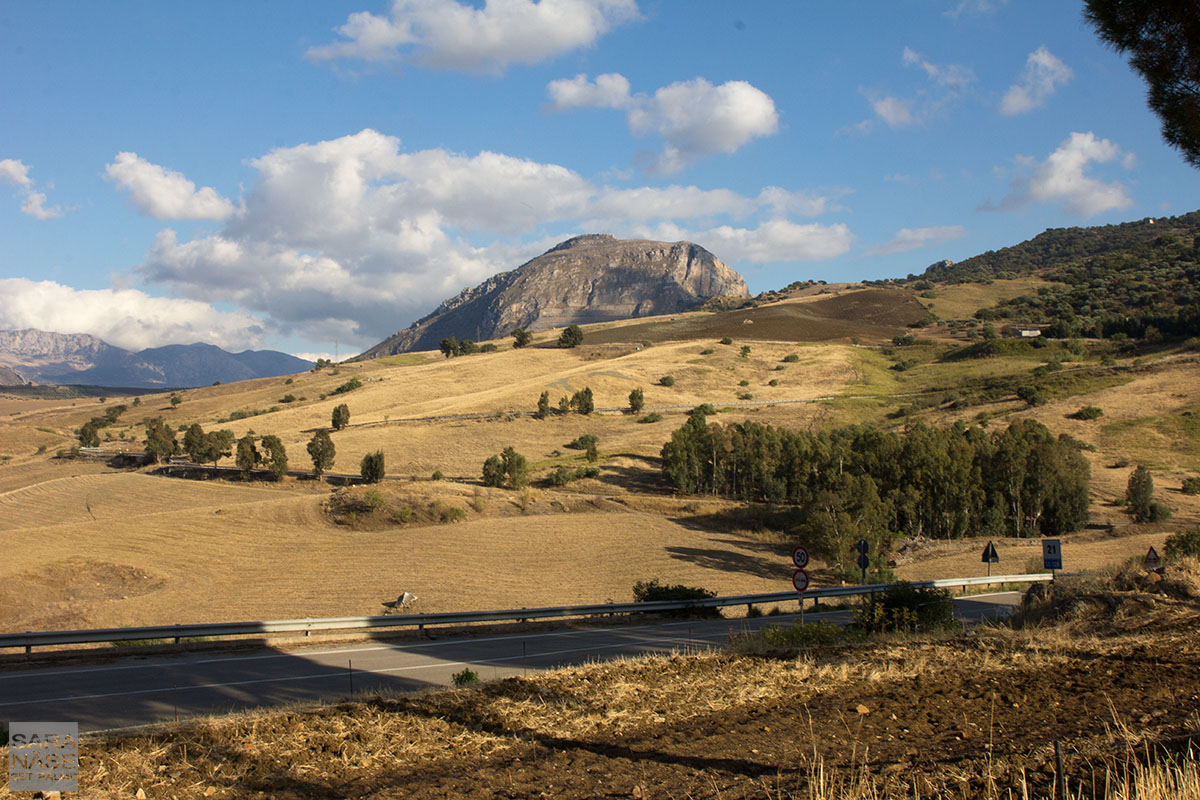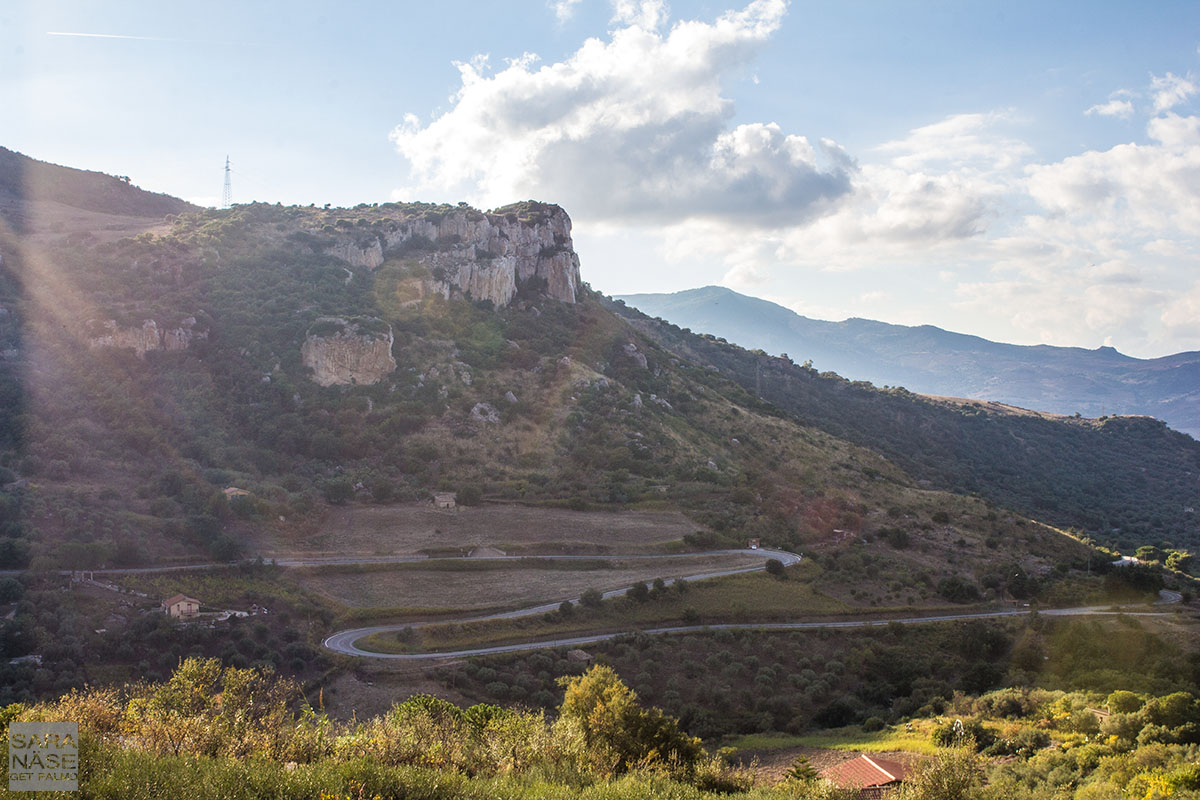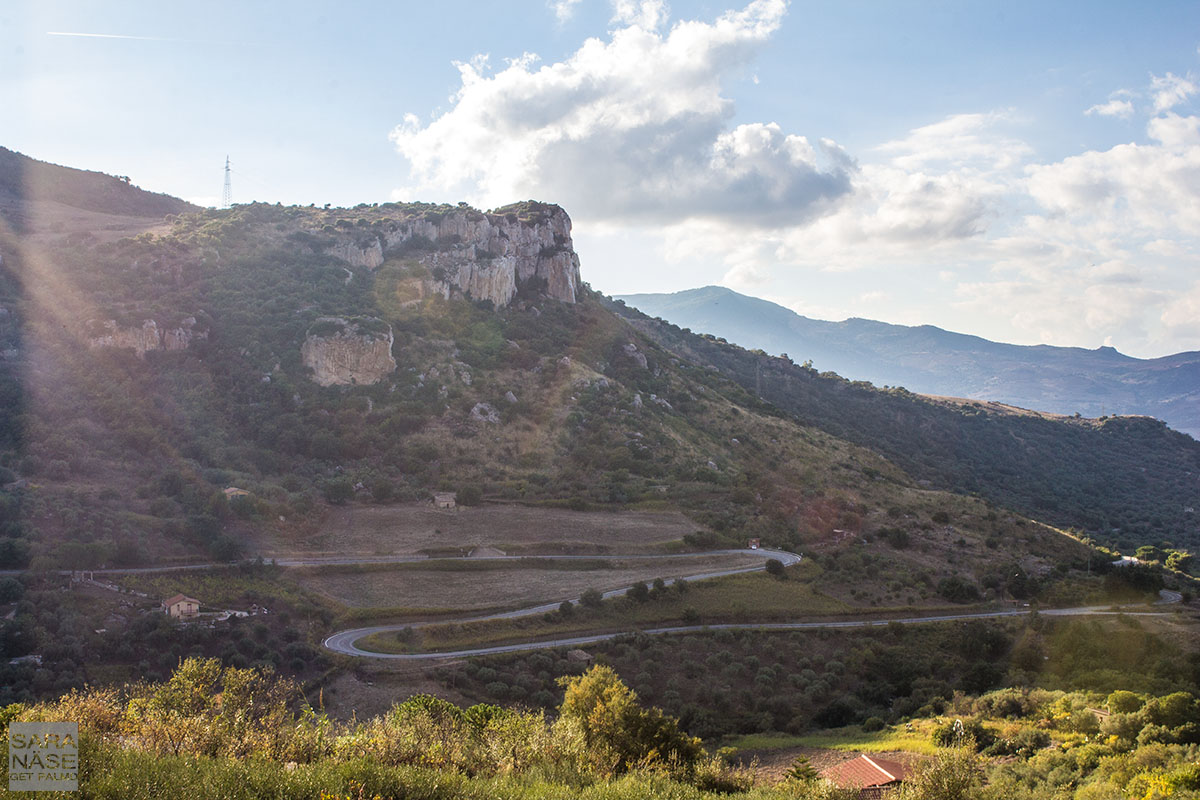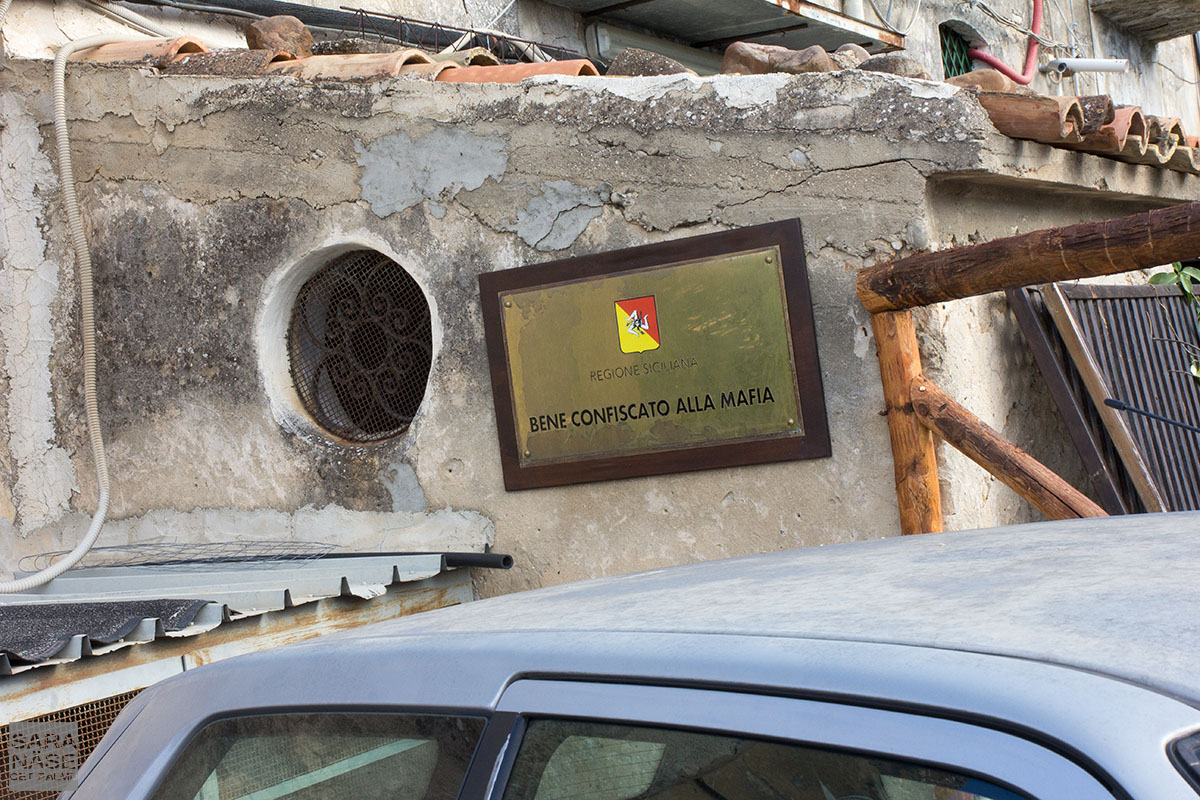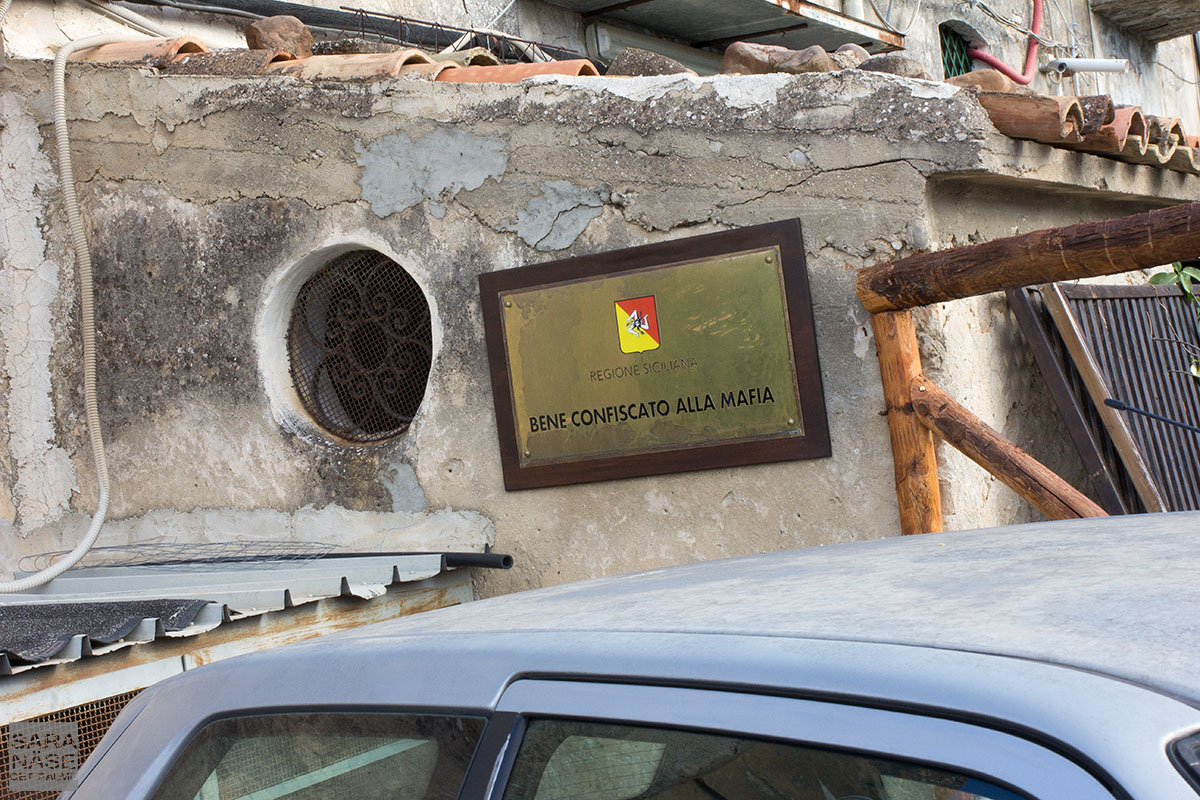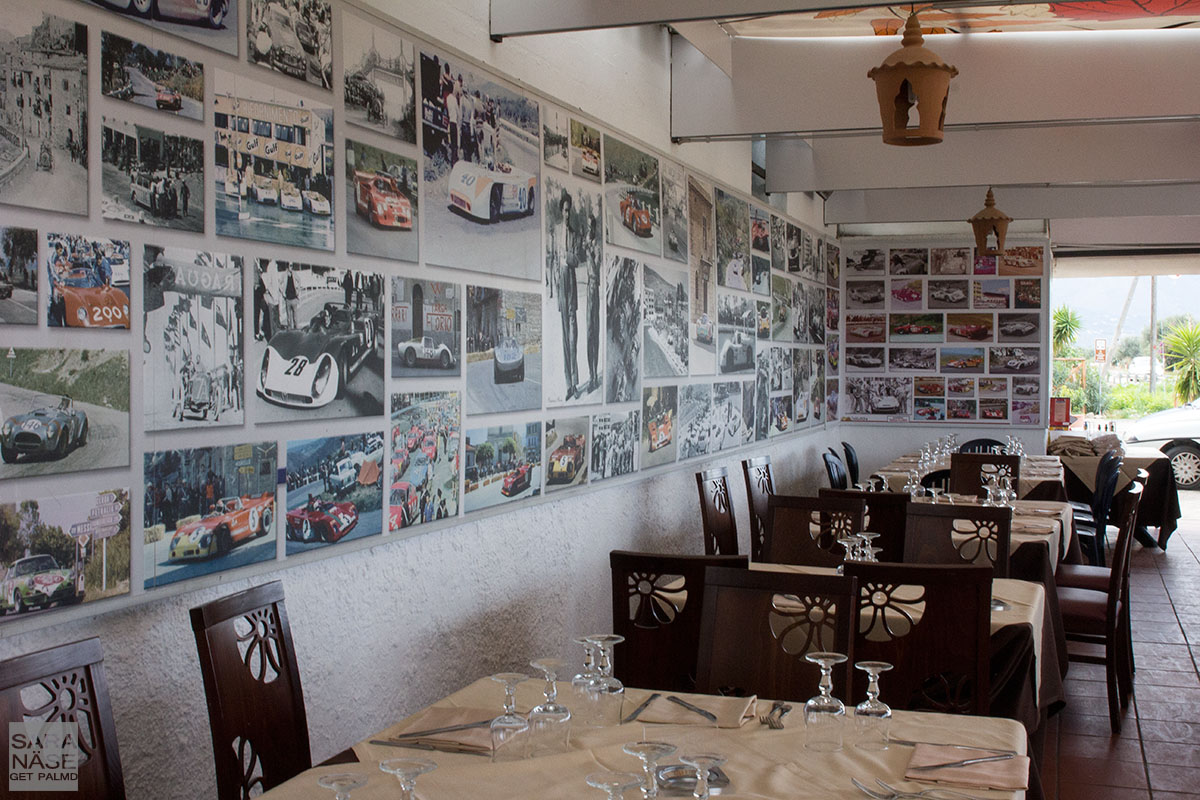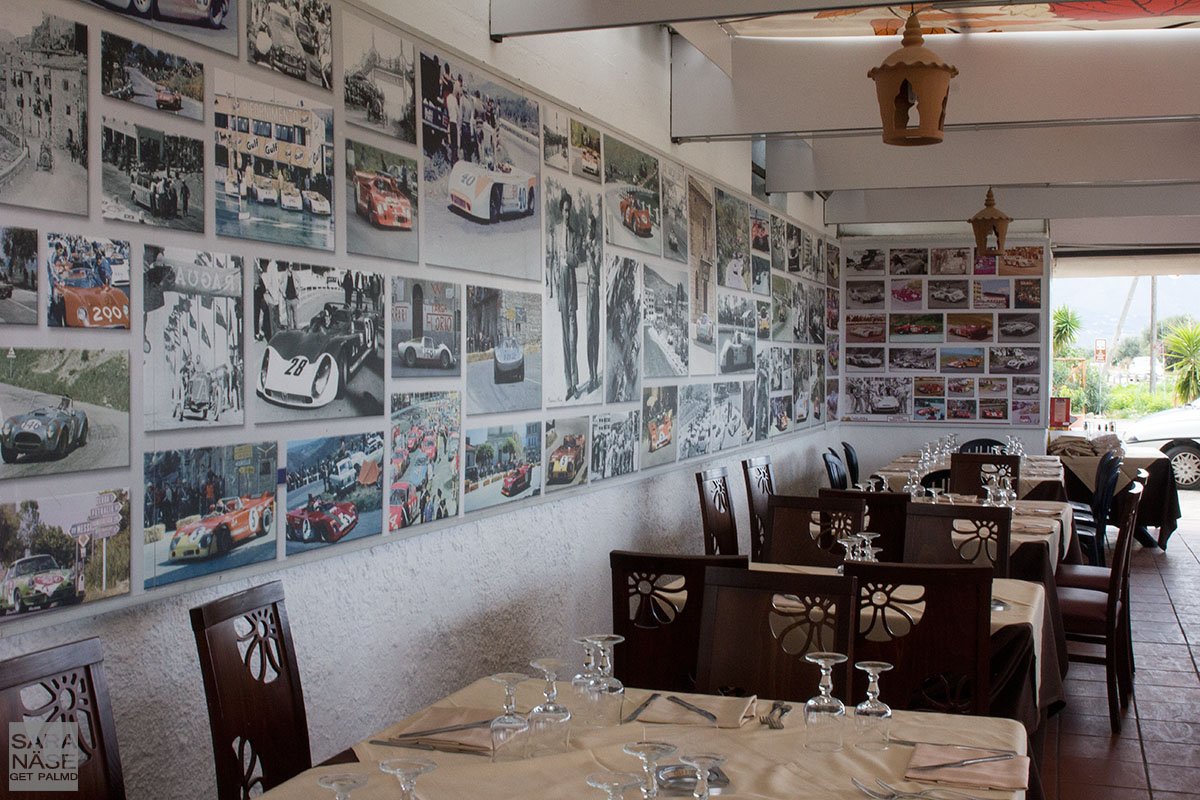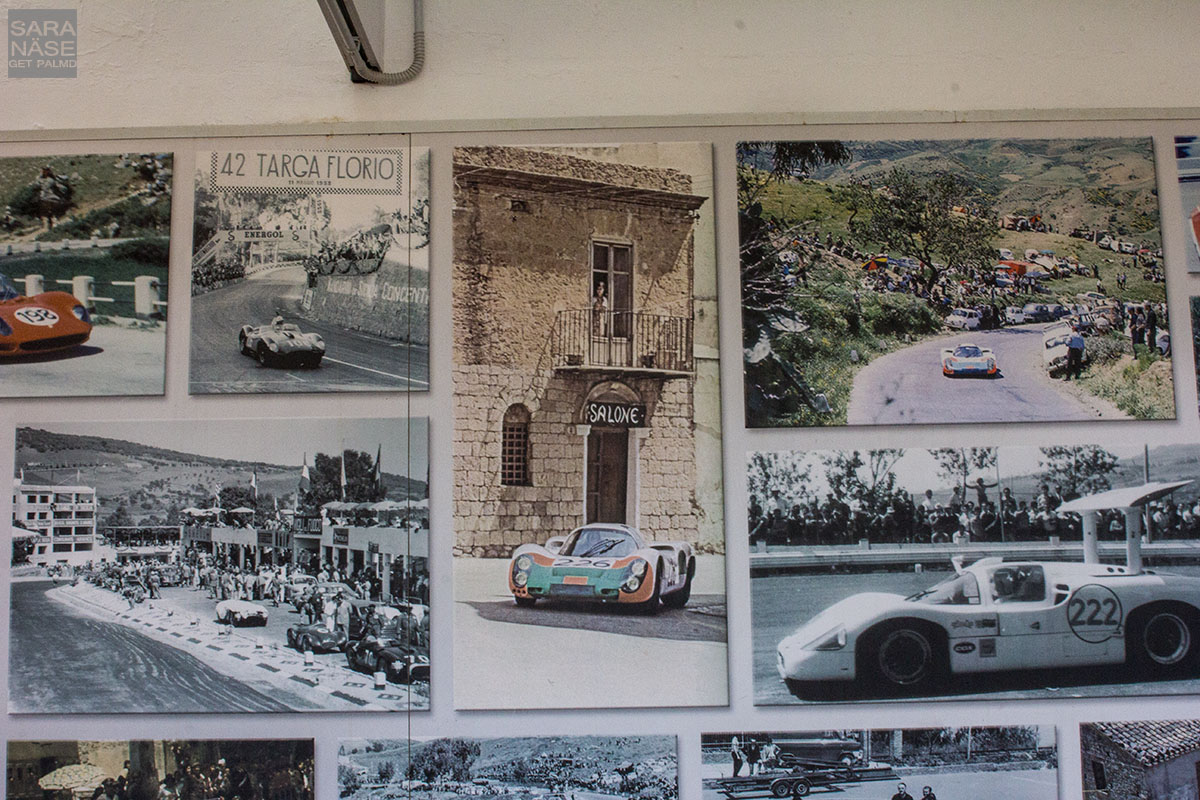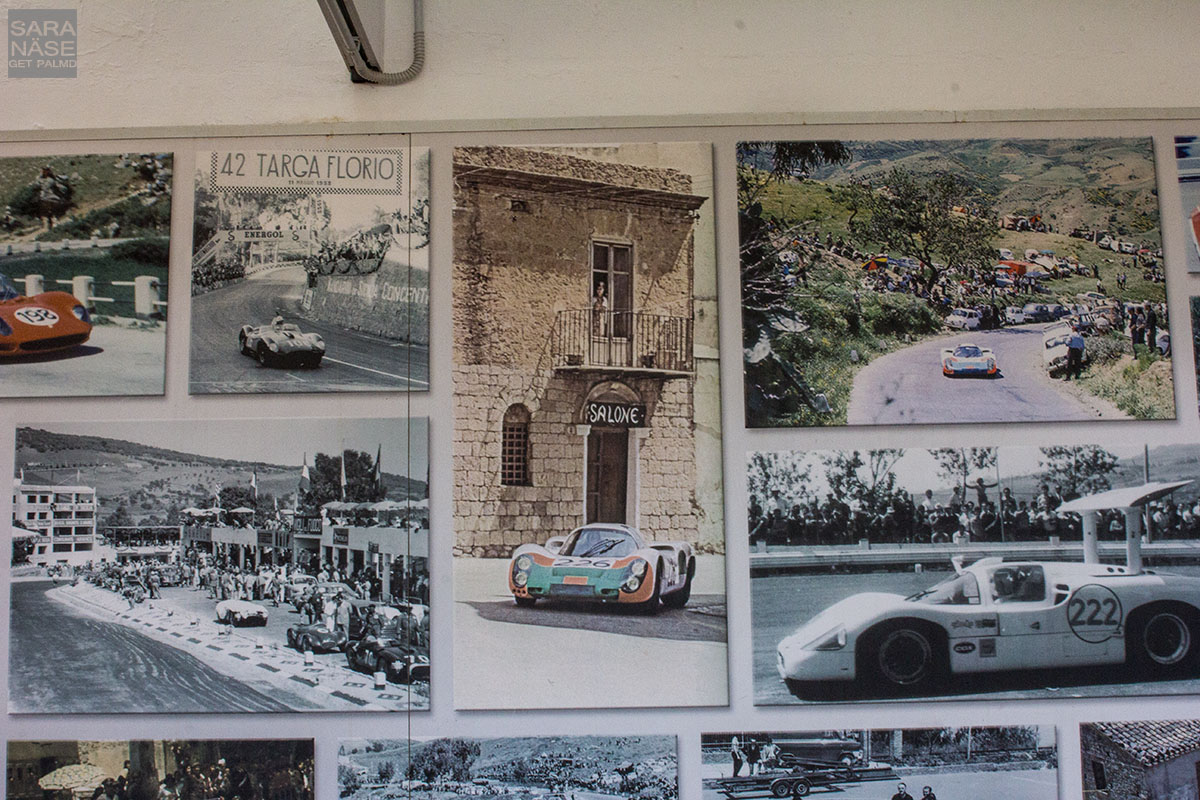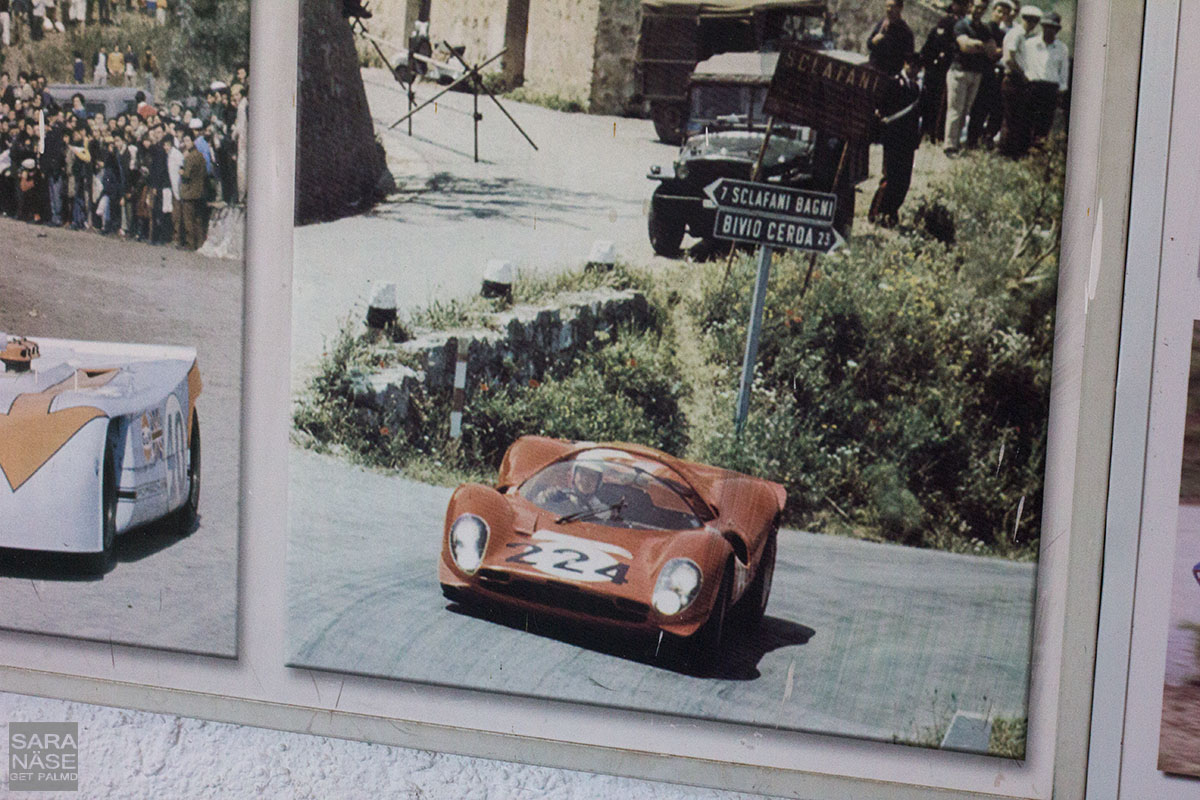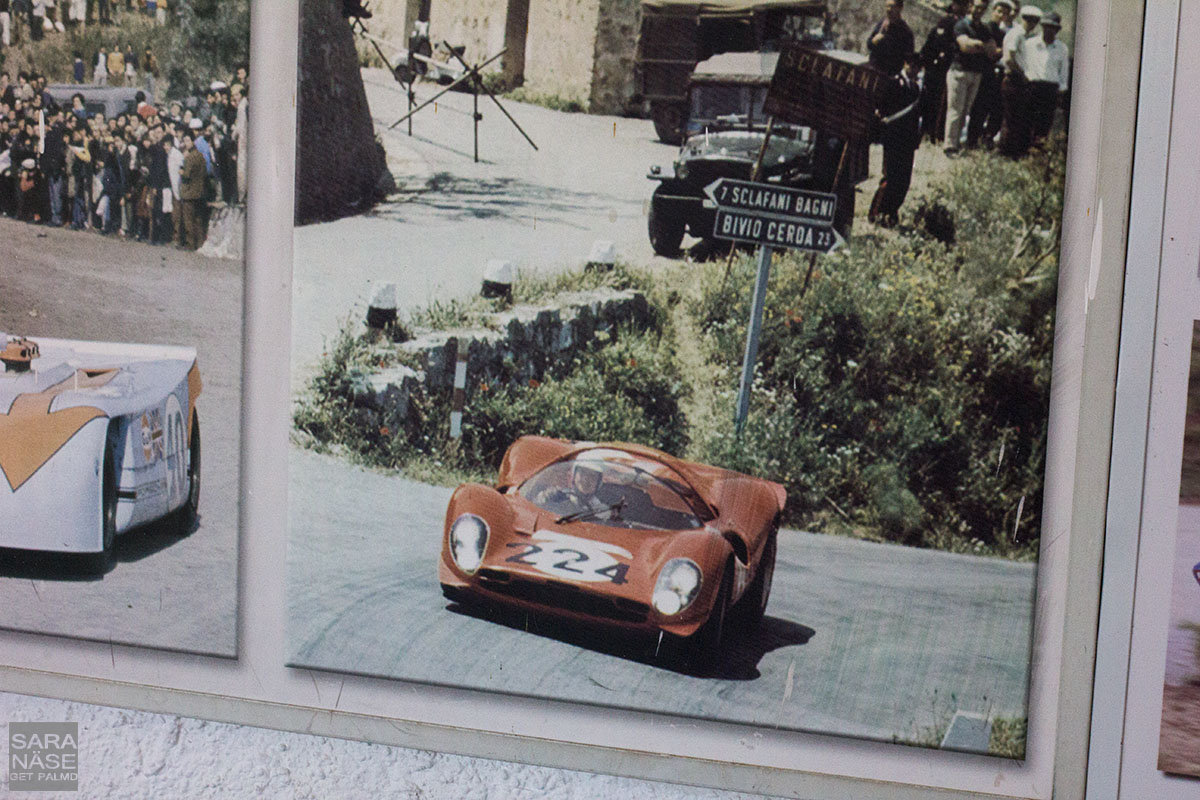 The drive right after Campofelice is the least interesting because there is mainly a long straight, but there is a great lunch place to stop at – Baglio Himera
I flew to Sicily to find out if Targa Florio is so amazing that I should return for a road trip in a sports car. And I will without question return to Sicily for a second road trip. I know there are also other interesting roads on the island that hopefully might be in better condition so that alone gives me a reason to return. But of course I also want to give the full 148 km Targa Florio course a try in a fun car. However I keep my fingers crossed the Italian government by my arrival date has invested some road reconstruction tax money in this important piece of race history, so Targa Florio can blossom again and be as fantastic as it once upon a time used to be.
Because Targa Florio is beautiful, but it could be so much better if they would bother to resurface at least some parts of the road.