Today I pampered myself with food. During this journey I am learning to deal with that "going to a restaurant alone" thing. Yesterday when I booked a table for tonight to La Cave a Champagne here in Èpernay the waitress said "for two?" "no, for one". It is not embarrasing – I know, like I told some other guests at the restaurant, you have to eat right, even if you have to do it alone? Alright, I took the dog with me and seated her under the table, at least something.
Dog friendly restaurant, yes. I am not saying go with a doberman and imagine they can take you in – tables are very close to each other and it is a small restaurant, so you have to respect other guests. But if you have a small dog that can behave, then you are most likely welcome to bring it with you.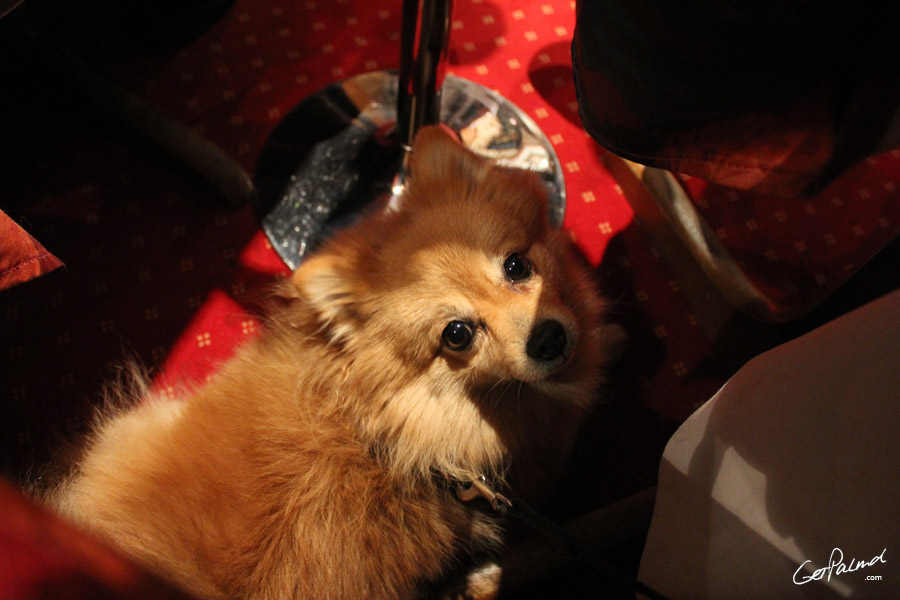 Booking in advance is highly recommended – it is super popular. I had a lovely couple from Sweden seated in the table next to me that I talked to and they told me they have been to La Cave a Champagne several times during their visits to Champagne – and they even were there yesterday and came for another meal today again. I suppose that alone says a lot about the place – people want to return there.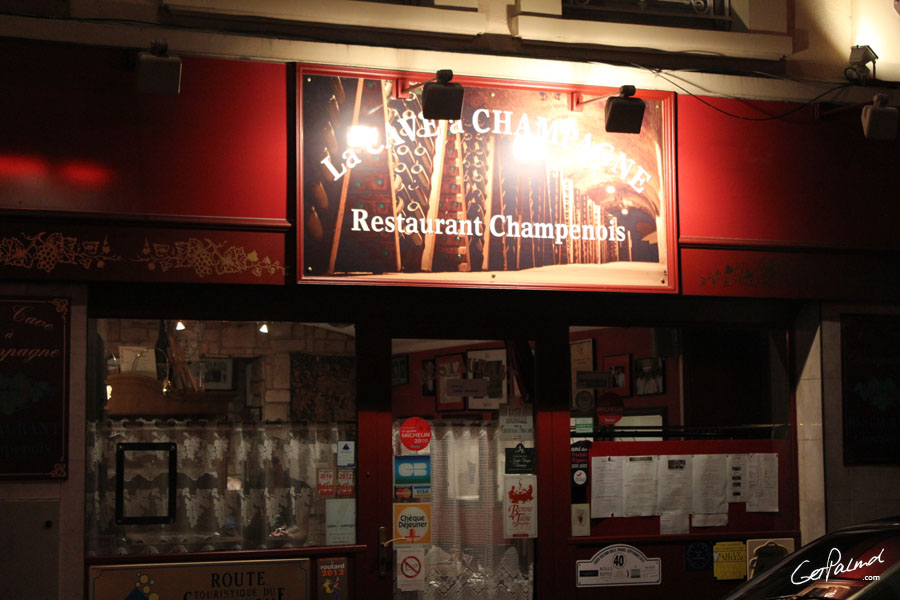 One of the reasons I chose this restaurant was the price range – they have a three course menu for 18€ and if you read reviews on Tripadvisor, that is excellent value for money (for starter the artichoke & snails combo is supposed to be a winner choice). However when I got the food menu in my hand I doubled my eating out budget for tonight (last night in Champagne hey) and went for the Menu Gourmand instead, priced at 34€. Reason for that was that I really wanted to try foie gras while I am still in France, and they also had duck on the menu and I loove duck. No champagne for me though (can not go over the top solo…).
From the menu I chose for starters the Foie Gras de Canard Parfumé au Ratafia de Champagne – Home cooked "foie-gras" flavoured with "ratafia" (a local aperitif wine). Foie Gras is something people have been telling me to taste in France. I have no previous experiences to compare the taste with, but if I had to describe it the texture would be like soft nougat. The restaurant has added this extra infomation to the menu: "Foie-gras is not liver paté as so many restaurants wrongly describe it. It is the liver of a specially bred duck or goose, slowly cooked with "ratafia" wine its creamy mouthwatering flavour makes it one of the triumphs of French cruisine… A "must taste" dish when you are in France."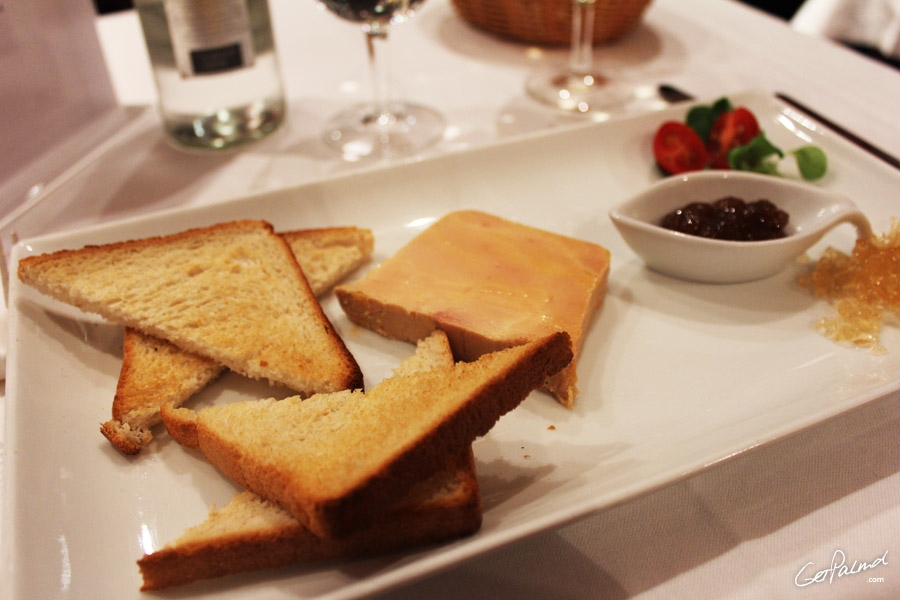 I suppose the texture is a little strange until you get used to it. The flavour alone is also a little strange, but when you mix it with the sweet flavours of the side dishes it is pretty good. This piece of French cuisine did not make it to my favorite list – I would choose snails over foie gras anytime, but it was nice to try it.
Main course Effilochés de Canard aux Raisins et au Verjus – Thin slices of duck in a green grape juice and grape sauce. It was absolutely delicious. The duck melts in your mouth and it was just perfect.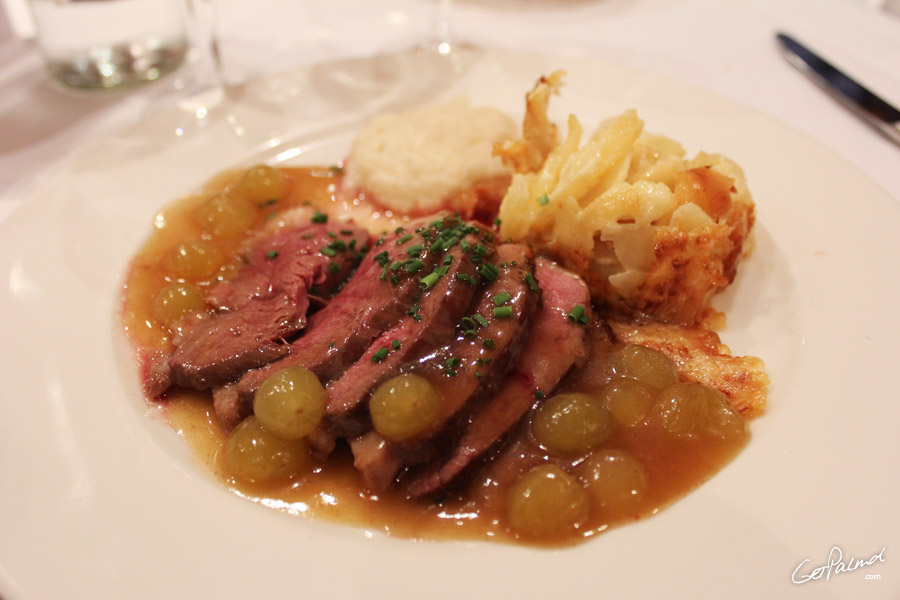 Dessert Crème brûlée vanille bourbon – Crème brulee made with Bourbon vanilla. Crème brulee is always good. The top layer was really crispy and thin, and it tasted magical. As always with me and desserts, they are just too small and when I walked out from the restaurant I still dreamt about that king size crème brulee. That is the only negative I can think of: larger bowls please.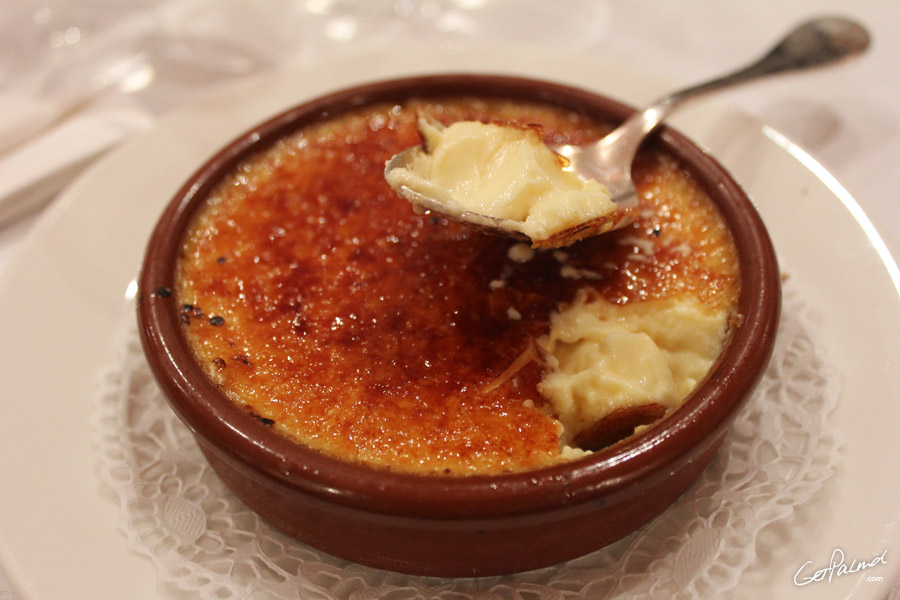 La Cave a Champagne is located at 16 rue Léon Gambetta in Épernay. They also serve lunch, but dinner starts from 7 pm. Very highly recommended if you visit Épernay, even with a small budget – just take the 18€ menu and you get a glass of white or red for 3-5€ (or a glass of champagne for 8€ / bottles start at around 30€) and you could pay as little as ~25€ for a delicious three course meal with drinks. I am not sure how easy it is to find a better deal in Épernay, with the same good quality of food and nice atmosphere.
However, as said, the Menu Gourmand was a superb choice, so add a little more to your eating out budget and perhaps try the duck!