To get the best experience in Emilia-Romagna, you need a car. Because some of the prettiest landscapes are "in the middle of nowhere" and although you do get to small towns by bus as well, you'll see so much more if you have that car and can drive on those curvy roads and stop whenever you see something that looks interesting. That's a freedom a bus ticket can't buy you (and the reason why I love road tripping so much). Brisighella is for example featured in a guide book with some of the most beautiful villages in Italy – get the book I BORGHI PIU' BELLI D'ITALIA 2012 here – and that book is probably one of the best travel guides you can get for your Italian road trip. To big cities you can fly, but to the small villages you have to drive – and it's so worth it, trust me. They are one of a kind.
Blogville day trips were hectic – a lot of places during one day – but I'm glad I got to see that much in a short time. One day we first did Faenza and then continued to Brisighella, Dozza and Imola.
Brisighella
Brisighella was one of my favorite towns I've ever been to, anywhere. Charming narrow streets. Beautiful houses. A hike up to the clock tower with a view over the hills. When we drove on these roads I knew I have to come back to Emilia Romagna in future with more time, and a car, because there are stunning places to be found there in the countryside. It's authentic, and best of all, not crowded – no tourist traps, just a genuine nice Italian atmosphere. I seriously can't hype the countryside enough – sure, cities are awesome and obviously a lot more things to do there, but if you want to relax, then the small towns are perfect. It's beautiful there, do you actually need a lot more than that? I don't.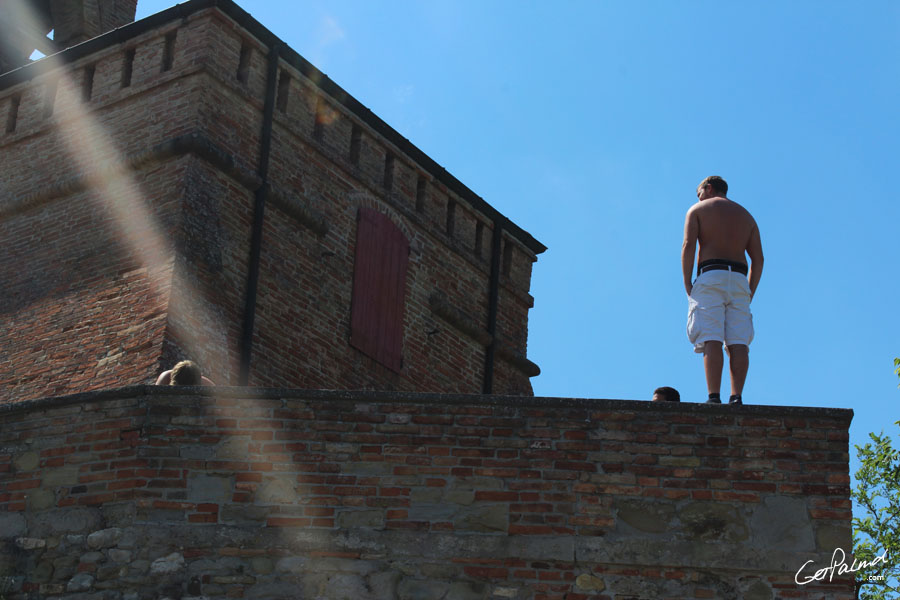 Brisighella male model calendar shoot (it looked like it). But we scared them away before they got their pants off (sadly, or luckily).
Photo of me walking in Brisighella from @keaneiscool
Dozza
Dozza is a tiny town – but with so cool paintings on the buildings that it should be seen. Every two years there is a festival called Mural Biennial Festival in Dozza, and artists come and fill the walls there with new artwork. Not an art lover myself, but when the art is delivered in this format it's immediately a lot more interesting to walk around and explore. Plus, the wine cellar… Enoteca Regionale Emilia Romagna has a spectacular collection of local wines. I wanted one good bottle for my family and the gentleman there gave me two recommendations – Sangiovese di Romagna Vigna 1922 and 1997 Drei Donà Pruno Sangiovese Riserva. I had no idea what I was buying anyway and both would probably have been good choices, but the Pruno seemed nice – 1997 was apparently a good year for wine makers in this area resulting in a lot of brilliant wines; the 1997 Pruno is of course hard to find because it's now considered "vintage"; and it was more expensive than the other bottle, so I wanted to assume that "expensive is better". So now there's a 1997 Pruno in my family's wine cellar, hope the temperature is alright.
Autodromo Enzo e Dino Ferrari racetrack, Imola
When you think visit to race track you think "hell yeah we're gonna drive fast cars". But not if you happen to choose a day when it's closed for cars (imagine that's even allowed, like taking fish out of water) and only open for pedestrians, bicycles, rollerbladers etc. Oh yes they did choose that day for us – but it was fun to have a bike ride around the track (and you can go really fast in some corners if you want to – and then you can slow down to 1 km per hour when the uphill parts come, like I did). I would say that because I've completed the lap with a bicycle, I'm ready to conquer it with a car, right? I have my racing line memorized.
No one told us that we're going biking around a race track so I wasn't dressed for that – but I am quite sure the pro bikers training there enjoyed a tourist in her short Ferrari red dress cruising around the track. We all know short dresses are not that awesome for bike riding, but as said: lap completed, big smiles received, no one got hurt (physically).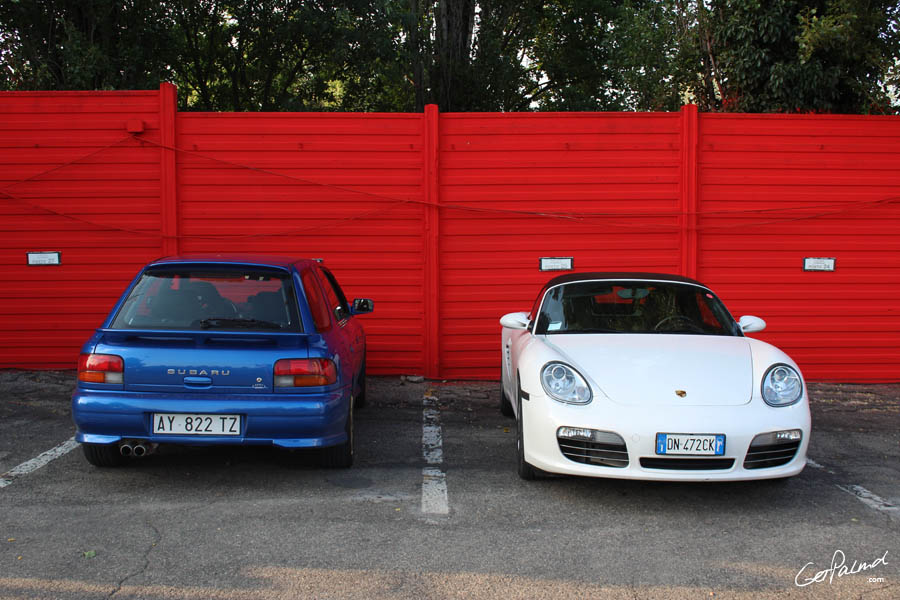 Agriturismo Frascineti, Imola
The answer to the question "Wonder how much I can eat in one day" pretty much got answered on this day. First the lunch in Faenza, then a hike up a hill in Brisighella, then a 4.909 km bicycle ride around Autodromo Enzo e Dino Ferrari, and then dinner… exhausting. They brought out all these pasta plates and I was happily eating them and later realized the pasta was sort of an appetizer, because then came the huge plates with meat, and at that point I was STUFFED with pasta. But not so stuffed that I wasn't able to eat four panna cotta's, there'a always room for panna cotta. But FOUR. Don't ask me why, I really haven't got a good excuse why anyone would eat four panna cottas in one night, but it's done, and I still have a waistline, so it's alright. I don't need to make it a tradition, though.
However while I was licking my panna cotta plates the guys emptied the bottles, he he. It was a veeery silent car ride back to Rimini… passed out from all food, or was it the wine, it's a mystery. (<3)
Group photo from @acooknotmad and puppyyyy (love) photo from @keaneiscool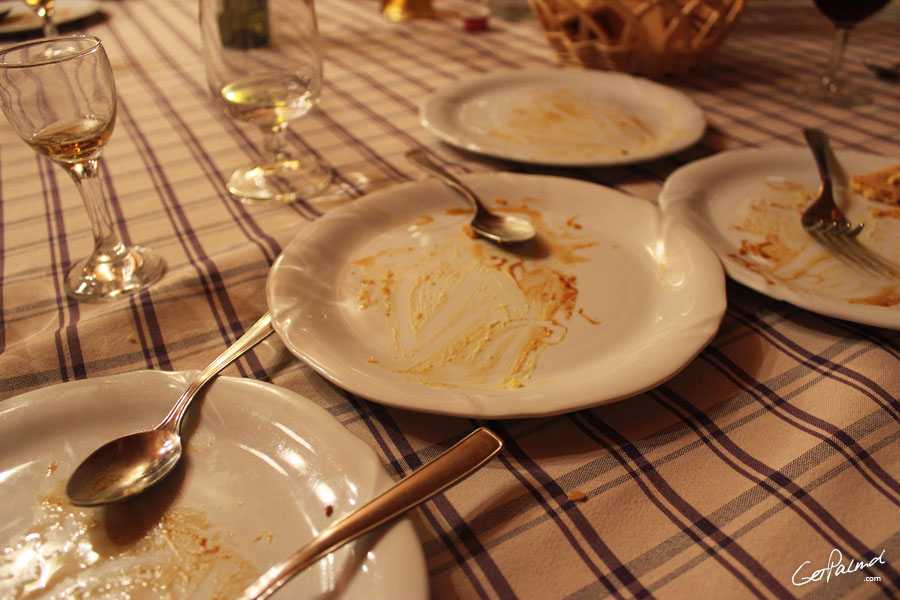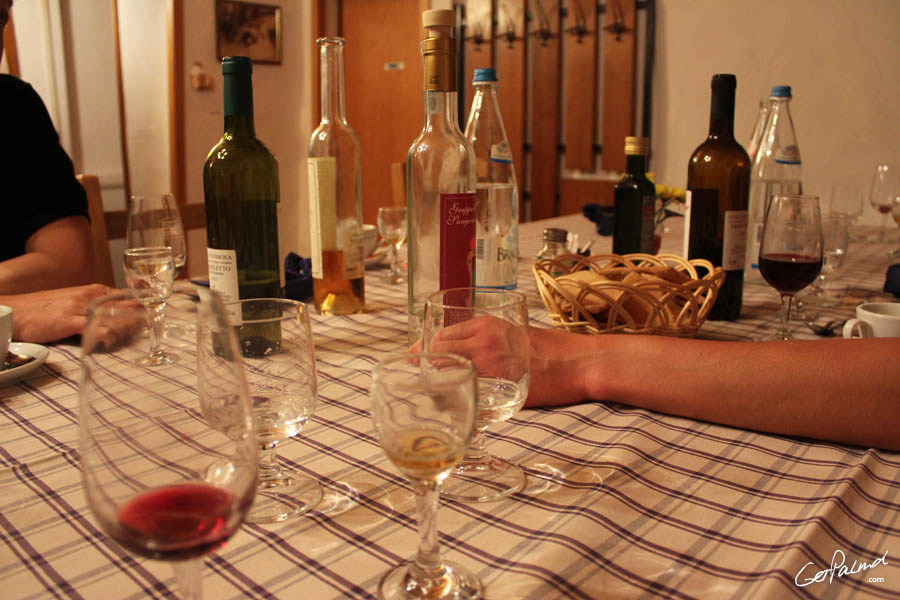 Please include a link back to this website if you want to publish a photo on your own blog. For commercial use, email.
I was in Italy for BlogVille Emilia Romagna – for more information please visit the website.