When we had our tour in the Lamborghini museum (showroom) and factory, my journey was planned to continue to the Ferruccio Lamborghini Museum near Ferrara. Apparently when there were some discussions about how to get there by bus, Fabio Lamborghini offered to come and pick me up from Sant' Agata Bolognese. With the two other bloggers I were there with we had wild speculations about what car he would arrive in – Fabio Lamborghini has to drive a Lamborghini, right? No, a Jaguar. But although slightly disappointed that my vision of Fabio Lamborghini cruising in on the Lamborgini HQ parking lot in a nice vintage Lamborghini didn't come true, it was a great ride – and a great day, thank you. I didn't expect to get a quick tour in his hometown Cento, to pick up his son from school, to meet close family of his, or to have lunch with him. We had never met before that day, and my reason for being there could (should) be called work (nice work, of course), but it felt like I was spending my day with a close friend. Why can't all people be this warm, welcoming, friendly? But you know what, most Italians are like this, and I love it.
This visit was the one I looked forward to most during my visit in Italy, because as I wrote in the post "Italy's Motor Valley, Emilia Romagna": cars are great, but I love the car people too and if you can get both, it's a jackpot. Getting a tour from trained employees who know what they are talking about is lovely, I have so much respect for these persons and their work, because no question you have is ever left unanswered (if they don't know, they'll find out for you). But getting a tour from a man who is the nephew of Ferruccio Lamborghi is even more special. To see the pride in his eyes when he's telling you about some of the greatest accomplishments in the history of Lamborghini – you totally share that moment of pride thinking what a great brand Lamborghini is. They have all the right to be proud of it – we fans are, too.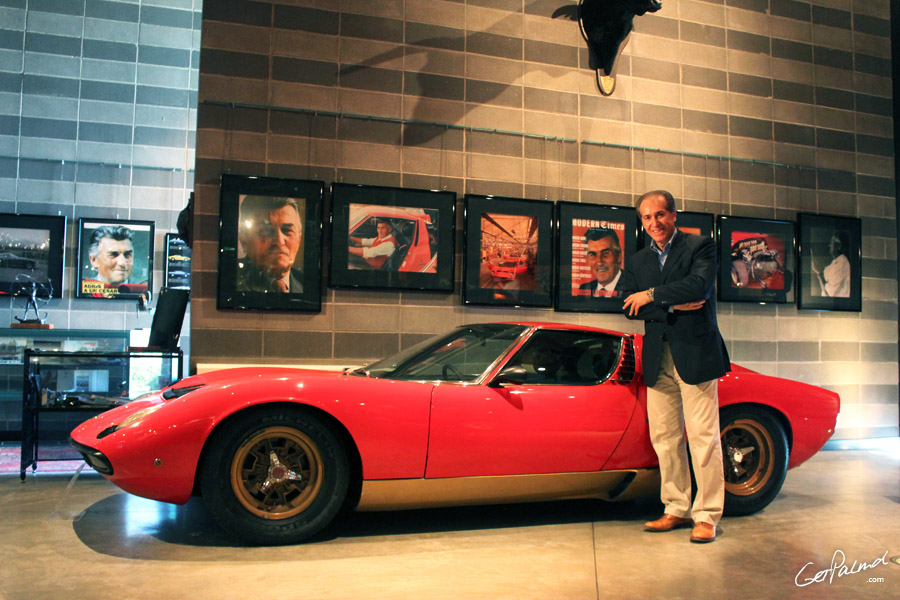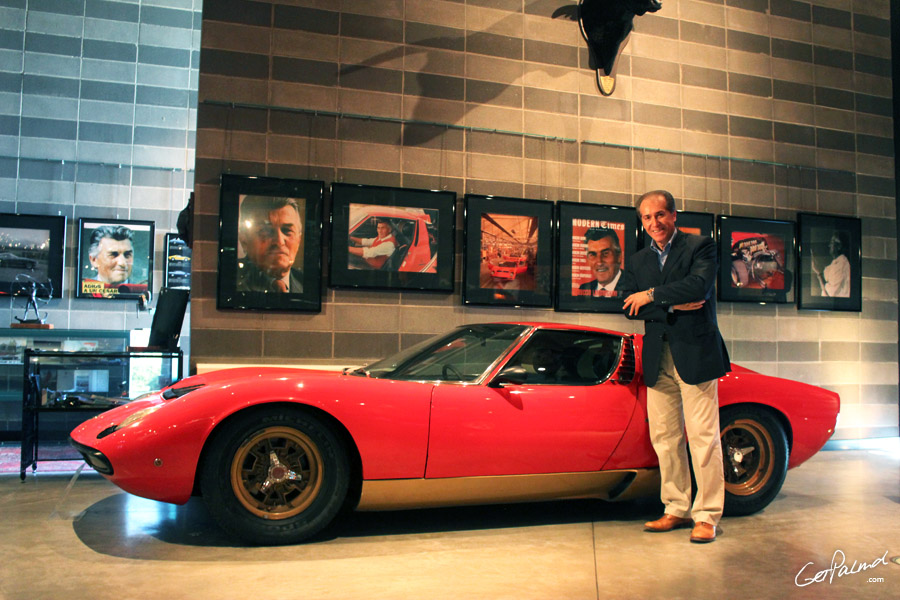 The collection inside the building is spectacular. It is like a Lamborghini timeline (minus the modern cars, but those you can see in Sant' Agata Bolognese), from tractors to concept cars to golf cars to a helicopter prototype. You will find for example Ferruccio Lamborghinis private Miura SV, being one of a kind because of the typical Miura eyelashes around the headlights (the other SV:s came without the lashes). That Miura SV would be worth several millions of euros if ever put up on auction. But I have a feeling we will never find out how much it could actually go for – it's a keeper. A golf car that used to belong to the Pope. The red beast – Countach S, a rally tuned Jarama, the blue Jalpa Spyder Prototype (according to online information only two were ever made, and the one here is a rebuild so not in original state), the rare 400GT (247 built between 1966-1968), orange 400 GT Espada… it really is an impressive list. Quality over quantity!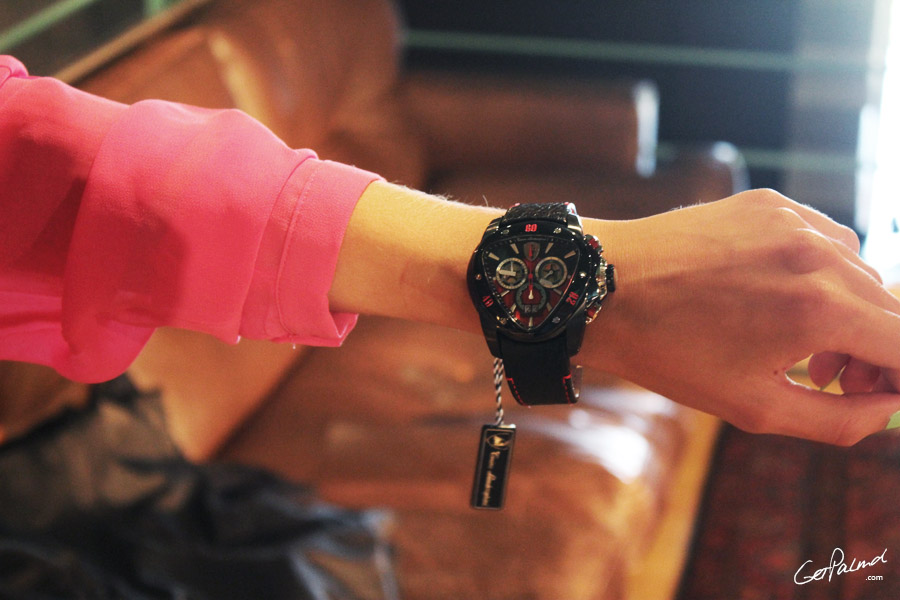 In the museum Tonino Lamborghini is also represented – so Town Life city cars, bicycles, coffee, watches, wine… The coffee was like velvet in your mouth, and I have to add that after two weeks drinking Italian coffee the Finnish coffee tastes like dirty water, sort of. The bottles of wine I craved because the bottles were beautiful – but I have no idea what the wine tastes like (and because I'm not keeping them in a wine cellar I might have to drink them soon as well… or store them in a cooler place… but then I can't see the bottles…). The men's watch I tried on might be an epic style fail on my small wrist (but on a guy I totally approve it), Tonino Lamborghini however make women's watches too and the gold version currently available online at Forzieri is pretty. The Tonino Lamborghini company is interesting – they might have a loot of stuff going on there with a huge range of products, but some of them are really promising, like for example the watches. Then they have the Tonino Lamborghini Energy Drink, which I didn't taste, but I know they are promoting it a lot (and they told me it should arrive to Finland in future as well).
Want to visit Ferruccio Lamborghini Museum (of course you do)? Easiest to go by car, but you can also take a bus from Bologna (or some other city nearby, just check bus connections). But from Bologna it is bus number 97 to Cento and when in Cento you need to take a cab to the museum (6 km).
The exact address is via Statale 342, 44040 Dosso di Sant' Agostino (Ferrara). The museum is opened exclusively on request so if you want to arrange a private visit you need to call Fabio Lamborghini at +39 051 86 26 28 or use the email fabio.lamborghini[at]libero.it.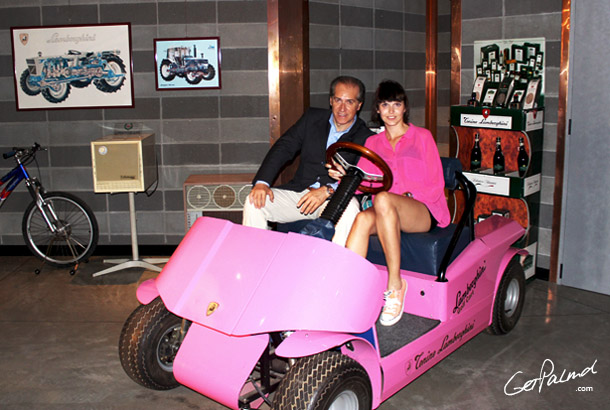 SEE YOU AT THE GOLF COURSE!
(and yes smiles look forced when you need to hold a grin until the photo is taken, haha)
Fabio, I hope you have time for lunch number two at next year's Concorso d'Eleganza Villa d'Este!

Please include a link back to this website if you want to publish a photo on your own blog. For commercial use, email.
Sorry for the bad quality in some photos – had to compress them quite a lot for faster loading times…
I was in Italy for BlogVille Emilia Romagna – for more information please visit the website.