The morning of day three I woke up to amazing sunshine at Tenuta Contarini. The weather there was so perfect that I was not very tempted to leave, but journey had to continue and end destination for this day was Stelvio Pass. Weather forecast for the Dolomiti mountain passes on route? Rain…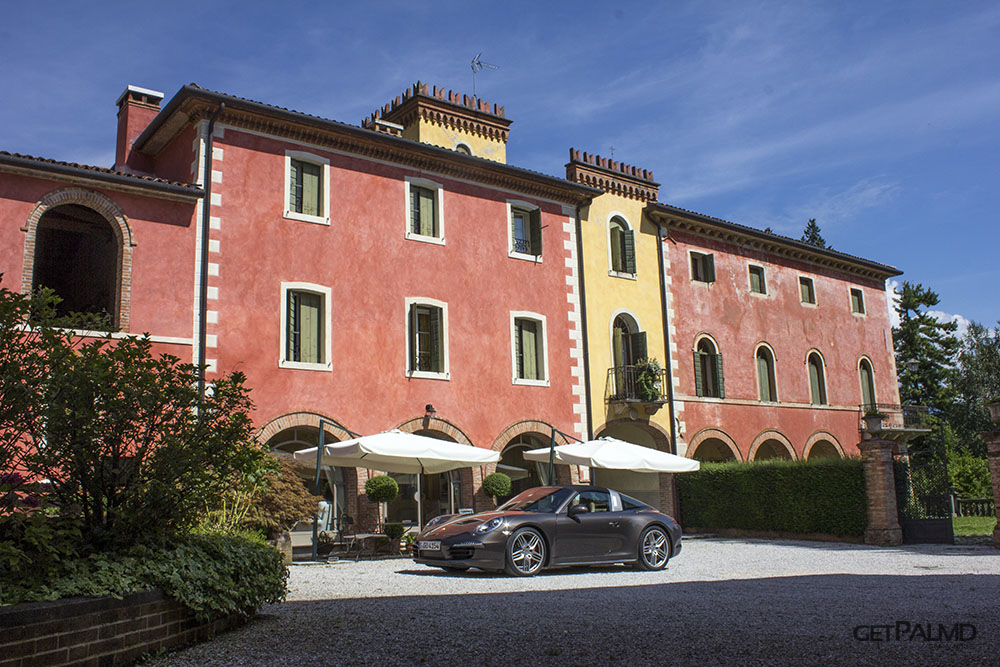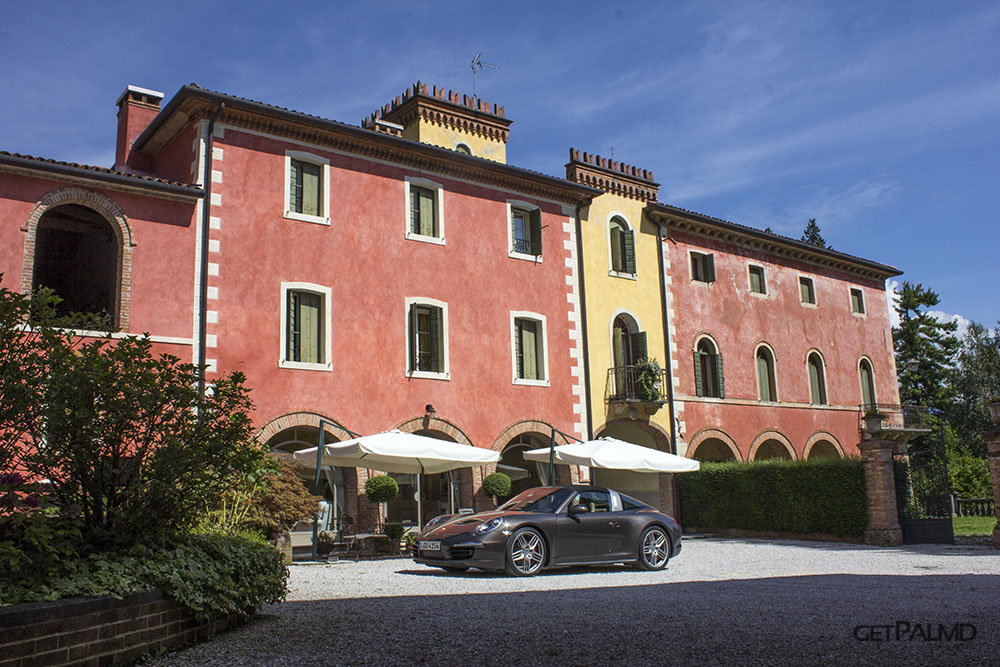 Rain we also got. I wanted to check off two mountain passes in Dolomites from my list of roads not yet driven. One was Giau Pass, and the other was Pordoi Pass. These are incredibly scenic when it is good weather (I know because I googled…), but on a rainy day you do not really stop to enjoy the landscapes. You just drive.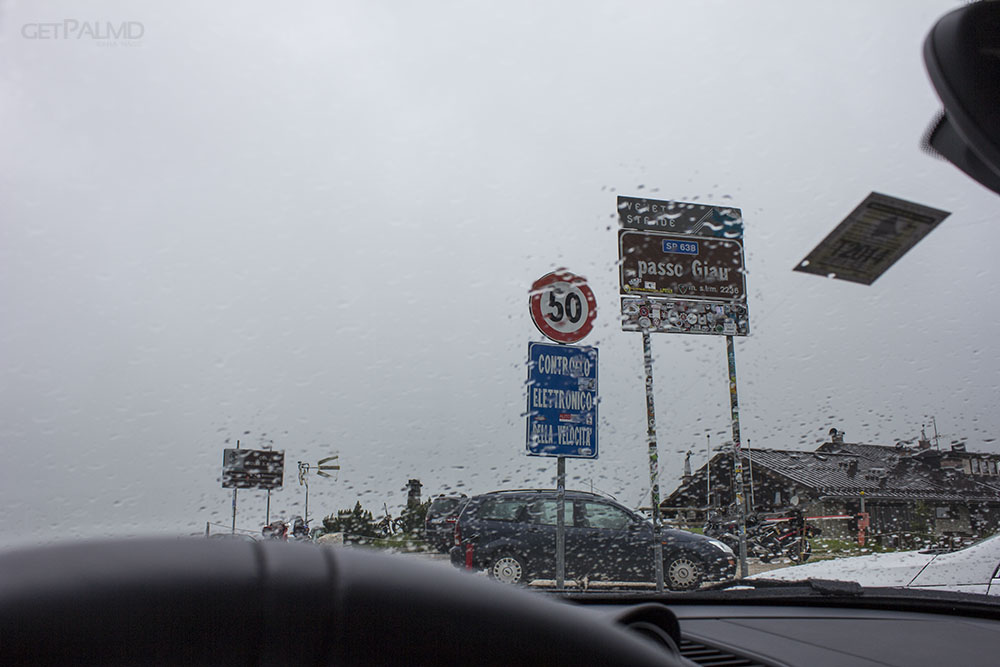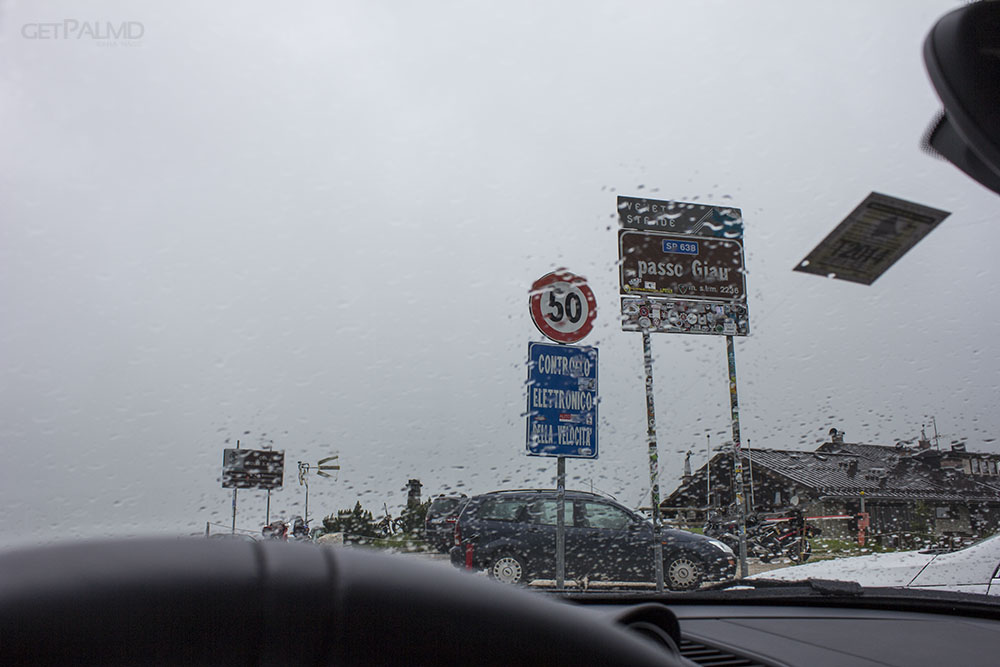 My first attempt to get up on Giau Pass (Passo di Giau, 2236 m) was not a success. The navigation took me through a narrow village to a closed road. When I finally found the pass the heavy rain started. At the top it was impossible to even exit the car so I just snapped that important "proof that I have been there" pass sign photo through the windscreen and continued my drive. My impression of the road? That I want to drive it on a sunny day… As beautiful as it might look in photos to have thick white fog and rain clouds floating over a green mountain valley, this is not the ideal weather condition when you would want to drive fast and see the road in front of you.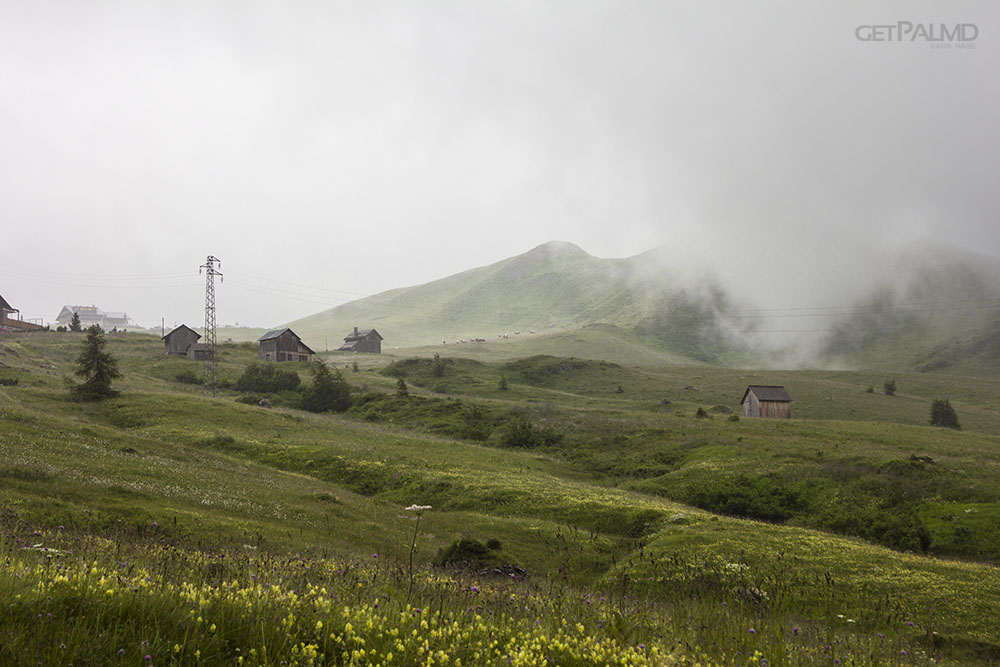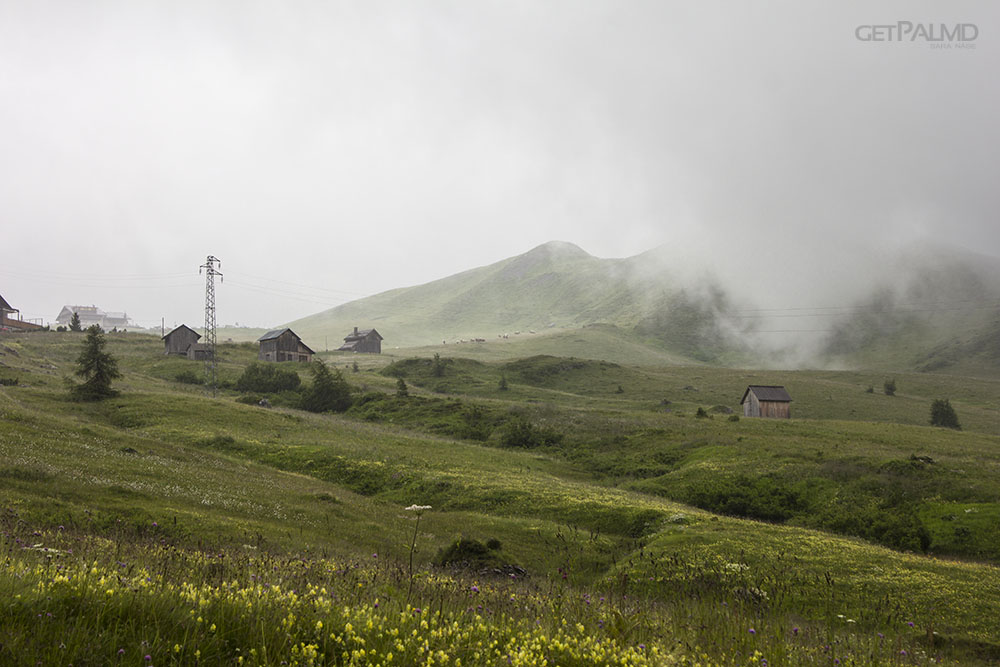 Pordoi Pass (Passo Pordoi, 2239 m) was a much better experience because weather cleared up a little and instead of a sky falling down on us we had only light showers. It had one section with traffic lights because of roadworks, and a little more cars than I would have expected on a rainy day, but overall a very nice road.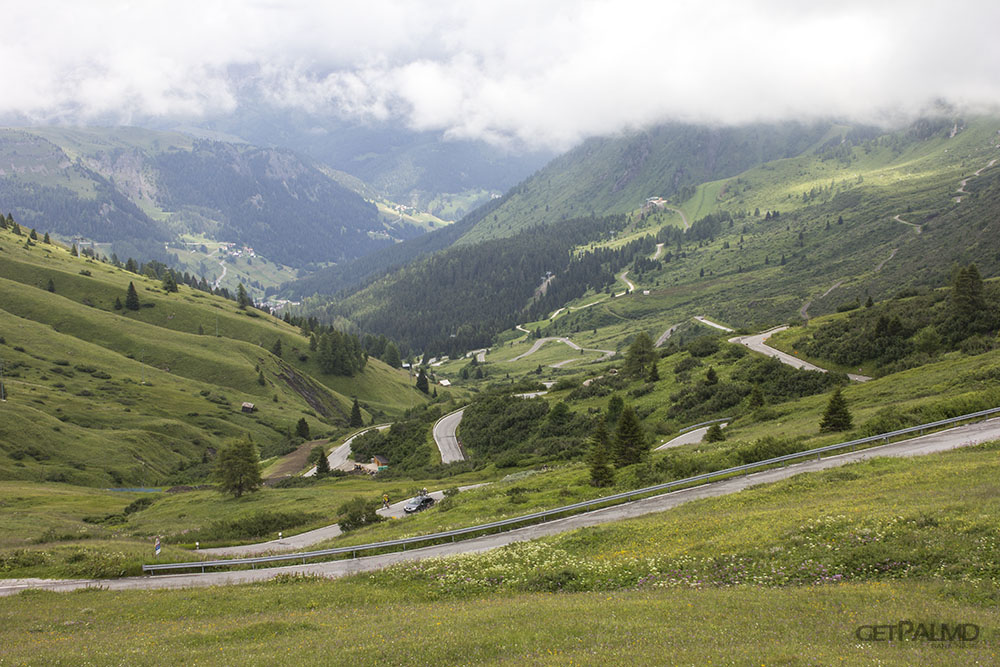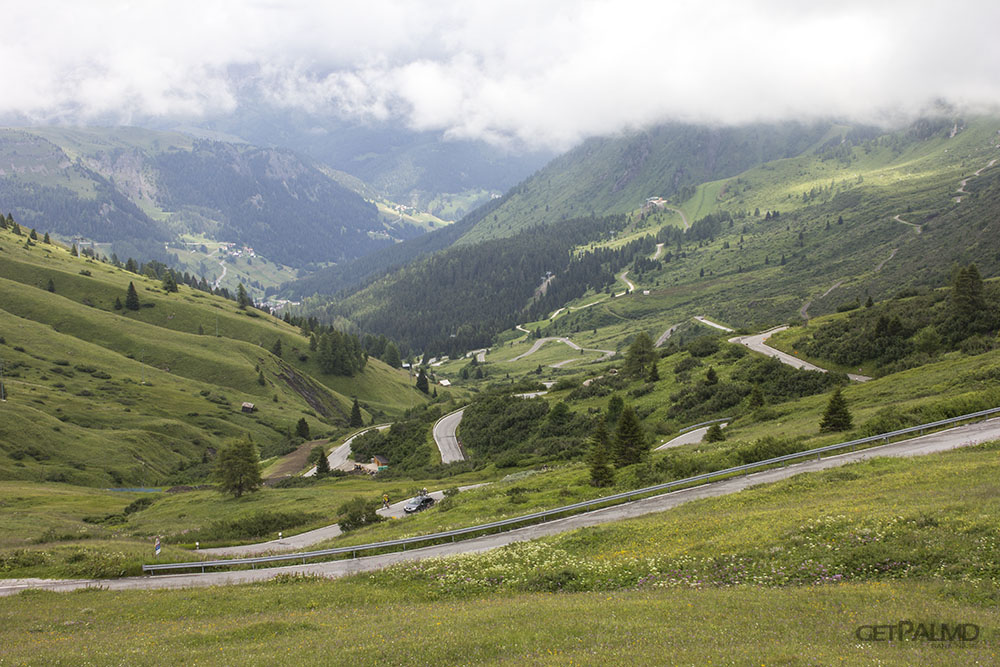 Both now experienced, but both also need to be experienced in perfect sunshine. It is like that with most mountain passes though, you are not really satisfied before you have seen them on a good day! If I compare with the mountain passes I drove last year in the Dolomites, I really loved Falzarego, Valparola and Gardena. For the reason that the mountain landscapes are really breathtaking there. However as great driving roads both Pordoi Pass and Giau Pass rank very high on my list and should definitely not be missed out on if you plan a driving trip to Italian Dolomites.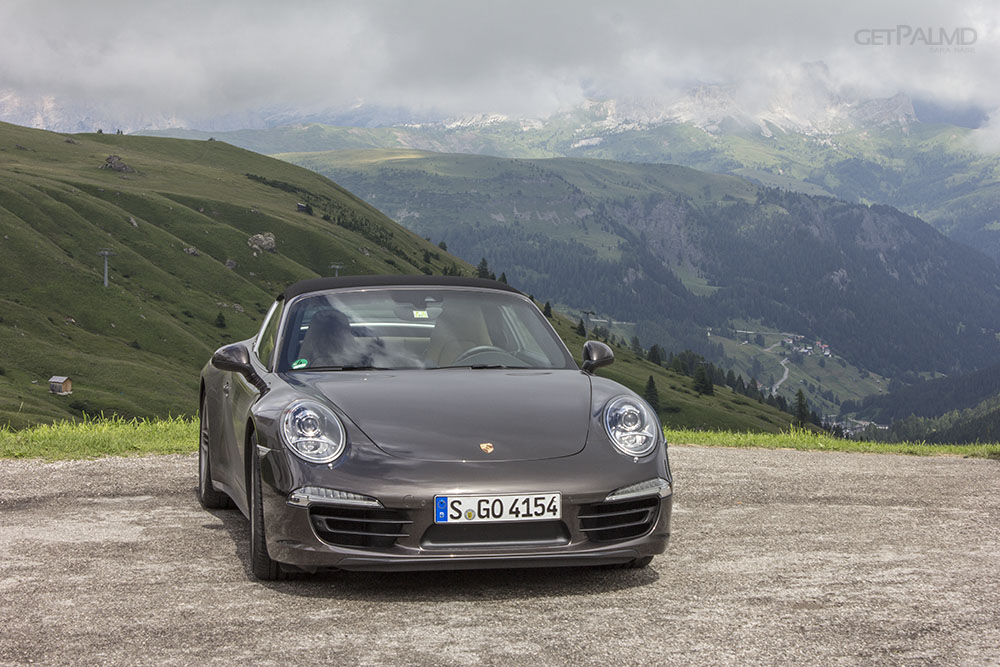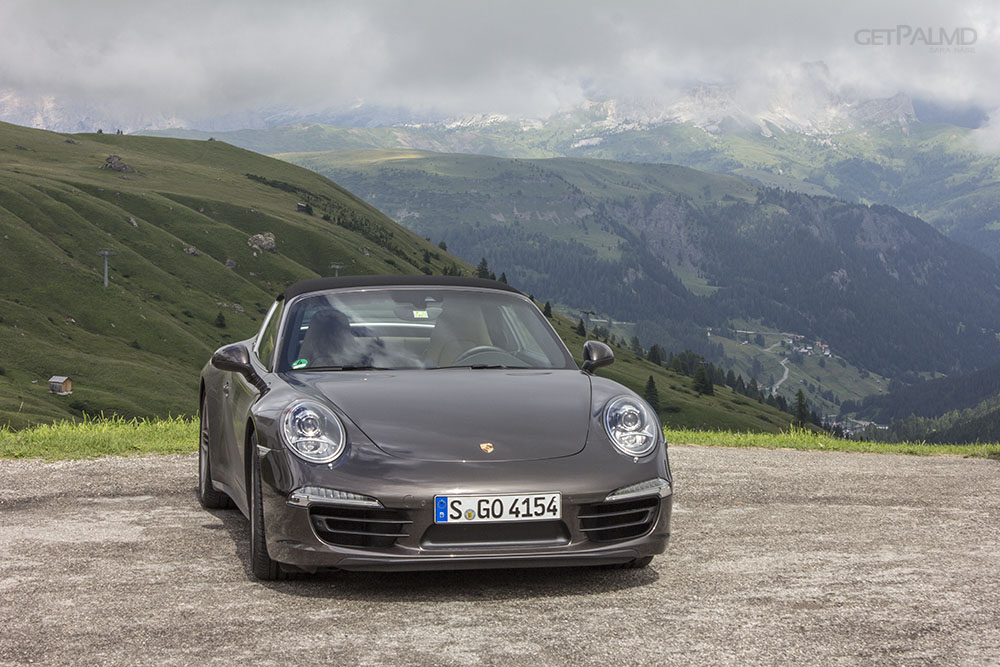 After Pordoi Pass and closer to Merano weather cleared up. Porsche got a new spa treatment, and some V-Power. All set for Stelvio. I arrived at Berghotel Franzenshöhe around 7:30 pm. Starving (kitchen closed 8:30), but I also wanted to see a sunset over Stelvio. I had one hour time to drive the remaining 7 kilometres and 21 hairpin corners from hotel to the top and get my photos. And I did it. As fast as possible. Last time I drove Stelvio Pass from this direction was 2012, because in October 2013 the half going up from Prato allo Stelvio was already closed due to snowfall. I had completely forgotten how challenging this part of the road is. My favourite section for sure because the corners are amazing, but god damn it you drive it… And with the Porsche – what a drive (read: I understand why they have the reputation of making some of the best-handling cars on this planet)! There were some priceless looks on the faces of the men who saw me arrive to the top. Think "mamma mia" expressed by an Italian with all the hand gestures and facial expressions! I am not there to do slow leisure driving, they probably heard us approaching when we were still kilometers away…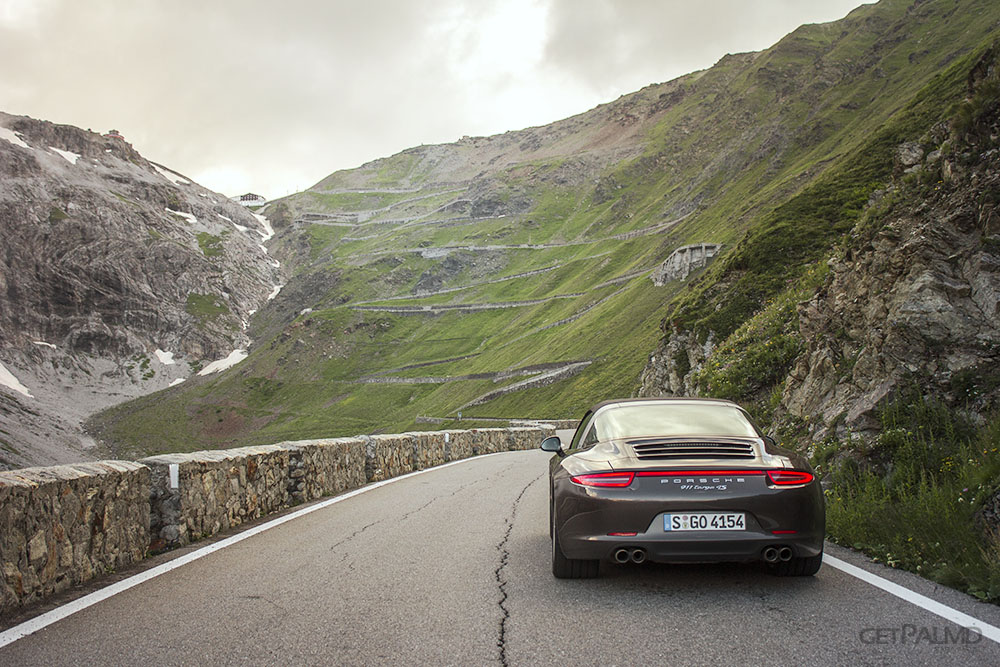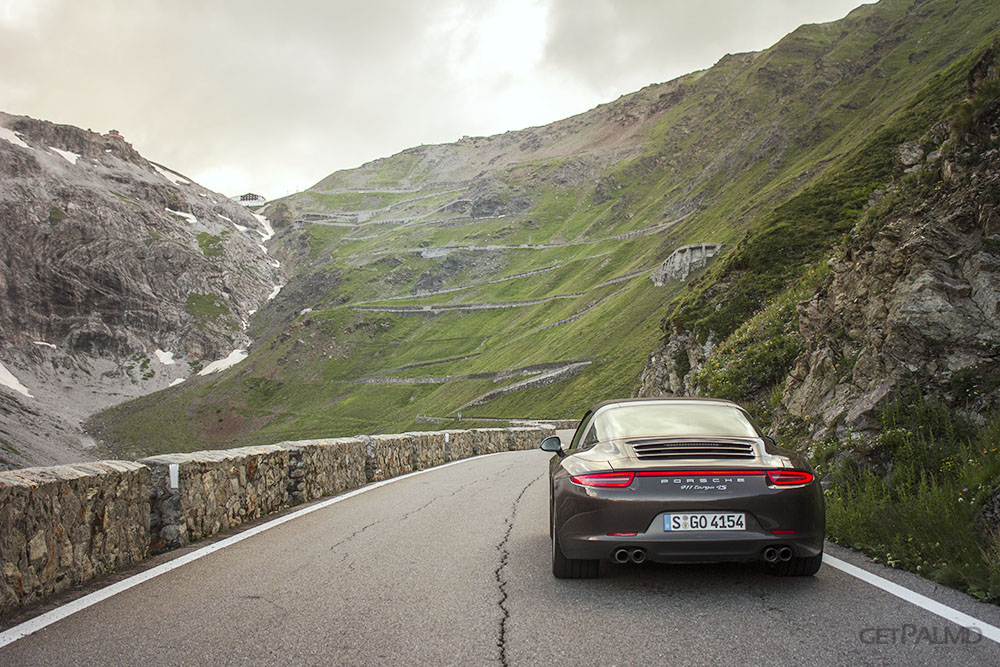 And my sunset over Stelvio? Heavenly. To have that kind of memory makes me feel so lucky. To be able to drive a great car on one of my favourite roads, and actually arrive to the top in time for a sunset which is absolutely beautiful… These are the moments that makes life so special. These are the moments you never forget. I can never get tired of this place!
Stelvio Pass is a little like a pilgrim's journey for me. I have only driven it three years so far, but I hope the number of drives will grow each year and that I will grow old with this road.
I could again this year ask myself – Transfagarasan or Stelvio? I love both. Stelvio feels like a home I always want to return to. Transfagarasan on the other hand is my journey to the unexpected, a journey and experience I want to relive over and over again.