Like I wrote in the earlier post, I rented a classic car from Sprintage Classic Car Touring in Florence for a day. Had it for 12 hours and drove from Florence to the coast and back.
It is incredible that one car can cause so many emotions. I have never felt so proud driving a car as I did when I drove the 1970/1971 Alfa Romeo Spider Duetto 2000 Veloce. More than 40 years old and still running like a dream. When starting the engine it sometimes required that you push the gas pedal a little. Sliding into second gear had to be done very gently, but apart from the second gear (that was easy to get used to, really just required a gentle hand) the 5-speed manual gearbox worked like a charm. The speedometer was always at 20 km/h, which means that when I was speeding, I honestly had no idea what I was doing. In a crash it would probably not have made any difference if I was driving with seat belt fastened or not – it was quite useless.
Safety does not come first when driving classic cars. But emotions do. People stopped just to have a look at the car. Childrens noses pressed against the windows in cars passing by. Pointing fingers. Turning heads. Heads hanging out of windows. Big eyes. "Bella macchina!".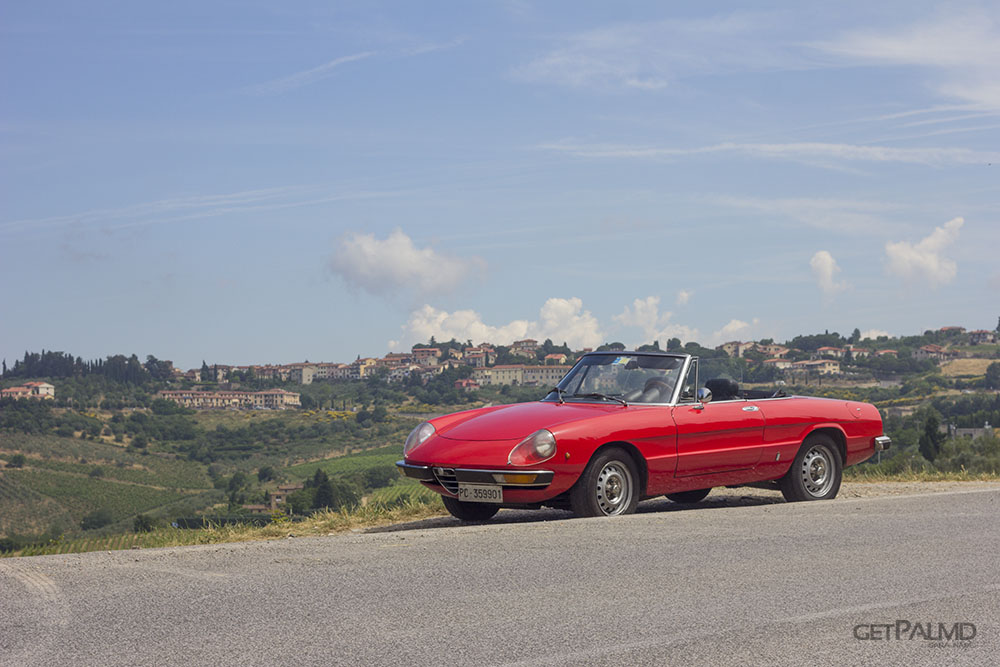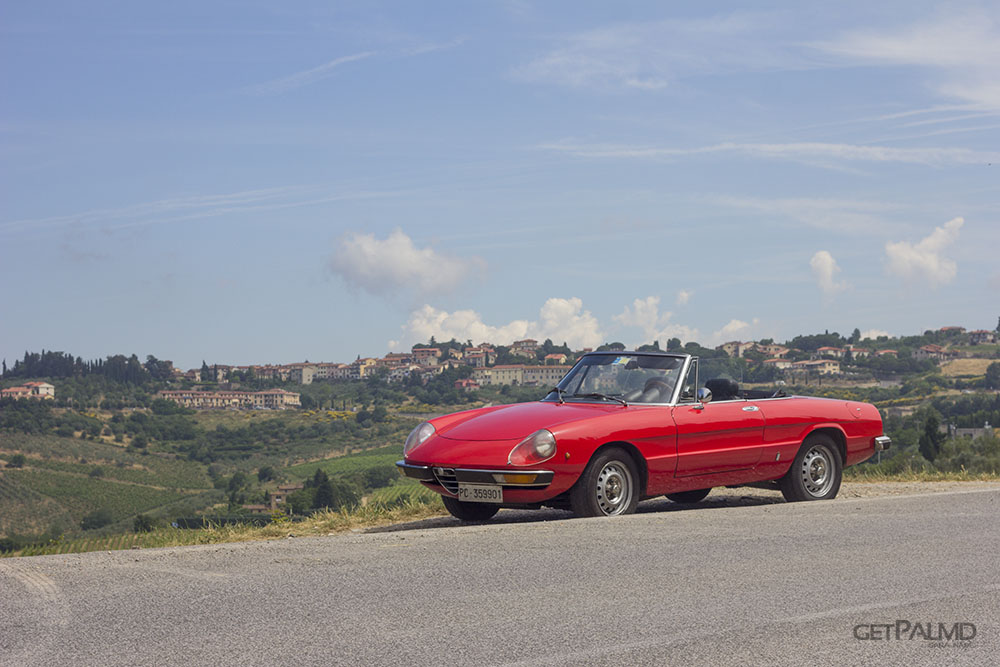 It is not a Ferrari, but it surely felt like I was driving something very exclusive. It is a piece of Italian car history. On a small fuel station an older gentleman refueled the car for me. He tried to explain something to me in Italian and from what I understood, he either said to me he had one of these when he was in my age, or that the model came out when he was in my age. His face however lightened up when he was talking about the car. When I was inside waiting to pay and looked out the window at them two together… Sweet picture in my head. I had the right car in the right country.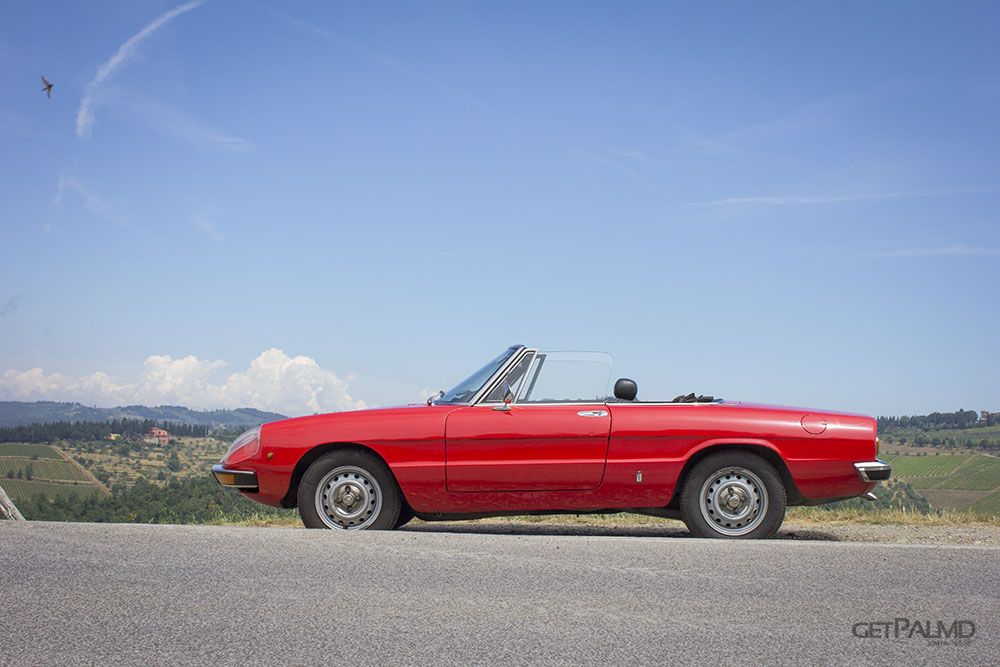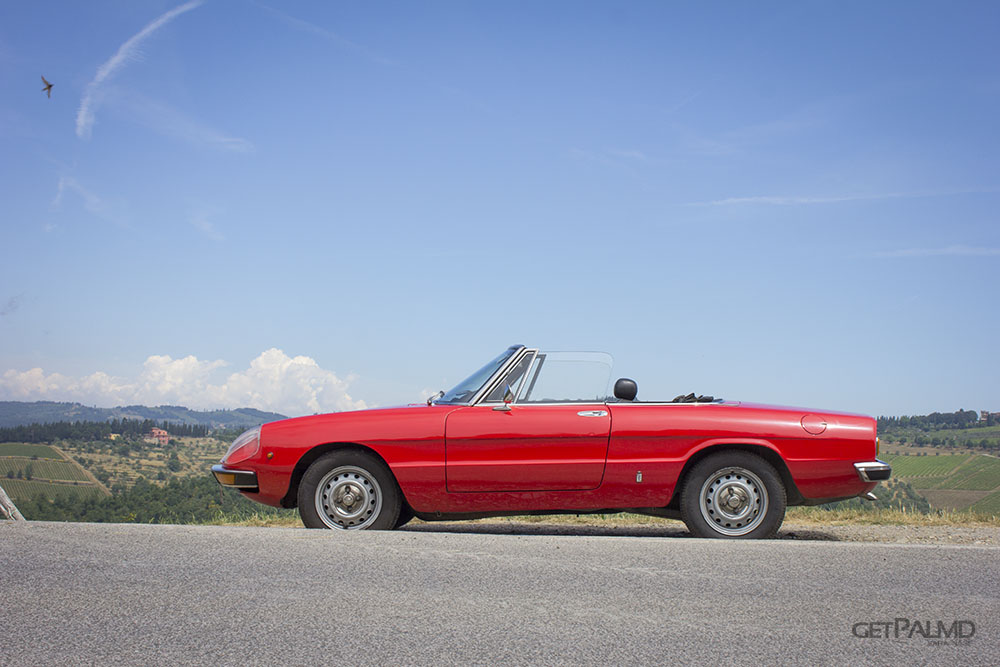 In the beginning I was afraid to drive the car and took it quite easy. I imagined I had to be very gentle with it not to break it. But how wrong was I… This car was so much fun on the roads in Tuscany. You can corner it surprisingly fast. The steering is heavy especially at slower speeds and when parking the car, but in the end I was surprised how fast you got used to it. Already in the evening it just felt very natural to drive the car after one full day together. It required heavier braking, but that is what to expect from an old car. However, when I picked up the MINI JCW at the office in Zürich the next day I realized the difference in the brakes compared to modern cars. First red traffic lights and I was not too far away from smashing my head in the window when braking… I was clearly still in Italy driving the Alfa…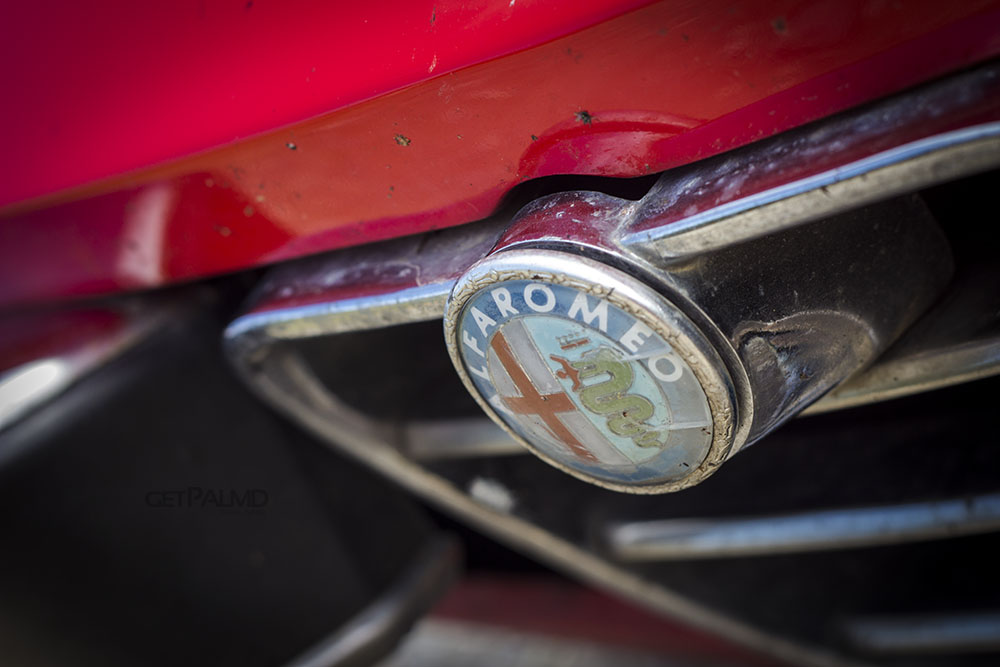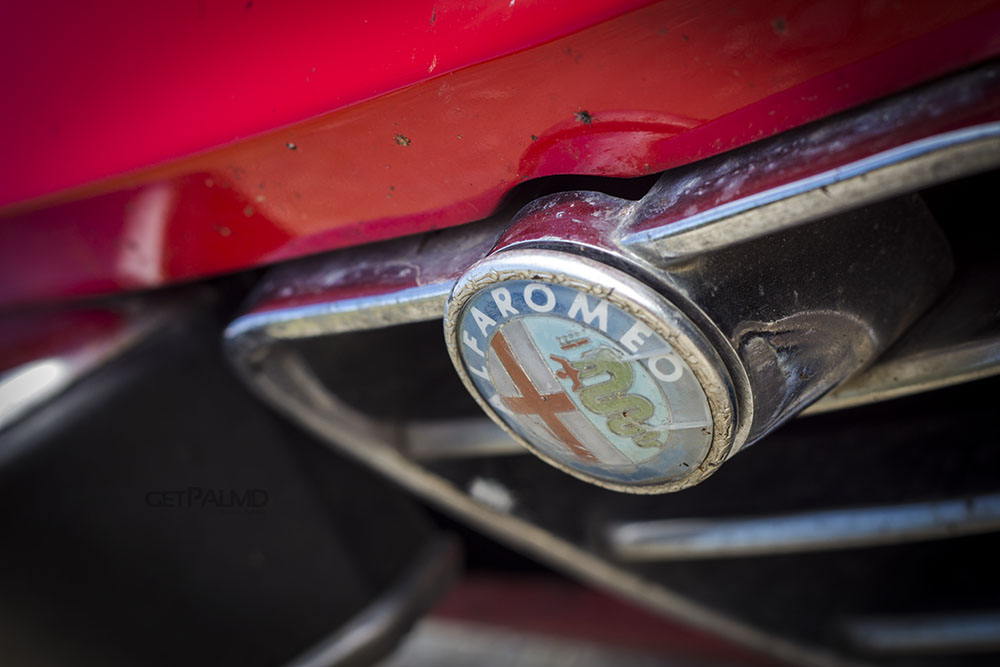 But wow. It did not take much to convince me that classic cars are fantastic… I enjoyed every single minute driving it. I definitely did not want to return it that evening either, could have kept the car forever. I came home and started looking online how much I would need to spend to become an owner of one. It is a lot of money for an old car but anyone who invests in classic cars – I understand you. I would also start doing it if I had the possibility. Not as a financial investment though – I could not own garage queens to sell them later, driving is too much fun and I would probably get too attached to the cars anyway. But as an investment in myself. That Tuscan road continuing all the way down to the sea through beautiful landscapes, a classic red Alfa, a sunny day, an old noisy engine that is just fantastic to listen to… Unbeatable feeling. To summarize the thought I had in my mind all day when driving the car – "This is what life is all about". Pure driving pleasure.
Sprintage, I will be back soon.
Alfa, one day I will own one of you.
I promise.
The important thing is to drive SR222 (Greve in Chianti, Castellina in Chianti etc) – great road. The roads around Volterra are also incredible! And San Gimignano should be included if you have time!
Thank you Sprintage for making trips like this possible in your cars.
Sprintage Classic Car Touring rents classic cars in all Italy so have a look at their website if you are interested. Prices are affordable (but it is money well spent… you can not give a money value to this kind of experience, just do it, you will not regret it or miss the money afterwards). The service of Sprintage is great, the guy who delivered and picked up the car turned out to be a real Japanese car enthusiasts you can talk NSX and MKIV Supras with. I told him to tell his boss an NSX is needed in their rental fleet…… Sprintage also do some driving tours in Italy with classic cars – something I would love to do in future. Driving around Italy with a group of beautiful old cars and people who love to drive them? I'm in!