I woke up in a freezing cold Livigno. When you have been spoiled with a long summer (I moved to Italy in February = my summer started there, haha) the first real signs of an approaching winter are always a shock. Some hours later I would already be driving with the roof down in Switzerland, so it turned out to be a fantastic day anyway. Just a very cold start, had to do some peaceful cruising around Livigno to warm up the car before going up in the mountains…
I made the decision to stay one more night in Livigno and just do a day trip to Switzerland. Livigno is filled with hotels in all price ranges and although I was here last year, this was my first overnight stay. The place I stayed at, Hotel Camino, was good value for money and with a huge parking space. Their restaurant was packed both on Friday and Saturday and now I also noticed their restaurant is ranked #4 of 66 restaurants in Livigno on TripAdvisor. A few kilometres outside the heart of Livigno, but if you have a car it does not matter.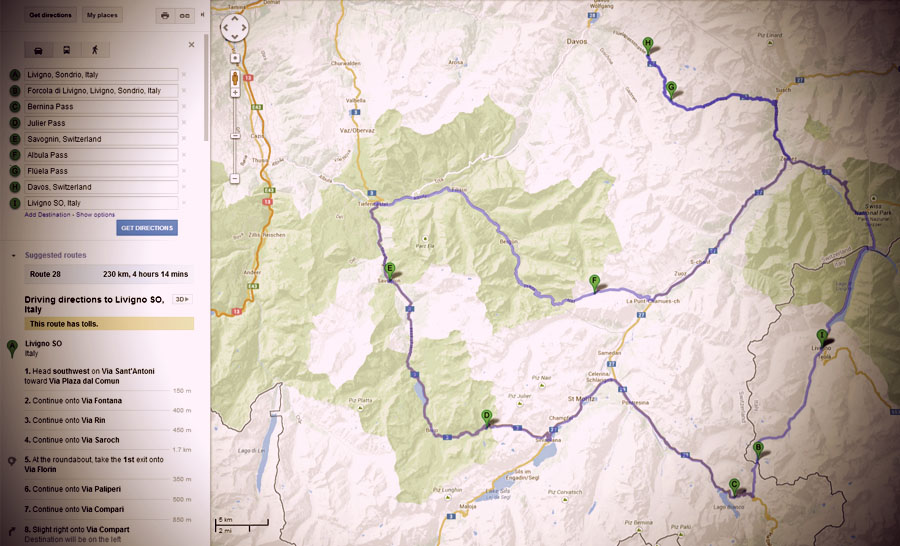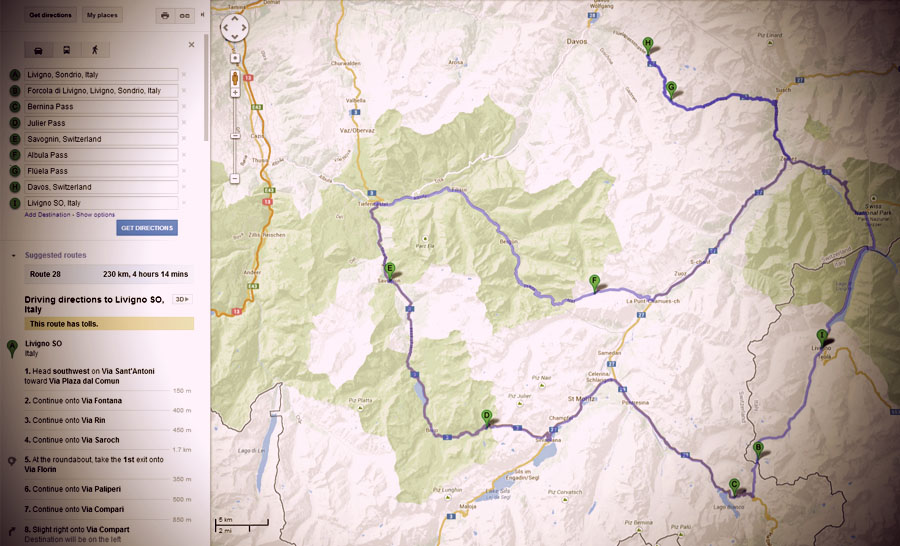 Livigno – Forcola di Livigno – Bernina Pass – Julier Pass – Albula Pass – Flüela Pass – Livigno
I did a day plan and decided no matter what, I am going to stick to this plan. Five mountain passes. Driving a mountain pass is not like driving on the autobahn – mostly straight maintaining a steady speed. A mountain pass requires your full attention all the time. Every corner – you do not know what is behind it. And when you do passes you have never driven before it is even more challenging. When I drove Transfagarasan the second day it felt like this road is something you can learn to master. If I do it enough times I soon know all the corners. A mountain pass is not that much different from a track after all, it takes skills and practice before you can drive it in the best possible way. So at least for me the mountain pass driving sucks more of my energy compared to "normal everyday driving" and if some people can do ten or more passes in a day and find the time to also enjoy them, they do it the hard-core way… Doable, but maybe not enjoyable?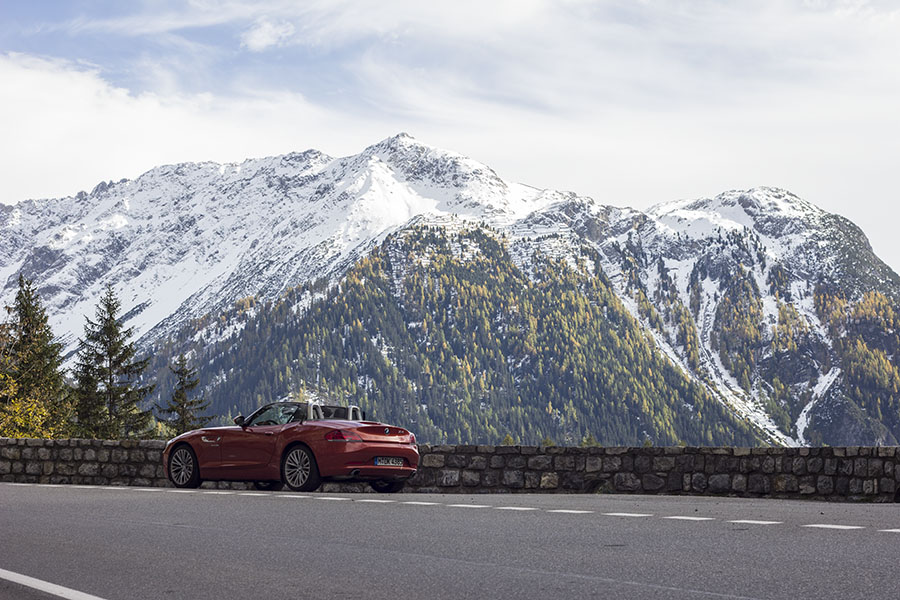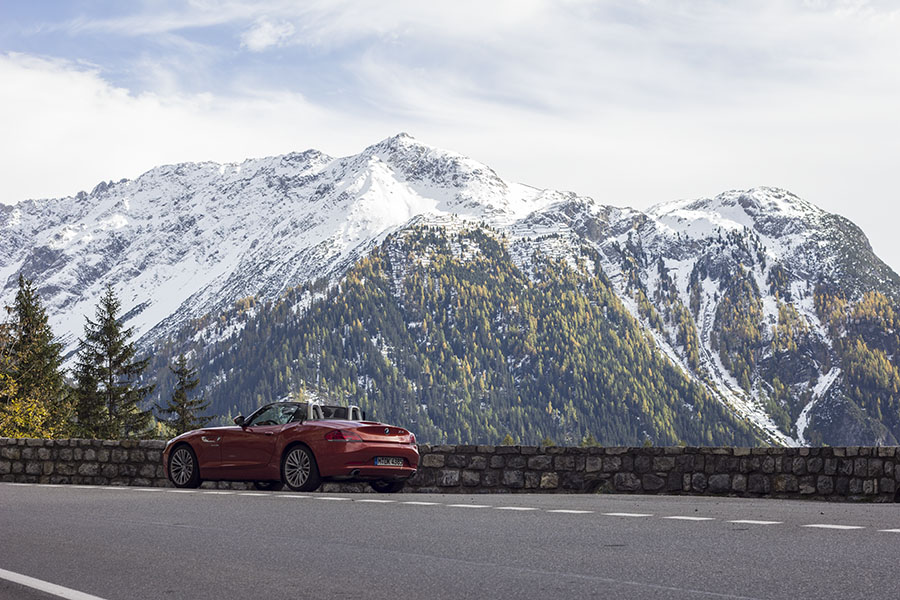 When I was driving to my fifth and last mountain pass of the day, Flüela Pass, I was already feeling tired. Wondered if I should turn around and just skip it. Decided to continue anyway. Glad I did, and glad I still found the energy to enjoy it in the proper way, because it is a fun mountain pass. Extremely hard to pick a favourite from this day. Instead I would say that this route in one day is a pretty nice drive – just do them all if you can. It is definitely not too much and if you have energy to do even more or want to modify the route, there are other passes as well in this area of Switzerland. Fuorn Pass, Scaletta Pass, Lenzerheide Pass, Wolfgang Pass etc. A useful website I found when I did my route planning was a "Map of mountain passes in Europe". It does not have them all listed, and there might exist some better maps online (if you have links, please share), but this map helped a little when trying to locate passes in one specific area.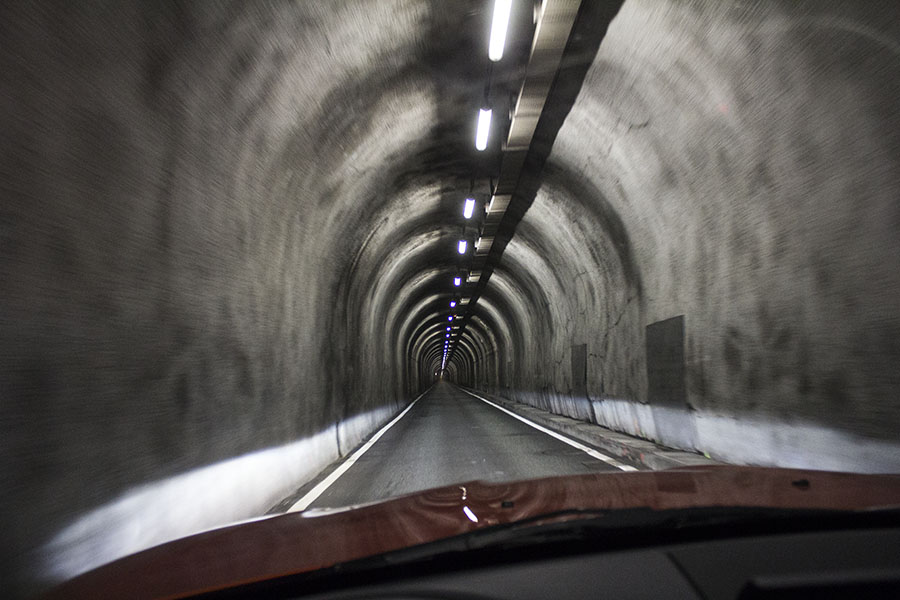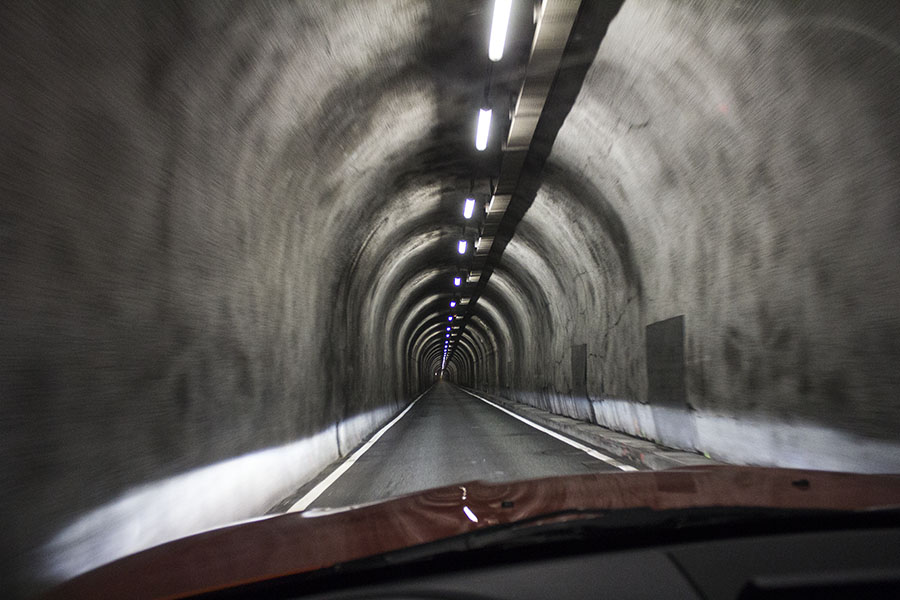 When I came back to Livigno that evening I felt I had found as much inner peace as this girl can possibly find. You know the feeling of complete satisfaction? You have seen so many amazing things that you are happy for now. You live on the memories for a while. That is how I felt that evening – that I could not ask for anything more from this trip, it had now reached perfection.
I am of course always waiting for the next trip and my life will probably always be like this – this is my pursuit of happiness, I love to drive and I love to explore places. Find new roads. But for this trip I felt like I was done. No need to do any more mountain passes, although I had one full day left to do them if I wanted to. Tweeted "8 hours, 5 mountain passes. Exhausted is the current feeling… think I'm done with passes now".  But you can change your mind after one night of sleep, of course… and I actually did.
I know I take hundreds of photos… wish I had more from Flüela Pass because it is a pretty picture perfect location as well, but there was not much light in that valley when I arrived – got dark photos. Next time a little earlier…