My number one dream for this road trip was to experience a sunrise over Stelvio Pass. That is also the reason why I booked a hotel directly on that road. One night might not be enough as you can never predict the weather, but I had to take a chance and hope for the best.
I woke up in the morning to a very grey looking weather. Because Berghotel Franzenshöhe 1288m is 21 hairpin corners (7 km) from the top of Stelvio Pass it is actually not the best spot for guessing what the weather will be like five in the morning when the valley is still dark. Next time I want to try Alpengasthof Tibet Hütte 2800m or/and Rifugio Garibaldi 2845m to experience something new. The top of Stelvio Pass is 2757m and from both of these guesthouses you have an incredible view over the road. So what would a sunrise view look like from an even higher mountain? One day I will find out!
That morning I sat in bed with the Stelvio Pass webcam open, looking out from the window to check the cloud situation. It unfortunately did not look like I would be able to see any sunrise at the top with the amount of clouds, so I almost decided to skip the drive up and go back to sleep instead (…).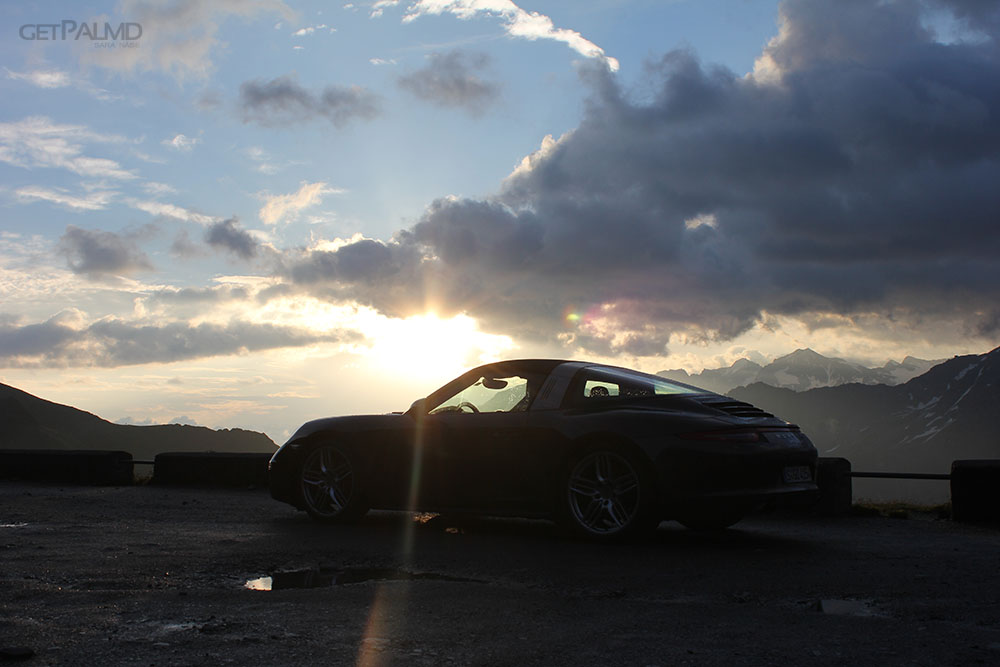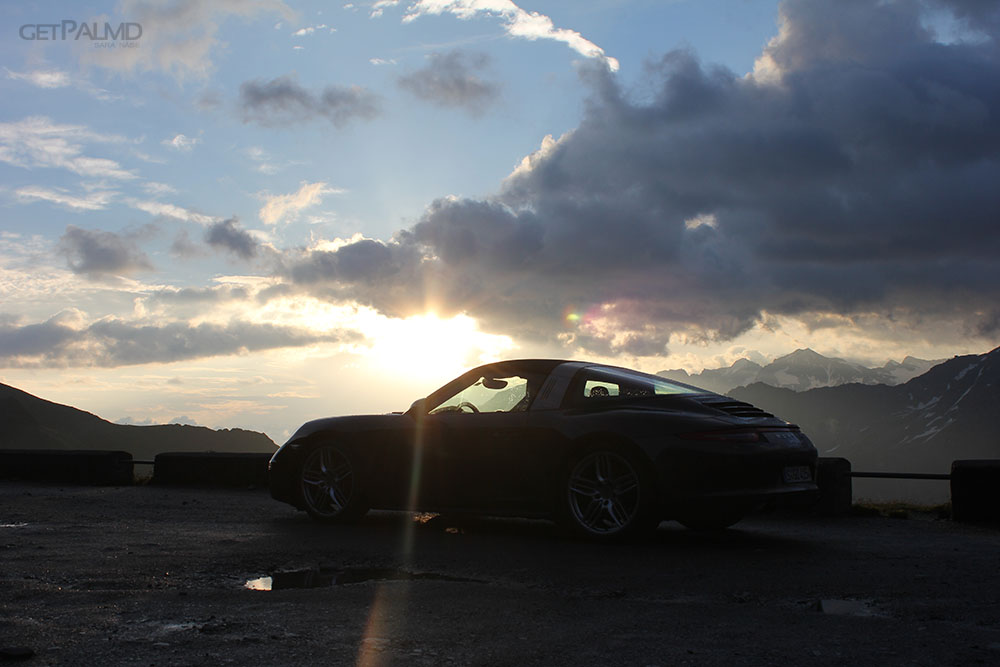 I am so happy I changed my mind, quickly. The Porsche soon rolled out on the empty roads of Stelvio Pass that still had that misty (freezing) cold morning feel to it. Already after the first few corners I started seeing the rays of sunlight trying to sneak out behind the mountains, one by one, slowly. I stopped the car at a viewpoint for some photos, and then continued to the top. There I sat down to enjoy a view so amazing – and one of a kind – that I let the photos speak for themselves. I have seen many beautiful things in my life but to see one of my favourite roads wake up… Definitely on the list of things that make me very very happy.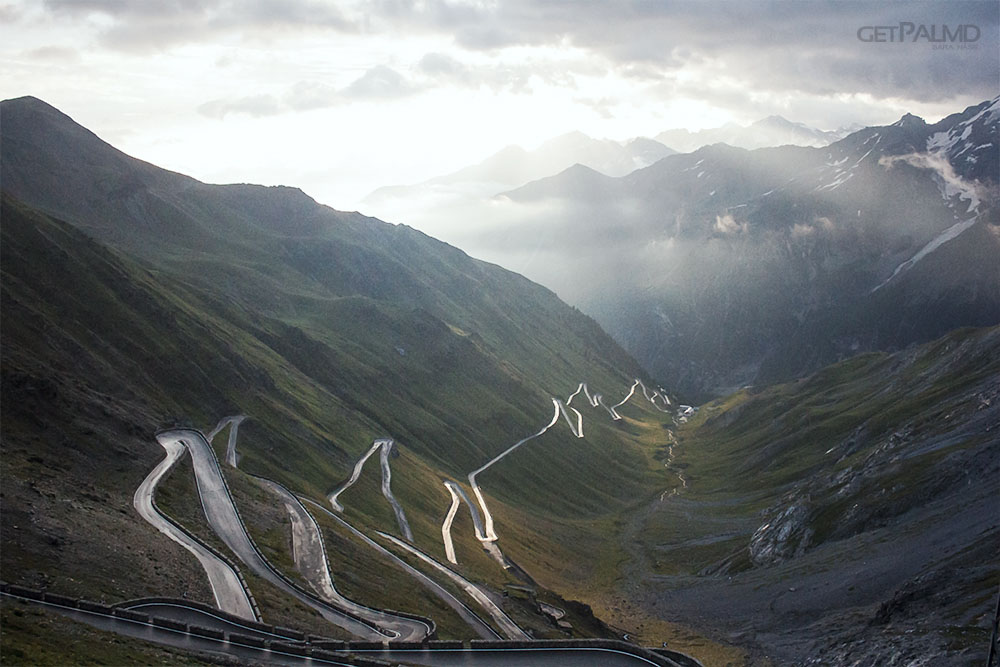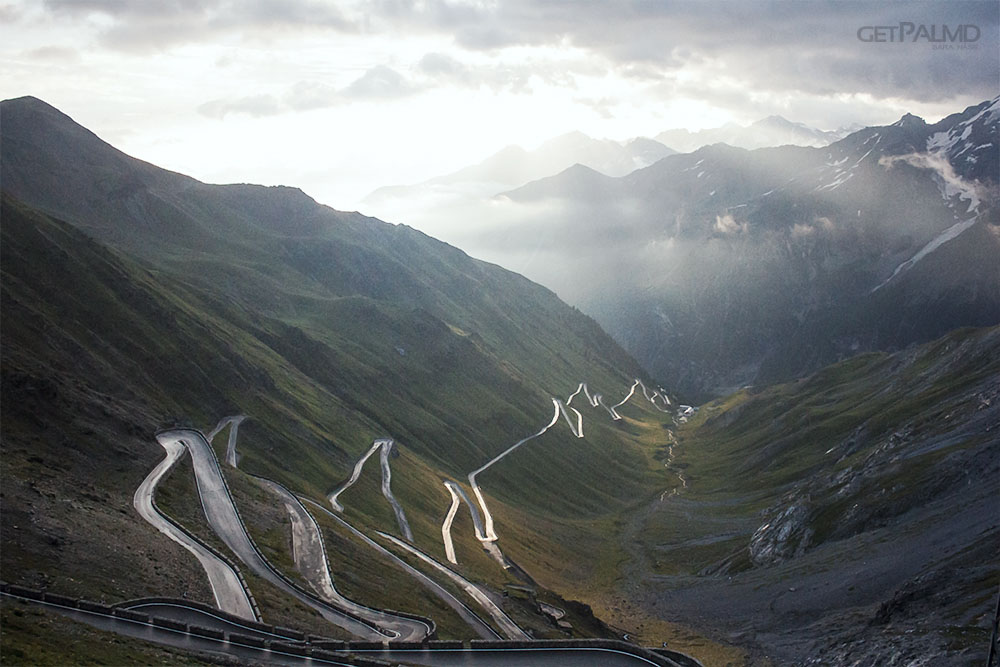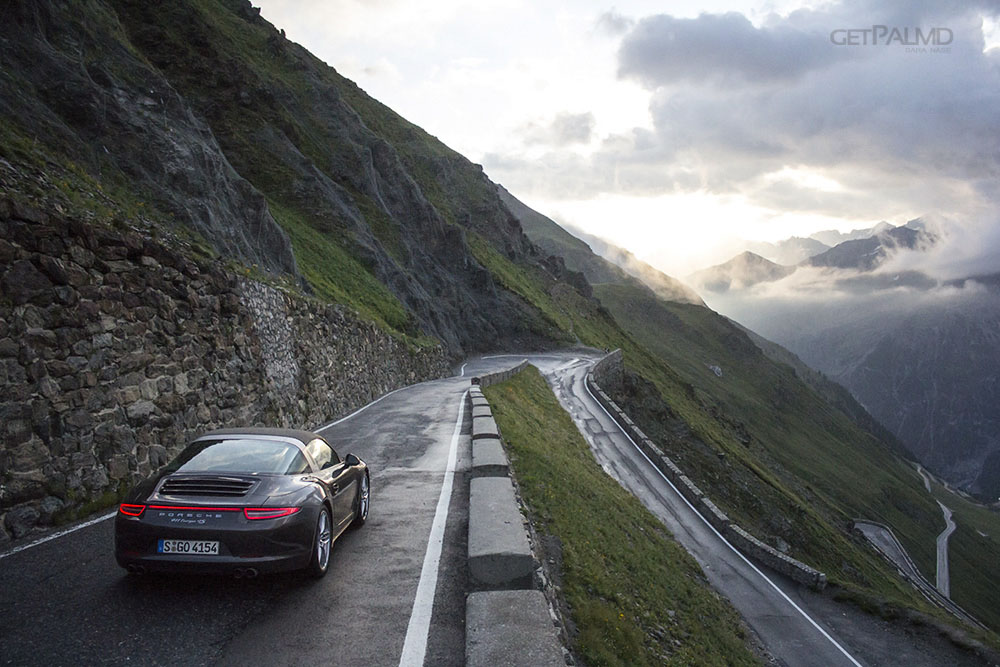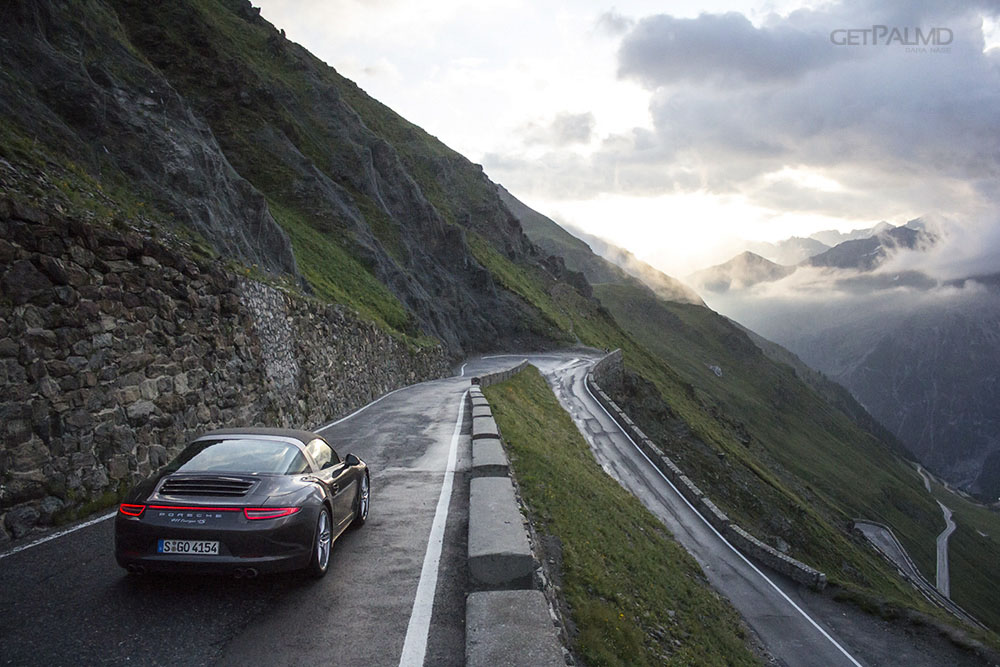 The drive down back to the hotel for breakfast was through a white layer of clouds, but very beautiful as well. When I a few hours later checked out and once again returned to the top of Stelvio Pass (yes, I did this three times within 13 hours… there is no such thing as too many times, or drives?), I had perfect sunshine. The drive continued down on Umbrail Pass, which by the way looks much more dramatic with some snow, and towards Santa Maria Val Mustair, that is a really picture perfect village located in Switzerland. If you turn right there the road takes you back to Italy and just after the border starts a stretch of road that I really love, with green vine fields on both sides of the road.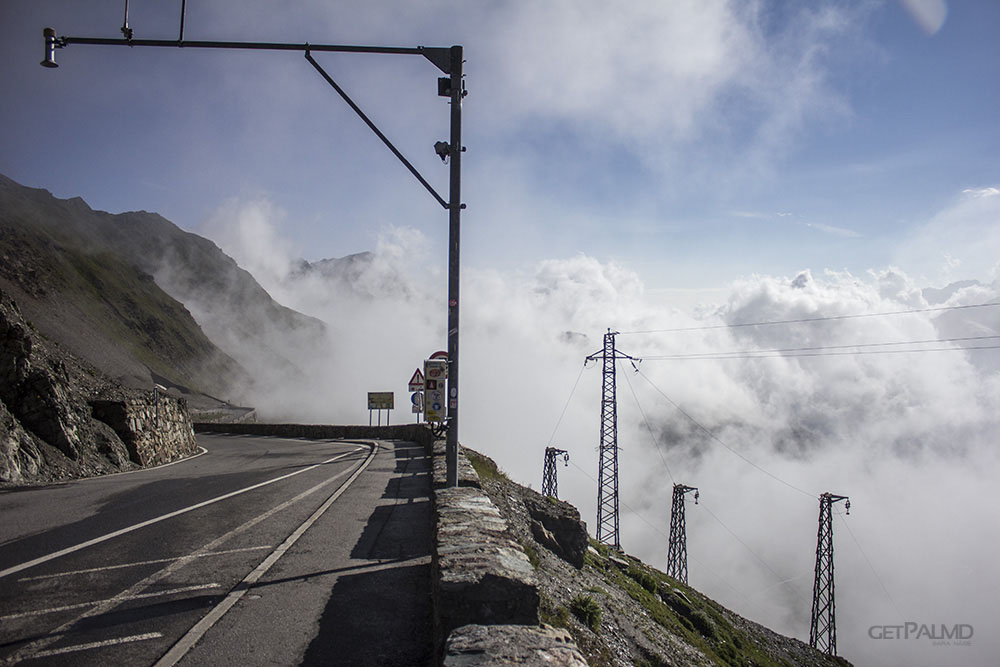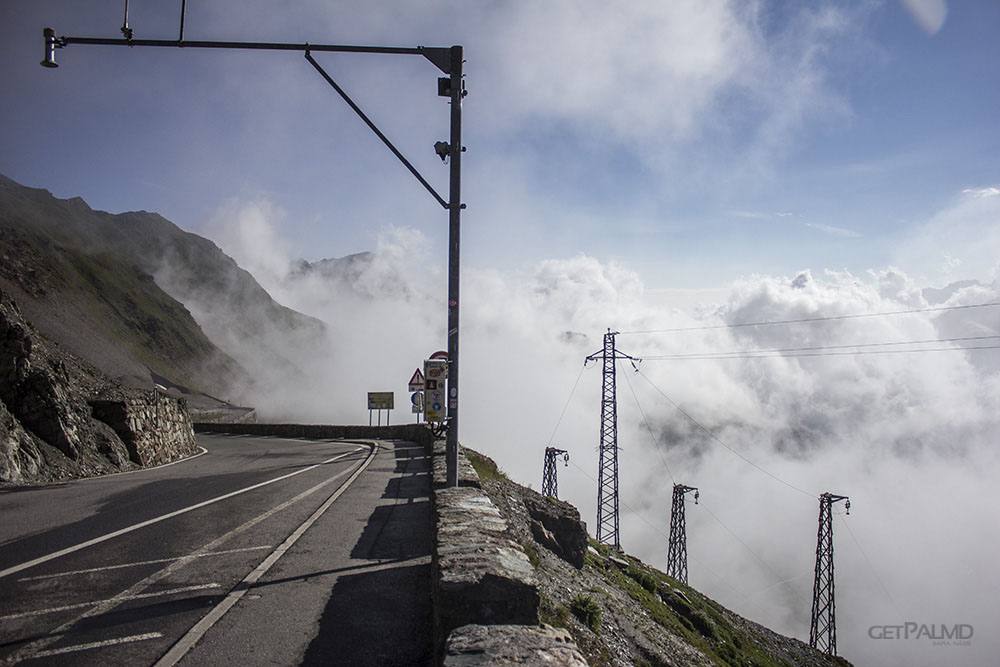 My idea when crossing the border to Austria was to drive either Jaufenpass or Timmelsjoch. Upon arrival in San Leonardo Val Passiria you are left with two choices. Turn left and there is Timmelsjoch, or turn right to Jaufenpass. Both roads will take you to Austria and both roads are scenic drives. Now I chose Jaufenpass so I would still have to test Timmelsjoch before I can say which one I personally prefer. Going up on Jaufenpass was not very exciting because I was stuck behind a lot of traffic, but going down I fell in love with the Porsche a little more. That part does not have that many steep hairpin corners where you have to slow down for tight turns and overheat the brakes. Instead it was just a winding nice road going down and you can drive even the corners quite fast (I sound like I need a track day and trust me, I do… Not just one, think I actually need hundreds of them). And when you get the chance to drive a nice car fast on a road like that… It is like making love to it.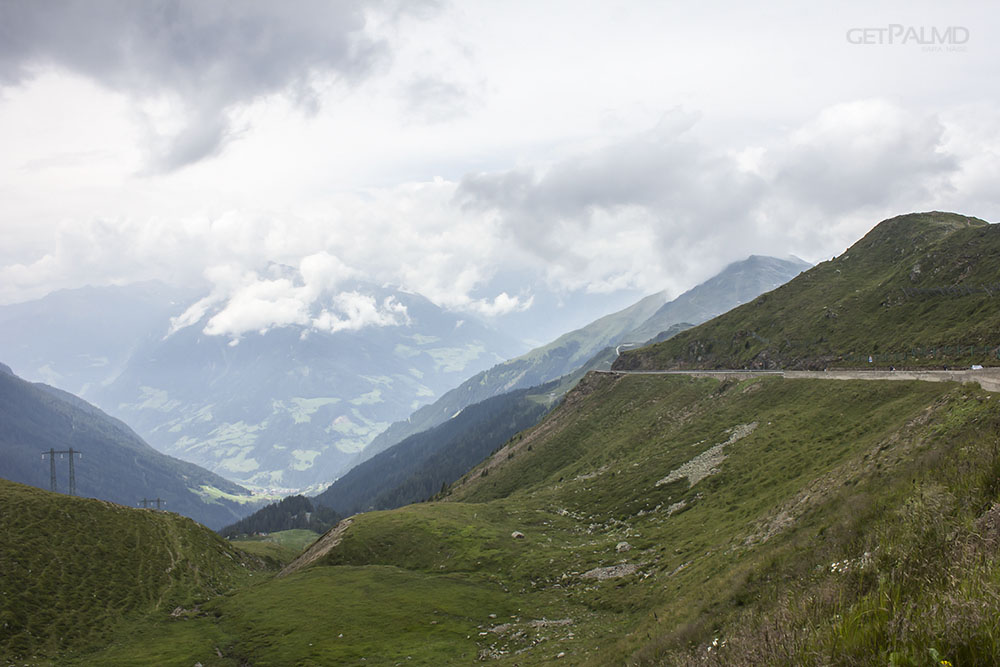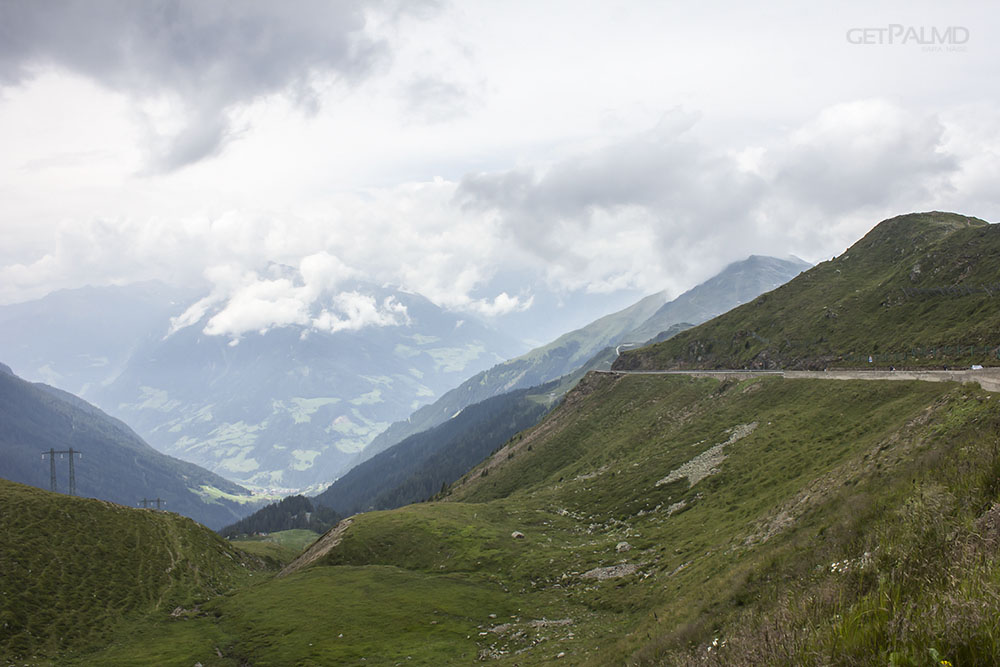 Jaufenpass is surely an even better drive if you get there when it is less crowded (read: early morning). But if you are stuck behind cars or even worse, a bus like I was, it is a real pain because there are not that that many safe spots for overtaking.
So from the bottom of my heart and based on personal experience I recommend both. If you love to drive, and if you love roads, you would want to wake up on Stelvio Pass at least once in your life. If you get bad weather return another time, until you have experienced what I did. It is really something special. My next recommendation is actually not Jaufenpass, although it was nice too, but the Porsche 911 Targa 4S.
Once again – God damn it that car feels fantastic to drive!