I found a mountain pass heaven in the Dolomites. I added four passes in my navigation that day – Falzarego Pass, Valparola Pass, Gardena Pass and Pordoi Pass. They were right on my route to the direction of Stelvio from Sutrio, and I had a full day available to explore an area of Italy I had never been to before. Of these four passes I drove only three, so Pordoi Pass I skipped this time. But it also looks fantastic in photos so I need to return next year.
Another pass I would have loved to include was the Giau Pass that is also in the same area, but that would have been another route and I had to make a choice. It is difficult to do them all in one day, I would say that if you can, reserve two full days for Dolomites. Even more if you want to enjoy the scenery and not just sit in the car. Here you can find some info about the passes in the area – as you can see, a lot to choose from.
When you have fantastic sunny weather you can expect some traffic on the roads. Also when you drive the Swiss and Italian mountain passes you start to realize why Transfagarasan is extra special. There is not nearly as much traffic on the roads (this time of the year). During my evening drive I saw less than five cars and even the next day in daylight it was nearly empty. Empty roads are not that easy to find in the Dolomites and Alps, unfortunately. But although there were other cars on the passes I was completely blown away by the landscapes this route offered. It was stunning up there. When I parked the car for a photo a man walked up to me and said that car with that background looks like a postcard. So true.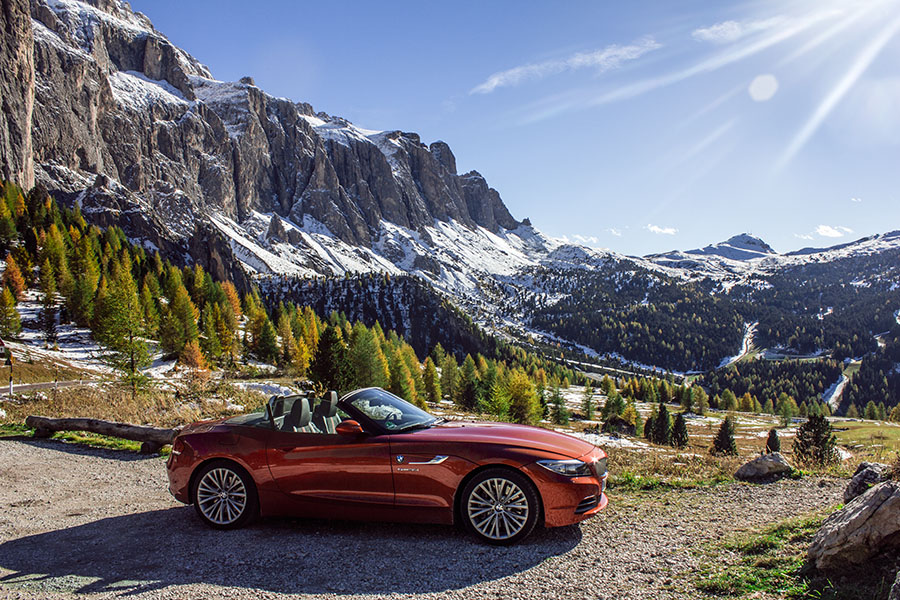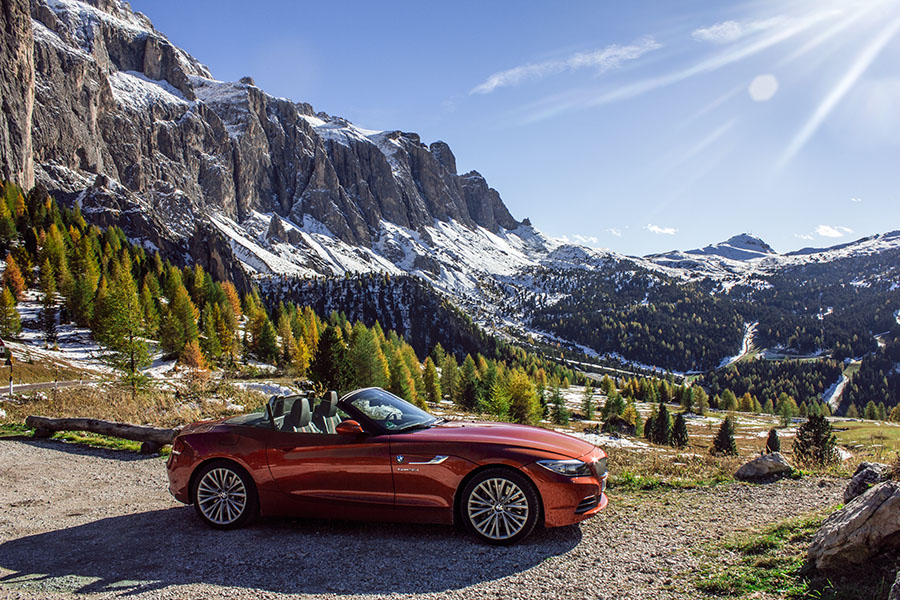 Another fantastic thing with this area of Italy is that you can find accommodation and restaurants on the route, even up in the mountains – it is not "off the beaten path". The Dolomites is of course a popular destination for tourists, so I am not sure if it is that fun to drive there when it is summer season and crowded. But October or November is at least a good time to go. Some traffic, but not too much!
So recommended. So beautiful. Please, do not skip this area when planning your mountain pass road trip in Italy. Those landscapes are hard to find elsewhere!