Came home with 800+ photos from the Greece trip. Around half of them taken by my travel companion who discovered the joy of owning a decent camera.. it's only a 6,3 megapixel Canon EOS 300D bought in 2004 but still going strong. At some point it would be time to upgrade to a new one, 6,3 megapixels is after all not a lot anymore if you want better print quality, but a great camera anyway.
However, not gonna post 800 photos in the blog, just picked some of my own favorites to show you how beautiful the island of Corfu was. These are taken between 6th and 10th April and the island was in bloom, weather was nice (20-23 °C and mostly sunny, so do not underestimate their spring at all, it's summer for us coming from Finland), and the local people are amazing. Greeks are just so incredibly friendly. They have good beer (I'm weak for Mythos), they have good Ouzo and the lamb I ate in one restaurant was by far my best lamb meal ever – will post a separate post with a few restaurant tips. Also the pork souvlaki is insanely good…
We rented our car from Corfu Car Rental Value Plus, great customer service and easy collection + delivery at airport (or somewhere else if you prefer, we used the airport). We were supposed to get a Chevrolet Matiz (price for 5 days €81 + full insurance €8 and GPS €16, total €105) but they kindly upgraded to a Peugeot 206+ for the same price. The reason for this very cheap price was that the beginning of April is still low season there, the high season starts around Easter.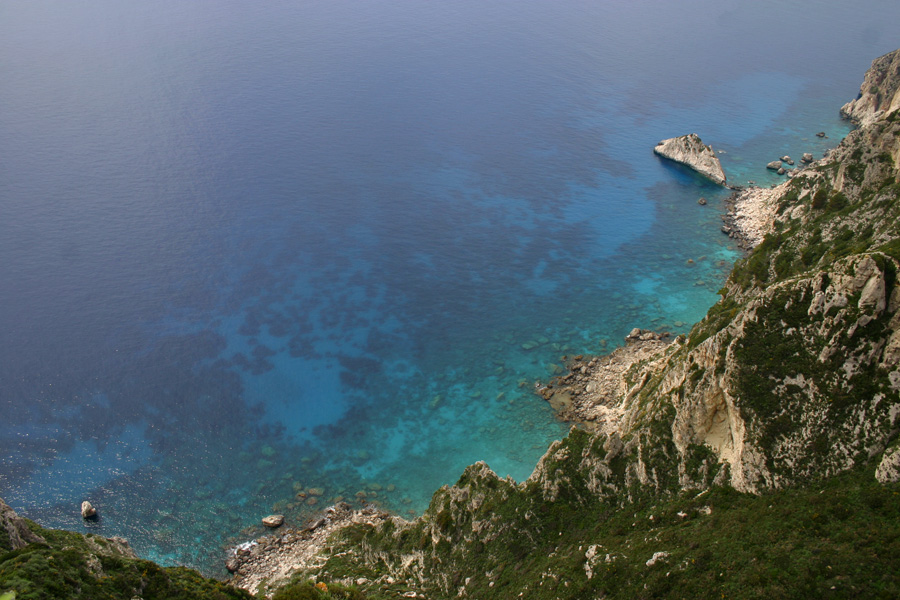 Recommended places to visit are Paleokastritsa (beautiful beaches) that is approx. 25 km from Corfu Town, the castle Angelokastro that offer incredible sea views from the top (a 15 minute drive from Paleokastritsa) and the highest mountain on Corfu, Mount Pantokrator (not that there is anything very special at the top, but it's a thrill to drive up and down those mountain roads.. of course it would be even more amazing if you happen to have a sports car!). Then of course the town of Corfu that is very pretty with the narrow streets and old houses, we only spent a few hours there on a Sunday though so all shops were not open, but absolutely worth a visit to look at the Spianada Square and Old Fortress.
So the conclusion? You have to visit Corfu! You get there with Aegean Airlines, Olympic Air or with some of the several ferry connections to the island. You can even take a bus from Athens to Corfu, takes around 12 hours and isn't very expensive either. The Kerkyra Airport is located within a walking distance from the town. It's highly recommended to rent a vehicle during your stay (car or scooter), the distances are very short and you can drive around the whole island in one day if you want. The island is probably very crowded during the summer months, but as said, already April and May are really nice there. Not a lot of tourists yet but sunny warm days.